I Spent A Day Dining Like The Real Housewives Of Melbourne
Those housewives sure know how to live.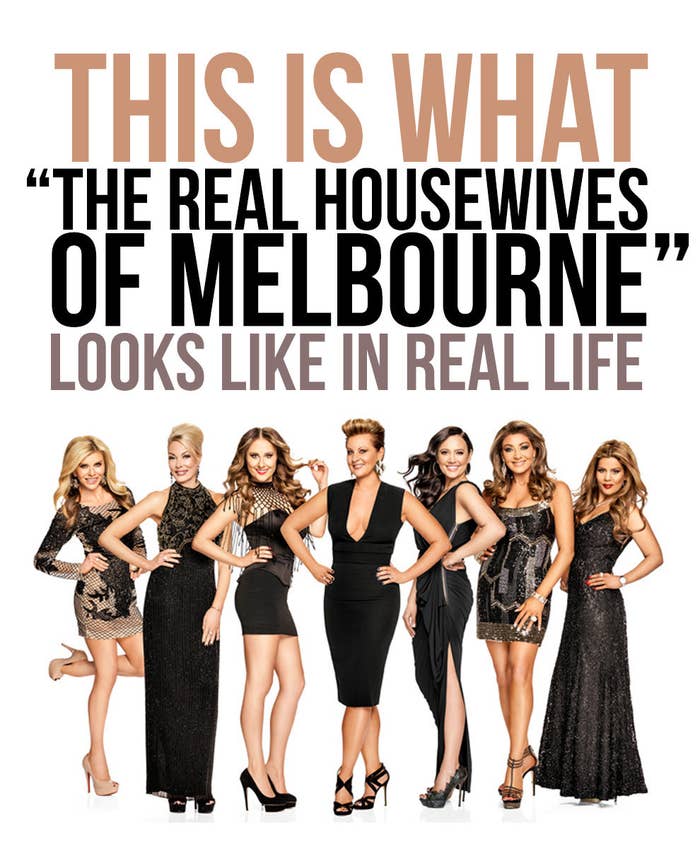 If you have a penchant for glamour and sassy af women, there's a very high probability you're a fan of The Real Housewives Of Melbourne.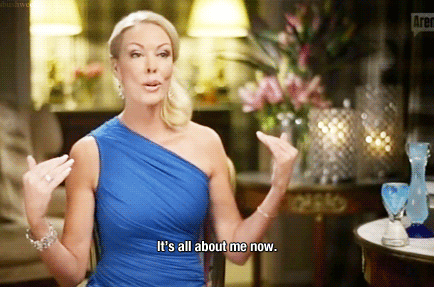 Naturally, if this is the case, there's no way you would have missed the first episode of season three, which aired on Sunday night. 🙌
Beyond being a damn good reason to celebrate, the season premiere reminded me of a RHOM-related promise I made my friend, Paul, on New Year's Eve.
On this particularly boozy evening, he and I promised each other that in 2016 we would visit as many of the ~iconic~ spots from the show as we could in one day. As soon as the premiere date was announced, together we cleared our calendars, made a date, and planned one glamorous itinerary.
Armed with a copy of Gina Liano's Fearless, an unopened bottle of La Mascara, and a shiny BMW we totally borrowed from Paul's mum (all class, all the way!) we started the day with a spin through Toorak, the "Beverly Hills of Melbourne".
Taking a leaf out of Andrea's still unpublished book, we decided to start our eastern excursion in Toorak, soaking up the million-dollar vibe. While we didn't see any of the real housewives - probably because most of them don't even live in Toorak lol - we did see a number of the local housewives cruising in Mercedes' and power-walking designer groodles in couture Adidas. It was amazing. It was inspiring. We were ready for our first dining spot.
Our first stop was Hawthorn's Axil Coffee Roasters, where Pettifleur first met Lydia, and said she seemed "very pretentious".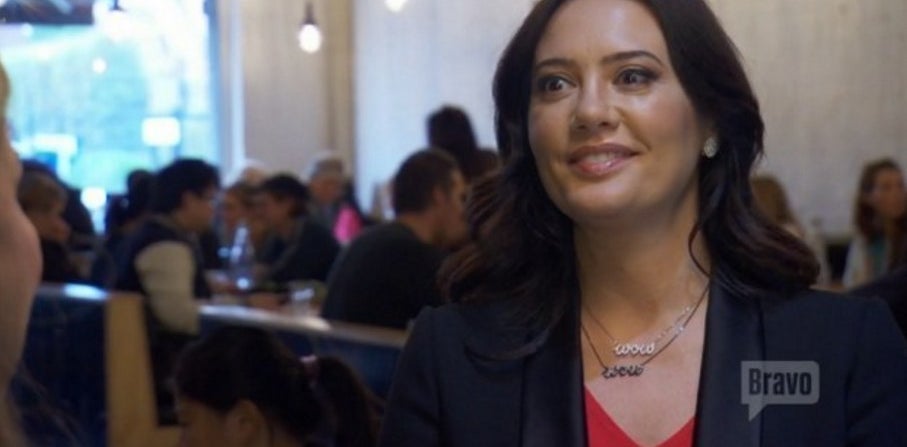 When Paul and I walked in, we were pushed to the corner table, where we were perfectly set up to survey the crowd of office workers from the cafe's edge. Paul wanted to get his own ~pretentious~ on and ordered a cold drop coffee, while I stuck to the humble $7 raisin toast. And yes, I did feel a little like Chyka.
This was also the first place Pettifleur made mention of her book, Switch The Bitch. Since we didn't have a copy, we just read the menu, which almost had the same amount of words tbh.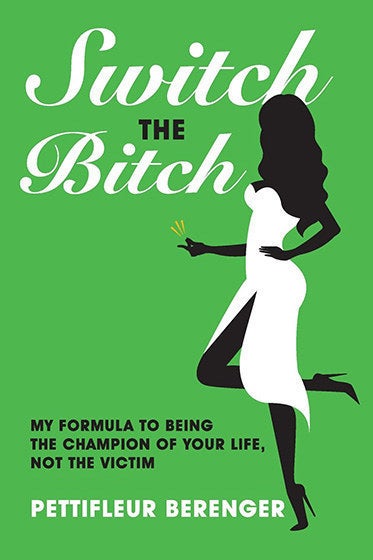 For our second coffee of the day, we headed to Niche On Bridge, where Janet famously told Gina she was scared of her own "deck of cards" toppling. Naturally, we took our own deck to play with.
The cafe actually had a super relaxed and friendly atmosphere, so it was weird knowing Janet got so rattled being there. Over coffee we tried several card tricks, but massively failed at all of them, ending up on our hands and knees picking up our two decks. It was at this point we were politely asked to stop playing with our cards and to pay our bill. It was a fair enough request, we were making a scene, in true RHOM style.
After two coffees each, we were in desperate need of a little R&R, so we decided to head to Andrea's beauty centre, Liberty Belle. Look how nice the sign is.
We tried our best to get our heads inside, but apparently you need to make a "booking". Right.
It's also important note that it was so hard to find a park here, we kind of double-parked, and almost got towed. Who would've thought a BMW would get towed in Toorak? Not us.
If we couldn't have a beauty treatment, we wanted something sweet. We ventured south to Let Them Eat Cake, where Janet once begged for a birthday cake the same day as her party.
We were lucky enough to meet the master baker, Chris. We also found out he's even baked for Oprah, so basically, he's made cakes for everyone that matters.
With our sugar cravings satisfied, we knew it was now time to relax. We headed back east to Oriental Tea House, which is also known as the place where Janet tells the girls she wants to start a tea line.
Having nibbled on more cupcakes on the ride back east, Paul and I desperately needed some tea to rehydrate our souls. In the end though, we actually stayed for the dumplings.
We knew this day was always going include a visit to the iconic Bacash, where Gina told Andrea her "deck of cards" was about to topple. So. Many. Cards.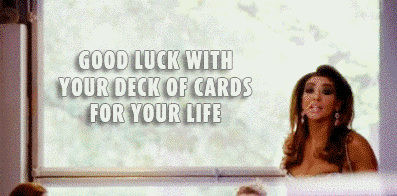 Our deck was appropriately topped by the Queen of Hearts, or Queen Gina, as we enjoyed calling her. While here, we discovered this swanky spot is trying its best to separate itself from the show. In fact, they won't comment on the housewives at all. How interesting...
After all the talk of decks of cards, Paul and I decided we needed a stiff drink. It had been a big day. We cruised down Chapel street to The Emerson for a strong cocktail or two.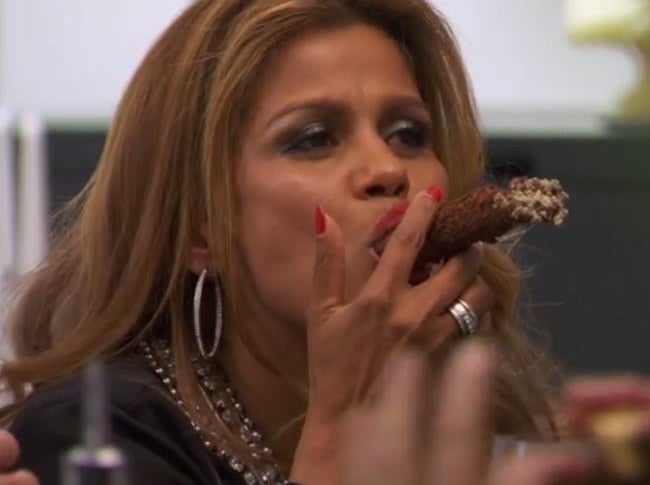 The Emerson is best remembered as the the cute venue where everyone ate cake at Janet's 60th birthday. Well pretty much everyone; Pettifleur famously decided to smoke her slice instead. And yes, that's cake made by Chris the baker from Let Them Eat Cake.
After a few cocktails, I might have gotten a little too bit boozy inside The Emerson. Unfortunately, my selfies became very much like Andrea's book: ultimately unusable. Luckily, we got a beautiful picture of the building's exterior before we entered. Talk about forward thinking.
I needed to sober up, and what better place to do so than The Botanical, the place where Gina called Lydia a cunt.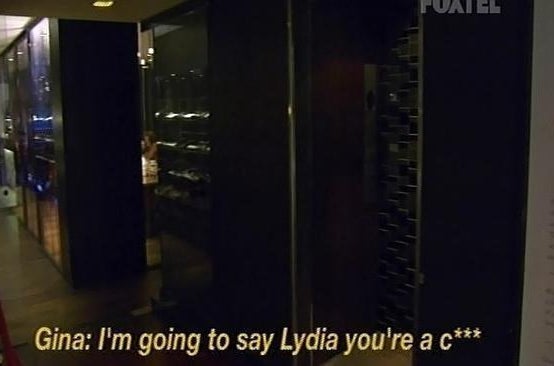 Well, where she called her one five times to be exact.
Since the episode aired, the Botanical now has a strict no-foul language policy that they strictly enforce. Paul and I decided to have a sneaky snoop around the luxurious restaurant, rifling through their impressive wine supply at their in-house bottle shop and looking in on the private function room the women have all eaten dinner.
But it was the bathrooms where the incident took place that we really came to find.
When we found the infamous toilets, we also discovered that Gina actually hasn't come back since that night. So Paul and I thought we'd just bring her back one last time, in book form.
I'd lugged her memoir around with me all day, just to make this moment happen. And it was worth it. Just look at how happy she looks. Fearless.
We also found out there's a plaque inside the ladies' bathroom in honour of Queen Gina. Sadly, since we are men, we could not see it. Boo.
And so after one taxing day of bathroom selfies, creamy cakes, and expensive cocktails, we headed back to our regular non-housewife lives feeling that tiny bit more glamorous.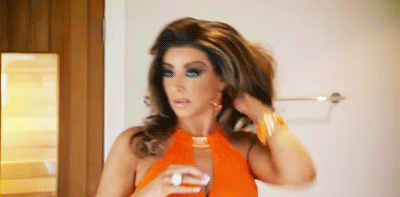 What a group of women. What a day.