To say that the true crime genre is popular on TikTok would be an understatement, as #truecrime alone has 13.4 billion views on the app. From the "trend" of telling murder stories while applying makeup to a serial killer conspiracy from a dance video, content creators on the app have often been rightly criticized for taking a sensationalist or insincere approach to the genre. However, TikTok also presents an opportunity for the real-life true crime victims and their families to tell their own stories.
Mariah Day was "weirded out" from the moment NBC first approached her slightly over a year ago about making a "mini docuseries" about her mom's death. The show that actually came out, The Thing About Pam, was a semi-fictionalized scripted series starring Renée Zellweger as Pam Hupp — the woman who was charged with the murder of Mariah's mom, Betsy Faria, last year. Tonally, the drama took on more of a comedic, Fargo-esque tone, which Mariah called a "mockery" in a phone call with BuzzFeed. She watched the first three episodes with her sister — both of whom were portrayed on the show by Gideon Adlon and Olivia Luccardi respectively — and was far from impressed with how they handled the tragedy.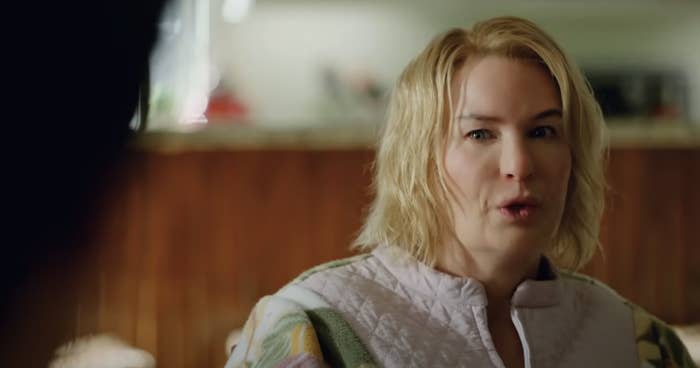 "I mean, my mom's [alleged killer] is the main character. There's parts of it where she's consoling me and that's never happened in real life. It's just really cringey to watch," she explained. In fact, Mariah said that she doesn't see why the show didn't take elements of the story and fictionalized the rest — including her name. "We just kind of looked at each other like, 'Is this really happening?' It's just so bizarre."

A spokesperson for NBC told BuzzFeed, "The Thing About Pam is a fictionalized television series based on true events that are heavily documented and in public domain. Since the inception of the project, it has been a top priority of the creative team to honor the spirit of the story while also treating the real people impacted – many of whom shared their experiences as part of this process – with sensitivity and respect."

Mariah had previously used TikTok to share "personal stuff," but began to post more about her story as the show came out. One of the videos, where she pulls a face alongside the caption, "When NBC decided to make my mom's murder into a quirky dark comedy and everyone's 'so excited to watch this,'" has over 2.6 million views. In another video, she calls out Renée herself for "glorifying a murderer." A cursory glance through her comments, though unverified, shows that Mariah is not alone in her experiences with trauma being turned into true crime "entertainment."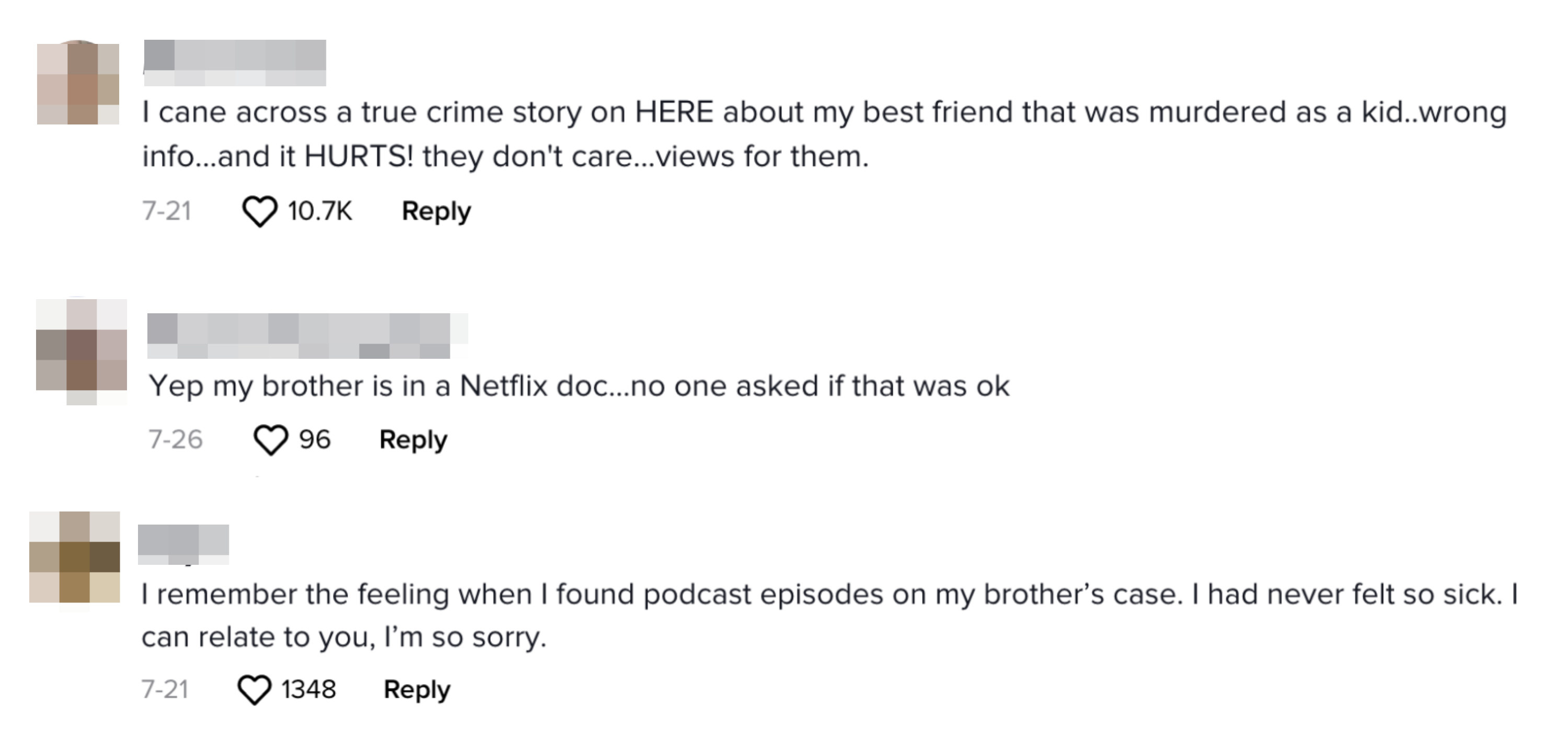 "I just want people to see that I'm a real person and it affects me," Mariah, who goes by @traumamommamoe on the app, added. "I want people to look at my TikToks and be able to put themselves in my shoes and show that I'm a real person out there having to watch my trauma being portrayed in a [mocking] way for the world to see."

The impact of the victims' viral TikToks can go far beyond the app. This was the case with Jordan Preston, whose sister Brooke was stabbed to death in 2017 by her roommate, Randy Herman Jr., who claimed he was sleepwalking at the time. Randy was convicted in 2019 and is currently serving a life sentence for murder. Early last year, producers contacted her family for a new documentary that would go on to be Hulu's Dead Asleep. In Hulu's own words, the movie "follows the complex and layered case of a young man who claims to have murdered his best friend whilst sleepwalking."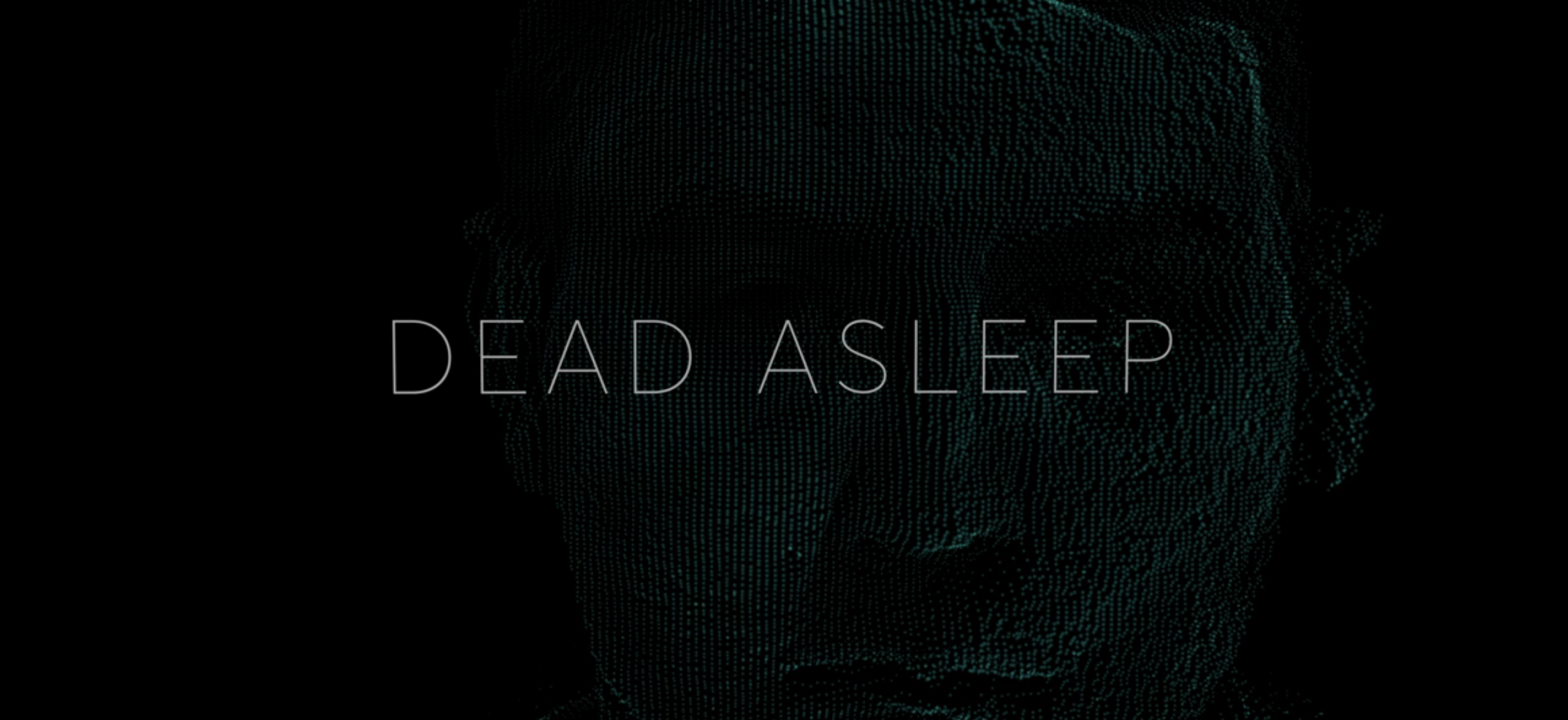 "[The producer] made it clear that this film was about a monster; Brooke would simply be the unfortunate victim of his heinous crime," Jordan said in correspondence with BuzzFeed. She says it is the focus on Randy in the documentary that deterred Jordan and her family from participating.

Jordan said the family asked Hulu not to air the documentary. Jordan, who goes by @Jpresttt on the app, began to go viral for her TikToks. One video, which has over 20 million views, reads, "You think you can hurt me? Hulu just released a documentary on how my sister was brutally murdered without out family's consent so now we get to relive the worst day of our lives." In correspondence with BuzzFeed, a current employee at Hulu said that producers did not receive a response after reaching out to the family.

Jordan said a TikTok comment alerted her to the fact that the documentary was streaming on Delta flights. She reached out to the airline to ask if they could stop showing the film. "I really didn't expect a response from them," Jordan added over a phone call with BuzzFeed. In talking with Delta, she said an employee even mentioned that they'd seen Jordan's TikToks. According to Jordan, Delta ultimately agreed to pull the documentary from its services.

TikTok has proven to be useful even for those whose stories are well-trodden by the true crime entertainment pipeline to tell their own side of the story. Terra Newell didn't know what a podcast was when she found out her interviews would be turned into the series Dirty John, which investigates the cons and abuse of John Meehan — Terra's stepfather, whom she killed in self-defense. Initially, Terra was interested in sharing her story as she felt that people didn't believe what had happened and thought that the podcast would be shown to "maybe a hundred" people. According to Terra, the show has since been listened to over 87 million times and spawned countless other true crime stories and a hit Netflix show. Indeed, the show was downloaded more than 7 million times in less than a month of its debut.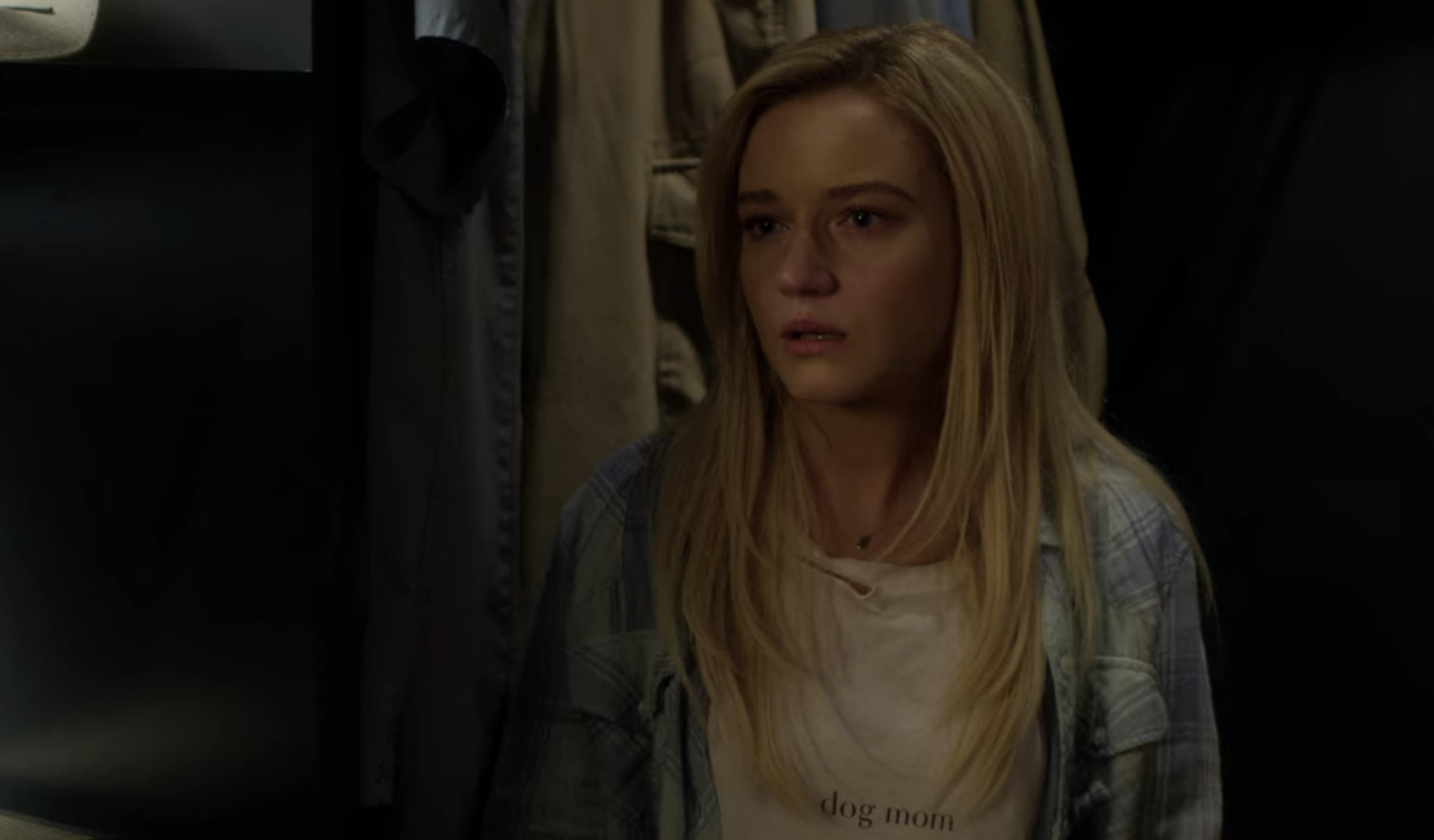 "I've even watched documentaries that are supposed to have all the facts — and then I'm like, that's not right, that's not right, that's not right," Terra told BuzzFeed. "There came a point where I stopped watching the things I did because it was kind of traumatizing and re-traumatizing to watch someone else tell my narrative and my story."

Terra was pointed toward TikTok by another true crime survivor, and first went viral for a video where she said, "Hi I'm Terra Newell and I killed my stepdad in self-defense" while wearing a "Daddy's Little Monster" shirt. It currently has 4.8 million views. "Collier [Landry] was the one that told me to go on there and start to tell my story in my narrative. That's honestly why I went on there — and that's how I start to tell them the story," she explained, noting that she found the story of Harley Quinn and the Joker to be "empowering."
She has since gone on to make videos detailing her attack, with the app allowing Terra to reach demographics that probably haven't heard of the podcast. "Every time I share my story, I get messages from women saying that they left their abuser," she continued. "This is why it's so important for me to share what I did and my attack — is that they learn to literally fight back."

For survivors like Terra and Collier Landry, TikTok forms one part of the wider process of gaining control over their own stories and helping others. After all, being an advocate for his mother is a huge part of Collier's history — it was when he had to convince the police that his mom had been murdered, when he provided blood to ensure that the body found under his family home could be identified as his mother, and when he testified against his father at the age of 11. Collier has had the true crime treatment. He first saw the episode of Forensic Files about his family while a date was flicking through TV channels, but he became a filmmaker with the intent of being able to share his story on his own terms.
Following the trajectory of his movie A Murder In Mansfield and podcast Moving Past Murder, Collier uses TikTok to talk about his mother's murder — even reading out and reacting to letters that his father sent him from prison for TikToks. "It's like an intimate conversation with me; I'm telling you right to the camera," he said.
"I'll get these messages when I read these letters from people who are like, 'Oh my god, that was my ex-husband, or ex-boyfriend, or ex-girlfriend, or father, or mother, or uncle.' They can recognize that for themselves, and then that, in turn, makes an impact in their lives," Collier recalled. "Sharing all these intimate things helps me because I'm like, 'Oh, this gives them purpose.' The letters do no good if I'm not sharing them."

Collier, like others mentioned in this piece, will sometimes get accused in the TikTok comment section of "exploiting" his mother's murder. "I'm the reason why my father is in prison, just to keep it real. He would have gotten away with it," Collier explained. "But people will attack that because they just can't wrap their head around the fact that a father did this to a family and destroyed everything. [...] I've only tried to use it as a platform to help myself and help others in a way that is constructive for society."
Mariah, Jordan, Terra, and Collier all agreed that an ethical approach to true crime exists — but that it should center the voices of victims and their families. It's something that Mariah is working through via an upcoming book on ethical true crime, and Collier and Terra are exploring in a podcast titled The Survivor Squad. Collier and Terra describe the latter as a platform for survivors to share their stories from their point of view — with the exception of any moment that may be too difficult for them to talk about, which will subsequently be narrated with the victims' consent.

Terra is even part of a group chat with other true crime survivors to try and change the industry. "There's so many people out there that have different opinions of what [parts of] their trauma should be shown," she added. "How to make ethical true crime is: Always get that person's permission. And if you don't get their permission, then have respect and don't share their story."