While the Black Is King star has been skipping red carpet appearances, she's reportedly been supporting her husband, Jay-Z, behind the scenes at the premieres for his co-produced Black Western film The Harder They Fall, costarring Idris Elba and Regina King. Not to worry, though — what we're missing on the carpet, she's giving us on the 'gram!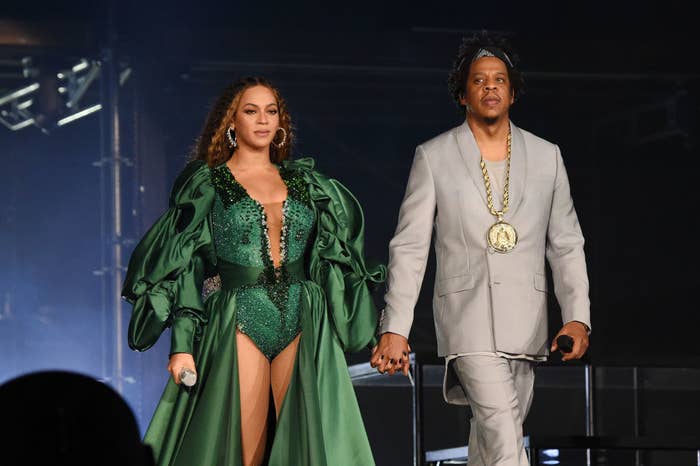 First, she posted a series of photos showcasing an Alexandre Vauthier Couture gown from their 2020 Fall-Winter collection that looked straight out of Old Hollywood. Stunning doesn't even begin to describe the emerald green and black satin number featuring a plunging neckline and thigh-high slit.
Of course, knowing her fans, she gave us multiple angles to work with, posing on the steps of Harry's Bar in Venice, Italy.
She paired the look with a matching sparkling diamond and emerald necklace and earrings, as well as Jimmy Choo sandal heels. For her classic Hollywood glam, her hair rested in loose waves, and her natural makeup was paired with a bright red lip.
Later, the 40-year-old posted a series of photos featuring her in an all-black bodycon ensemble with feather detailing. And because she is Beyoncé, she posed with her back to the camera, throwing a sexy side-eye our way.
She paired the look with long dangly earrings and a matching minimalist belt, with her hair tied up in a high pony.
I mean, truly, Mrs. Carter!!!
Next, the Lemonade singer served us with a white-and-blue floral dress that had us begging to go back to summer nights. While on a water taxi in Venice, she and Jay-Z posed for the camera.
She wore strappy white sandals and diamond-shaped dangly earrings. In some photos, you can see her donning a matching mask and headscarf, as well as bejeweled and pearl-encrusted cat-eye sunglasses.
And check out the cute lil' lantern-shaped bag!
And for our final look of the evening, a simple, yet elegant black leather two-piece suit with a sheer turtleneck.
Well, that's it for now! I'll be sure to come back with any more photo dumps from the Queen B herself. In the meantime, I'd like to thank *checks notes* her stylist, the city of Venice, Jay-Z (who I'd like to assume is behind her solo shots), and, of course, the legend herself.