I'm Kind Of Obsessed With This 10-Minute Cookie Recipe
It doesn't get much easier than this.
Look y'all. We've all been there.
It's the end of a long day and you're finally finished with your midterms, your kids, your latest Netflix binge — whatever! And you're craving something a little sweet, but SUPER low effort.
Cue this little concoction. It's a single-serving, five-ingredient, ready-in-10-minutes ~miracle cookie~. 🙏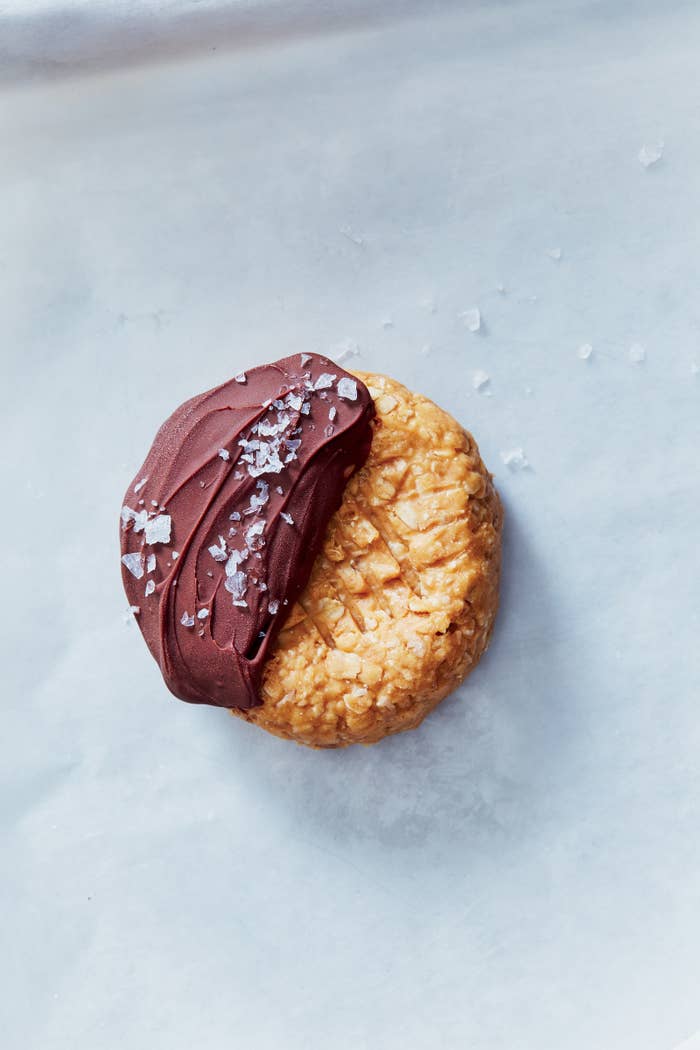 The best part? You probably already have everything you need to make it in your kitchen already. Here's how you do it:
3. Pop in the freezer for 5 minutes.
4. Melt some chocolate chips in the microwave.
Here's the full recipe, juuust in case you want to try it tonight. Or y'know, immediately.
Single-Serving Chocolate and Peanut Butter Cookie
MAKES 1 COOKIE
INGREDIENTS
2 tablespoons peanut butter, preferably natural
2 heaping tablespoons quick‑cooking or instant oats
1 teaspoon confectioners' sugar
¼ teaspoon pure vanilla extract
1 tablespoon semisweet chocolate chips
Flaky sea salt, for garnish (optional)
HOW TO MAKE IT
Stir the peanut butter, oats, sugar, and vanilla together in a small bowl until completely combined. Using your fingers, shape the mixture into a 2½-inch-wide (6‑cm), ½-inch-thick (12‑mm) disk. Press the tines of a fork into the top of the cookie. Chill on a parchment paper–lined plate in the freezer until firm, about 5 minutes.
Once the cookie is cold and hard, melt the chocolate in the microwave in 15-second bursts until stirrable. Spread half the chilled cookie with the chocolate, and sprinkle with a little flaky sea salt, if you like. The chocolate should set when it hits the cold cookie, but if it doesn't, you can return it to the freezer for a minute or two.
From Healthyish by Lindsay Maitland Hunt, published by Abrams.
For more satisfying, delicious recipes that are ~just healthy enough~, get Healthyish by Lindsay Maitland Hunt on Amazon for $18.14.