1.
I, for one, like Roman numerals.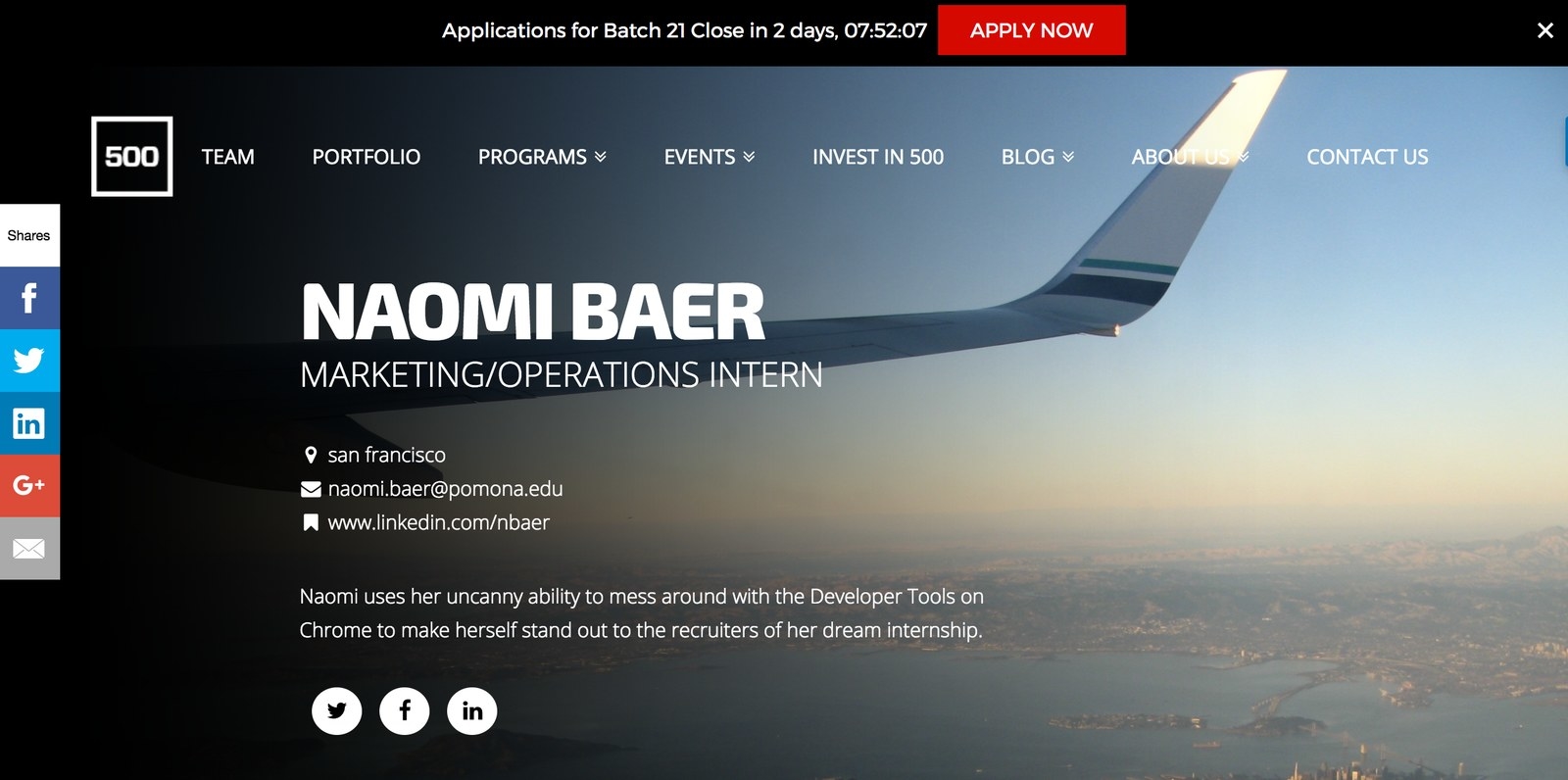 2.
My friend tried to annoy me with bird puns, but I realized toucan play at that game.
I firmly believe crocs and heelies are essential footwear and I'm completely comfortable with making a campus fashion statement to that effect. (#Shoutout to the liberal arts!)
3.
What do you call a three-legged donkey? Wonkey.
I reorganized and revamped the Claremont Colleges' entrepreneurship club, Pomona Ventures, conducting its first official recruitment effort in eight years and receiving almost 50 applications. Now we have 18 extremely accomplished leadership members and the club is running better than ever.
4.
Sorry if these are bad...number puns aren't really my four-té.
I apparently peaked in middle school when I was voted "best personality" and "most athletic" in 8th-grade superlatives.
5.
If you and four friends climbed Mount Everest together, would that make a High Five?
After having only one year of college-level science courses, the Chief Medical Officer at my last internship asked me to draft a scientific literature review on the "Wnt pathway in Osteoarthritis." With no prior experience, I studied the molecular pathway involved overnight and began research the next day. I-don't-know-the-exact-number-but-it's-a-LOT drafts later, the article is currently in review to get published.
6.
Why was 6 afraid of 7? Because 7 eight 9! (I know this is a classic...please let me know if you can think of a better "6" pun...)
I thought Van Morrison's "Brown Eyed Girl" was "One Eyed Bill" until I was publicly called out for singing said questionable lyrics at a high school party.
7.
How do you make 7 even? Take away the s.
I don't just say "I can bounce back from anything," I've lived and proven it. I spent over a year working my way back from an ACL tear to earn a starting spot on the Pomona-Pitzer Women's Basketball Team this season. I've been up and down, and I know working for start-ups can be a roller-coaster, but I'm 500[Startups]% ready to step up to the challenge.
8.
I'm officially out of puns, but I eagerly aw8 an interview. :)
Call me, beep me, if you want to reach me!
This post was created by a member of BuzzFeed Community, where anyone can post awesome lists and creations.
Learn more
or
post your buzz!
Looks like there are no comments yet.
Be the first to comment!