Hey. Hi. Hello.
Welcome! I'm Emily. When I'm not writing branded content for BuzzFeed, you can usually find me at the gym working up a sweat (and watching anime while I do so, TBH).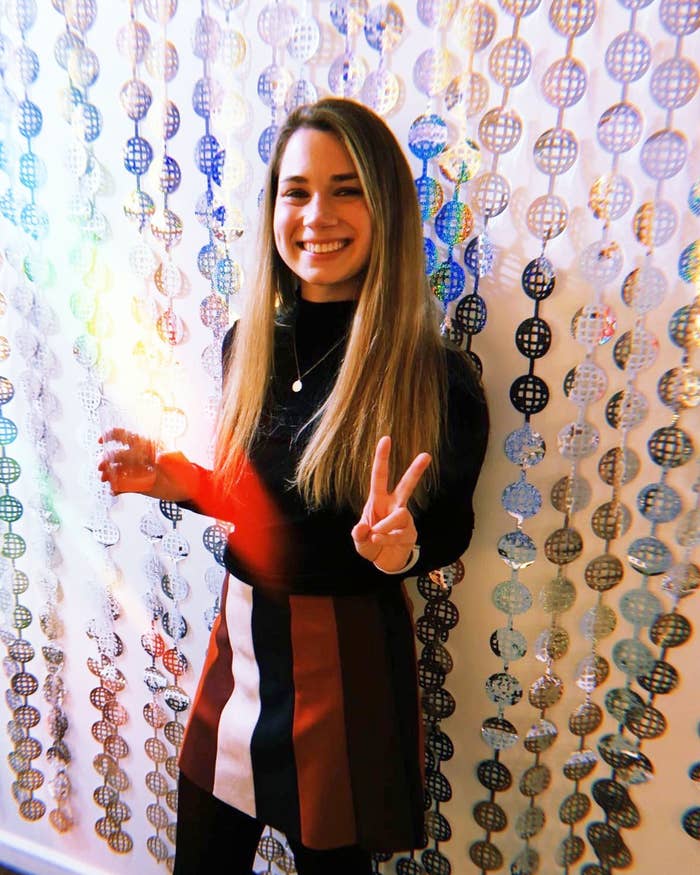 While I'm not all about the "New Year, New You" mentality and rushing to overhaul my life in 2023, I've always taken this time to incorporate new elements into my existing routines to see if they're a fit for me. Whether I'm adding a water intake column to my bullet journal or logging personal records in my notes app, I like finding new methods to track progress in all aspects of my life.
A few months back, I was talking to my healthcare provider about switching up my exercise routine to develop more muscle/tone and stamina. At her suggestion, I incorporated more strength training into my daily workouts alongside some cardio and took a closer look at my diet (especially when it came to pre- and post-workout eats). It worked for a few weeks but like many people, I fell off the wagon as the holidays approached and the little progress I made slipped away.
But not all hope was lost.
Enter: MyFitnessPal
Right before the holidays, MyFitnessPal came to BuzzFeed and offered the chance for a writer to use the app and log their food intake for a week to see if they could learn anything new about themselves. Needless to say, I instantly volunteered.
Finally, I'd have a deeper understanding of my food/macros, workouts, and water in one place, and hopefully be able to incorporate a new tool as I work toward my 2023 milestones.
Big win for moi.

With this great opportunity kicking off in the first week of January, I wanted to set a few goals for the week:
Better understand my macros and overall nutrition.
Incorporate recovery foods as I ramp up my exercise routines.
Stay on top of hydration.
Another side goal was to give myself the grace that all my tracking wouldn't be 100% accurate. (I didn't have a food scale and knew I'd have to eyeball some things.)
At the end of the day, this process wasn't about limiting what I eat but rather about learning more about myself. I couldn't wait to get started!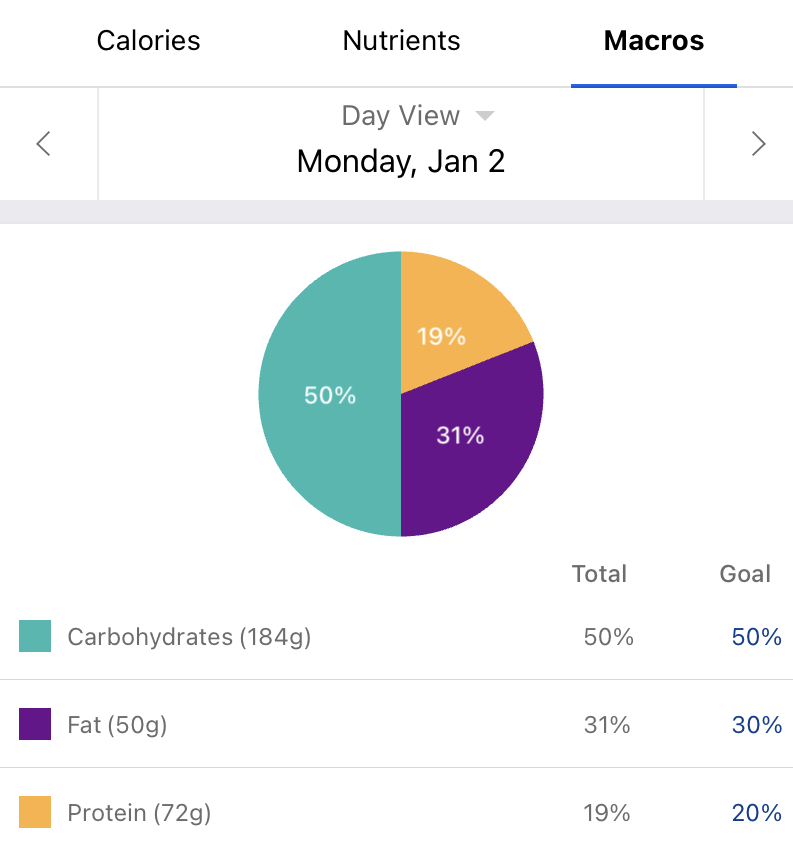 After weeks spent endlessly grazing on holiday snacks at my parents' house, I was ready to get back to my old ways of going to the gym 4–5 times a week and eating full, balanced meals.
I started my first day of logging on Monday; I was still off work for the holidays and was able to make myself a leisurely breakfast of wheat toast and eggs.
Protein + Complex Carb = A win for breakfast!
In the evening, I ate a banana and eased back into my workouts with a bit of light cycling. Then, for dinner I had some pork dumplings and rice stir-fry to meet my protein goals for the day. Overall, I felt pretty good about my first tracking attempt and hoped I could keep up the success as the responsibilities of adult life came knocking.

On Tuesday, the morning slipped away from me and I missed breakfast as I caught up on work emails. But somehow I managed to gulp down two cups of coffee by midafternoon.
Whoops.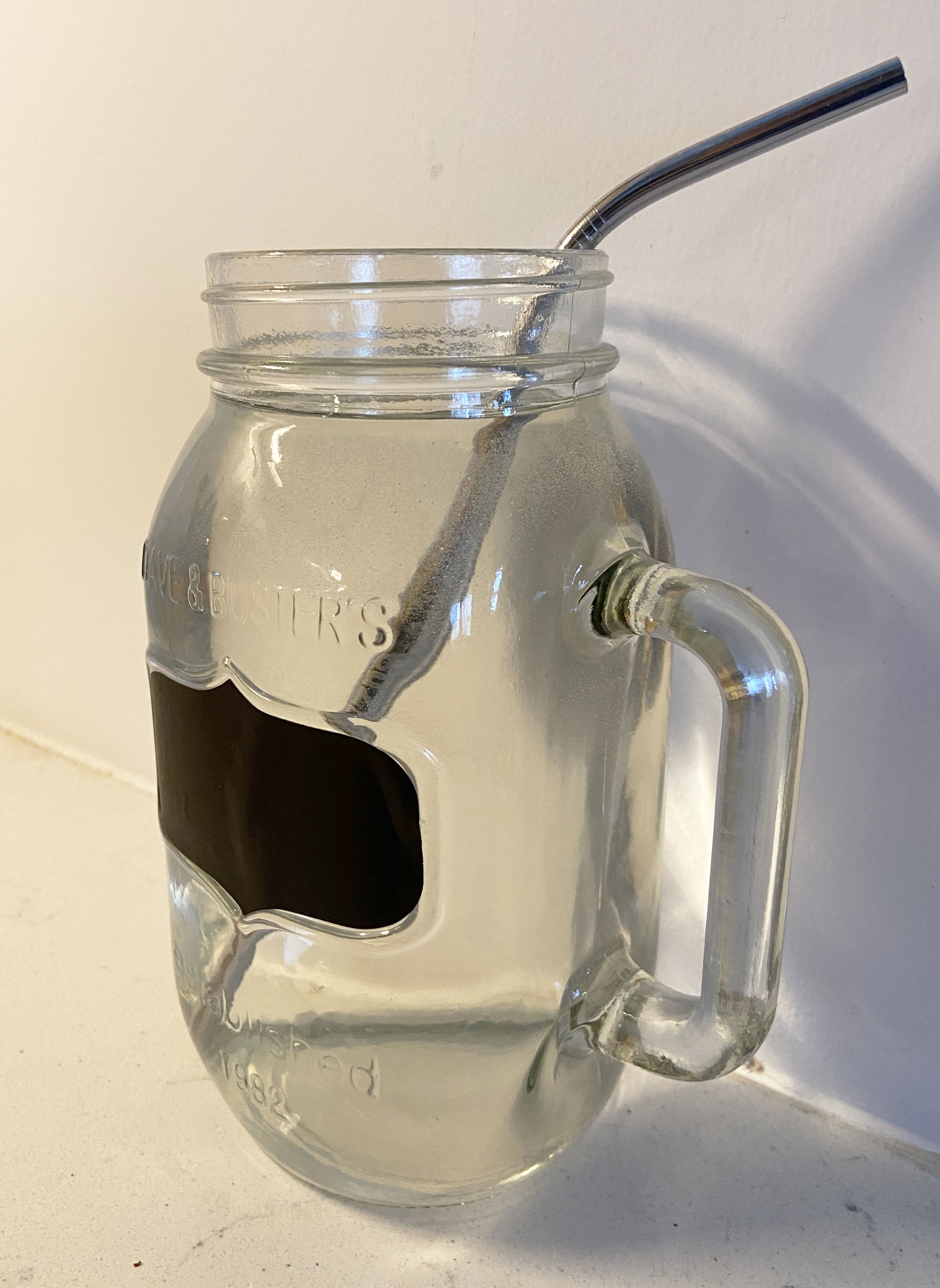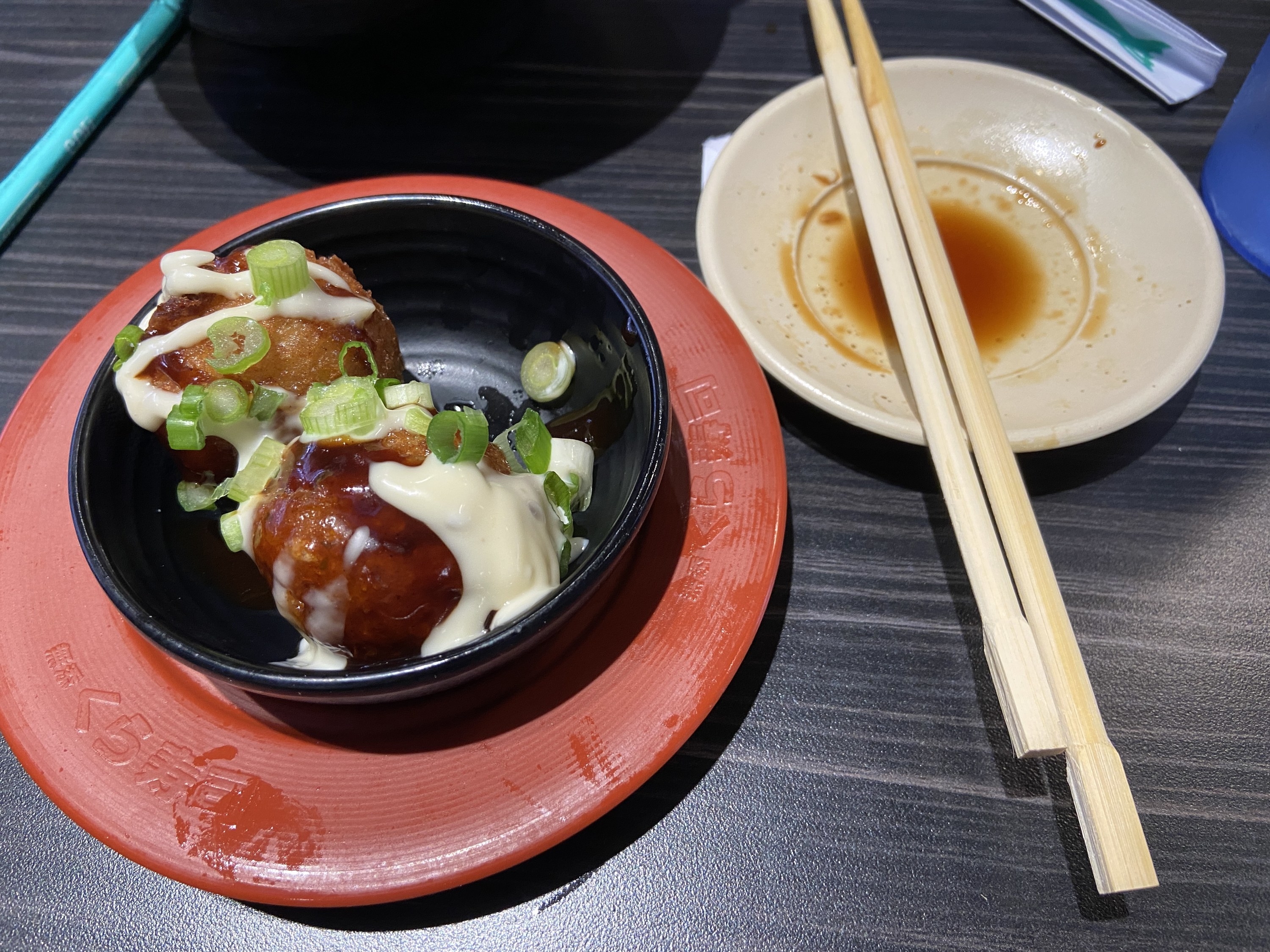 For lunch, I wanted something that would set me up for success for my after-work virtual workout class so I made a toasted ham roll with a ~sprinkle~ of cheese and a hit of honey mustard, along with pita chips and hummus. I also made sure to refill my big water cup twice to make up for the lack of water in the a.m. Later that night, I was thankful that I ate in the late afternoon, because I didn't feel sluggish or hungry during class. Finally, I gobbled down a protein-packed yogurt to ensure proper recovery.
But my grand food logging plans were in for an upset on Wednesday when my friend said she wanted to try out a rotating sushi bar for dinner. Between that and my aching muscles following yesterday's workout, I heeded the siren call to ditch logging and working out for the day. But I figured I needed to at least keep on the path by adding my food intake to the app. Even if it wasn't going to be a perfect match to the amounts and types of things I ate, consistency was going to be key to making this experiment work. If only there was a blanket way to log 10+ small plates of yummy Japanese eats *sigh*.

By Thursday, I had an excited energy buzzing in me (maybe it was the power of my taiyaki dessert from the night before). After sitting in front of a computer all day, I was hyped to get a workout in. Maybe it was the delish turkey, avocado, and cheese wrap I toasted on the stove for lunch or the pre-workout peanut butter and wheat toast I had while slurping down my fourth big water cup refill of the day, but either way, I felt good and wanted to keep that vibe going. At the recommendation of my doctor to replenish while my body was still in exercise mode, I tried a protein beverage right after my workout for the first time. The vanilla crème taste was okay but got me thinking about how I could work it into a smoothie one day!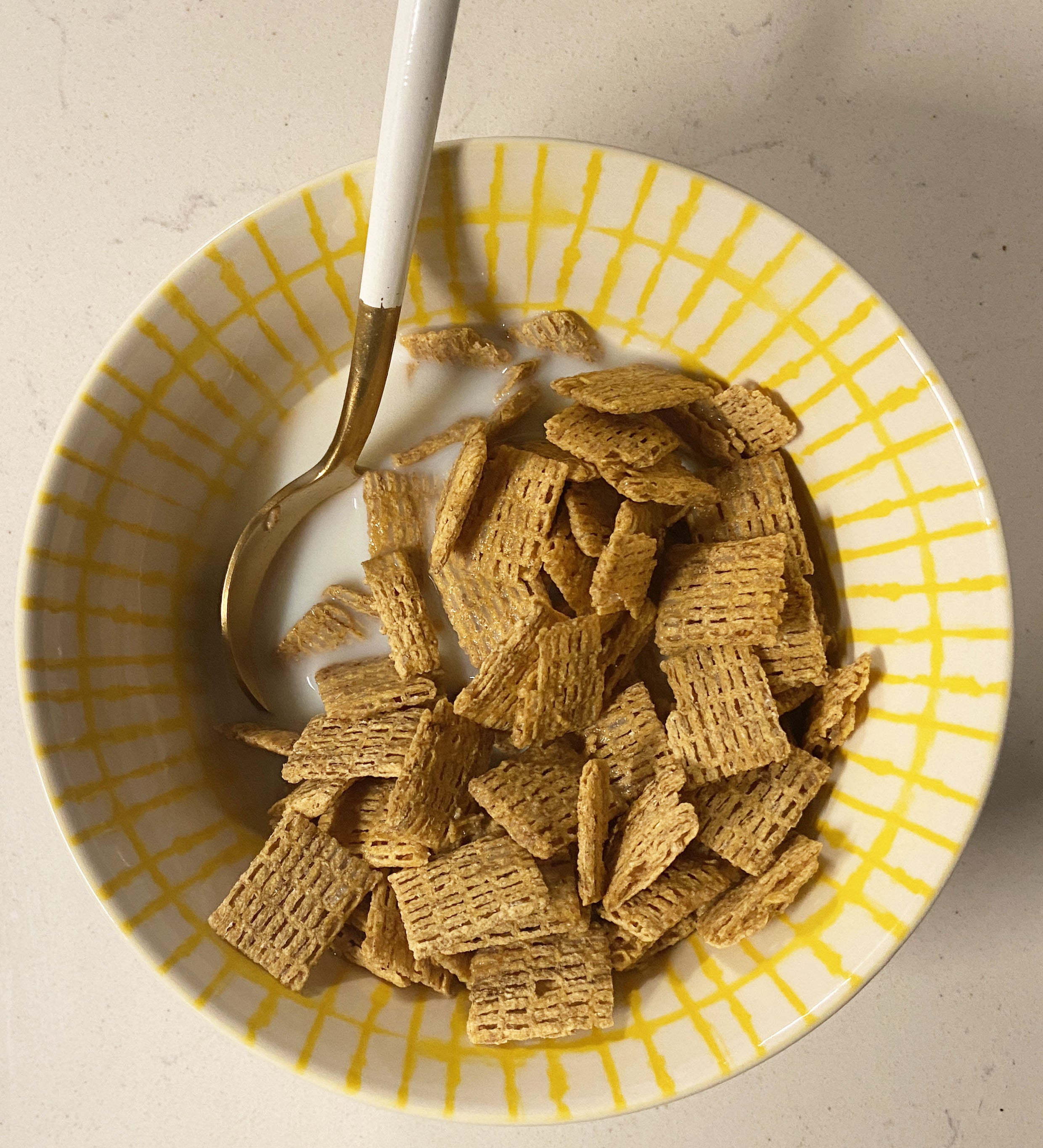 Coasting into the weekend on Friday, I was starting to understand how to balance my macros even if I guzzled more than the recommended amount of cereal for breakfast. (How am I supposed to have just ONE bowl of delicious cinnamon oat bites?)
I wanted to balance out my breakfast with a good lunch so I threw together one of my favorite cozy veggie chili recipes I've developed over the years. Saving all my ingredients and approximating the number of servings using the MyFitnessPal app's Recipe feature was really handy since I have a bunch of repeat dishes. It's exciting to think I could apply this to all my go-to recipes rather than having to break down every meal I make!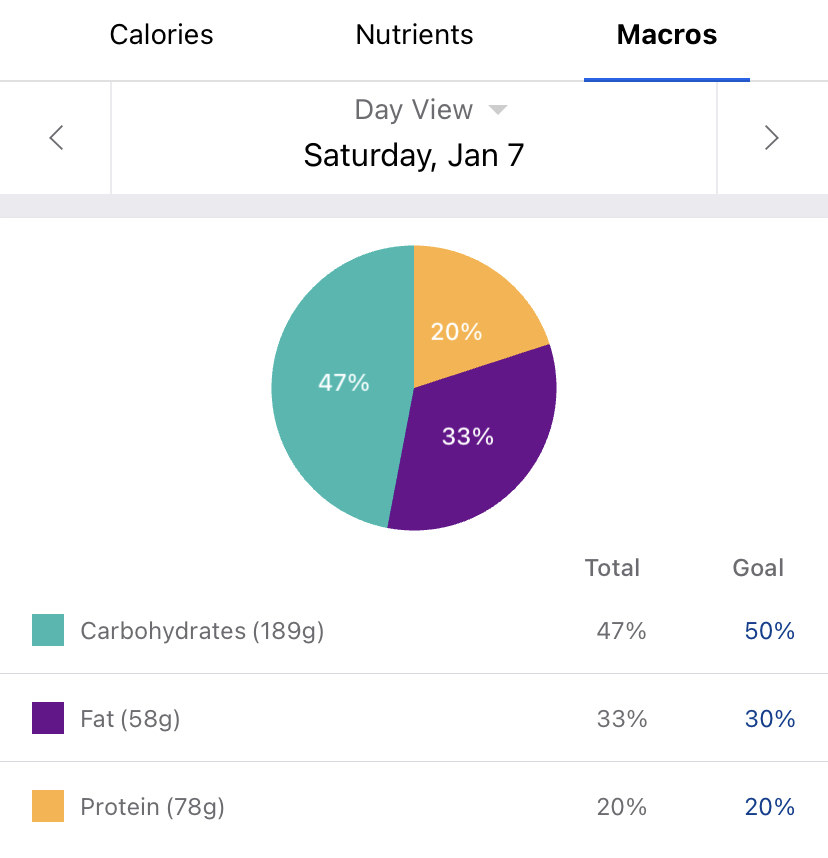 As Saturday arrived, I had a roster of reliable, nutritious foods I'd been eating during the week that I knew would fill me up and help me recover after workouts. Once I figured out how to balance my days, I felt more empowered to explore outside of my homemade meals and still be confident that I was hitting all my goals. I was seamlessly able to check the handy macro pie chart as I dove into the pepperoni pizza pie my best friend and I ordered for dinner!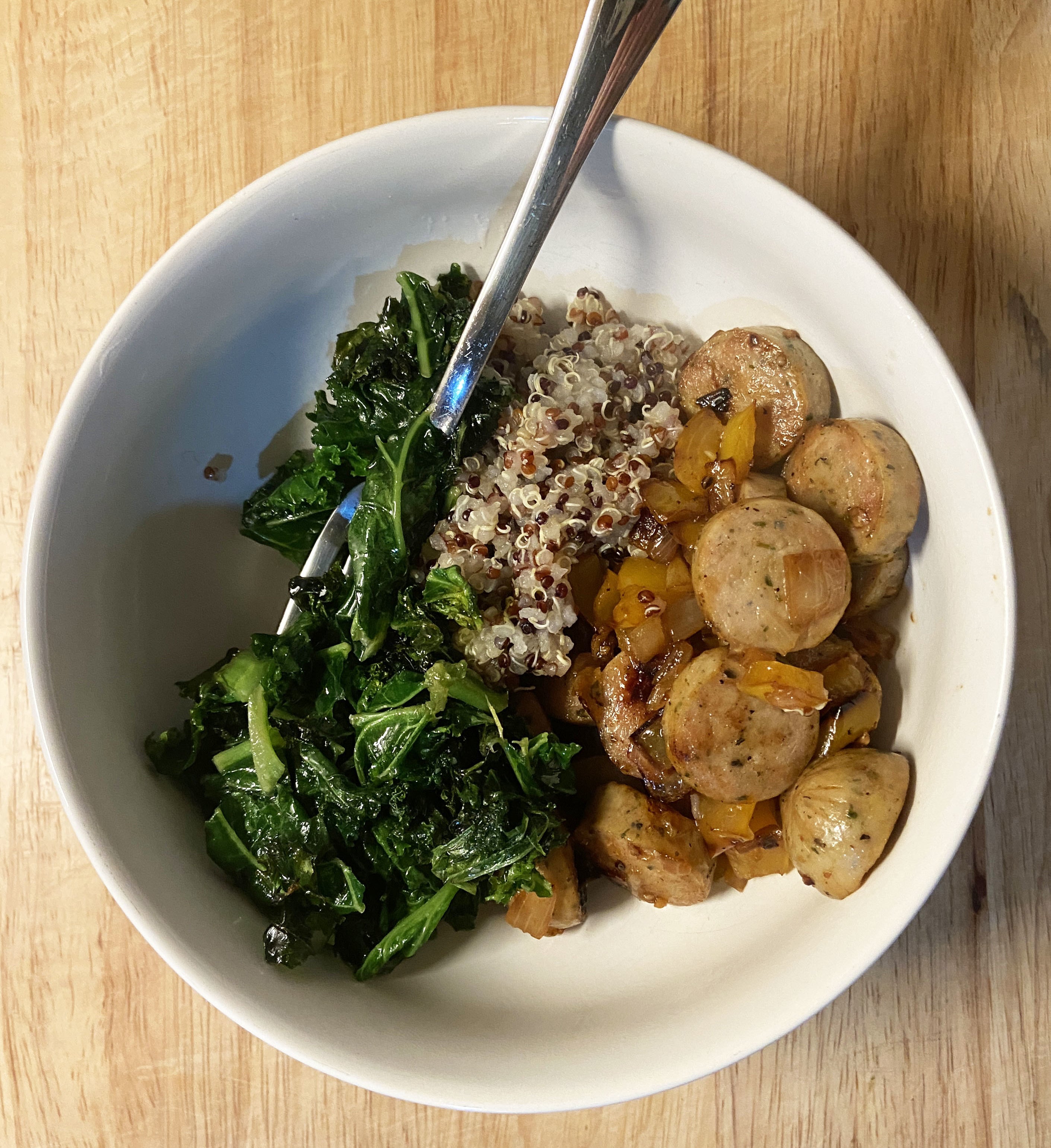 As I came upon the last day, I wanted to end strong. I took my glorious Sunday morning to make a breakfast burrito and lounge on the couch with my coffee after lazily rolling out of bed. After eating the leftover veggie chili and my pre-workout peanut butter and banana, I felt like a runner crossing the marathon line and was eager to make dinner with my roommate so I could add a new recipe to my account.
Our affectionately named "Fridge Clean Out" dish made up of chicken sausage, quinoa, pepper, onion, and sautéed kale quickly became a repeat fave in our house. It also yields enough for lunch the next day and if it can guarantee leftovers, I'm always game.
As I rounded out the last day of tracking, I toasted my big cup of water in celebration that a week of successful logging had come to an end.


Reviewing my stats for the week, I was able to balance my carbs, fat, and protein intake in combination with the different intensities of workouts I did. It made me more mindful of meal planning and inspired me to build upon versatile recipes that could fill the gaps of whatever I need in a day.
When it came to drinking water, turning what once felt like a chore into a challenge helped reframe my approach to hitting my daily hydration goals. Now I'm happy to carry my big water cup wherever I go if it means I can gleefully add to my water intake every time I go for a refill.
After trying out MyFitnessPal and gaining better insight into my nutrition, I can't wait to continue using this new tool in my arsenal to keep my personal health goals on track.
Bear in mind that health and wellness isn't a one-size-fits-all type of situation. Everyone defines it differently so what may work for me may not work for others. However, this week solidified for me that wellness isn't a sprint… It's a marathon.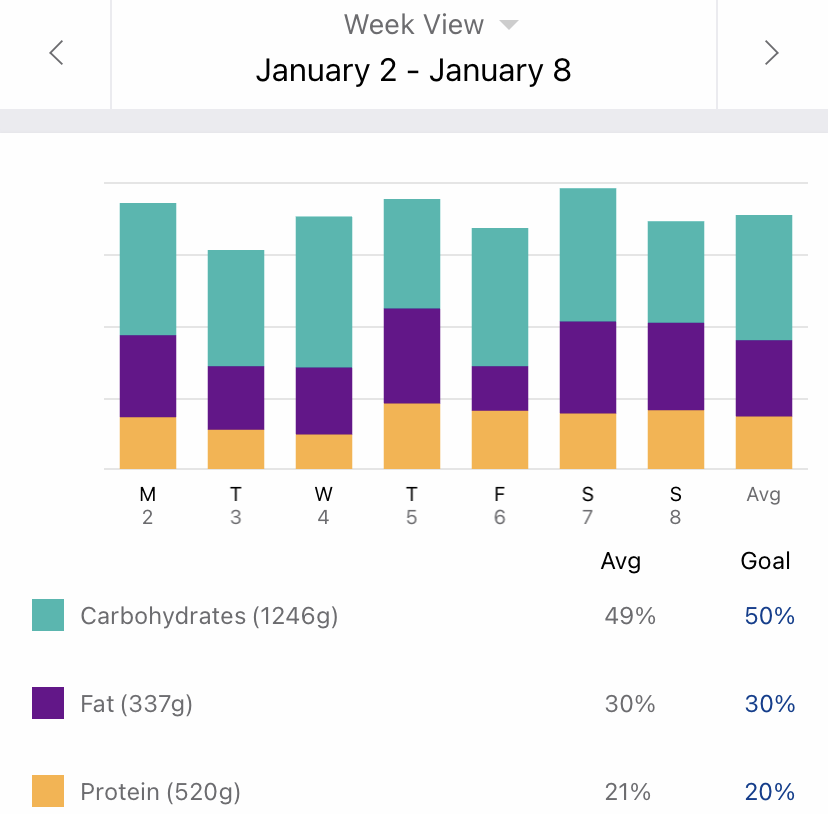 It will definitely take longer than a week to show any major changes or patterns. And there's bound to be bumps along the way or times when you feel like you want to give up. But that's okay! Just know there will also be great "wow I'm really doing this" moments and celebrations when you reach your goals.
Whether I'm logging custom recipes, making note of my workout PRs, or simply patting myself on the back that I drank a lot of water, consistency is a great first step in the long road ahead. The path isn't 100% laid out before me, but I'm confident that I can crush any and all of my 2023 goals!
Wanting to make a change in your health and wellness routines? Get a free 30-day MyFitnessPal Premium trial to learn more about all the exciting features!