Entre la devastación que azotó la ciudad de Houston con la inundación causada por la tormenta tropical Harvey, la gente común y corriente está haciendo frente a la situación para ayudar a otros de maneras increíbles.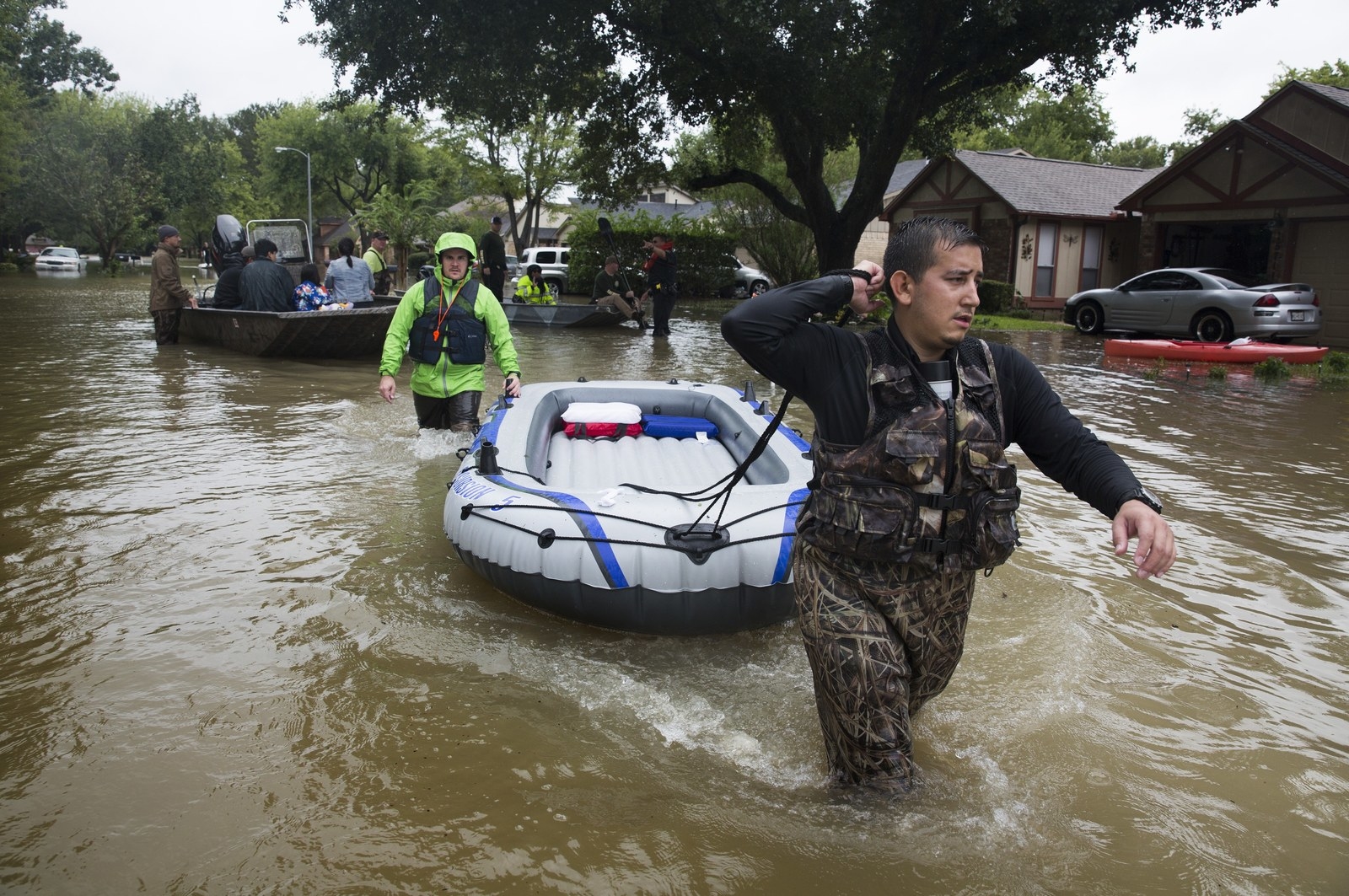 Aquí hay algunos ejemplos de la gente común que hizo cosas heroicas frente al peligro y la tragedia.
1.
Esta mamá, que está "dando vueltas en bote por Houston levantando gente."
2.
Jim "Mattress Mack" McIngvale, dueño de una tienda de muebles, que abrió sus dos tiendas de Houston para todo aquel que necesitara un lugar seguro para dormir.
3.
Esta enfermera de una sala de emergencias, Chelsea Black, que está trabajando para garantizar que sus pacientes estén seguros durante la catástrofe.
4.
Esta persona que se vistió del Hombre Araña para entretener a niños evacuados en el Centro de Convenciones de Houston.
5.
Este hombre que dijo que llevó su bote a la zona porque iba a "salvar vidas".
6.
Esta mujer que animó a los evacuados en el centro de convenciones y exposiciones Lone Star con canciones gospel.
7.
Este hombre, Jeff Yuna, que ayudó a varios peces carpa varados a encontrar el camino de vuelta al lago.
8.
Su papá, Chance Ward, y su hijo adolescente, que también han estado rescatando gente y ganado atrapados por la inundación.
9.
Este grupo de vecinos que se sostuvieron la mano para asegurarse de que no quedara ninguno atrás mientras iban a un lugar seguro.
10.
Este miembro de la Guardia Estatal de Texas, que junto con otros entretiene a niños varados en los centros de evacuación.
11.
Estos conductores, que formaron una cadena humana para asegurarse de que un hombre mayor fuera rescatado de su auto.
12.
Este grupo de personas, que trabajaron juntas para salvar a un perro que estaba atrapado en la inundación.
13.
Este bar de Austin, que está cargando un camión inmenso con donaciones para las víctimas de la tormenta.
14.
Este nativo de Houston de tan solo 5 años de edad, que montó un puesto de limonadas en Filadelfia para ayudar a las personas que están sufriendo en su ciudad natal.
15.
Y, por supuesto, a todos los maravillosos miembros de las fuerzas de emergencia, que arriesgan su vida para salvar otras vidas todos los días.
16.
Si has sido afectado por la tormenta en Texas o tienes un aviso de rescate, auxilio, gobierno o esfuerzos de colaboración, llame a la línea de BuzzFeed News al (646) 589-8598. Contáctanos por Signal, correo electrónico, SecureDrop y más aquí.
Este post fue traducido del inglés.
Looks like there are no comments yet.
Be the first to comment!