Un nuevo informe elaborado por The Citizen Lab, de la Universidad de Toronto, da cuenta de que tres líderes del Partido Acción Nacional (PAN) también recibieron mensajes de texto con links infectados del malware Pegasus. Se trata del senador Roberto Gil Zuarth, el presidente nacional de ese partido, Ricardo Anaya, y el secretario de comunicación, Fernando Rodríguez Doval.
De acuerdo con el nuevo documento, los mensajes con malware les fueron enviados entre junio y julio de 2016. Tras revisar los links, The Citizen Lab comprobó que se trata de la misma tecnología que fue usada en los casos de periodistas y activistas mexicanos, como dio a conocer BuzzFeed News México en días pasados el pasado lunes 19 de junio.
Con este nuevo informe, el mapa del espionaje se amplía a los partidos de oposición en México. En todos los caso se trata de tecnología desarrollada por la empresa israelí NSO.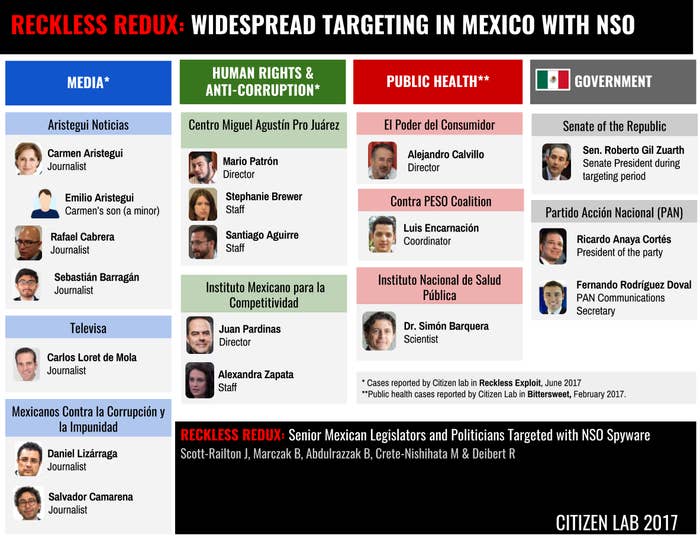 Gil Zuarth, Anaya y Doval recibieron mensajes similares, uno de los cuales les compartían un supuesto link de la revista Proceso que hacía mención a ellos y se estaba volviendo viral.
"Estos casos indican que durante junio y julio de 2016, políticos mexicanos miembros del PAN fueron objetivos con múltiples intentos de infección usando tecnología de NSO", concluye el informe.
Sin embargo, el análisis del laboratorio señala que no hallaron si los mensajes fueron enviados por una coyuntura específica, aunque durante el tiempo de los envíos se estuvieron discutiendo las leyes anti corrupción en el Congreso.
Documentan compra de Pegasus
La noche de este miércoles, los periodistas Carlos Puig, de Milenio TV, y Denise Maerker, de Televisa, presentaron en sus respectivos programas documentación sobre la compra del malware Pegasus por parte de la Procuraduría General de la República (PGR).
"La oficina de la procuradora General de la República, en ese entonces Arely Gómez, recibió el programa de espionaje Pegasus para usarlo contra 500 objetivos, así lo comprueba un acta administrativa de noviembre de 2015", reveló Puig en su noticiero.
Maerker, por su parte, dio cuenta del contrato de compra de Pegasus. El programa, según la información, fue comprado a la empresa TechBull y costó más de 32 millones de dólares. El contrato, por parte de México, fue comprado por Tomás Zerón, entonces titular de la Agencia de Investigación Criminal, y quien ha sido señalado por irregularidades en el caso Ayotzinapa.