La actriz Natalia Dyer de Stranger Things fue a al programa de BuzzFeed News AM to DM el lunes para hablar sobre algunos spoilers de la última temporada de la serie de Netflix, incluyendo la inesperada escena en la que uno de los personajes sale del clóset.
Así que si no has terminado la tercera temporada, puede que prefieras dejar de leer; se vienen algunos spoilers leves.
Esta temporada, la nueva incorporación, Maya Hawke, hija de los actores Uma Thurman e Ethan Hawke, confesó que le interesan las mujeres, aunque no utilizó ninguna etiqueta específica.
Dyer dijo que le "alegró mucho ver eso en el guión", y añadió que Matt y Ross Duffer, los hermanos que crearon la serie, "realmente se preocupan por sus personajes".
Dijo que en esta temporada los Duffer "dieron buenos y fuertes papeles a las mujeres".
En el episodio 7, titulado "The Bite", Steve Harrington (Joe Keery) confiesa que siente algo por Robin al trabajar con ella en la heladería Scoops Ahoy durante el verano.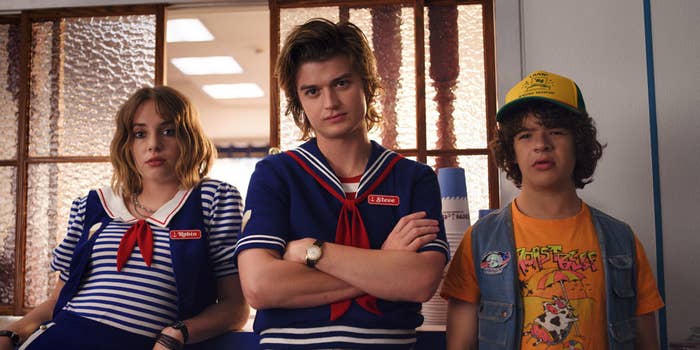 Se toca el tema de que Steve, obsesionado con la idea de la popularidad en la secundaria, nunca había invitado a Robin a salir por todo el extraño sistema de clases sociales. Sorprendida con la confesión, Robin aclara algo que había dicho a comienzos de la temporada sobre sentirse "celosa" y estar "obsesionada" con Steve.
"No es porque me gustaras", "Es porque ella no dejaba de mirarte".
"Quería que me mirara a mí, pero no podía apartar los ojos de ti", dice Robin, revelando haber estado enamorada de una chica llamada Tammy Thompson.
Dyer dijo que los creadores eligieron un modo más natural de desarrollar a los personajes.
"No hacen que sea todo un tema, como, ya sabes...", dijo Dyer haciendo un gesto con las manos: "'Vamos a tratar este tema'. Es parte de ese personaje, es parte de su historia, simplemente está allí".
Esta escena en particular fue alabada por los fanáticos por mostrar a un hombre y a una mujer en una relación platónica saludable.
"AMO SU DINÁMICA PLATÓNICA", dijo un fanático que admitió que al principio esperaba que la relación de Steve y Robin terminara siendo algo romántico.

Y los fanáticos estaban encantados de que Robin, un personaje gay, encontrara a alguien "que la acepta y es su mejor amigo".
Dyer, cuyo personaje lidia con sus propios problemas como mujer trabajadora en esta temporada, dice que "parece una buena temporada para confesar cosas y darles papeles fuertes a la mujeres".
"Eso me pone muy contenta".
Ve la entrevista completa a Dyer en AM to DM aquí abajo:
Este post fue traducido del inglés.