THE BUSINESS CHALLENGE
Flour is a major business line of Molinos Modernos, a company with expertise in transforming and marketing flour for food processing and distribution in Central America. The company's Gold Medal flour brand is well-known and most commonly used to make pancakes for breakfast. Molinos Modernos sought an innovative partner to help educate a new audience about the variety of occasions that Gold Medal flour could be used in order to change the perception that it was an ingredient appropriate only for breakfast.
GOAL
Molinos Modernos set out to show families in Central America surprising new ways they could use Gold Medal flour throughout the day.
STRATEGIC INSIGHT
The Tasty audience is open to experimentation, and viewers love seeing unique twists on classic recipes. In neighboring Mexico, over three-quarters of the Bien Tasty audience makes the dishes that they see featured in Tasty videos and more than half use the exact ingredients they see. BuzzFeed leveraged these insights to create a campaign targeting families who cook to spark their interest with new recipes and get their creative juices flowing when in their own kitchens.
MAIN IDEA
Two Bien Tasty recipe videos were born of the strategic insights using Gold Medal flour mixes as the hero ingredients. The first recipe video capitalized on the Tasty audience's zest for twists on dishes they love and featured a pancake sandwich. This highlighted the versatility of Gold Medal flour and opened the audience's eyes to alternative meal occasions for using the product. The second recipe video leaned into viewers' passion for indulgence and showcased 4 different ways to bake chocolate cookies.
DISTRIBUTION STRATEGY
BuzzFeed used its flagship Tasty brand to speak to consumers in Guatemala, El Salvador, Honduras, Nicaragua, and Costa Rica to drive culinary inspiration and versatility of the iconic brand. Layering on targeting of relevant audiences with interests in family, cooking, fast food, and practicality, the campaign was able to resonate with Central American families and even inspired many to share the content.
RESULTS
The partnership succeeded, leading to delivery efficiency for Molinos Modernos, outperformance in engagement measures, and boosts in attitudinal metrics within the research study. Notable achievements include a $0.02 actual CPV vs. the guaranteed $0.04 and an engagement rate of approximately 3.5% vs. a benchmark of 2.4%.

Meanwhile, within the Pop Research forced exposure study conducted in Guatemala the recipe videos generated significant attitudinal results. An increase of +10% points was seen in brand awareness and 97% indicated that they were likely to make a recipe using Gold Medal in the near future.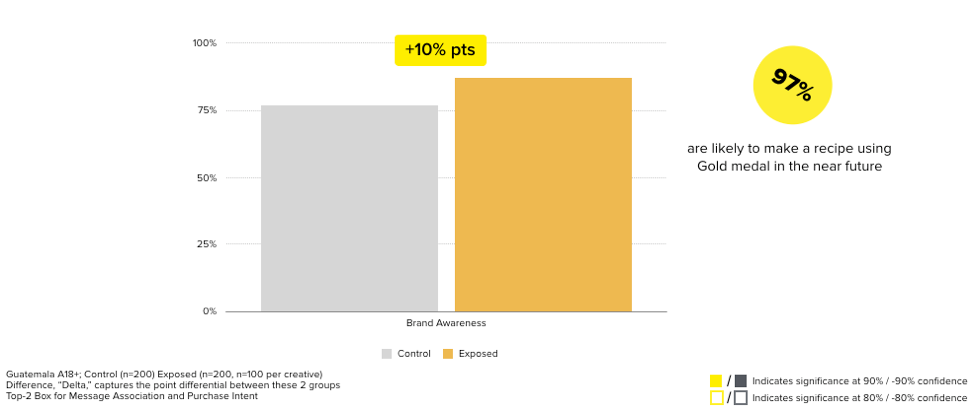 KEY TAKEAWAYS
The partnership between Molinos Modernos and BuzzFeed's Tasty exemplifies an effective way for an established brand like Gold Medal to portray itself in new, innovative ways to a receptive audience. The Gold Medal brand was able to stay true to its values of family fun, love, and harmony in the kitchen while also taking a risk by highlighting out of the box and unfamiliar usage occasions. This important campaign paved the way for Gold Medal flour to be used for different meals throughout the day in kitchens across Central America.
"I enjoyed working with a team with a lot of expertise in what they do, that strives to deeply understand brand insights and to perfectly translate that input into an innovative and winning concept. We know we still have a long way to go in the food industry, but this partnership allowed us to start to explore new platforms that will help us be increasingly relevant and top of mind in Central American homes."

- Alejandra de María Morán Lucero - Molinos Modernos Marketing - Wheat Flours, Sauces and Others