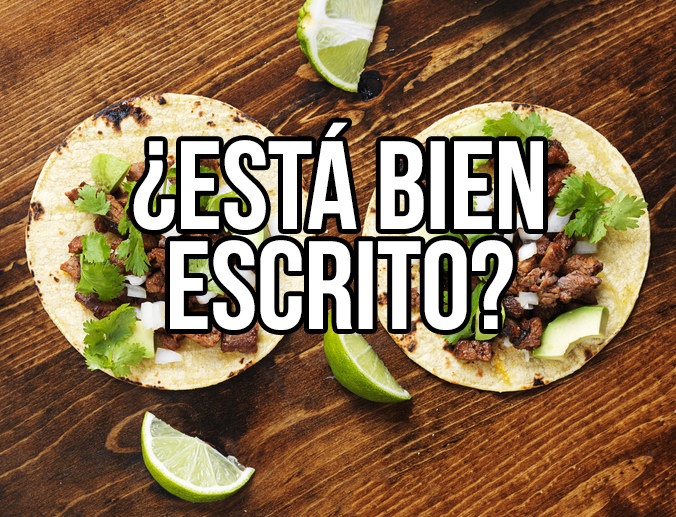 1.

MasaAssassin/Flickr

Via totallyout/Thinkstock

Via totallyout/Thinkstock

Con z.

2.

James/Flickr

Las dos formas son correctas.

Ceviche y cebiche. De hecho, hasta puedes usar seviche y sebiche.

Via James/Flickr

3.

OlgaBerrios/Flickr

Con jota.

Via OlgaBerrios/Flickr

4.

Bernardojbp/Flickr

Cuitlacoche está bien escrito.

Pero también es aceptado utilizar la palabra huitlacoche.

Via Bernardojbp/Flickr

5.

Christopher Mendoza/Flickr

Ñoooo, se dice "tacos al pastor".

Porque no son DE pastor.

Via Christopher Mendoza/Flickr

6.

H.R. Williams/Flickr

Ni pozol ni posole. Pozole.

Via H.R. Williams/Flickr

7.

Joel_Nudi/Instagram

Pero también son conocidas como chascas :)

Via Joel_Nudi/Instagram

8.

tetianabd/Instagram

Con u intermedia.

Via tetianabd/Instagram

9.

Pantytone/Instagram

Con c de casa.

Via Pantytone/Instagram

10.

YukiCat/Flickr

Se-sos.

Via YukiCat/Flickr

11.

restaurante_lum/Instagram

Pox es el nombre correcto de una bebida alcohólica tradicional chiapaneca.

Via restaurante_lum/Instagram

12.

bhofack2/Thinkstock

También es una pitaya y una fruta del dragón. Es conocida de las tres formas.

Via bhofack2/Thinkstock

13.

BasilioBriceño/Flickr

C-emita. La semita es un pan dulce que se hace con pulque.

Via BasilioBriceño/Flickr

14.

schizoid_beats/Instagram

Esa es la forma correcta. No es una cahuama ni una cauama.

Via schizoid_beats/Instagram
Looks like there are no comments yet.
Be the first to comment!