It was a normal Saturday night. I was sitting at a friends house eating cookies, drinking wine, and trying to decide what to watch on Netflix.

"Fuller House?" - "YAS!" she replies, and we cheers, trying not to spill the red wine, because we've found something we both haven't seen, and we're sitting on a white couch.

"I'm down." - "Absolutely." We begin.

The first 5 minutes had me suspicious, but when the episode ended - I was covered in my own happy-sad tears. Why? What just happened? I had to understand. I had to dig deeper.

Episode two hit me even harder and I continued searching for reasons I was hooked.

Episode 3 was a little ridiculous, but I was applauding at the end so who am I kidding?

And that's how far I've gotten. I haven't finished the series and I'm already writing a list of reasons why I'm F-ing Obsessed. Yes. I capitalized F-ing Obsessed.

Here's 3:
1.
I LAUGHED
THEY STAYED TRUE TO FORM
These are characters that we know and love already. But - in order for us to recognize them as the same person we cared about all those years ago - they have to be 100% true to form. AND THEY ARE. Sure, the form is sometimes ridiculous but it's authentically itself. The reminiscent part of us immediately registers this and we can suddenly understand the language the characters are speaking once again. Watch out. The one-lines sneak up on you.
2.
I CRIED (wept)
JUST A SPOON FOOL OF SAPPY
I have to admit that I was nervous about how sappy (a term describing an onslaught of emotion) this reboot would be. I'm not going to give anything away, but some of the situations GET REAL. I was genuinely surprised when I started openly bawling about 3/4 of the way through the first episode - but it's because, in true "Full House" form, the not-so-subtle lessons are applicable. Not to mention, we grew up learning these kinds of lessons from "Full House" - so we trust the characters and we're open to learning again. Not too much, but not too little - they've give us just enough.
3.
I THOUGHT
HERE YOU ARE
The best kind of art is the kind that makes us think. That makes us discuss and build and grow and listen. I'm only 3 episodes in and I'm already talking about it. You're reading about it.
4.
I DIED
THIS KID IS IT
Meet Elias Harger. You're new favorite person ever.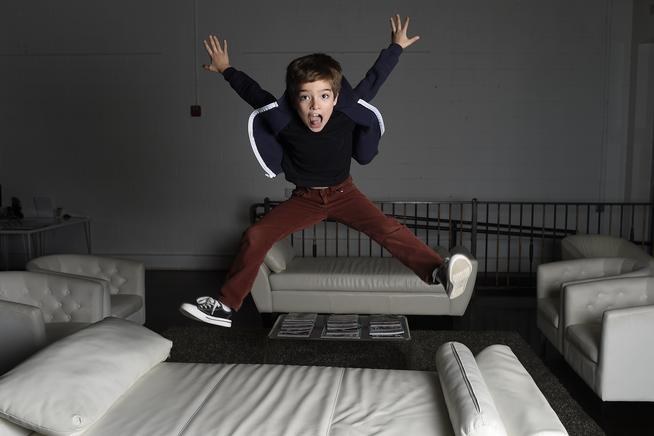 this article also appears on FACEBOOK and MEDIUM