Updates
This is the fourth World Cup title for Germany. Germany's Manuel Neuer receives the Golden Gloves (best keeper) and Lionel Messi wins the Golden Ball as the tournament's best player. Germany wins the 2014 World Cup! 112th minute: Mario Götze scores!!!!
108th minute: A contested header leaves Schweinsteiger bloody. Second half of extra time has started.
The first half of extra time is over. Still tied 0-0.
96th minute: Rodrigo Palacio misses a HUGE opportunity for Argentina.
At the end of 90 minutes, we're tied 0-0 and headed to extra time.
87th minute: Mario Götze subbed in for Miroslav Klose.
It's officially nighttime in Rio.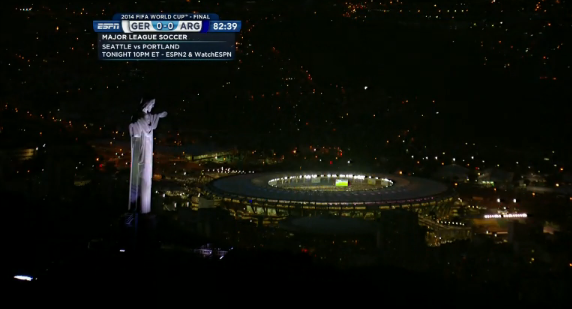 81st minute: Kroos misses a great opportunity from just outside the 18.
64th minute: Argentina's Sergio Aguero receives a yellow card for a tackle on Schweinsteiger.
56th minute: German keeper Manuel Neuer punches the ball away with a flying knee to Gonzalo Higuaín's face.
50th minute: The sun setting over Christ the Redeemer. 46th minute: Messi with another great scoring opportunity, but misses wide.
And the second half is underway!
30th minute: Christoph Kramer is subbed out and helped off the field. Kramer on the ground, unable to get up. 28th minute: Bastian Schweinsteiger receives a yellow card. 16th minute: Christoph Kramer gets examined after taking a shoulder hit to his head.
Russian President Vladimir Putin, FIFA President Sepp Blatter, and German Chancellor Angela Merkel in attendance.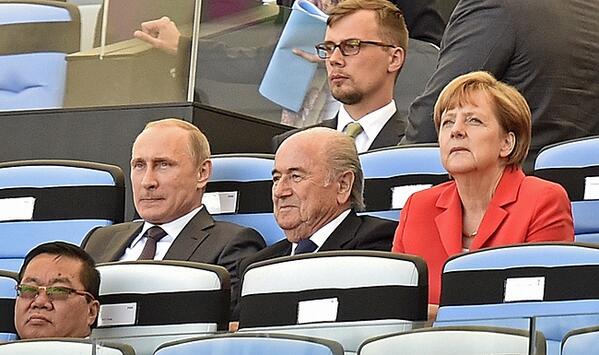 And the 2014 World Cup Final is underway!
Former Spanish player Carles Puyol and model Gisele Bündchen presenting the World Cup trophy. Kaká, Pelé, and David Beckham posing for pictures before the World Cup Final. Pope Francis, who was born in Buenos Aires, Argentina, issued a few words regarding the World Cup on Twitter.
Musician Carlinhos Brown and singer Shakira performed during the closing ceremony prior to the World Cup Final match.