Are you looking for the balanced nutritional dog food to your Yorkies? It is the perfect place because this article is providing complete guidance for selecting dog food for Yorkies. As everyone knows Yorkies is the cutest dog and properly providing food is one of the main elements to take care of your dog health. If you are providing proper food then it is not only providing healthy life but also it is offering healthy behavior. In fact this section will provide the information about What to feed, when to feed and how much amount of food feed to Yorkies. It is really helpful for Yorkies pet owners because this article is consisting of best dog food for Yorkies. In case you are not properly taking care of your Yorkies then it is totally affecting your dog health. Once you are reading this article then you might get an idea about how to feed for Yorkies and so on.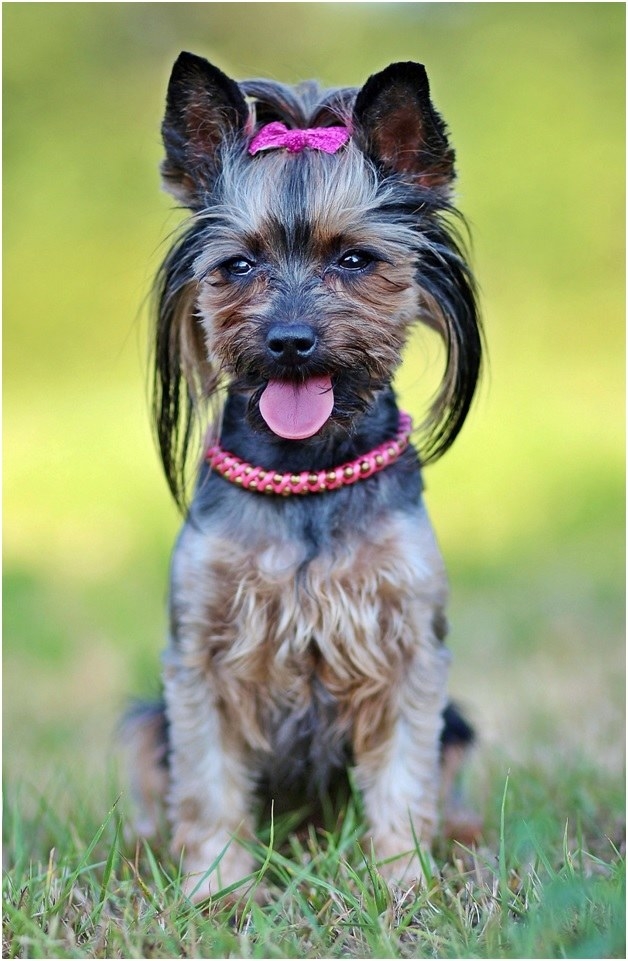 To know about Yorkies nutritional needs like calories and portion size
Yorkie is the cute and small dogs so it is not requiring too much of food because it is usually having a weight between 3 to 8 pounds. One of the studies says that Yorkies need 150 calories in each day. People should keep in mind; Yorkies is having an only little stomach so it can't able to take large two meals in the same day. When it comes to the exact amount of the feeding times of your dog might be depending on dog activity and how old of your dog. In generally this breed can take the two or three meals in per day due to its size.
•If it is weaning age puppy like four to seven weeks puppy then it is requiring free fed until unless it has gained sufficient weight. It is helping to prevent the hypoglycemia and it is allowing the pup to eat as much as possible in a growing stage.
•But if it is three month to one year dog then it is the best time to start up with the scheduled meals. In case you are free feeding your dog at this stage then you might be faced housebreaking problems. In case a dog is taking scheduled foods in each day then it is getting better health and behavior. Three to four meals is the best-scheduled food per day such as morning, lunchtime, evening and early evening
•Above one year Yorkie is needed two meals in each day but in some cases it is requiring three meals in every day.
Things consider while choosing the best food for Yorkies
In a modern world, there are vast numbers of dog foods are available in the market but only a few foods are only suitable for your dog. While choosing the dog food people must consider certain factor like ingredients, balanced nutrition and so on. If you are willing to select the Yorkie dog food then you should consider some factor like
•People should aware of the different kinds of the chemical additives because many of the brands are having artificial flavors, coloring and preservatives. These kinds of the ingredients are producing the different kinds of problems to your Yorkie like skin rash, dryness, itchiness and thinning coat. It is also a major cause for digestive distress such as runny stools, constipation game and stomach upset.
•Try to stay away from the by-products because it is designing with the meat by-products which are reaching the protein quota and often it is consisting of animal body parts such as kidneys, intestines and hooves.
•Many dog foods are designing with the fillers and it is not having nutritional value so try to avoid those kinds of dog foods.
How to select the best dog foods for Yorkies
There are numerous numbers of dog foods are available in online but there is no possibility that all dog foods are suitable for your dog. In case you are wrongly selecting the foods then it is totally affecting your dog health and behavior. While selecting the dog foods you should check whether the below ingredients are there or not such as
•Whole earth warms
•Orijen
•Wellness core
•The complete health for the small breeds
•Natural dry grain free for small breeds
Natural dry grain free is the best one for small breeds because it is made with the turkey, spinach, apples, blueberries, carrots, chicken, salmon oil and peas. It is also sometimes prepared with the minerals, vitamins, antioxidants and probiotics. Even it is creating with the extract of green tea, rosemary and spearmint. At the same time many of the people are willing to buy the complete health dog food products because it is the finest blend of salmon, oatmeal and turkey. It is also containing sweet potatoes, chicory root and blueberries. Proper dog foods are consisting of the
•30 to 40 percentages of the healthy fats
•27 to 37 percentages of the carbs
•30 to 34 percentages of the protein
According to the research, a normal Yorkie is having an only small stomach so you can feed your dog small meals in frequently. The dog food might not contain soy and corn because it is completely harmful to your dog health. In case you are willing to change your dog food then you can do it in gradually in several weeks.
This article is a complete guide for choosing the best dog food for Yorkies and you should keep in mind those things while selecting the food. Each instruction is providing with the help of research and studies so it is really helpful for choosing the best dog foods. If you are satisfying with this article then you can write the comments. If you are willing to buy Yorkie to your home then surely you should read this article because it is having complete information about Yorkie foods. Always choose the premium quality of foods because it is only designing with the balanced nutrition value.
This post was created by a member of BuzzFeed Community, where anyone can post awesome lists and creations.
Learn more
or
post your buzz!