Our Top 10 Favorite Live Music Venues Across The US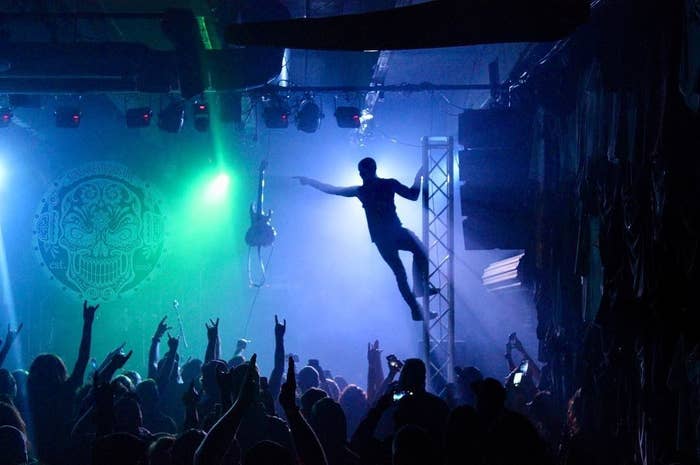 1. SUNSHINE STUDIOS LIVE - COLORADO SPRINGS, CO
SSL is a killer 2-stage venue in the heart of Colorado. Not only can you join the mile-high club, you can see killer touring Rock bands here many nights a week, and even stream your show live or take home a live recording from their state-of-the-art recording studio. Founded by Christina "Sunshine" Corbitt and Tony Korte 2006 as a recording studio, then feeling the need for more music they opened the doors to a Rock venue in the 17k square foot building.
"Sunshine Studios Live of Colorado Springs is consistently the best live venue in town. With our state of the art sound system, cutting edge lighting, live streaming capabilities and all ages philosophy, Sunshine Studios Live is THE go to venue in Colorado Springs. We have two stages, with an indoor capacity of 800-1000 and outdoor capacity of 2,500 sized to fit almost any band on the market."
2. THE MACHINE SHOP - FLINT, MI
For years, The Machine Shop (most shows 18+) has been one of the premier stops for touring Rock and Metal artists in Michigan. With close ties to local Flint radio staple WWBN, The Banana, "The Shop", is a bucket list venue for many artists, and a "second home" to many more.
"The Machine Shop Concert Lounge is located in Flint, Michigan and has been booking the best live music entertainment in rock, metal, and outlaw country since 2002."
3.SAINT VITUS BAR - BROOKLYN, NY
Saint Vitus has become legendary for hosting intimate 21+ shows with the likes of Megadeth, Nirvana (with J. Mascis of Dinosaur Jr.), Anthrax, Carcass and more, quickly becoming a NYC Metal staple. As one of the choice haunts of local and touring Metal bands passing through Gotham, St. Vitus is a must-see for the big apple headbanger.
"Saint Vitus is a world renown venue/event space located in Greenpoint, Brooklyn. Established in 2011, Saint Vitus has hosted some of the most prestigious bands in the world including Nirvana, The Descendants, Neurosis, Megadeth, Anthrax, Carcass, Refused, Babes in Toyland, Sick of it All and many more for one of a kind intimate shows. The bar has also served as ground zero for NYC's heavy music community and has garnered praise from The New York Times, The Village Voice, The New Yorker, Pitchfork, Metalsucks, Gothamist, etc.
4.THE WHISKY A GO GO - WEST HOLLYWOOD, CA
The Whisky is about as legendary a venue as they come, for over 50 years boasting performances by just about any legendary artist you can name, from the Doors, to Janis Joplin, to Led Zeppelin, to Motley Crue to Alice Cooper to Janes Addiction to Korn . And still, it is open ALL AGES seven nights a week hosting touring and local acts of all sizes. For many artists, this is the holy grail of venues to play, and with good reason. Amazing sound, and a stage that has hosted some of the most legendary Rock happenings in history.
"As long as there has been a Los Angeles rock scene, there has been the Whisky A Go-Go. An anchor on the Sunset Strip since it's opening in 1964, the Whisky A Go-Go has played host to rock 'n' roll's most important bands, from the Doors, Janis Joplin, and Led Zeppelin to today's up and coming new artists."
5.THE SLIDEBAR - FULLERTON, CA
One of my personal favorite venues to see a show is The Slidebar, the Orange County CA staple opened in 2006 by LIT's Jeremy Popoff. With a menu of amazing food, and a tiny intimate room that hosts, mostly free, shows by touring artists of all sizes, The Slidebar is an amazing place to catch a small, packed sweaty show, and share in the legendary history of Orange County Rock N' Roll.
"The Slidebar is an independently owned and operated Rock 'n' Roll establishment. We are proud to celebrate the history of Orange County music, while offering the best food, drinks, and entertainment around."
6.ROUTE 20 - STURTEVANT, WI
Nestled outside of Milwaukee, WI, Route 20 is a beautiful 18+ venue with amazing sound, albeit sort of in the middle of nowhere, hosting great Rock acts several nights a week, boasting recent, or upcoming performances from Megadeth's David Ellefson, John 5, Mushroomhead, and more, and has hosted acts as diverse as Trivium, Misfits, Butcher Babies, Armored Saint, Nonpoint, Theory of a Deadman, Another Lost Year, and more. Definitely a great stop to add to your routing passing through Southern Wisconsin.
"Route 20 is Southeastern Wisconsin's premier entertainment destination. We're not just another bar & restaurant that has bands. We are a full-service restaurant and music venue that cares about the whole experience for the fans as well as the artists. Experience a close-up, personal and memorable show with national, regional and local artists."
7. THE BRASS MUG - TAMPA, FL
Realistically, "The Mug", as it is affectionately known to Tampa locals, is kind of a shithole. A shithole, in that same sense that CBGB's was a shithole. Literally, it doesn't even have a website. It's just the dirty, divy kinda Punk Rock, sticky floor place where you can see an amazing show that you will never forget. Long removed from its original location, The Brass Mug is a longstanding Tampa Rock N' Roll institution.
8.BRAUERHOUSE LIVE - LOMBARD, IL
Nestled in the Chicago suburbs, Brauerhouse is a powerhouse venue, featuring a menu of great food, and a great craft beer list. With 2 rooms, (All Ages in the big room, 21+ in the smaller main room) hosting touring acts of various sizes and genres, Brauerhaus is a great place to unwind and see a Rock Show, and a great place to play one.
9. TWISTED SPOKE SALOON - PEKIN, IL
One of our favorite "hidden gem" venues, opened in 2009, the Twisted Spoke is a no-frills 21+ venue in Pekin, IL hosting local and touring Rock, Metal, and Punk acts. A great spot to fill out your routing, in a great tertiary market in Central Illinois.
10.THE Q AND Z EXPO CENTER - RINGLE, WI
While being the hands-down winner for the most "middle of nowhere" venue, the converted schoolhouse that now houses the Q and Z (Conveniently located at the corners of Hwy Q and Z), plays host to many ALL AGES shows with touring and regional bands in the Midwest. Located outside of Wausau, WI, the Q and Z is one of my favorite venues to play, and see a show. With friendly staff, great sound, and a fun environment, another great place to fill a date.