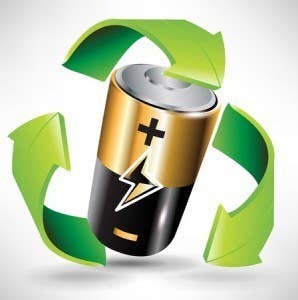 Like many every day household items that we use, certain batteries contain chemicals that when not properly used or disposed of may cause harm to the environment. Most of us just aren't fully aware of what to do with our old electronics or battery powered devices, and often these items just get tossed aside ready to be taken out with the trash. Recycling batteries is an easy way to keep these toxic materials from entering our environment and increasing pollution, and also allows batteries to be reused in an efficient and green manner.
Many cities across the US and many battery distributors have battery recycling programs, most of them sponsored by the Call2Recycle non-profit organization. But what kinds of batteries and electronic devices can be recycled? The truth is most of them can be recycled, but some are a little more difficult to than others. The most common batteries accepted by most recycling programs are:
1.Nickel Cadmium (Ni-Cd)
2.Lithium Ion (Li-Ion)
3.Small Sealed Lead Acid (SSLA/Pb)
4. Nickel Metal Hydride (Ni-MH)
5. Nickel Zinc (Ni.ZN)
Alkaline/Single Use batteries can be recycled in some instances, as well as Automotive/Wet Cell batteries. It is best to check online to see what recycling programs are near you and where. You can visit http://www.call2recycle.org/locator/ for a good start.
Most recycling centers also take in old cellphones to reuse and recycle their internal components, including their rechargeable batteries.
What will happen to these items after you drop them off? In most cases, the collection sites send batteries and cell phones directly to some sort of hazardous waste facility where they are sorted and shipped to recycling facilities. Batteries are recovered or reused to make new batteries, cement products or stainless steel alloy. Cell phones are refurbished, resold, or recycled.
Battery Wholesale is a proud battery recycling drop-off location. We also use recycled materials to pack shipments. We are located at 40120 Industrial Park Circle Georgetown, TX 78626, and you can also contact us at 1-800-365-8444 for more information.