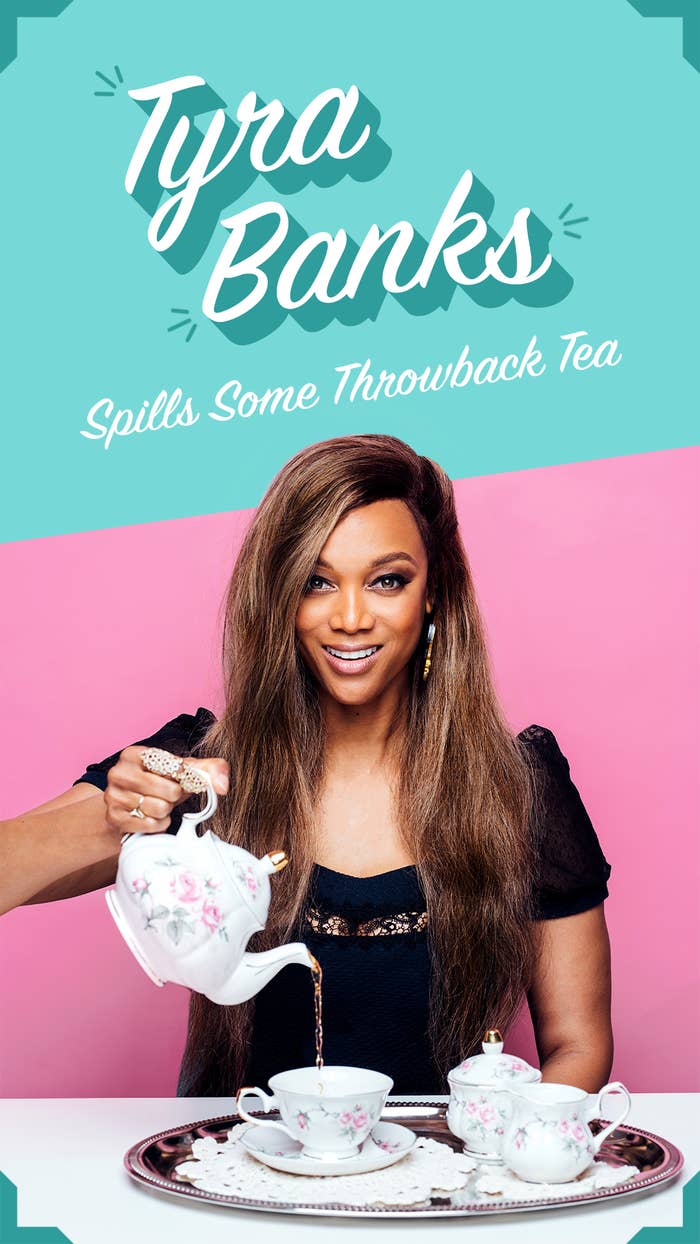 Is Life-Size 2 still happening? And if so, what can we expect from the sequel?
Tyra Banks: Yes, this is not a false promise. Life-Size 2 will be on your screen, whatever screen you use, this Christmas, this Kwanzaa, this Hanukkah...this holiday season 2018! And Life-Size is going to be different. So, if you were a little girl or little boy like, "Oh my God, I love Eve. She's so cute," and you have kids now, you might need to use a little parent discretion on whether they should be watching Life-Size 2 or not.
Do you ever talk to Lindsay Lohan? Is there any chance of her being in Life-Size 2?
TB: Lindsay slides into those DMs. Mhmm, I be seeing you girl. I slid into hers first, to be honest. 'Cause I was like, "Yo, I'm producing Life-Size 2 are you down?" And she was like, "I'm down to the down." Like, she's so down! So, we're working on the script now and I'm telling the writer I don't want her to just have a cameo. I feel like she was just as important to Life-Size 1 as I was, so I want her to have a role, at least three or four scenes. I think she would play herself grown up — like, Casey in Life-Size grown up. So, we'll see!
Can fans expect another iconic song like "Be A Star" from Life-Size 2?
If you had to pick one, what was your all-time favorite cycle of America's Next Top Model and why?
TB: I'd have to say Cycle 1, because it was my baby and it was so new. It's so funny, I still know first and last names of girls from Cycle 1: Elyse Sewell, Shannon Stewart, Robin Manning, you know it just goes on and on. So yeah, Cycle 1. And back then we were only doing one a year, so it was Season 1. I remember there was this thing kind of behind-the-scenes called The Heathens Vs. The Christians, or something like that.
I mean, I'm not saying my girls who weren't believers were heathens, but that was kind of the behind-the-scenes shorthand of how to describe both sides. And I think a heathen won, but she was so amazing. Adrianne Curry was like on my list – I have a list of all of the girls at the audition process and whether or not they should get in or not, and next to Adrianne's name I said no. She ended up being an alternate and then she ended up winning, because she had some of the fiercest pictures all cycle.
Would you ever do a cycle of America's Next Top Model with all plus-size models?
TB: I've wanted to for so long. Over the years I've created decks — you know, it's like pages and pages of something — and you're trying to present something to somebody as to why they should do something, like convince them. For years I've been saying we need to do a plus – this was before it was called curvy – a plus season, a plus-size season, and they keep saying no.
So, it's kind of like my hands are tied, at least with America's Next Top Model for now, but who knows...I mean the world has changed. We're no longer at the forefront of the curvy girl thing. We now have Ashley Graham and so many other girls, and Instagram girls that are curvy are blowing it up...so, maybe our new network might say yes! I gotta pull out that deck again.
A lot of ANTM contestants have gone on to do many incredible things. Which contestant are you most proud of?
Who was your favorite Tyra Show guest? Any chance the show will make a comeback?
TB: I loved, loved, loved Beyoncé coming on The Tyra Show. She would come all the time. When Beyoncé came, she'd come two hours before the show started and damn near stayed two hours after it was over, looking at tape and making sure everything was okay. She was such a perfectionist. She needed all that time and I gave it to her. She didn't know I was looking at her, but I got to see her rehearsing, and telling her crew to do this and do that. Back in the day, people thought Beyoncé was just like "Yes, ma'am. I'm from Houston and I'm just so nice and happy." She is a nice girl, but she's a business woman and I got to see why she's so successful. She knew lighting, sound, every single thing...so, she was fun. And she always did something a little extra, crazy on my show, which was fun.
There's this thing about old shows coming back and getting insane ratings. Rosanne just came back and she got 23 million people watching that show. So, of course if The Tyra Show comes back we're going to have 35 million, right? I'm tempted. Roseanne, me and you, ding ding.
How do you actually "smize"? And can you give us a demo?
Your new book is called Perfect is Boring. What are some other social norms that you consider to be "boring."
TB: Conventional beauty...boring. I like something a little off. An eyebrow that's a little higher, hair that's a little uneven, skin that has different skin colors, eyes that are not just like, "Oh my God, so perfect," lips that are like too big or too small, chins that are a little too pointy, and foreheads that are too big. I think things like that just make the world more beautiful, when it's a little askew.
We loved your character Ursula on Gossip Girl. What was is like working on that show and alongside Blake Lively?
What was it like working with Will Smith on The Fresh Prince of Bel-Air? What life lesson did you learn from that experience?
TB: The amazing thing about Will Smith is that when you're on set, you hear him before you see him. He announces himself like, "Wassup, everybody!!" Such positivity. So, the fact that he was so happy and so amazing, and so delectable made life on set really great.
I learned that the show was a family already. Not just a television family, but like a crew...a family. They'd been together for so long and here I am, the new one coming to set and so I felt really awkward. I remember Karyn Parsons (Hilary Banks) asking me if I wanted to go to lunch. I was so nervous and so scared, and I would always say no because I felt like they were already a family and don't want me. But here she is asking me to lunch all the time. So, I learned to meld into the situation Tyra. Don't be so scared.
What would you say is the most memorable or iconic outfit you've ever worn?
Are you planning to release the rest of the Modelland series?
TB: There's so much that I have planned for the Modelland series. Stay tuned in a couple of months maybe. In the next 12 months you're going to see Modelland take a swerve on a curve. Like, Modelland is going to come to you in a way that I'm so excited about!
Were you really rooting for her? Were they all really rooting for her?
You've had an amazing career. What are you most proud of?
TB: I'm most proud of being first. Like being the first Black Victoria's Secret model on the cover, to have a contract, the first Black angel, the first Black woman to wear that fantasy bra diamond thing – or being the first female model on GQ. Can we pause? Record scratch. People say, "Oh yeah, Tyra was the first Black model on GQ." No! FIRST FEMALE MODEL ON THE COVER OF GQ! Let's get it right.