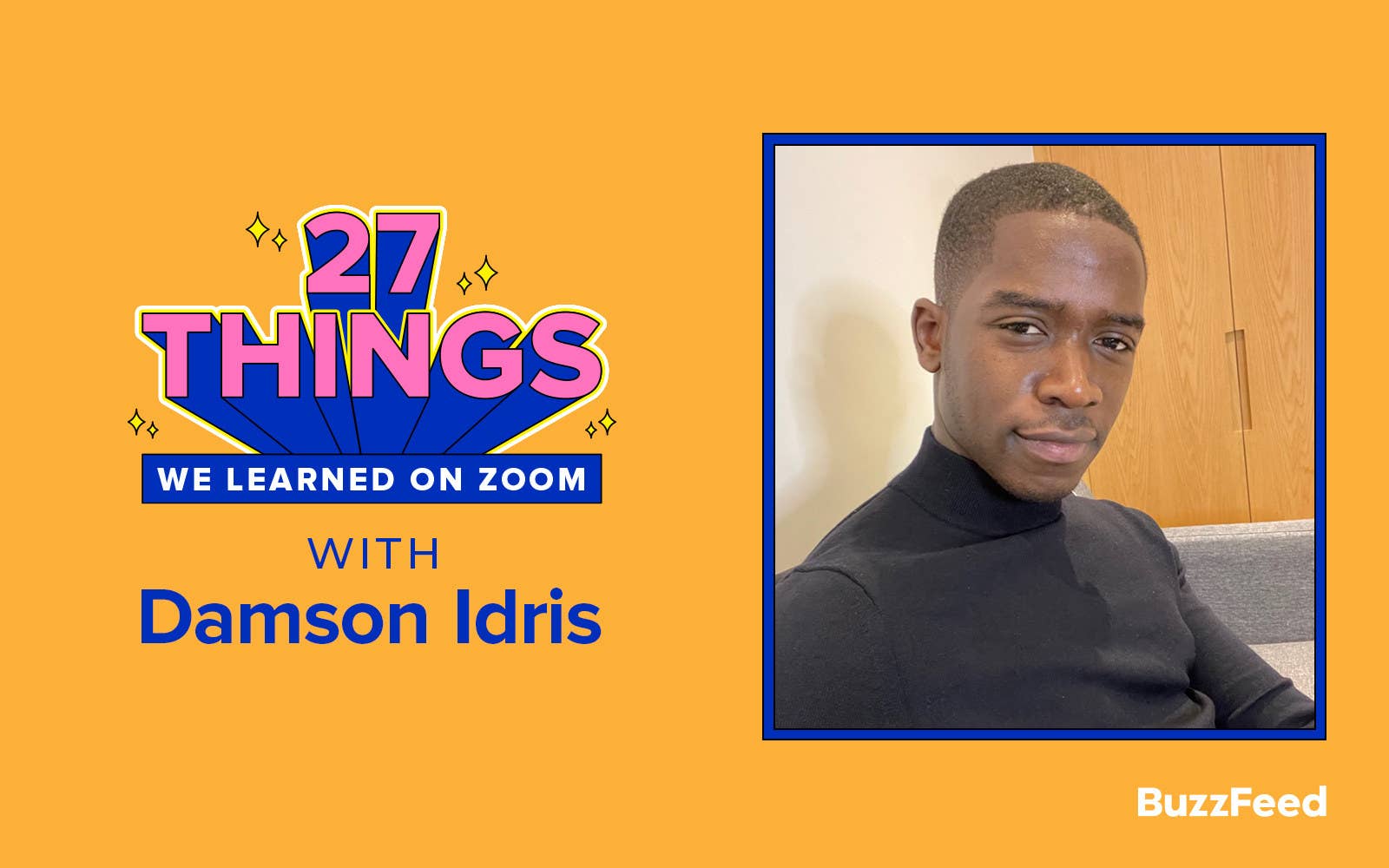 Damson Idris might be a fresh face in Hollywood, but something tells me he's destined to become a household name in the industry sooner than you think. From his early work in theater to his most recent roles, like Franklin in FX's Snowfall and HARP in Outside the Wire on Netflix, Damson has proven that he can not only master an accent, but he can also channel the essence of a character so well that even fans have trouble distinguishing who he is from the people he plays on screen.
So to celebrate the upcoming Season 4 premiere of Snowfall, we sat down with the 29-year-old London native to chat about everything, like how he feels filming those violent scenes, his thoughts on the controversial Season 3 finale, his love for red wine, dreams of working with Denzel Washington, and more! Here's everything we learned: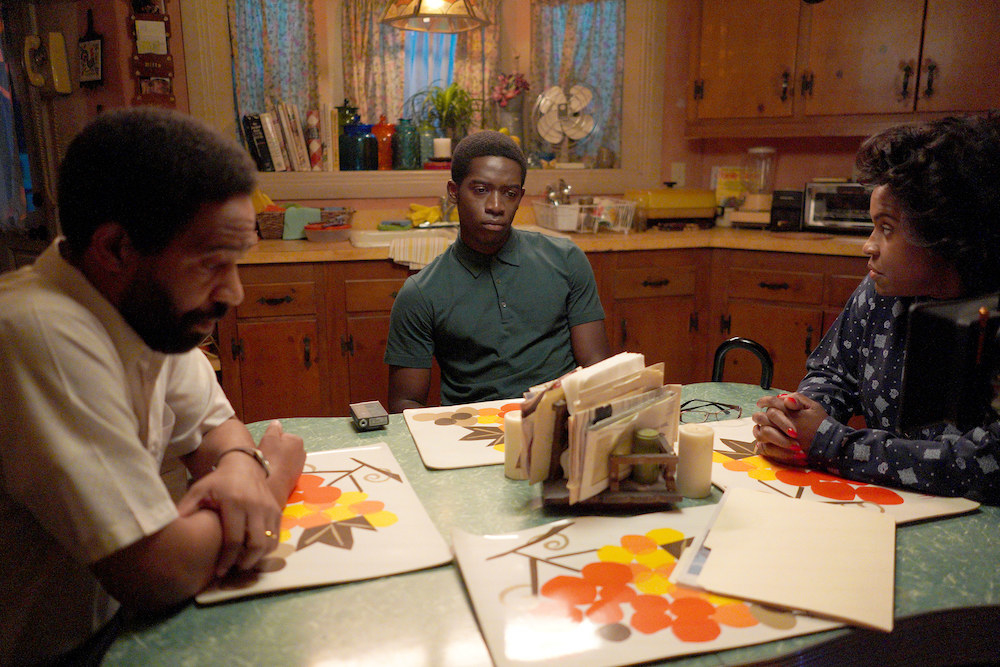 1. Congratulations on the new season of Snowfall! What was one of your favorite behind-the-scenes moments?

One of my favorite behind-the-scenes moments in Season 4 happened right before we broke for COVID-19. We managed to knock out around three or four episodes in February, and I called up Snoop Dogg, and he came to set. We got Snoop Dogg's approval. That's one of the biggest approvals that I always wanted for the show, with regards to authenticity. So just seeing him around and seeing the crew being all excited that Snoop Dogg was in the building, that was one of my favorite moments from the season.

2. Your character Franklin is involved with, and surrounded by, a lot of violence. Was there ever a scene that you felt was hard to shoot because it was too gruesome?
You know, the thing about the show is John Singleton would always call it a ghetto Game of Thrones, because you never know when someone's going to go. As a show that has a crew and cast that we all love, when someone has to go, it's almost like losing a family member. So, yeah, there have been times when we've hugged it out and people have cried, because people are about to be killed [off the show]. I can't tell you which ones happened this season (laughs), but there are definitely moments like that when Franklin has to take someone's life and, behind the scenes, Damson and that actor maybe shedding a tear.

3. You mentioned John Singleton earlier and I know it hit all of us extremely hard when he died. What was it like working with him and what did you value most about the experience?
It was fantastic working with John Singleton, because he was a master at his craft and he was someone I respected dearly from the countless amazing movies he's done, like Boyz n the Hood, Baby Boy, and Poetic Justice. As an actor, he would push you to do your best. One thing I took away from working with John was to always do stuff that you enjoy. So in a nutshell, sometimes people do movies for the money and fame, but John taught me that the best time to do a movie is because it's compulsion — because it makes you happy. That's the most important thing. So for me going forward, every role I do and the people I work with, I want them to be people who make me happy, because that's what John told me.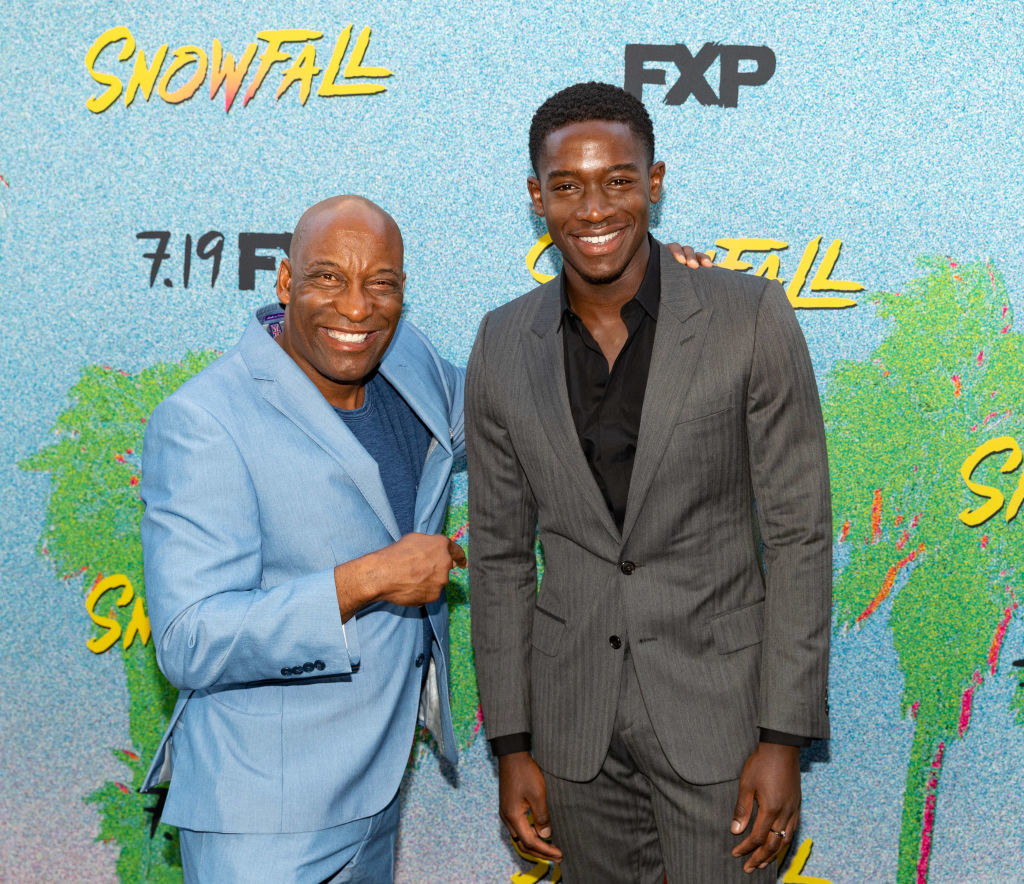 4. Speaking of people who make you happy, the show also focuses a lot on friendship. Do you feel like you have made solid friends in the industry that you can call on, no matter the time or place?
Oh yeah, everyone I've worked with. I've been really fortunate to work with some amazing people who I stay in contact with. Everyone on Snowfall, of course: from Andrew Scott on Black Mirror [and] Sanaa Lathan on Twilight Zone to Kate Beckinsale on Farming. Every role I do, there's always someone there who makes me say, "Yeah, I'm gonna know you forever." So yeah, I definitely keep those relationships strong through the work.

5. Besides the obvious, what's the biggest difference and biggest similarity between you and your character Franklin?
I'd say the biggest difference between me and Franklin is I would have given up after that first beatdown. Actually, you know what, not even before the first beatdown. In Season 1 when Franklin heads to Avi's house and Rob wants him to get that first coke and he hears that gunshot when he walks to the door. I would've turned around there and that would have been the end of my run in the cocaine industry. But the biggest similarity between me and Franklin is our importance of valuing family and truly seeing our mothers as our queens and our be-all and end-all. As long as she's proud, everything else doesn't matter.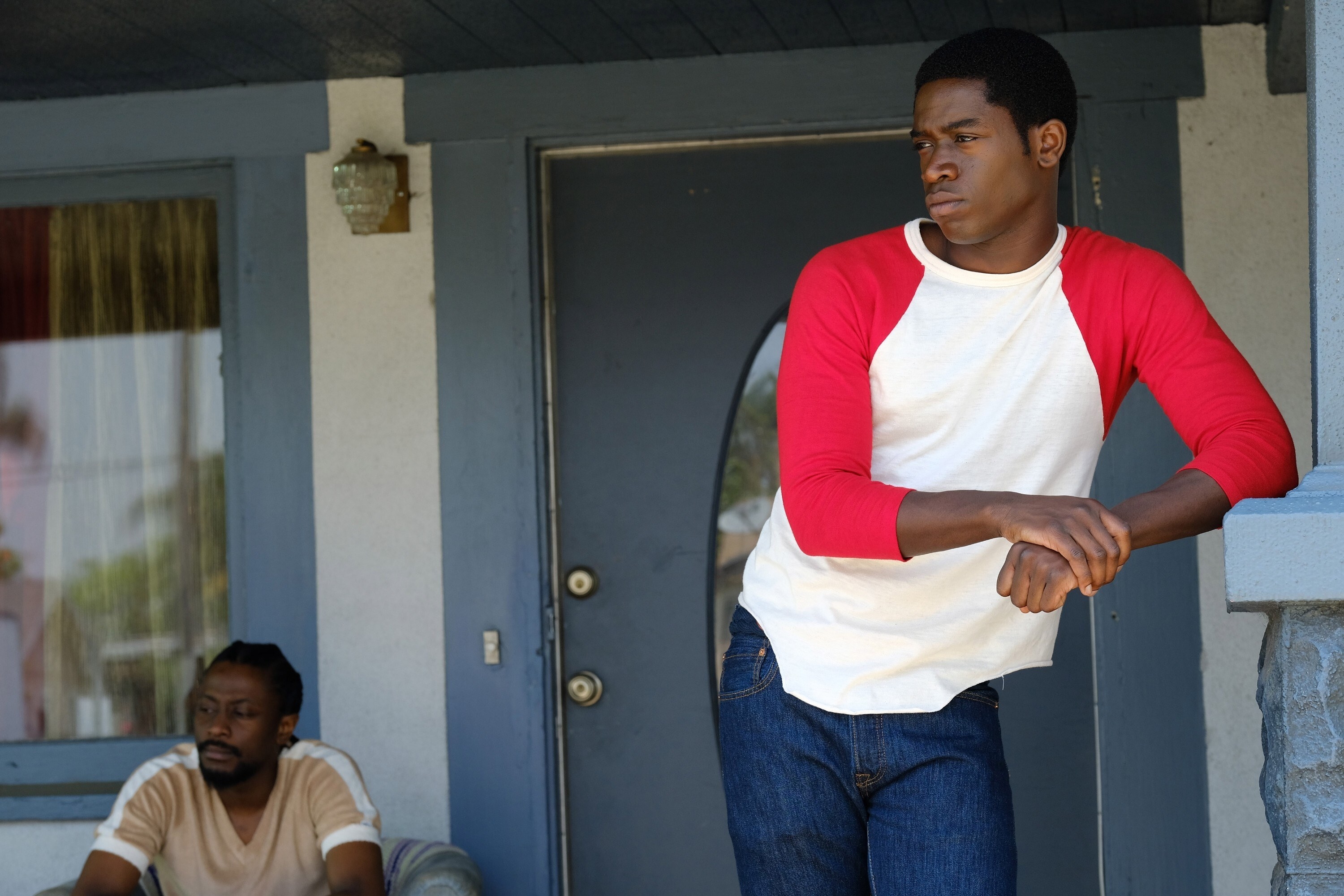 6. With the new season premiering tomorrow, can you tell us your thoughts on the controversial Season 3 finale?
It's interesting because we were on tour in Chicago and Dave Andron, the showrunner, called me; Amin Joseph, who plays Uncle Jerome; and Isaiah John, who plays Leon. We went to his room in the hotel we were staying in and he played us Episode 10. We loved it so much that we left his room and stood outside his room near the elevator, talking about everything that happened in the episode, for like two hours! He was getting ready to leave his room, and then he saw us standing there and said, "You guys are still out here?" That's how much we loved it! I think that episode was for the artists, you know? There are innuendos in that episode that will never be understood until you truly know the history of film, film technique, and truly understand the nuances. It's like someone reviewing a musical album that took an artist over a year to make. There's no way to fully understand the instruments and lyrics, and that's what that episode was. I think that the route we took was a fantastic one because we don't see that on screen — we don't see a "what if" nature. We don't see what if Tony Montana came to Miami, you know? So we were able to see that with Franklin and I think that was a beautiful way to explore TV.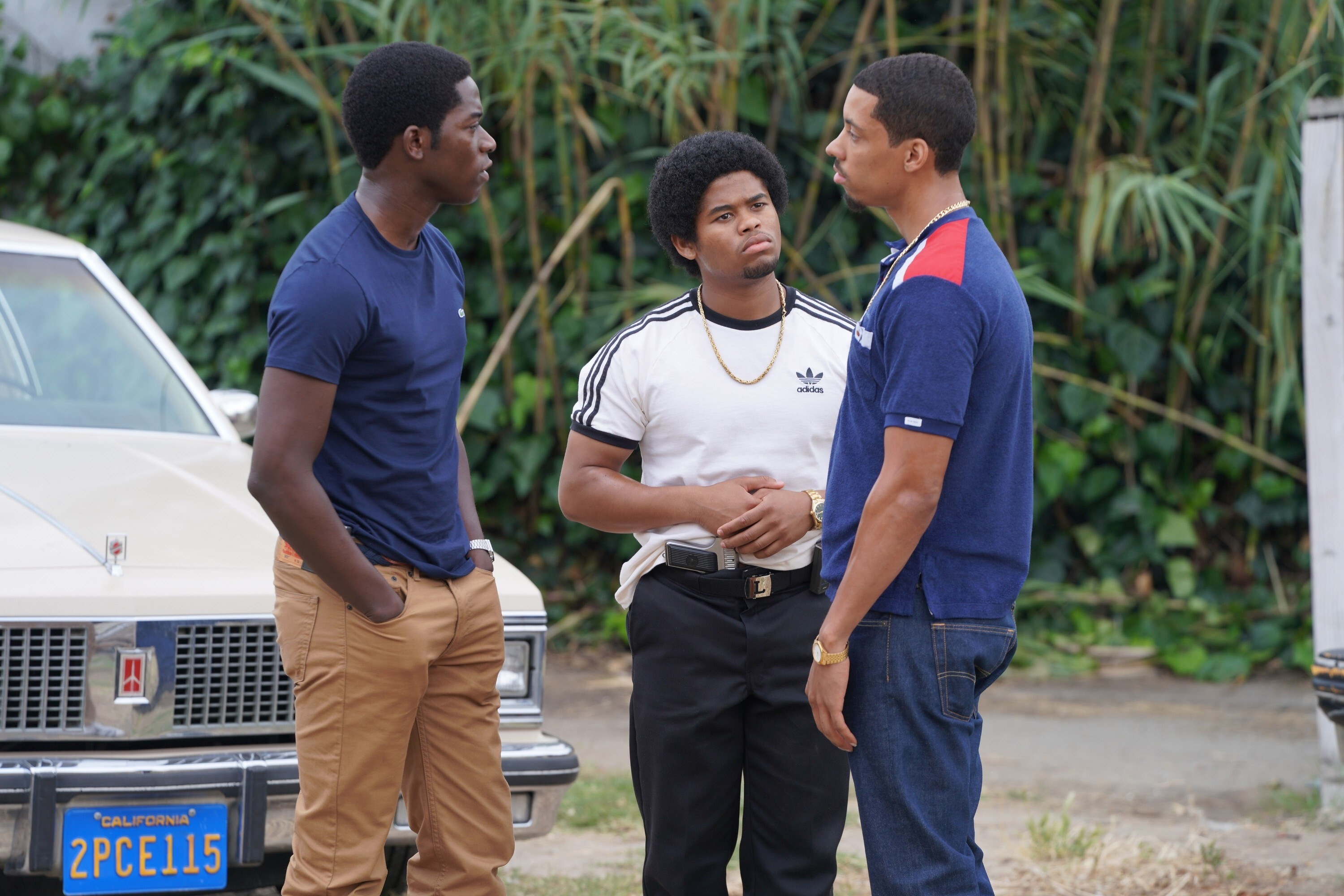 BuzzFeed: So what can we expect from Franklin in Season 4?
Season 4, we start in January 1985 and Reagan's war on drugs is fully ramped up, and our characters are going through complete turmoil. Specifically with Franklin, at the end of Season 3, he's very broken. So in Season 4, he's basically putting himself back together and trying to convince himself, and everyone around him, that he is still the boss — that he can control the inner and outer conflicts. His biggest conflict involves Manboy and his crew (the Crips) and Skully and his crew (the Bloods). So that's the biggest thing that's happening this season for Franklin. Teddy and Gustavo are very much building a relationship together and they are dealing with a Nicaraguan war, while still fueling most of the cocaine that's coming into South Central Los Angeles. The great thing about the season is the way they interweave these characters so seamlessly. It took us some time to perfect, but I think the audience [will find] the payoff of this season is really going to be worth it. I think people should go back and watch Season 1 and see what they missed, so they have a better understanding of Season 4.

7. You recently starred in the new Netflix film Outside the Wire with Anthony Mackie. What did you two do offscreen to help build that chemistry onscreen?
Well, me and Anthony stayed in the same hotels. He would say he just needs to show up and they yell, "Action," and he's ready. But me, I'm a bit more of a weirdo. I wanted to be around him as much as possible. Aside from what we were doing in the movie, I just wanted to be around him because he's a great person. He is someone who has done over 70 movies! He's someone I look up to. He's someone whom I knew I could be a sponge around. And I knew he'd be an open book and teach me as much as possible with regard to navigating in this industry. But one thing we did share was we'd smoke cigars in Budapest and head over to this bar called BOB, and drink some red wine. And he told me stories and I told him stories...so that was definitely helpful in building the chemistry between us.

8. What's something about Anthony Mackie that might surprise fans?
He smokes a lot of cigars [laughs]! He probably does two a day, I think — and it's hard to get through a cigar! But one thing I think everyone knows about Anthony Mackie is that he has an extreme work ethic. His focus and dedication to getting a scene right, to making an action sequence look out of this world and brand-new, is something to marvel at, specifically for someone like me who's young and starting out. People should definitely know Mackie is one of the greatest action heroes we have in this industry today.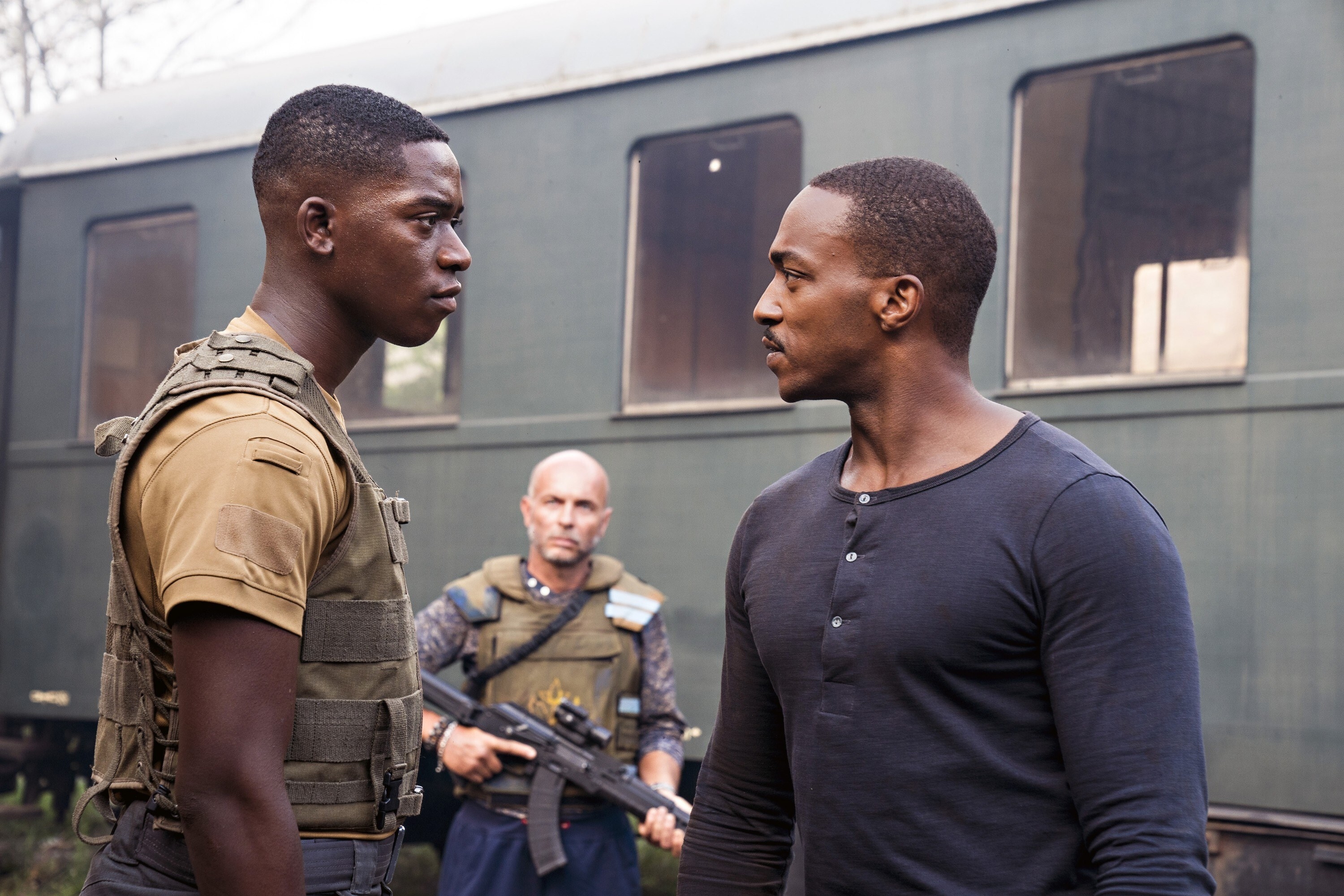 9. Truly! I've been following his career ever since he played Papa Doc in 8 Mile and his performances never disappoint. I also read that Denzel Washington is your hero. If you were to star in a TV show or movie alongside him, what would you want it to be about?
Wow [laughs], that's a great question! I haven't thought about it today. I probably think about it every other day [laughs], but not today. I don't know, man. I'd be interested in doing something that he directed, because I know that's the path he is on now, but either a villain/hero story or family themed.

BuzzFeed: Well I would love to see that! Okay, now we're gonna transition into some fun, rapid-fire questions.
10. Which TV shows are you binge-watching right now?
Lupin.
11. What's the last book you read?
Anini: The Saga of an Armed Robber. It's about a Nigerian armed robber in the '70s who went on a rampage against police officials.

12. Have you ever been starstruck?
A million times! When I saw Jackie Chan at to the Vanity Fair Oscar party with John Singleton. As an actor, specifically a Black actor, you say to yourself, "I'm going to meet this person or I'm going to meet this person," but you never say, "I'm going to meet Jackie Chan." You just don't think you're gonna meet Jackie Chan. So when I saw Jackie Chan, I was starstruck, turned into a kid again! I met him and Chris Tucker at the same and I was doe-eyed! Wow!

13. So in that moment you were the fan, but have you ever experienced a wild fan moment?
Oh yeah, a million! People who watch Snowfall think I sell crack for real. I was in LA and this guy came up to me and he was like, "You know, if you ever need any help, I got a spot where could stash your stuff." I was like, "What? Man, it's a TV show! [laughs]" People are really invested in this show, so that's always a blessing.

14. Have you ever slid into another celebrity's DMs or vice versa?
A couple of celebrities have slid in my DMs but it's always humble. The beautiful thing women who are celebrities, they really come on an x-rated vibe. It's a very calculated way of sliding in; it's like, "Oh I love your work! If you're ever around we should..." And I prefer that. On the flip side, I'd say before I understood my responsibility, maybe I slid into a couple of DMs. A lot of them were older women. I think I slid in Halle Berry's DMs. I had a little red wine and said, "You know what, why not? " Let me just put a little love heart and see what happens. I unsent it after like five minutes [laughs].

15. We've all been there! Was there a movie or TV show that inspired you to become an actor?
It wasn't actually a movie or TV show but I used to be infatuated with Def Comedy Jam. I used to see all of those amazing artists transition from the stage to film. We're living in a new day, so I wasn't going to hit the stage but I was definitely going to make some comedy videos on my phone and put them on Instagram, and see what it leads to. Then, as I was seeing that the roles were being more comedic, I said, "Hmm, I want to take a stab at drama." That's when I went to Brunel University; studied drama, and TV and film studies; and trained at Identity School of Drama. My first play I did that was a drama, I played a kid who had severe OCD. I loved getting into character and I loved how serious it was! I caught the method acting drama bug and I haven't looked back since.

BuzzFeed: Hold on, are you saying that I can scroll down on your Instagram and find some of your old comedy videos?
DI: Oh no! I deleted every single one [laughs]. They're on my computer though, so maybe one day I'll release it so a young kid out there can get some motivation.
16. Have you ever caught anyone watching your projects on a flight?
Yeah! I was going back to London and the guy in the seat in front of me was watching Snowfall. I'm not gonna lie, I pretended to go to the bathroom a bunch of times just to walk by his chair to see if he noticed me but he really didn't notice me. That was a surreal experience. Another time that happened, I was sitting in the back of the plane. And a movie I did called The Commuter was playing. I was sitting with my brother and he was cussing me the whole flight [laughs]. He's like, "People are watching you on the plane and you got us sitting in the back?" I said, "You better be humble and enjoy these crackers and these nuts. [laughs]" But yeah, those are all amazing times, man, and as I approach 30, it's taught me to focus on happiness and to really understand that where I am now is the exact place that I used to look forward to. So, I'm enjoying the present.

17. Do you ever go back and watch your own work?
Oh, no, no, no.

BuzzFeed: I've noticed a lot of actors choose not to.
DI: I'm trying to get into the fashion of not watching my current work. I'm now producing — it's a different hat — so I have to stare at myself a bit and try not to critique.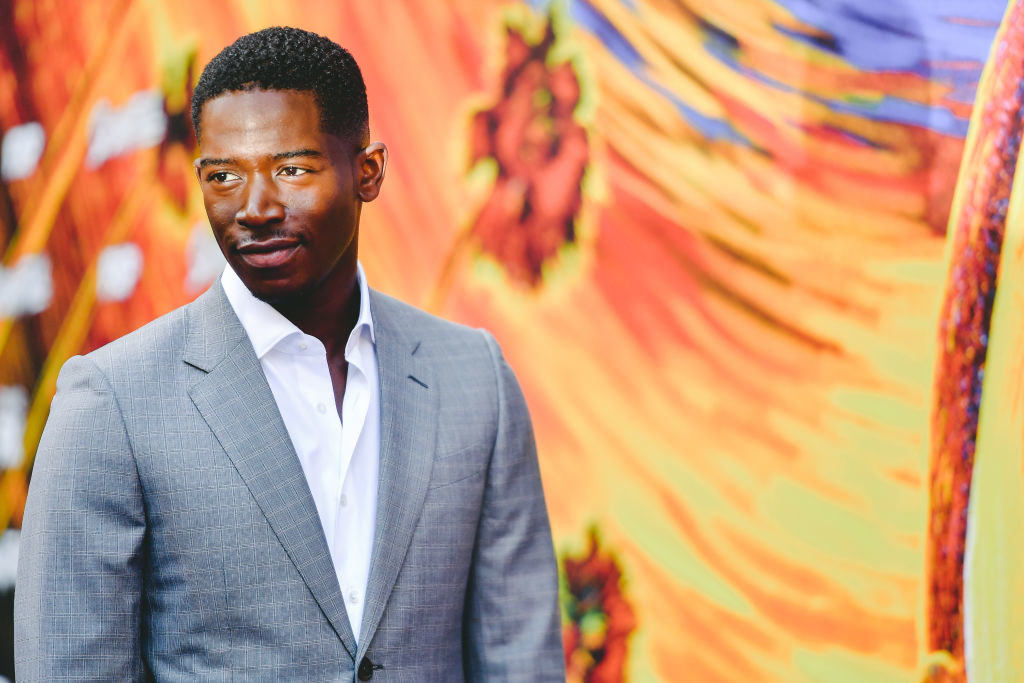 18. Easier said than done, I'm sure. What role would fans be surprised [to know] you auditioned for but didn't get?
I auditioned for Fences to play Denzel's son. Yeah, it didn't work out but that would have been a great one, because I would have had the opportunity to work with Denzel. It was for the best though because that movie was a huge success. But like you said, maybe it'll happen in future.

BuzzFeed: Yes, speak it into existence.
19. Have you ever kept anything from set from any of your past projects?
Yeah, I did. In Season 4 [of Snowfall], Franklin has a cane. Now it's mine. I don't think you can frame a cane, but I have it with me and I brought it back to London. I try to keep one thing from every role I do.

From Farming, I tried to keep the snake but they didn't let me keep the python. I think I ended up keeping the Doc Martens though. So yeah, every role I tried to keep something; but [just having] pictures and video, that's something that truly is special and a lot of actors don't really like it. I'm trying to get out of that fashion, because in 50–60 years it's gonna be beautiful to see some images that we've all made in this current time.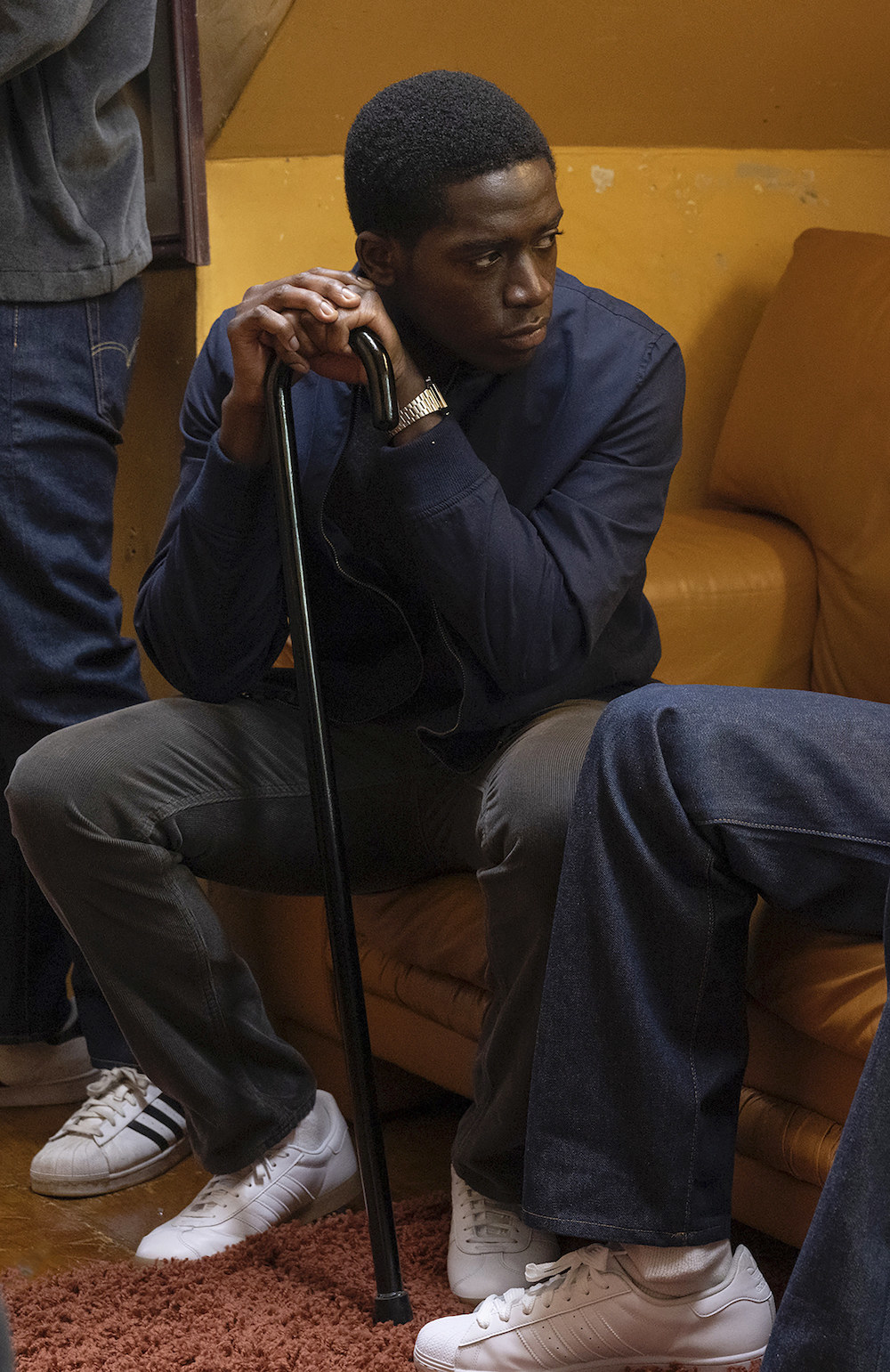 20. What's on your bucket list?
Let me tap into my inner Will Smith, hmm. I really want to go to Nigeria. I've been before, but I want to go in my adult life and experience what that is. I really want to go to Jamaica. A lot of my bucket list stuff is traveling. As I approach 30, I'm trying to find as many ways I can't die so bungee jumping and all of that are not really on my bucket list. I'll do it for a movie role. I'd rather die in a movie role doing it than in real life. Yeah, for me, mostly about traveling. I want to travel to more places in Africa. On a more humanitarian side, on my bucket [list] I'm looking to align with someone in the charitable sense, just going forward. It's give-back season.

BuzzFeed: Traveling can be so enriching and fulfilling. When it comes to philanthropy, are there any causes that are dear to your heart?
DI: It's always about young people for me, you know? I remember what I wanted and what I didn't have access to when I was a kid; so if I could create that for as many people as possible, that's kind of where my mind is right now. When I was younger, growing up in London, they used to have so many amazing youth clubs. You could go play pool, table tennis, play sports, but now it's all gone. Kids are either on the street, on the corner, or at home playing Call of Duty. It would be good to start up some of those initiatives again.
21. That's beautiful and definitely needed! Despite your UK roots, you've been working in the United States for years now. What's the weirdest or most surprising thing you've learned about American culture? Go easy on us [laughs].
That women are like men, like the women will hit on you. That was very surprising to me when I first got to America. I was like, "Oh my God!" One girl was like, "Oh baby, you from London? You could get it." Like right to me! I was like, "Oh my god, we just met. You gonna buy me a drink first [laughs]?" Let's see, what else... Your food portions are enormous. Your houses are a lot more spacious too.

I guess the different dialects were surprising to me. When I was in London, before I came to America, I thought there was just an LA accent, a New York accent, and a Southern accent. It was those three. But then when I got here, it was like, [Damson says this line in his best New Orleans accent] "Aye baby, you heard me?" There's a New Orleans one, DC, Chicago. There were so many different dialects that I was introduced to, and it just made me realize that there are so many intricacies to American culture. That was beautiful to acknowledge.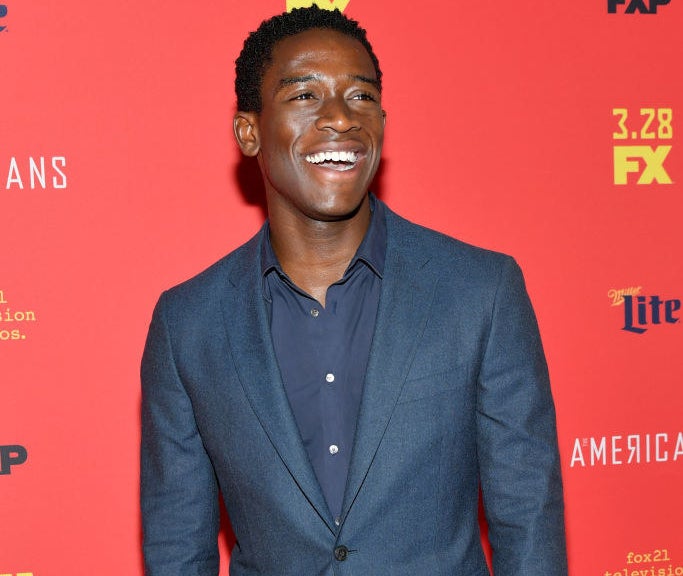 22. What's your favorite curse word?
I don't cuss a lot. I really try not to. I'm trying to prepare myself for fatherhood. Probably s-h-i-t. Ahh, shit! [laughs]

23. What's your favorite adult beverage?
Red wine.
BuzzFeed: I love a good red. Any one in particular? Cabernet?
Cabernet! That's the one.
24. What's your favorite emoji?
The red wine emoji. I love it so much. I don't think people understand why either. They'll be like, "Why are you always sending red wine emojis?" If I'm happy, if I'm sad, or angry, that's always my favorite. Maybe one day I'll have an emoji of me, holding red wine, with different facial expressions.
25. Well, you know what goes perfect with wine? Music. What's your go-to karaoke song?
"Billie Jean" by Michael Jackson.
BuzzFeed: A classic! Now I'm wondering which artists you listen to on a regular basis.
DI: I just did this Spotify Taste playlist with like 50 songs. They range from different eras, but what I've learned is I'm an old soul and I like the work of people from back in the day: so some Sade, Nina Simone, Bob Marley, Michael Jackson, Fela Kuti, and Barrington Levy. Then when it comes to the new school, I have a lot of Kendrick Lamar, Drake, and Jay-Z. My main thing is, I like people who progress through their music because they're progressing in real life. I don't think, as a musician — and forgive me as I'm not a musician, but just outside looking in — I don't think you should be talking about the same stuff when you're 35 and 40, as you were when you were 16 and 20. There should be progression and that applies to me too. As an actor, I don't want to be doing the roles I [was] doing when I was young when I'm older. So I always get behind artists who lean into that. On the UK side, Santan Dave. That's someone you should definitely know about. He's, in my opinion, one of the greatest rappers.
26. I read that fashion is another one of your passions. Can you tell us about your upcoming fashion venture?
I'm infatuated with tailoring and just what a suit can do for your day, so I'm working on [a line of suits] now. In the '20s and '30s in our community, we were in suits. And I don't know what happened. I think we should move into that gentleman era again and understand that's not a bad stereotype to have. Black people are gentlemen or Black men are gentlemen: That's not a bad stereotype to have. Maybe I could put some of that sauce into the young community with my suits. They'd be affordable too. I don't know what the name will be yet. What do you think a good suit name would be?

BuzzFeed: You're just gonna put me on the spot like that [laughs]? I can't think of anything right now, but I'll get back to you.
27. Lastly, what does a perfect day look like for Damson Idris?
I'd wake up, pray and give thanks to God, shower, and brush my teeth straightaway. Sometimes I'm on the phone for two or three before I shower and then now I'm behind. Then I'd learn a module of Spanish on my Duolingo app, call my mom or any loved one just to wish them good morning, and do my HIIT workouts (High-Intensity Interval Training), which is this five-minute workout I do every morning. If I can do all that, that's the perfect start to my day. Then anything else, as long as red wine is involved. It always works out [laughs]. Red wine and Sade.
Be sure to check out Damson Idris when Season 4 premieres on Feb. 24 on FX. Or stream it the next day on Hulu.