Shahadi Wright Joseph On "Them," How Her Role In "Us" Helped To Prepare Her, And More
"I read the script for the first three episodes and I was obsessed!"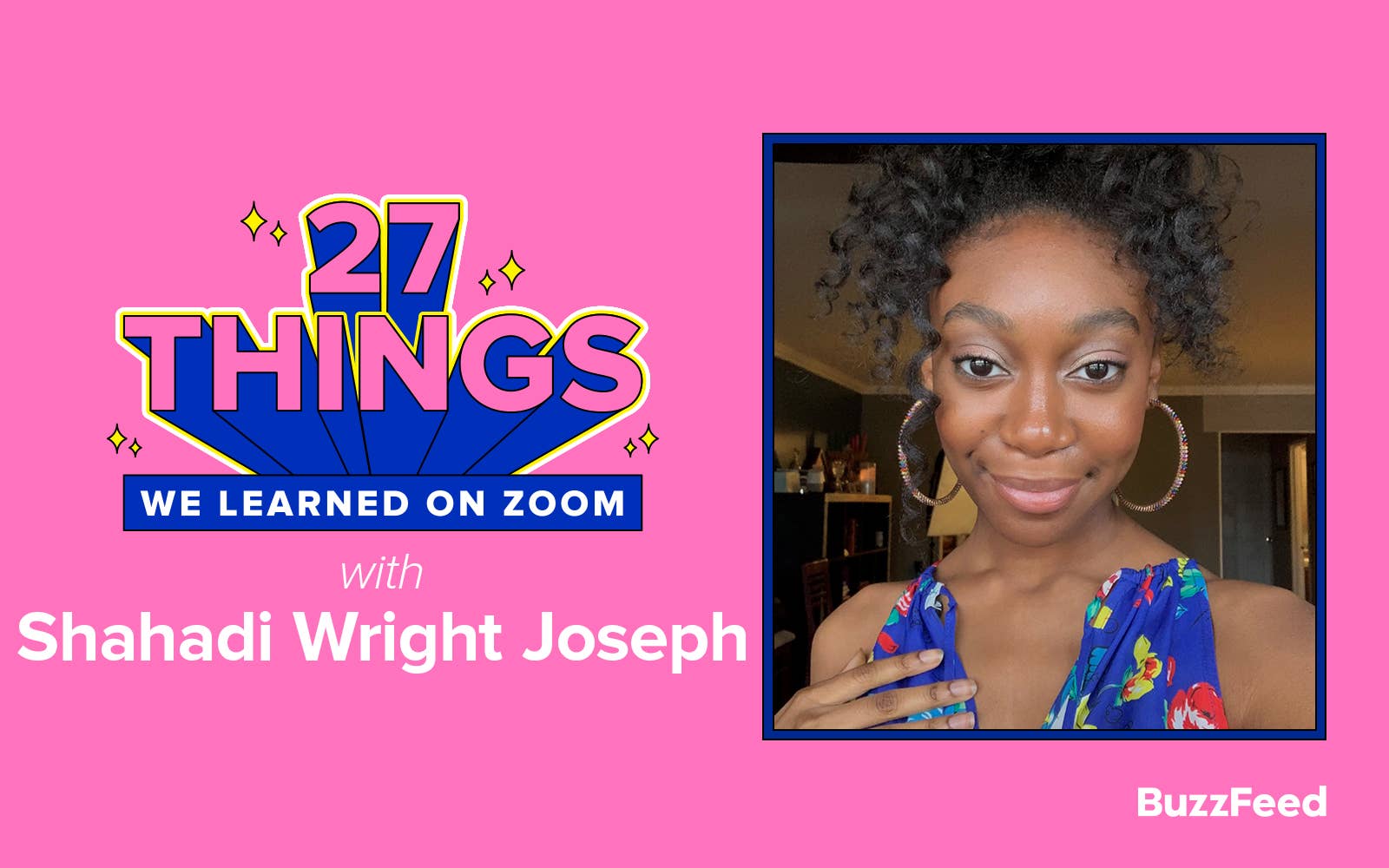 From Broadway to the big screen and everything in between, Shahadi Wright Joseph is making her mark in Hollywood and leaving a lasting impression. With titles like The Lion King (both the stage play and the Beyoncé-accompanied film) and Jordan Peele's thriller Us under her belt, Shahadi has proven to be a triple threat in every sense of the term.
For her latest project, the 15-year-old rising star tackles race as Ruby Emory in Amazon Prime's Them: Covenant — a new horror-drama anthology series created by Little Marvin and executive produced by Lena Waithe. Set in the 1950s, the show is about a Black family who moves to an all-white neighborhood in Los Angeles during the Jim Crow era.


To celebrate, Shahadi sat down with us to chat about everything — like how she prepared for her new role, filming TikTok dances behind-the-scenes, why the themes in the series are still prevalent today, getting starstruck on set, and so much more!
1. How did you hear about Them: Covenant and what attracted you to the role?
My agents sent me an audition for it. I heard the description of the show was going to be a horror series taking place in the Jim Crow era and I was immediately drawn to it, because I had never seen anyone create something as special as that. So I was very, very excited to work on the project. Then when I booked it, I was even more excited! And when I finally read [the script for] the first three episodes, I was obsessed!
2. What was the audition process like?
It was a self-tape audition, here at home. Little Marvin actually told me that he had me in mind for the project already. Ultimately, I got the call that I booked the role, and that was very, very exciting. I was even more excited to know that I was going to be working with Melody Hurd — who plays my little sister — just because I know her from social media, and she is the best person — oh my gosh!
3. As soon as I saw the trailer, I immediately thought of your film Us. Did that experience help prepare you for the role of Ruby Emory?
I would say so. Us was my first horror project, ever. Now, I love all things horror — it's my favorite genre to watch. Plus, Jordan Peele is just such a visionary when it comes to making horror projects and about social issues in general, so I kind of transferred a lot of what I had learned from Jordan onto my experience with Them. I feel like both productions have a very similar process when it comes to the freedom of being able to literally live and be our characters in the moment. It's what I loved most about working on those sets.

4. In the anthology series, the Emory family is prone to visualizing disturbing illusions with racist undertones. What was your take on the significance of those images?
I feel like those images, and just those visions in general, have to do with Little Marvin's own vision of the horror of racism in itself and the treatment of Black people in the Jim Crow era. I thought that it was very creative for him to add that, because he basically took what Black people experienced — and are currently experiencing — and turned it into these horrifying, supernatural figures. It was just very creative. It was so much fun to read when I first got the script, so I'm really glad that I have him and Lena Waithe as my mentors in this.

5. Although the show is set in the 1950s, there are still some eerie similarities to the current state of race relations in America. What impact do you think this show will have on viewers?
I want viewers to take away their own perspective of race, prejudice, blatant racism, and microaggressions. There are so many topics that we talk about in Them, including mental health. It's very amazing to see this vision come to life, because it just feels so inspiring to be a part of.

6. Lena Waithe is an executive producer on the show. What was it like working with her and what valuable lessons did you take away from the experience?
I had already been such a big fan of Lena before I started this, so I was excited to be working with her. The first time that I met her was at our table read and I remember she would come to set and she would be like, "I am so proud of you. I've seen the scenes and you guys look amazing." It felt really great to hear that sort of validation from her, because she is so talented herself. So when a talented person is saying that you're talented, I believe them.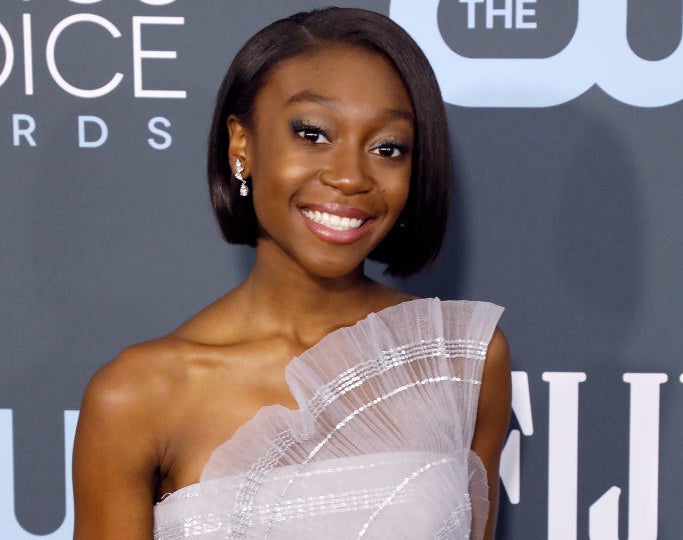 7. What was one of your favorite behind-the-scenes moments?
Every moment with Melody Hurd was my favorite! I loved having her there, because we started shooting almost two years ago, when she was 7, and it was great having that youthful energy there. In between scenes, she would make me do a TikTok dance or something [laughs]. She has such a great energy and I love doing scenes with her. She's such a great partner. She's almost like my younger sister now. I can already tell that she's going to be such a superstar when she grows up.

8. Are you on TikTok? If so, what have been some of your favorite TikTok challenges?

Oh my gosh, yes I do! It's my name. I love all of the dance challenges. I'm obsessed with them. I love the food challenges too. Oh, and those cool transition videos that people are making on there. Those are so much fun.
9. Which TV shows are you binge-watching right now?
I've been binge-watching Good Girls lately. It's such a good show. I've also been rewatching iCarly on Netflix, which has been amazing. It brings back so many memories, because my family and I used to watch iCarly all the time. This one's a film, but I recently watched The King of Staten Island. It was fantastic!

10. What are your top 3 favorite musicals?

Hamilton, Waitress, and Dear Evan Hansen.
11. Which artists are you listening to nowadays?

Willow Smith. My favorite song of hers is "Marceline."
12. You made the Forbes 30 under 30 list and have also been named as an artist to watch. What do accolades like that mean to you?

It's unbelievable! When starting out in the industry, you don't really think that you're gonna make it as far as I have right now — if that makes any sense. It just feels like such a blessing to be able to do what I love every single day, to be able to keep doing that, and to be appreciated for it sometimes. So, it's great. It feels incredible, almost surreal.

13. You've also starred on Broadway in The Lion King, as well as the 2019 live-action remake. What moment stood out to you the most while working with Beyoncé and the rest of the talented cast?

Oh my gosh [giggles]. I only got to work directly with JD McCrary, who plays young Simba, so I didn't meet the entire cast until our photo shoot and also at the premiere. So, I would say the premiere was my favorite part, because I got to meet Beyoncé [laughs].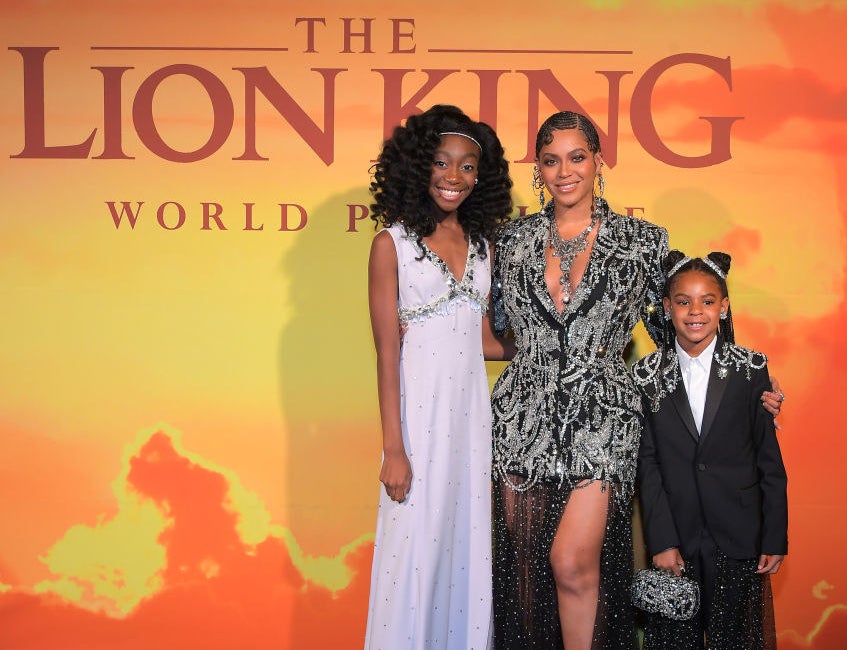 14. Who or what inspired you to get into acting and singing?

I would say all of the Black girls on Disney Channel at the time, because that was what I was watching the most. I wanted to be like Zendaya, Skai Jackson, and China Anne McClain. Those are my top three — they kind of inspired me to get into the industry. I'm so glad that I get to be where I am today.

15. If you could pick three dream costars to work with on your next project, who would they be?
Octavia Spencer, Regina King, and Jennifer Hudson.

Do you have a project in mind for it?
No, not yet. But I'm a writer, so I could and probably should think of something [laughs].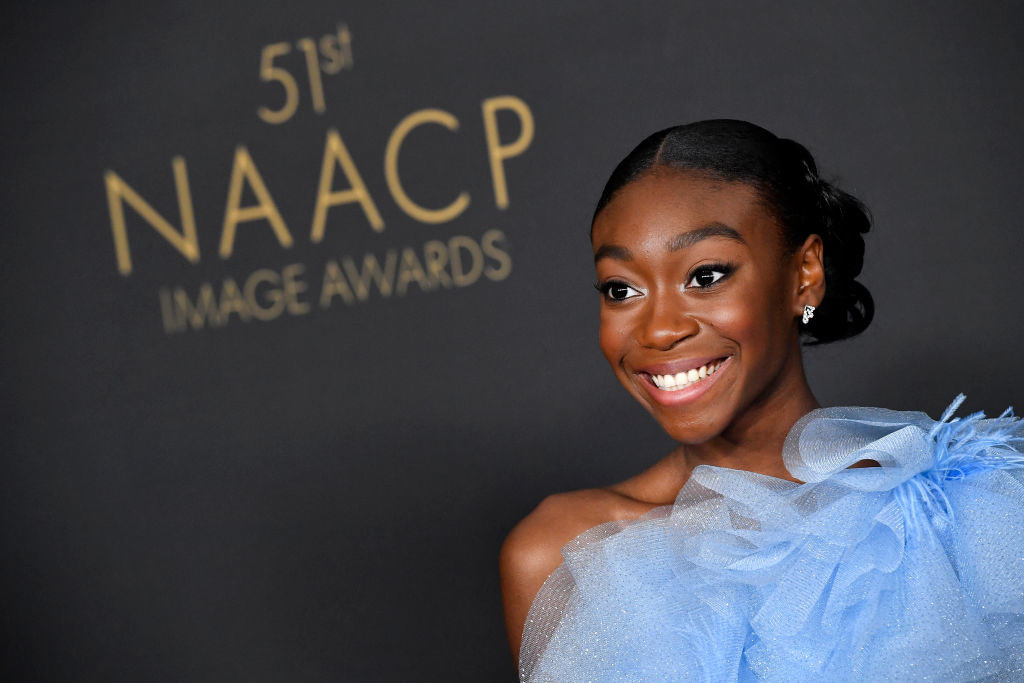 16. Have you picked up new hobbies or gone back to any old ones during the pandemic?

Yeah, writing. I love to write, so that's what I've been doing a lot. I've also been playing a lot of chess and riding my bike. It's getting warm here in New York, so riding bikes has most definitely been added to my schedule. Oh, and shopping — I've been shopping a lot.

17. Speaking of shopping, I noticed that you like to incorporate a lot of vintage pieces into your personal style. How would you describe your style and where are some of your favorite places to shop?

I love shopping on the site YesStyle. I also like shopping on Amazon, which is just a coincidence, I swear [laughs]. I also love shopping at this place called L Train Vintage here in New York. I'm in Brooklyn, so I go there all the time.

18. Your hairstyles also always blow me away. I've heard so many horror stories from Black women whose hair was damaged due to stylists not knowing how to take care of natural hair. Was it important for you to find a Black hairstylist in the business?

Yes! My hairstylist, Cheryl T. Bergamy — I love her so much! She really does understand my hair down to a T. I feel like whenever she comes over, and she's about to do my hair, we always show her my outfit first, and then she comes up with the best way to complement the look. We take a lot of inspiration from Janelle Monáe's red carpet hairstyles. So, I really appreciate Janelle for that. If you're reading this Janelle, thank you so much for your looks!

But yeah, with this industry it can be hard to find somebody who works with 4C hair and works with it well. If you're a Black girl in this industry, there's a big chance you're going to get some heat damage. It happens. You've got to pick and choose your battles.

19. Have you ever been starstruck?

It's very embarrassing. I got starstruck after I met Beyoncé, which was really weird because I wasn't in the moment — then I was like, "That just happened." But I was more starstruck when I met Donald Glover (Childish Gambino), because 1) I'm a big fan of Atlanta — I've been rewatching Atlanta as well, 2) I love his music, and 3) I love Community. I'm just a big fan all around.

20. What's one role you auditioned for that might surprise your fans?

Venus Williams in King Williams [the 2021 biopic about Venus and Serena Williams and the coaching they received from their dad Richard, which led them to stardom].
21. Which emoji do you use the most?
😭
22. If you could eat one meal for the rest of your life, what would it be?
Mac 'N' Cheese.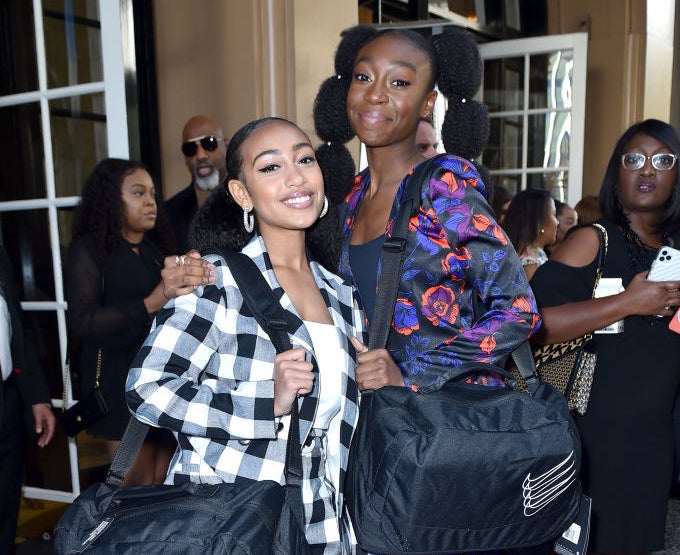 23. Being in this business at a young age can be tough. Do you have a close group of friends in the industry who you can call on no matter what?

I do, actually! My closest friends in the industry are Lexi Underwood (Little Fires Everywhere), Eris Baker (This Is Us), and Kaci Walfall (Army Wives). Those are my top three favorites.

Lexi and I had a Broadway era since we were maybe 12. We got so much closer back when I was in Hairspray Live! I was shooting in LA and we were in the same apartment complex, so we would usually hang out with each other and watch Hamilton on bootlegs and stuff [laughs]. We would have a lot of fun.

24. I also read that you grew up with Caleb McLaughlin (from Stranger Things). Are you guys still close?
Oh my gosh, yes I did! Stop, how do you know that [laughs]?
I do my research [laughs].
Yes you do! Our families went to the same church, so that's how we know each other. He was also in The Lion King on Broadway, right before I did The Lion King on Broadway. He got out, right when I was getting in. His family and my family were really close. I love his sister — we're literally like god-sisters. So yeah, great family and great people! Their family is also very smart when it comes to strategic career moves. My family and I usually go to them for tips and advice. It's great.
25. How do you make sure to still enjoy your teen years while balancing your hectic work schedule?

You have to make a lot of sacrifices to do what you love, which is fine with me. I do have a close circle of friends who go to school with me, and we all go to a performing arts high school, so they know the industry, and we have a lot of fun with that. They're usually on my Instagram, so you've probably seen them, but we FaceTime a lot and we hang out whenever we can — masked up, of course.
26. Have you ever kept anything from set?
Yes, from Hairspray Live! They were these little yellow bows that I used in my hair. I kept that as a little souvenir after we were finished with it.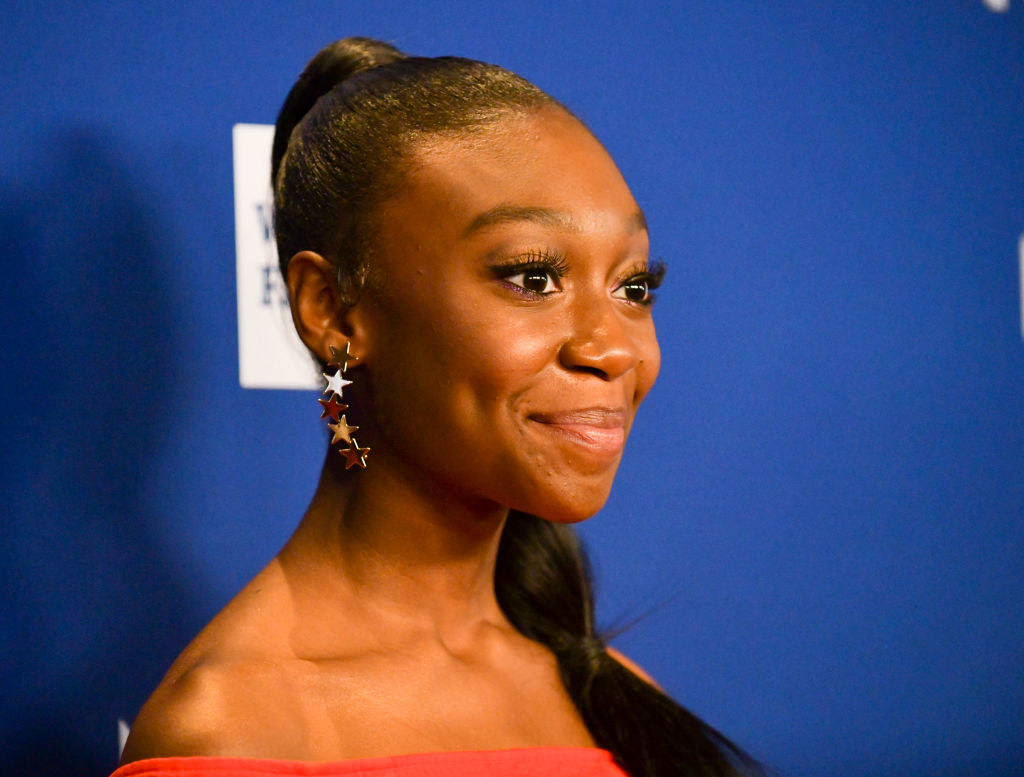 27. Lastly, describe a perfect day for Shahadi.

I'd wake up by noon and eat my breakfast with some coffee. Then I'd take the train to meet up with my friends and we'd go out to eat. And when I finally get back home, I'd go to sleep. Then I'd wake up and watch my favorite films with my friends, go to sleep again, then wake up and do the same thing the next day.

Be sure to catch Shahadi in all 10 episodes of Them: Covenant, streaming on Amazon Prime on Friday, April 9.