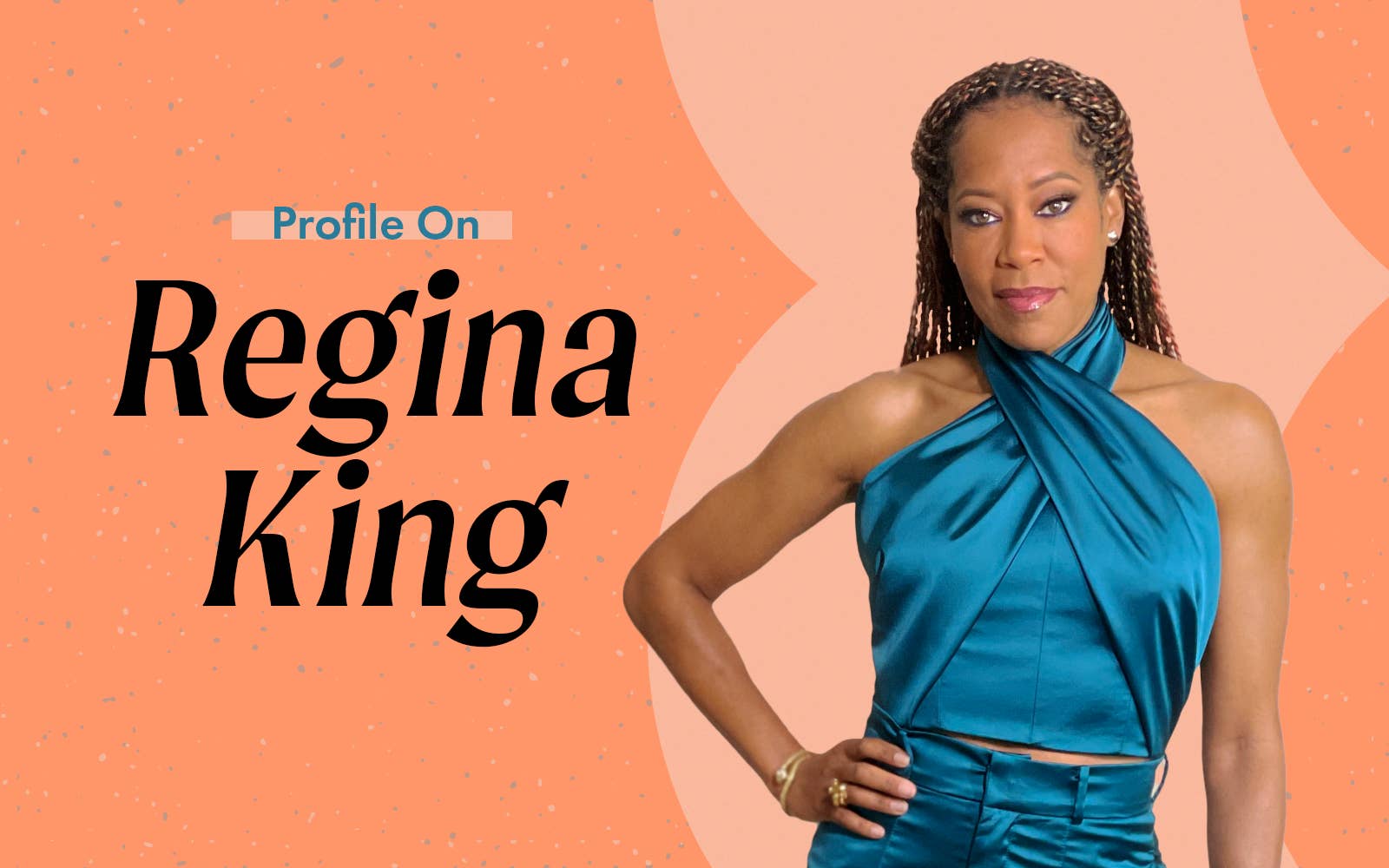 Regina King continues her Hollywood reign! With nearly four decades under her belt in the industry, her resume proves she's just about done it all. From landing her first lead role as Brenda Jenkins in 227 and her critically acclaimed voice work as Huey and Riley Freeman on the animated series The Boondocks, to directing TV episodes (This Is Us, Insecure, Shameless) and music videos, Regina made sure to leave no box unchecked.
Now, the award-winning actor is conquering another feat: film directing, with her latest project One Night in Miami — a fictional retelling of the meeting that took place between historical icons and real-life friends Malcolm X, Cassius Clay (later known as Muhammad Ali), Sam Cooke, and Jim Brown in February 1964 in Miami, after watching boxing champion Clay defeat Sonny Liston. Regina teamed up with Kemp Powers, who wrote the original play on which the movie is based, to bring the story to life on screen.
To celebrate the film's release (and her 50th birthday), we sat down with Regina over Zoom to discuss filming during the rise of the Black Lives Matter protests, showcasing vulnerable Black men, and her fight for parity in Hollywood.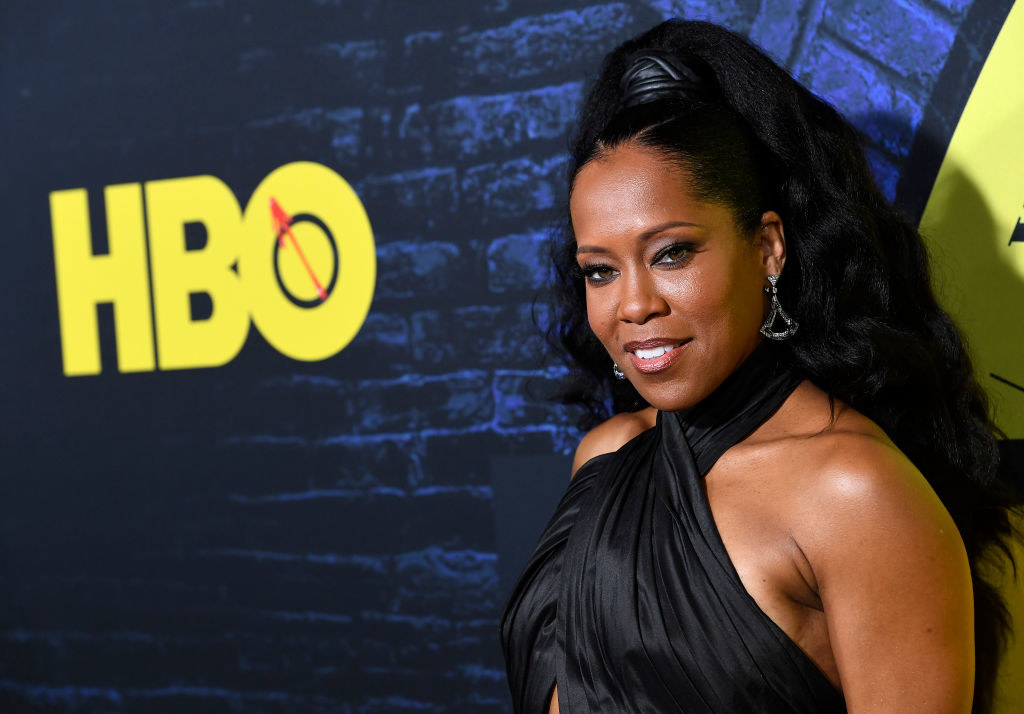 First off, congratulations on making your feature directorial debut with your new film One Night in Miami. I've seen it three times already, and with each watch, I take home a new message. What attracted you to the project?
Kemp Powers' words. I mean, the dialogue was powerful — and to know that I could potentially have the opportunity to tell a story that really is a reflection of the men that I know and love, that are in my life, that are complex and that are vulnerable. Vulnerability is what makes them strong. They're not cyborgs — they have fears and they actually do have emotions. I think most of the Black men in our lives are like that and we don't get to see that represented that often, so that was really one of the things that attracted me to it.
You mentioned in a recent InStyle interview that you were originally looking for your agents to find you a script about "a love story with a historical backdrop, like a Titanic." In some ways, would you say this movie is almost like a love letter to the plight of Black people in America?
Absolutely! Yes, this is a bromance, if you will. It's very much a love story, just not the conventional love story that usually comes to mind when you say "love story." So yeah, absolutely.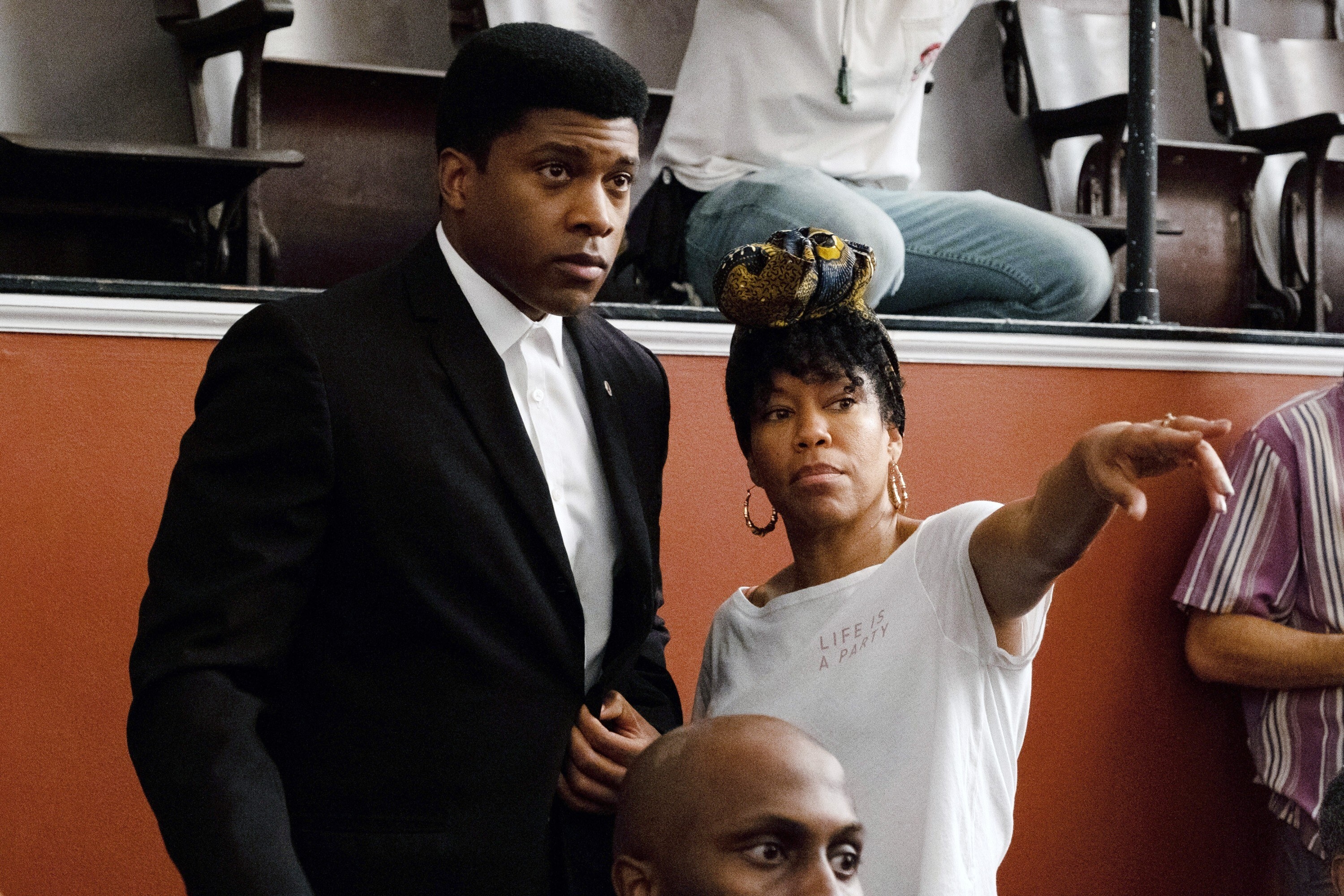 Is there a scene that didn't make it into the film that really meant a lot to you?
Oh, yeah, definitely. I mean, there are always scenes that don't make it in. That's the thing, you know, you want every scene to be in there. There was a scene between the characters Kareem [Lance Reddick] and Jamal [Christian Magby], who played the nation guards. For Malcolm, that was a really great scene because you get to see the dynamic between Kareem being like a mentor to Jamal. Just having two really great actors play that, it could have been just like a film in itself. Sometimes, things really work great on the page and then you get in the editing process, and sometimes they just don't work in the entire piece.

While that was such a great scene — there's nothing I would have changed about the performances of that scene — as an audience member, you want to get to the four men together. It was a long scene and even when I tried to edit it down, it still kind of changed the pacing of the film. I even tried to put it in another place in the film, but story-wise it didn't work because of the dialogue. So, that was probably one of the toughest things for me to let go of. It'll definitely be in the director's cut [laughs].

I have to admit, I had no idea this night even took place, which is one of the reasons why I was drawn to this film. So before you took on the project, how familiar were you with their friendship and their time spent together?
I was not familiar with the night at all. I was familiar with Cassius and Malcolm's friendship, and I knew Cassius and Sam had a friendship, but it wasn't until I read the script that I was aware that they had spent that night together. It wasn't until I did my research that I even saw pictures of Cassius and Jim Brown together. I mean, it makes sense, but I didn't know that.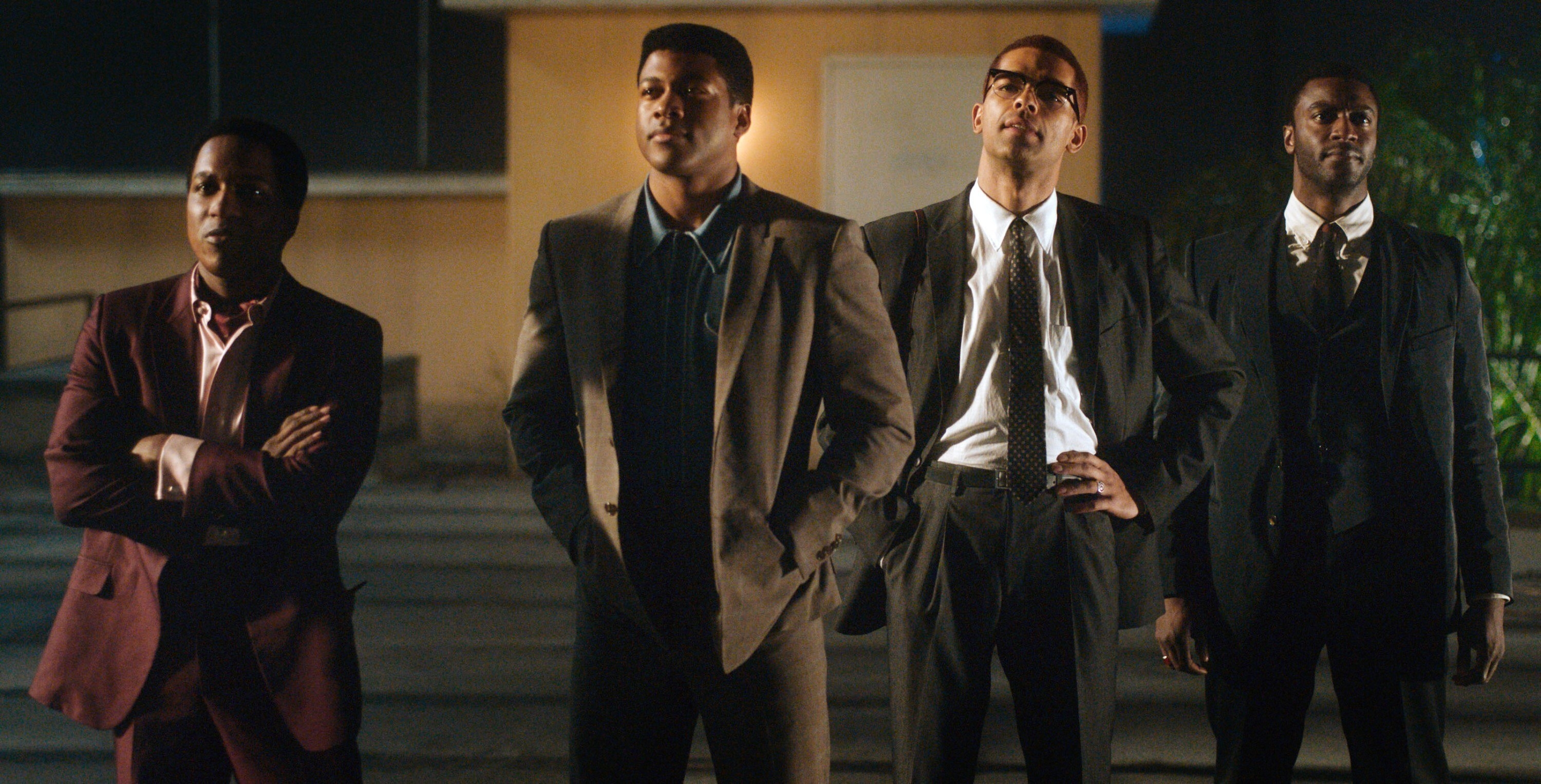 It was impactful to see their friendship play out on screen because, like you said, we very rarely get to see Black men under the microscope that we as Black women view them every day: vulnerable, passionate, and emotionally raw. Was it important for you to convey that image to a wide audience?
I'll be honest, I don't know if my intention was to convey it to a wider audience. I'm one of those people that believes if you go into a project trying to please the entire audience, that's the best way to fail, because you're not going to be able to do that. So my audience started out as an audience of one: that one person being Kemp Powers. It is very, very clear upon first read that he's celebrating himself, and I say himself because he's a Black man. At least that's how I received it. When you can write about something and share a very private conversation with the intent of making it public, that is a bit of a celebration, if you will.

It was a bold move to write this conversation through the voices of four of the most iconic men in history. He humanizes these men, when we tend to put them on a pedestal instead of looking at them as men first...men capable of making mistakes. But it's human nature to make mistakes. It's part of the growth process. No one that is worth their weight in gold [got there] because they didn't make a mistake. He just humanizes them in a way that made us watch this, or in my case, read this and drop the titles. I'm not seeing the titles of great activist, great athletes, or great singer, I'm just seeing four men that I recognize, you know?
Speaking of raw emotion, it's hard not to compare the themes of race and activism in the film to present day. There's a scene where Malcolm X cries out, "Black people are literally dying in the street every day." How much did the events from today's social climate impact the way you directed the film?
We always felt like it was going to be timely, before the events of 2020. So it just really made it feel even more urgent. For these conversations to happen publicly, I think that it's a reminder that in '64, while this is a dramatization of what could have been discussed that night, they were experiencing powder keg moments then. Unfortunately, history repeats itself. Prior to the '60s, these conversations were happening. They were just fresh off of four girls being bombed in the church in Alabama, they were just fresh off of JFK's assassination, so the urgency that you hear in Malcolm's voice in that moment is the same urgency that exists right now.

The complicated conversations these legends had that night also stressed that there isn't one sole way to invoke change — instead, there are many. It reminded me of your 2019 Golden Globe speech when you vowed to ensure your team would be made up of 50% women on your future projects. Can you update us on that mission and explain why it's important to think of change under multiple lenses?
Well, it's interesting, I don't know what to call that speech. I guess I was calling myself to action, and I think that it did inspire a lot of other productions to try to achieve the same thing. I knew it was going to be difficult, and we weren't able to accomplish that with One Night in Miami, but what we were able to achieve, which I'm equally proud of, is we were able to achieve diversity numbers that I've never experienced on a project before. Our crew was predominantly made up of people of color who do not identify as cis-white males. I know that if I had not gone into it with the attempt of trying to achieve gender parity, we would not have ended up with those numbers today. A big part of it was the partnership that I had with producers Jess Wu Calder, Keith Calder, and Jody Klein, who also want to achieve the parity.

Unfortunately, we were shooting in New Orleans and there just weren't that many women available. Plus, there were several productions going on at that time. When you're working in certain cities getting the tax credits, that means you have to use people that work in those cities to get the tax credit. We just found ourselves — we ran out of people. So what that says to me is that we do have to do more, as far as creating opportunities in the pipeline, to bring women into our industry so that the list [of available, qualified women] doesn't run out.

The great thing is I had those discussions with the construction team, our head construction, and we did have a few women in construction on our film. I think that a lot of people don't make the connection that there are so many different titles and jobs within crews. A lot of people don't even consider that a person in construction could actually work in film. A lot of people don't know what a gaffer is. There are very few female gaffers. I think I've only come across one in my entire career, so it's really on us to create those apprenticeships, create that pipeline. The more we continue to talk about it, the more those types of programs will be established.

Your dedication to women, especially women of color, has permeated through your work and the roles you've played throughout the years. While a lot of your recent works have focused on more serious issues, your early career was host to a string of lighthearted films that soon became cult classics, one of them being Legally Blonde 2: Red, White & Blonde. Can you tell me about one of your favorite behind-the-scenes moments from that film?

I think the most memorable moment for me was the excitement that Reese and I both had when she pulled off getting Sally Field in the cast. I felt like, "Reese, that was a big flex, girl! You are a producer for real!" Reese and I had already discussed how much we thought Sally Field was just a legend. So when she said she was going after her, I was like "Okay," and she did it! It's one of those moments that I look back on now and think, "Yeah, that was a flex!" Reese did that — she made that happen.

There was a scene that I did with Sally that may have been cut out of the film, but you know, I got to spend time with an actress that truly inspired me. Her performances in Norma Rae and Sybil are two performances that made me want to become an actress. I was so blown away as a young girl. I just remember being amazed that this was the same woman playing both of those roles. She made me feel so many different things, things that I probably didn't understand, but I was still feeling it at the time. I probably wasn't more than 8 or 9 years old, but I knew it was powerful that she could make me feel these things. I don't know if I ever really felt that until seeing those performances. So, then I started looking for those types of performances because I wanted to feel like that again. That's when I started really paying attention to that.
That's amazing! Sybil is one of my all-time favorite movies, and Sally Field is definitely an icon. Have you stayed in touch with Reese at all? Can we expect to see you in Legally Blonde 3?
I do stay in touch with Reese, but I have not talked to her about Legally Blonde 3. I don't see where there would be a space for Grace Rossiter (Regina's original character) in Legally Blonde 3. But of course, if I'm available, I'm always down to come play with my girl Reese. Definitely!

And I couldn't end this interview without talking about one of your other cult classics: Poetic Justice. Like ONIM, you were in a room with legends. Did you take away anything from your time on set with Tupac or Janet Jackson that you still value to this day?

With Tupac, I gained the brother that I never had. We definitely connected. We also argued, talked shit together, and laughed a lot together. One of the things that just really stuck with me after meeting Pac and spending so much time with him and his family, was that he always felt wise beyond his years. Sometimes it felt like he was bringing himself down to everybody else's level. There's no one like him.
Sometimes I wonder, if he was still here, what the music industry would be like, like with the rap game. Or how artists who are considered the greatest, from whatever generation, would have been influenced. Or when he finished his debt to Death Row Records, what type of music he would have been doing, you know? That crosses my mind sometimes.
Be sure to check out Regina King's directorial debut with One Night in Miami, in select theaters and streaming now on Amazon Prime.