Here's A First Look At The "Rebelde" Reboot Cast For Netflix
"Y soy rebelde!"
That's right, the iconic Mexican telenovela that ran for 440 episodes between 2004–2006 is introducing a new generation of classmates at Elite Way School in Netflix's latest reboot.
It took me a minute to pick my mouth up off the floor after reading that announcement! Rebelde took over my life when I was younger. I made sure to make it home by 3 p.m. every day, just so I could get there in time to sing the theme song: "Y soy rebelde..."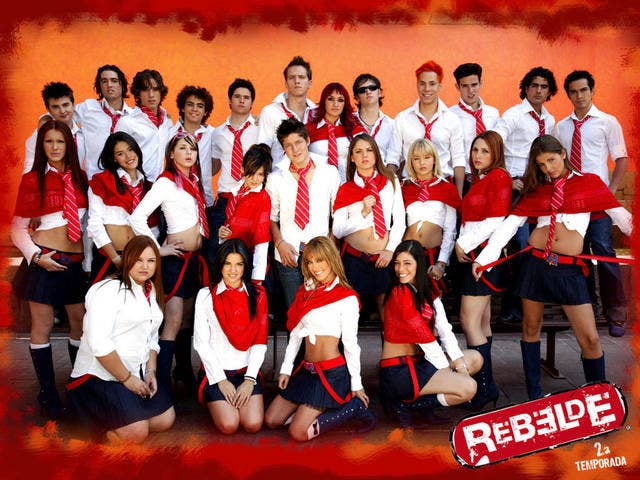 I was so invested in the relationships (Team Roberta + Diego) and friendships, the endless drama (remember when Roberta's biological father faked being a teacher at her school just so he could meet her?), and of course, the many characters who came and went (Sol was the one I loved to hate).
But enough about me, here's what we know about the show so far:
First: Estefanía Villarreal will reprise her role as Celina Ferrer, this time taking over the school as principal.
Next, let's meet the new cast:
According to Elle Mexico, there's no need to compare the new class to the originals, because that's not the intent of the revival.
Azul Guaita
Sergio Mayer Mori
Andrea Chaparro
Jerónimo Cantillo
Lizeth Selene
Franco Masini
Giovanna Grigio
Alejandro Puente
The series is scheduled to debut in 2022. That's about all we know right now, but we'll be sure to update you as more information is released.
I know the thought of a reboot can be a little off-putting, especially when it's a show you hold close to your heart, but I'm excited to see the Elite Way School legacy continue.
Just think of it this way: The original Rebelde was a remake of the Argentinian show Rebelde Way and look how well that came out. So let's keep hope alive until they give us reason not to, LOL!