Nicki Minaj Opens Up About Those Nas Dating Rumors And She Can't Stop Smiling
"I might make an exception to the rule for him."
Last week, Nicki Minaj posted a photo to her Instagram looking extra comfortable with iconic rapper Nas.
So, when the self-proclaimed Queen of New York stopped by The Ellen DeGeneres Show, she made sure to address the dating rumors circulating around them.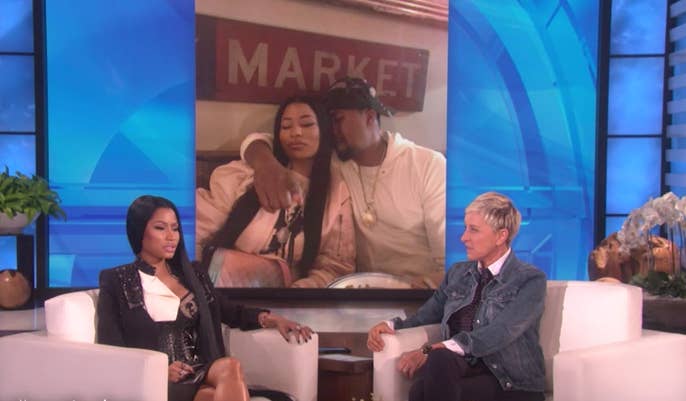 And Ellen knew the best way to bring it up. After complimenting Nicki on her "wonderful breasts," the Grammy-nominated artist revealed she loves her breasts equally, despite having the left one exposed during Paris Fashion Week.
So, Ellen slyly asked, "Does Nas like both of them the same, as well?" And Nicki's reaction was PRICELESS!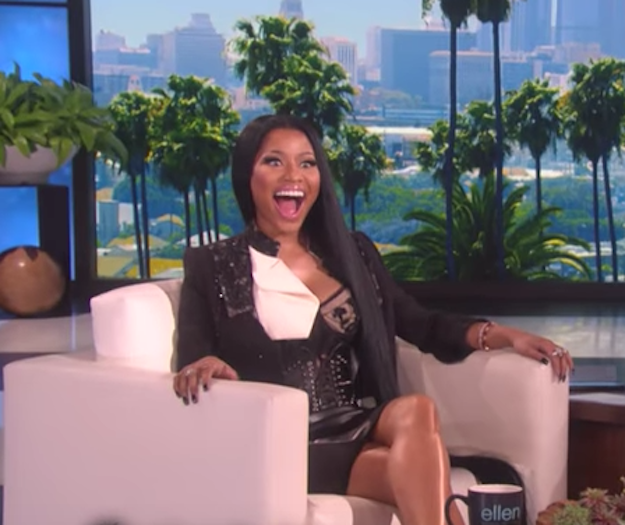 Ellen said she's already rooting for the relationship if the rumors are true, admitting that she's loved Nas ever since he dropped the song "One Mic."
So, how does Nicki feel about him?
He's dope. He's the king. He's such a king. He is the king of Queens and I'd like to think I'm the queen of Queens–well, he's a rap legend, so let's just say I have a lot of respect for him and you know, he's kind of cute too.
Ellen wasn't going to let her get off the hook that easy, so she followed up with, "But have you had sleepovers yet?"
Ellen: "Does he come to your house or do you go to his house?"
And Ellen could completely relate:
I see. I see. And then you're in control too. If you go to his house you could leave whenever you want. Yeah, I know how it goes.
Before she could let the audience's mind wander, Nicki made sure to clarify what they actually do during their sleepovers.
Nicki explained why:
I'm just chilling right now. I'm celibate. I wanted to go a year without dating any man. I hate men.
But it looks like Nas might have changed her mind.
I might make an exception to the rule for him, because he's so dope.