Keke Palmer On Her New Podcast With Pete Davidson, "The Proud Family" Reboot, And Becoming A Meme
"I've had a lot of moments I'm really proud of."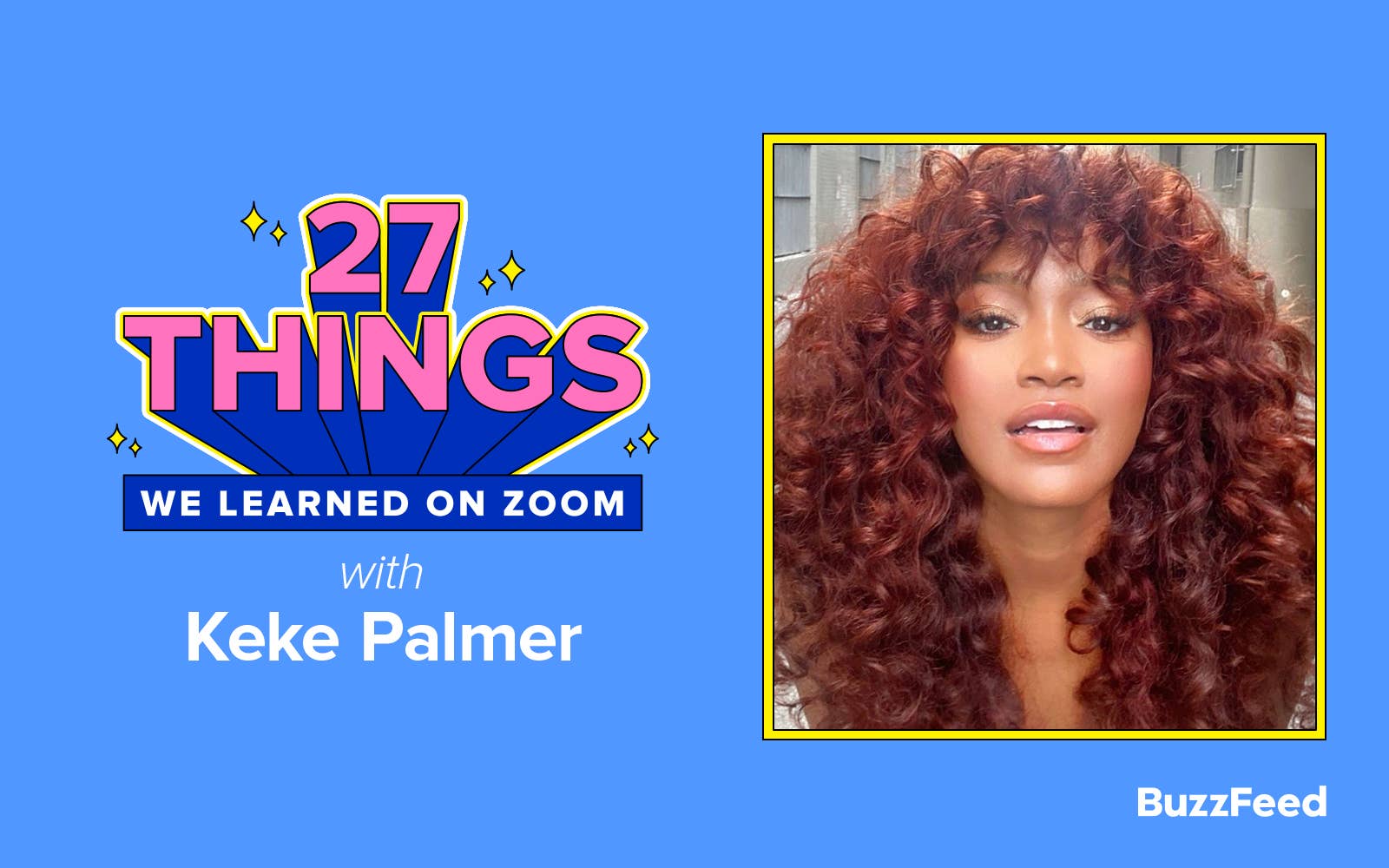 They don't call her Keke "stay with a bag" Palmer for nothing! Keke has been gracing both the big and small screen since she was 10 years old. From becoming the youngest talk show host in television history, to stepping up as the first Black Cinderella on Broadway, Keke continues to push herself creatively, showing the world that there is no limit to her talent. Most recently, Keke joined forces with Audible for Hit Job, a narrative podcast about Brynn Morris (Palmer), a struggling artist looking to make money to help her sick grandmother. She starts working for a company whose motto is "Do Bad Things for Good Reasons" and ultimately joins forces with her coworker Geo (Pete Davidson) for a company-wide contest that makes her question her morals.
Now, at the age of 27, Keke's finally learning to slow down and take time for herself...kind of. We sat down with the multifaceted star to chat about the new podcast, her new short stories series with Amazon, working on The Proud Family reboot, why she really enjoys alone time, and so much more!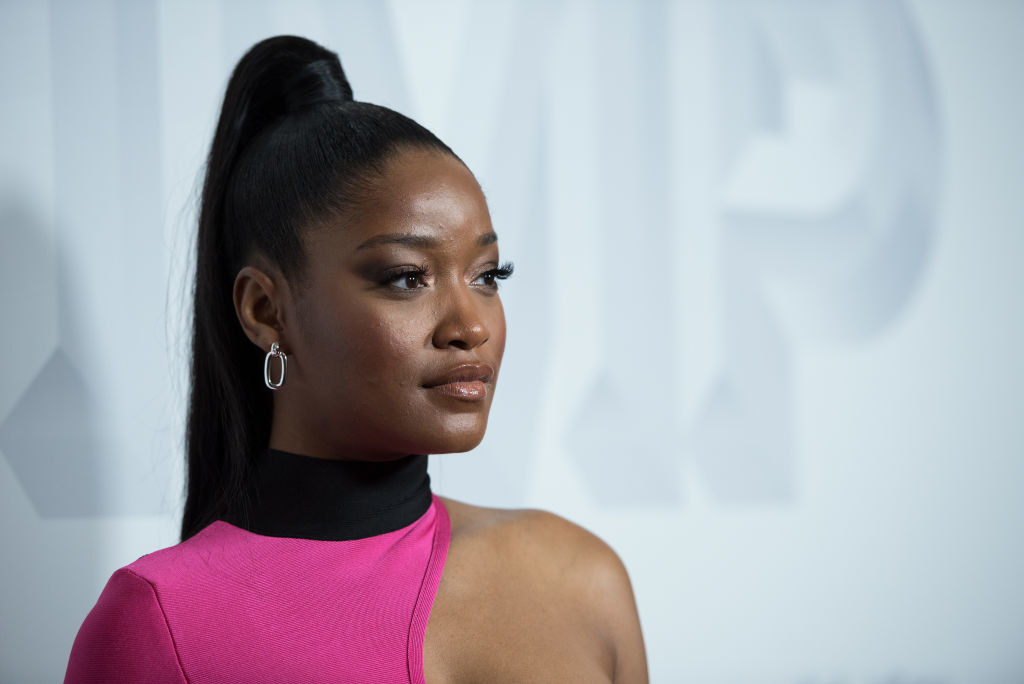 1. How did you hear about Hit Job? And what attracted you to the role?

I heard about Hit Job through my management company through my team. I mean, it's produced by Lorne Michaels under Broadway Video Enterprises — there were just so many people that were going to be a part of it that I really respected, people that I wanted to collaborate creatively with at some point in my career. Then, obviously, the material — the material is really provocative in all the right ways. It's very smart, very funny, and it brings a lot of important things to the forefront in such unique ways.

2. That sounds exciting! What do you love most about your character, Brynn Morris?
I love that she's really trying to make it in this world. I think her whole story is so much of the American narrative. It's probably a global narrative, but I just know my experience as an American — we are always working, working, working and trying to figure things out. And somehow, it's still never enough to support the people we love or to be able to help the people we love. I think so many people will be able to relate to her story, because so many of us are living that reality. It's like, "Damn, I just want health insurance. Now I got to deal with all of this."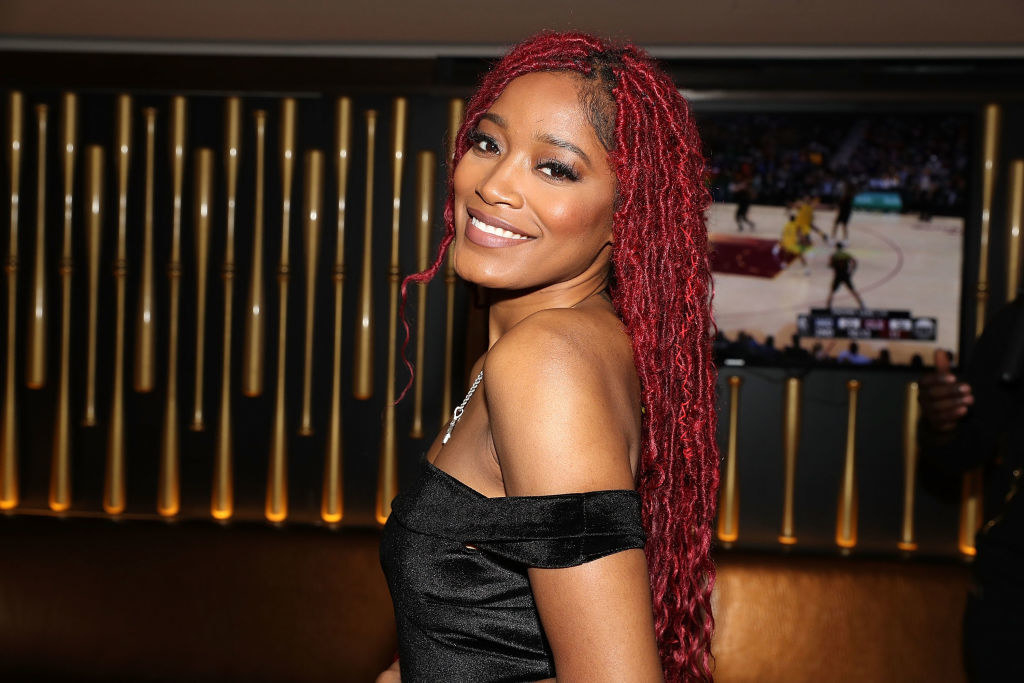 3. What do you enjoy most about voice acting?
The freedom of not having to worry about how you look — that includes literally how you look coming to work and how you look when you're trying to express certain emotions. I think there's a lot of freedom in manipulating your voice, where you don't have to go as emotionally deep like you would when someone's visually seeing your face. You have the opportunity to still hit on that sentiment and the nuances, but in a much more relaxed way. You're depending solely on your voice, and everyone else is creating a world in their own mind.

4. You star alongside Pete Davidson, who plays your "tech nerd coworker." Were you able to record together? If so, what was one of your favorite behind-the-scenes moments with Pete?
Yeah, we actually did record together. I had my booth, he had his booth, and there was like a window in between us. It was really cool that we actually had that opportunity to at least see each other, because even though we weren't in the same room, we could still feed off of each other's energy. It usually doesn't happen like that. When I'm doing animation or any other type of voice work, we're not able to actually see one another or even be in the studio at the same time.

We actually got to hang out a couple of times. Sometimes we'd hang out for lunch, and it was really cool to get to know him. He's a cool guy.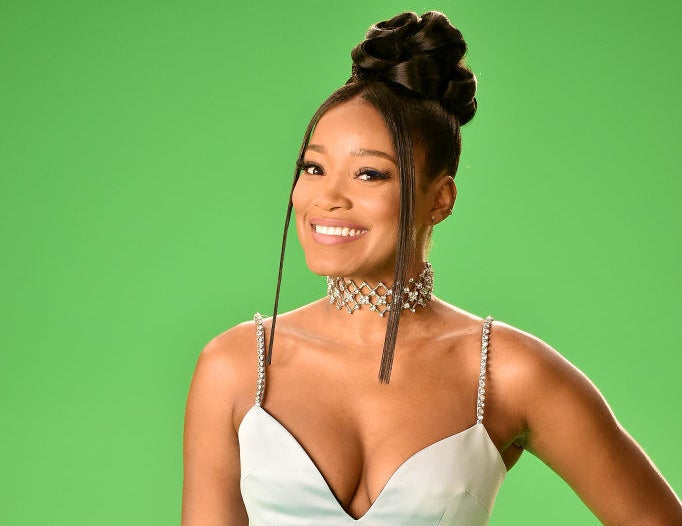 5. But that isn't the only project you have with Audible. You've also teamed up with Amazon Original Stories to release a series of short stories based on your hilarious Instagram sketch-comedy videos. Were those characters inspired by anyone in your life?
Lady Miss Jacqueline was not created from someone in my life, but really a person that lives inside of me. I don't know why, it's like, in my mind, I think I'm 60 years old or something [laughs]. When I was working with Max Wyeth, who produces a lot of my content with me, we came up with this character pretty much piggybacking off of those moments where he'd be like, "Keke, you just turned into someone else." So we kind of just created her out of that.
As for Chelsea Barbie Taylor, that character came from favorite celebrities who adopt children from Africa or other countries. I just always wondered what that kid, that Black kid, grows up thinking. Have they been around other Black people? What is their understanding of American Black culture? I just wanted to know what that would've been like. So I created the character Chelsea Barbie Taylor, who grew up in a very Hollywood family, and she's pretty much not the identity that people want to always associate Black people with being. I thought it was a really cool dialogue opener to show people that the Black experience isn't a monolith. It's many different things. It's really culture that makes us different, not the color of our skin — it's where we grew up, who we were around, what our influences were, etc. I really always love trying to bring things like that to the forefront, where we just kind of push societal norms or societal expectations aside and really unpack things, so that's where Chelsea Barbie Taylor actually derived from.
6. What can we expect from these short stories?
When it comes to these short stories, I'm taking both Lady Miss Jacqueline, Chelsea Barbie Taylor, and a couple of new characters, and bringing them into a new space and telling a different story. Hopefully, we'll be unpacking different things: from trying to make it in this world and figure out who you want to be, to following your dreams, to code switching, and assimilation. I'm very excited to use those characters to dive into those things.
7. Speaking of new characters, you're set to play Maya Leibowitz-Jenkins in The Proud Family reboot, The Proud Family: Louder and Prouder. Have you been in touch with Kyla Pratt to discuss expectations or visions for the show?
Well, it's Kyla's show [laughs], so I have no expectations. I just jumped in ready to do my job. [Executive producer] Ralph Farquhar, who created shows such as Moesha, The Parkers, and so many other great shows, brought me onto the series. Essentially, he's one of the people that discovered me. He gave me my first introduction to Disney, Nickelodeon, and basically everything when I first came to California as a little 10-year-old, rambunctious kid from Illinois. So for him to bring me back to be a part of this new era of The Proud Family is absolutely full circle and magical. I started my career with him, so I'm really excited! It's going to be more of the same Proud Family that we know and love, but with new-age themes — themes that help kids grow and evolve positively and think about things and, you know, I think what's what we need.

Can you give us any updates on the series?
I don't want to tell you too much, but you're going to get new characters as well as get some of the original characters, you're going to get the same growing pain, the same coming-of-age storylines, but within the guise of a modern world in 2021. These guys are doing what they always do and do best: They're bringing it down-to-earth and giving it to the kids in a way that they can easily digest.
8. You've been in over 25 films and 30 TV shows. Which moment in your career are you the most proud of?
I've had a lot of moments I'm very proud of, but one of the proudest moments of my career was being Cinderella on Broadway and getting the opportunity to do Akeelah and the Bee. I think one of my most recent proudest moments — because I'm really just thankful to be doing all of the things that I'm doing — was when I did the Inauguration Day kids program for Nickelodeon. It was to walk them through the ceremony and teach them about the new presidency and what that means. Being able to do that when we're seeing an evolution of our country was really meaningful. When we look at someone like Kamala Harris being the vice president of the United States of America and representing the BIPOC community and women all over the world, it was really amazing that I got to be a part of that and to walk them through that. I learned a lot. I felt very honored for sure. I want us to grow as a country and be what I know we can be.

9. What's a role people would be surprised you auditioned for but didn't get?
When I was a kid, I auditioned for the lead young lady's role in Are We There Yet? I obviously didn't get it [laughs]. A current role...well, kind of current — I auditioned for Divergent.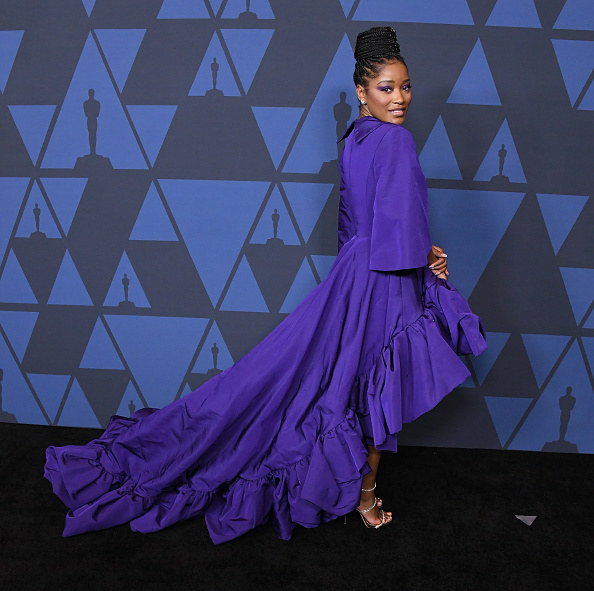 10. Have you ever kept anything from set?
Yes! One thing that I always keep is the back of my cast chair. They'll usually have the name of the movie on the back, and then your name on the front. I've kept every last one. I would love to frame them. They all have their own branding and their own font, and it just tells a part of my life. I even still have the Akeelah and the Bee one. It means a lot to me.

11. If you could create a dream cast with three other actors, who would they be and what would the project be about?
I already have the project in mind! It would be a romantic comedy starring me, Kofi Siriboe, Regé-Jean Page, Kyle Massey, Malcolm David Kelley, and Tequan Richmond. It's a lot of the people that I grew up with — growing up in child acting. I just feel like we need an opportunity to do, like, a really cool coming-of-age romantic comedy. It would be so much fun. As for the girls like, I could see Ryan Brown, Logan Browning, Serayah — there are so many girls who I love that would be great in this. I just want to do something with the young folks that I remember going into auditions with, getting an opportunity to do a movie together as adults. It'll be so fun!
12. Growing up in the industry can be tough. Do you have a group of friends in the industry that you can always call on?
Tayla Parx. We've been friends since we were 9 years old. We met on American Juniors. We got our golden ticket — mine was from Illinois to California, hers was from Dallas to California — and we've been like family ever since. Our families decided to move to California at the same time, so we essentially became each other's literal cousins, because we were all each other had over here. Now, she's gone on to write so many hits on the radio for people like Ariana Grande. She's probably one that's in the industry who I feel like I've been really able to call my sister.
There are other people that I've been able to create really strong bonds with, who are outside of the industry. I think it was also very important to me to not constantly be surrounded by entertainment stuff and entertainment people. I'm always looking for ways to stay grounded.

13. You've become the meme queen recently. Which one of your memes did you find yourself using the most?
You know, it's so funny. I don't really use "Sorry to this man" a lot. That's the one that most people meet me with these days. I love "Sorry to this man," because there are so many levels of why "Sorry to this man" is funny. But I think one of my favorite ones is still "But the gag is..." for sure.

14. What's a hobby you've picked back up or gotten into during the pandemic?
Cooking. I've always wanted to but I never had the time to do it. I'm really, really happy that I'm getting the opportunity to try more stuff out and get more comfortable with. And I feel like sooner than you know it, I'm going to be that cooking beast out here.

I think my signature dish types are stews. I make really good stews and chilis. I love hearty meals. So that's like one of my favorite things to make. Oh, and some good cornbread. That's my vibe.

15. The pandemic has been hard on everyone. What are some things you do to maintain your mental health?
I've been really digging into my personal relationship with myself and just having fun with me, whether it's working out, doing yoga, Pilates, watching my favorite TV show — just really embracing that I like being alone and I like spending time with myself. Even though the pandemic has kind of forced everyone to take a break, it's been good for me. I've been working nonstop since I was a kid. Vacation is like a new thing for me in my life, and I think a lot of that comes from the fear that we all have in America — like a sense of guilt for taking a break, and I think I carried a lot of that for many years. I think quarantine really helped me realize and see that life shouldn't be like that.

16. What's something on your bucket list?
Having kids — being a mom. Another big bucket list thing would be to really travel the world by myself. I would love to go to Africa, Bali, Japan...just everywhere, but by myself. I realized how much I like my time with myself. I don't think I've valued that enough, and within the quarantine, I think it really sunk in to me. That's what I've been missing. "You need you time. You need to be with you." Backpacking across America and just planning a trip, and just going from place to place, that would be a dream!
17. Who have you been the most starstruck by?
I was most starstruck probably when I met Tamera Mowry. I was about 11 years old and I did an episode of Strong Medicine. She was so nice to me. I was so starstruck that I could not speak to her. It was incredible and crazy for me to be seeing this girl who I watched on TV my whole life. Tamera was my favorite on the show too. She was always so crazy and wild, and I loved that so much. So, to meet her was such a magical moment.

I got to meet her again many years later and we got to talk. But yeah, Tia and Tamera were huge for me. I think I saw them before I saw Brandy, even though I think they were all around the same time. They were the first time I think I'd really seen representation in that way. Their relationship with their dad reminded me of my relationship with my dad, because I'm very close to my family. The show had a lot of cultural influence. It didn't get any better than that. It just speaks to their impact.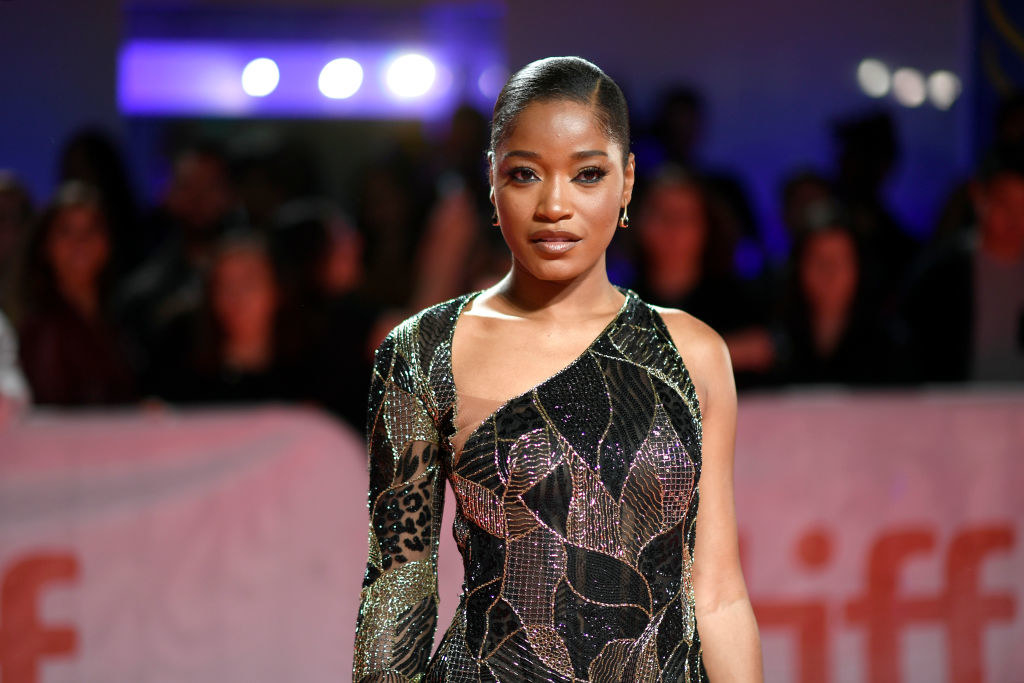 18. What's the weirdest rumor you've ever heard about yourself?
That I'm perfect [bursts out laughing].
19. What's your favorite curse word?
Motherfucker.
20. What's your favorite adult beverage?
Tequila.
21. Which TV shows have you been binge-watching lately?
Dead to Me, Behind Her Eyes, and Married to Medicine.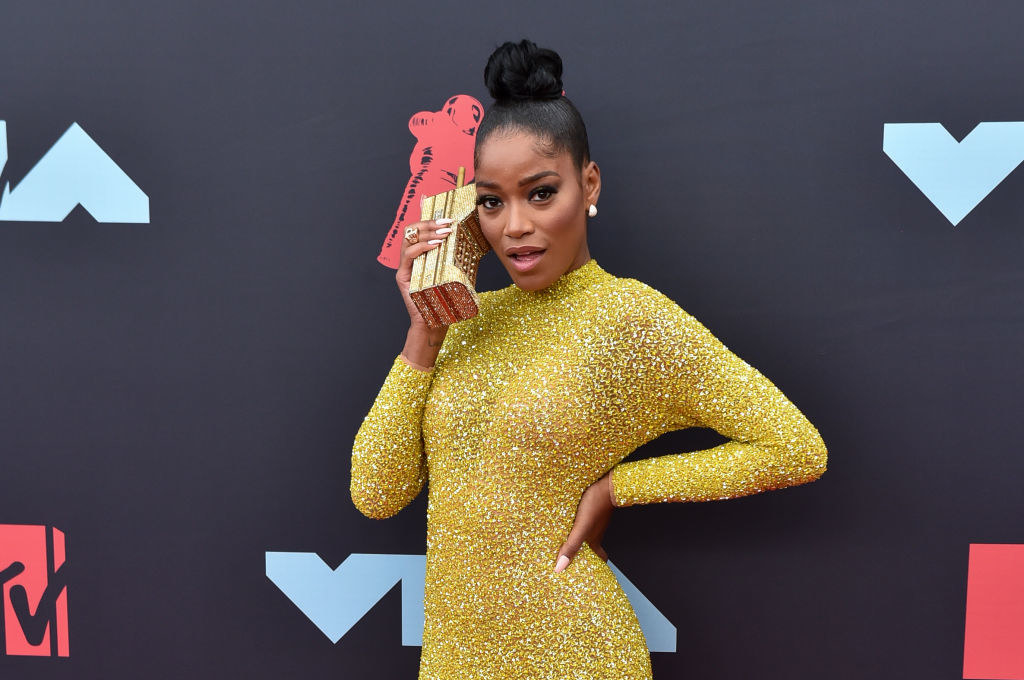 22. What's your wildest fan story?
My wildest fan moments have been similar to what happened with me and Tamera. It always shocks me when I meet someone and they can't say anything. They're, like, literally speechless, and you're talking but they don't respond. It made me think, like, "Wow, the fact that I could impact someone the way that Tia and Tamera impacted me, that just blows my mind." Then I was like, "Oh, maybe this is what Tamera was thinking when I was doing that to her [laughs]." It's an amazing thing and I just feel grateful that I can touch someone in that way.

23. Have you ever caught anyone watching your work on a plane?
No.
24. Do you ever go back and watch your own work?
Sometimes, but it just really depends.
25. Which TikTok Trends are you currently obsessed with?
ALL OF THEM!
26. Which movie can you recite word-for-word?
The Wood.
27. Finally, describe a perfect day for KeKe Palmer.

Watching TV in my apartment, ALONE.
You can listen to Keke in Hit Job, streaming on Audible now.