Jordan Peele made his directorial debut with Get Out earlier this year.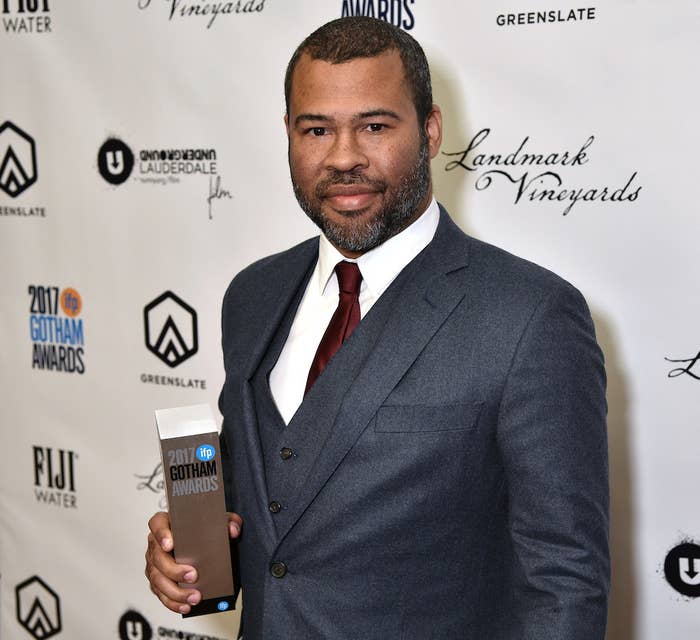 Not only did it blow up at the box office, but it also blew everyone's minds!
So much so, people had to watch the film multiple times to catch all the hidden messages. There were so many subliminal meanings throughout the film, viewers began to create their own fan theories about various scenes.
Well, the 38-year-old actor and comedian teamed up with Vanity Fair to put those fan theories to the test:
1.
Fan theory: "The movie Get Out is an imagined scenario of Rod the TSA agent. When Chris is telling Rod he's meeting his white girlfriend's family, this story becomes an elaborate theory from Rod about what will happen if Chris meets a white family." - Emb3rSil
Jordan Peele: "Umm...I love this theory. It's 100 percent false."
2.
Fan theory: "When all the guests arrive, the groundskeeper and Georgina greet them out of their cars. Rarely would a housekeeper greet guests, but because they are the grandparents, it's THEIR party they were greeting." - inboxpulse
Jordan Peele: "Absolutely true!"
3.
Fan theory: "I just realized the reason the groundskeeper (grandpa) runs so much, is because the grandpa wanted to have a fast, black body, because he lost to Jesse Owens." - I_Am_Dynamite6317
Jordan Peele: "That's right!"
4.
Fan theory: "I'm no movie aficionado, but at the beginning of the movie he watches the deer struggle and ultimately die. Then later when he's strapped to the chair, the deer head watches him struggle, but he ultimately lives. This has to mean something right? *hits blunt*" - gloomy_lunatic
Jordan Peele: "That's right! There's a whole parallel between the deer, Chris, and of course Chris's mother."
5.
Fan theory: "Eating Froot Loops and milk separately. Won't mix white with colors???"- KyloRynMos
Jordan Peele: "Partial credit."
6.
Fan theory: "Anyone think it was intentional that he was freed picking cotton? - thetacobellvampire
Jordan Peele: "Umm...yeah!"