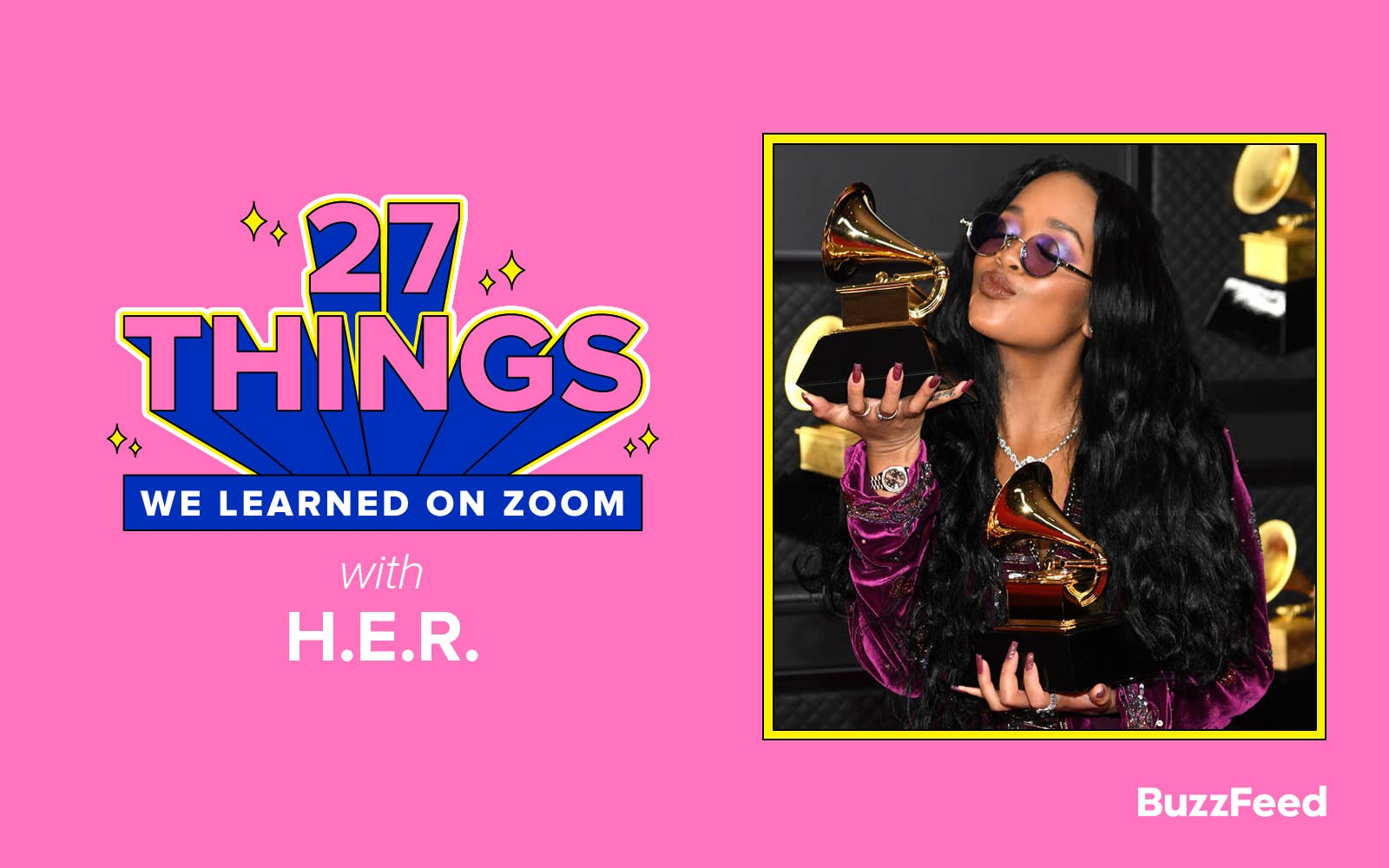 Last night, R&B singer H.E.R. added two more Grammys to her collection when she took home the Best R&B Song award for "Better Than I Imagined" and the Song of the Year award for "I Can't Breathe," which she co-wrote with Tiara Thomas. As if winning one of the top honors of the night wasn't enough reason to celebrate, this morning she found her politically charged song "Fight for You" from Judas and the Black Messiah was nominated for Best Original Song at the 2021 Oscars.
But before those accolades came rolling in, we sat down with the multi-talented artist to discuss life, her career, and guest-starring in the new Netflix film Yes Day alongside Jennifer Garner and Édgar Ramírez.
1. What's the scariest thing about putting out music?
The scariest thing about putting out music is the way that people are going to receive it. So waiting on that reaction can be scary.

2. What would you say is the most rewarding part about putting out music?
The most rewarding part is when people say that they've been impacted by the lyrics or that it helped them get through something, or that it made them feel something.

3. Which one of your songs do you enjoy performing the most?

"The Best Part," because everybody always sings and you can always see the couples in the audience vibing together.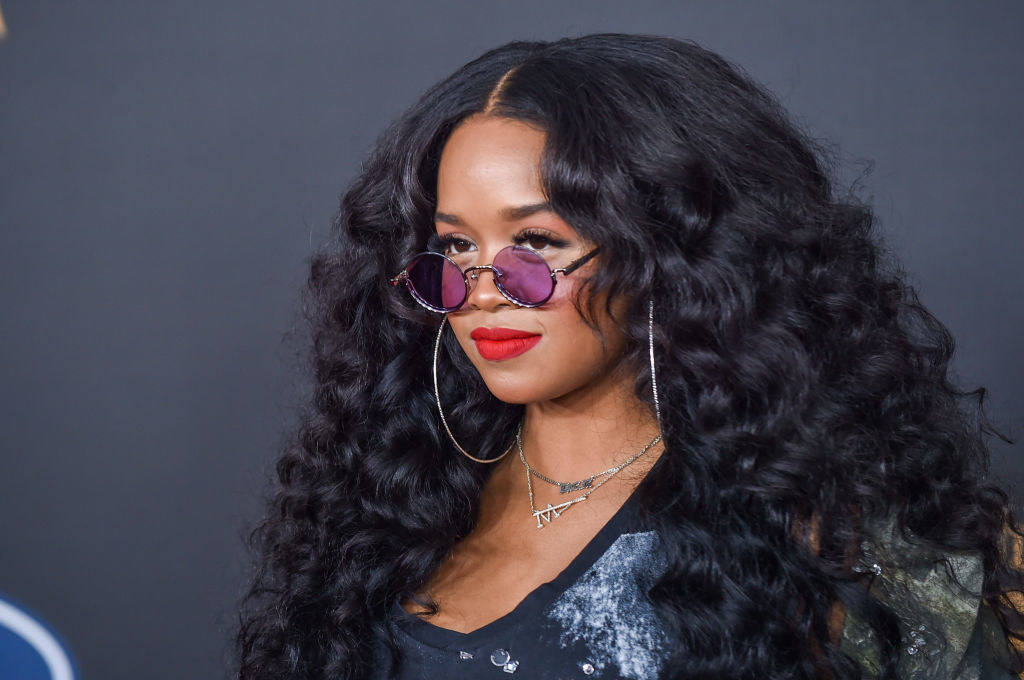 4. Have you ever had a bad performance? If so, what did you learn from it?
I've had bad performances, and maybe the audience couldn't tell that they were necessarily bad, but to me it was like really, really bad. I guess I learned just to have fun more and take advantage of every moment.
5. Has the pandemic affected your writing process at all?

Um, it definitely made it harder in the beginning, but ultimately I think it made me dig deeper because of everything that we went through. I felt like the world needed substance and I was expecting substance from lyrics, so it made me dig deeper.

6. Where do you write your best material?

Sometimes in my room, but also in the studio, where it's more intimate and [has] good vibes.

7. What are the top three things you have to do to get in the right headspace when you're writing music?

Food — I gotta eat! Sometimes I like to light candles, because I don't like the lights to be super bright. I like a more dim setting. Then, of course, just pure, good vibes — like people who I can have a conversation with and kind of reflect with.
8. Have you picked up or gone back to any hobbies during the pandemic?
I definitely started chefin' it up. I'm like a little chef now [laughs].
9. Do you have a signature dish?
I've been cooking Filipino food really well. I finally got some recipes from my mom and my aunt, so I've been diving into my roots.
10. If you could live on one food for the rest of your life, what would it be?

I was just telling somebody that I could live off plantains for the rest of my life! I was really just telling someone that. I kind of like them more on the soft side — a good, soft plantain.
11. Do you have a special room for your awards?

As of now, I have special shelves in my living room for everybody to see, but maybe I'll put them in here — this is my studio.

Your studio is so pretty! I love it.
Thank you!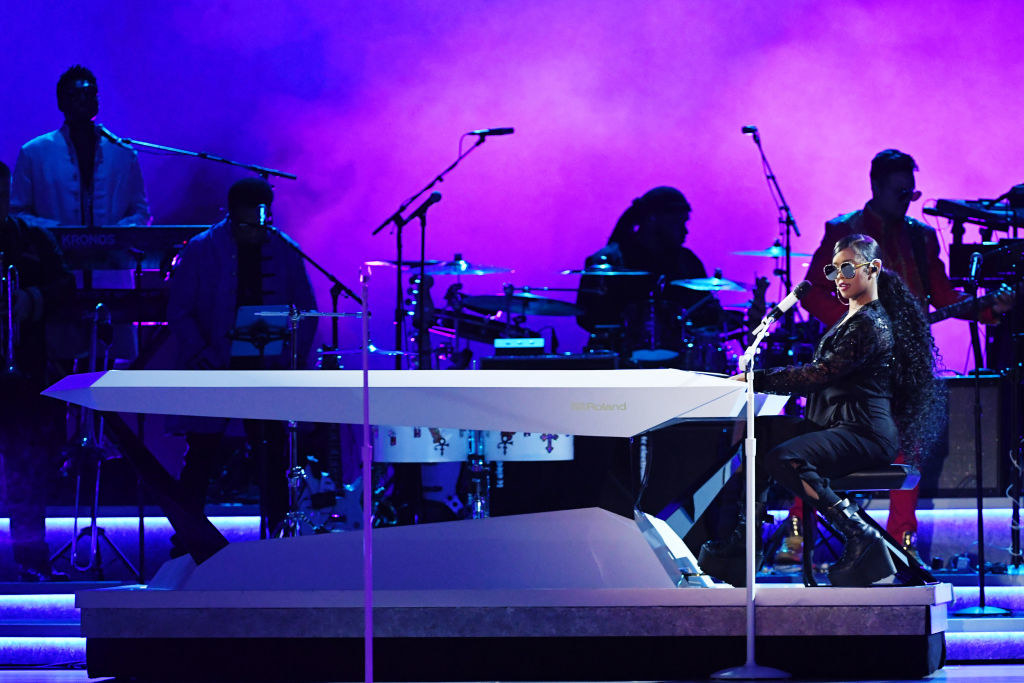 12. Who are three new artists you'd love to work with?
Ooh, Giveon! Hmm, who else? I love Alex Isley. There's so many! Oh, I know: Yung Bleu.
13. Which TV shows have you been binge-watching lately?
WandaVision. I've also been watching One on One, since it was just put on Netflix.
14. What's the last book you read?
The Power of Your Subconscious Mind by Joseph Murphy.
15. When was the first time you realized you were famous?

Man, I'm not even gonna lie to you, I still haven't fully realized it yet [laughs]. I did a free show before the pandemic in Manhattan at Lincoln Center. They told me the tickets were going to be free — it was just like a pop-up. I'm like, [in a playful, dramatic cry] "Are people gonna come?" But honestly, I guess my first meet-and-greet was when I realized, because I'd see people fan out, start crying, or tell me their stories about connecting with my music. That's when I was like, "Oh wow, okay, people know me out here!"

16. In that moment, you were learning about your fans, but was there ever a time when you were starstruck?

Yes, when I met Janet Jackson! She came to my show in London when I was on tour in Europe. I kept telling myself, "Act natural. Act natural." [Laughs] It was crazy!
17. That kind of leads me into my next question. Was there ever a time where you were shocked that another celebrity was a fan of your work?

Definitely D'Angelo, when I did his Verzuz just a few weeks ago, because oh my gosh! When they told me that he was a fan and to pull up to the Verzuz, he didn't know I was really gonna come. I just saw the look on his face and I was like, "Oh my gosh, he really knows me. This is crazy!" I love D'Angelo. I've bonded with so many people in my life through D'Angelo's music, so, yeah, that was unreal.

18. Have you ever slid in a celebrity's DMs or vice versa?

Yes, I slid into Rihanna's DMs and she responded! She showed me so much love, so that was cool.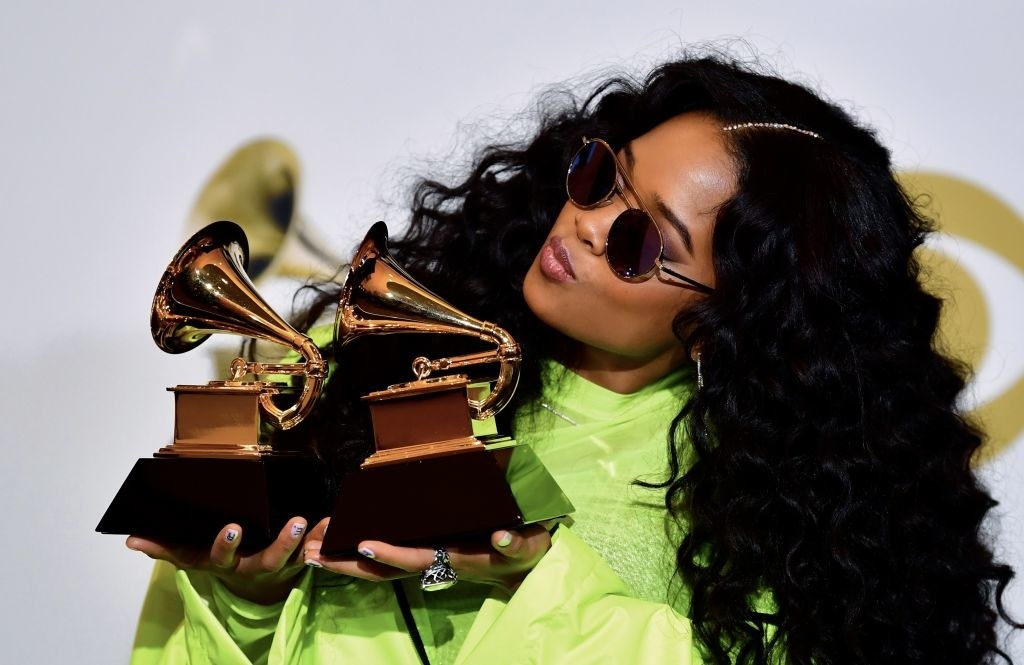 19. What's one song people would be surprised that you were a part of?

Probably some of my features. WizKid ["Smile"] was definitely one of those. I think that people were like, "Oh wow," especially because of what he does and what I do. That's one that I really loved doing. I mean, there's a few different artists who I've collaborated with and I know later on I'm gonna be like, "Ah man, I should have said this song," but I can't think of them right now.
20. What's your go-to karaoke song?

My go-to karaoke song is "Greatest Love of All" by Whitney Houston.
21. What's your favorite adult beverage?

Oh man, I don't even drink, so maybe sparkling water [laughs]? I think it's an adult beverage when you put the lime in the sparkling water. That's pretty fancy. Kids don't be doing that [laughs].
22. What's your favorite curse word?
I've been trying not to curse. I just feel like that's not good. But I be saying "damn" a lot, because you can get a little pass.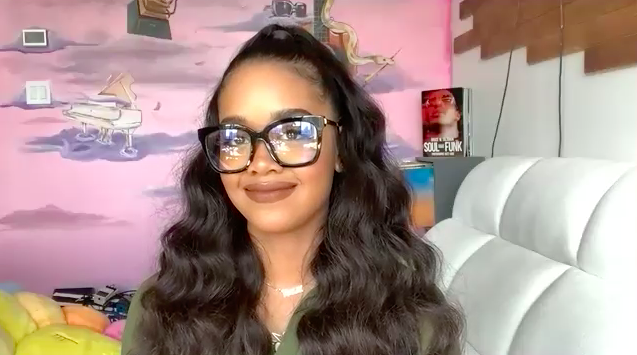 23. You've become synonymous with sunglasses. Do you have a favorite pair?
Probably these, because I created them. They're like, good everyday glasses, and they match with everything. They're a part of my line with DIFF Eyewear.

24. In the past, you said part of the reason why you wear sunglasses is because you want your music to speak for itself. How would you describe your music in three words?

Honest. Hmm...kind of deep, because the lyrics kind of cut through your soul deeply — and feminine.
25. Which songs do you listen to when you need a pick-me-up?
I definitely listen to Stevie Wonder a lot. I listen to this Prince song called "17 Days" — the version where it's just him and a piano. It just feels so good. I also have a playlist where it kind of gets me hyped, but it's more on the house music side, like Kaytranada. There are a lot of different artists that I listen to — I gotta look at my playlists [laughs].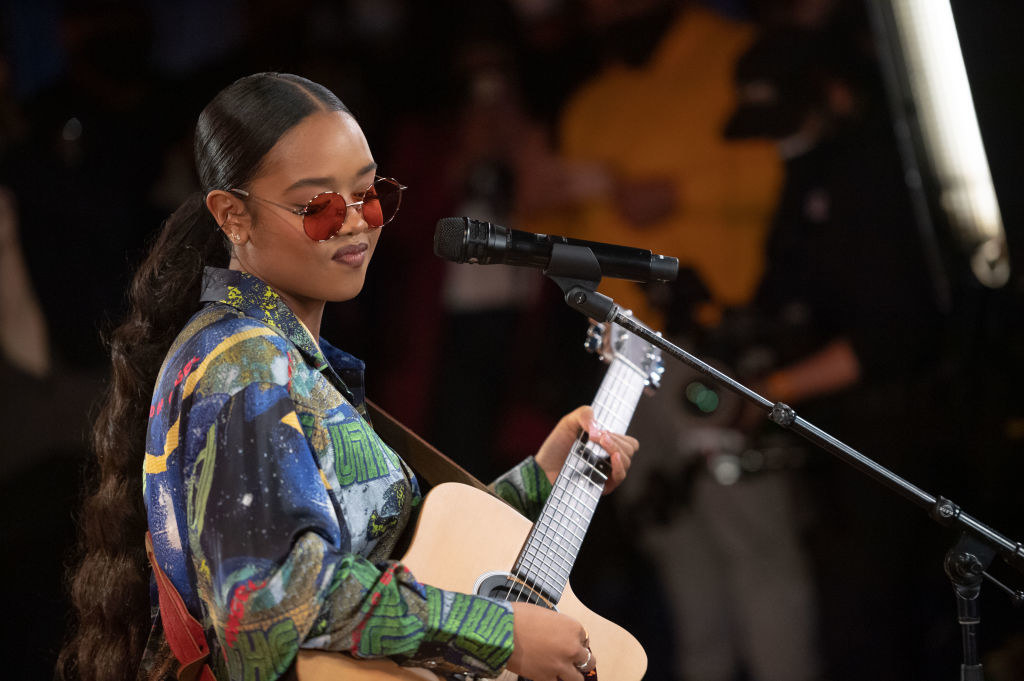 26. What's the most valuable lesson that you've learned since you started working in the industry?

One of the most valuable lessons I've learned is to keep people around you that are always going to be honest with you. I've always been taught that and I knew that. But it just solidified it for me being in this crazy industry — that having a solid family environment, and having people that you trust, and that love you and have good intentions for you, is more important than anything.

27. Lastly, what does a perfect day look like for you?
I'm waking up early, getting a good breakfast, chillin' with my family, and then maybe playing some music in a jam session. I'd also be on the water somewhere, watching the sunset, and taking a drive. It would end with me eating a good dinner with people I love — there always has to be good food involved — and then maybe watching a movie at the end of the night. Yeah, that sounds like the perfect day.

Tell your fans about the projects you're currently working on.
I'm super excited to have had kind of an acting debut in Yes Day. I'll be doing plenty more movies and TV very soon. I'm working on my album. It should be out in the spring, which I'm very, very excited about! I also have a reggae EP coming out to celebrate the culture, because I love reggae music! Let's see, what else? I'm hoping my Lights On Festival will be coming back so we can celebrate R&B in my hometown: the Bay Area. I'm looking forward to designing more glasses and hopefully live shows making a comeback soon, so that I can really do my thing and be connected to the people again.

Be sure to catch H.E.R. in Yes Day, streaming on Netflix now. Don't forget to tune into the 2021 Academy Awards on April 25 at 8 p.m. ET on ABC to see if she'll take home her first Oscar.