10 Behind-The-Scenes "Fear Street" Facts We Learned From Kiana Madeira, And 17 Facts We Learned About Her
"There are just so many things about this project that are so groundbreaking!"
When's the last time you were really scared? Well, if it's been awhile, Netflix is ready to change that with their new horror trilogy Fear Street (Fear Street Part 1: 1994, Fear Street Part 2: 1978, and Fear Street Part 3: 1666), based on R.L. Stine's books. To celebrate the films' release, I sat down with star Kiana Madeira to discuss her roles in the trilogy, Easter eggs relating to classic horror films, auditioning for Riverdale, and so much more!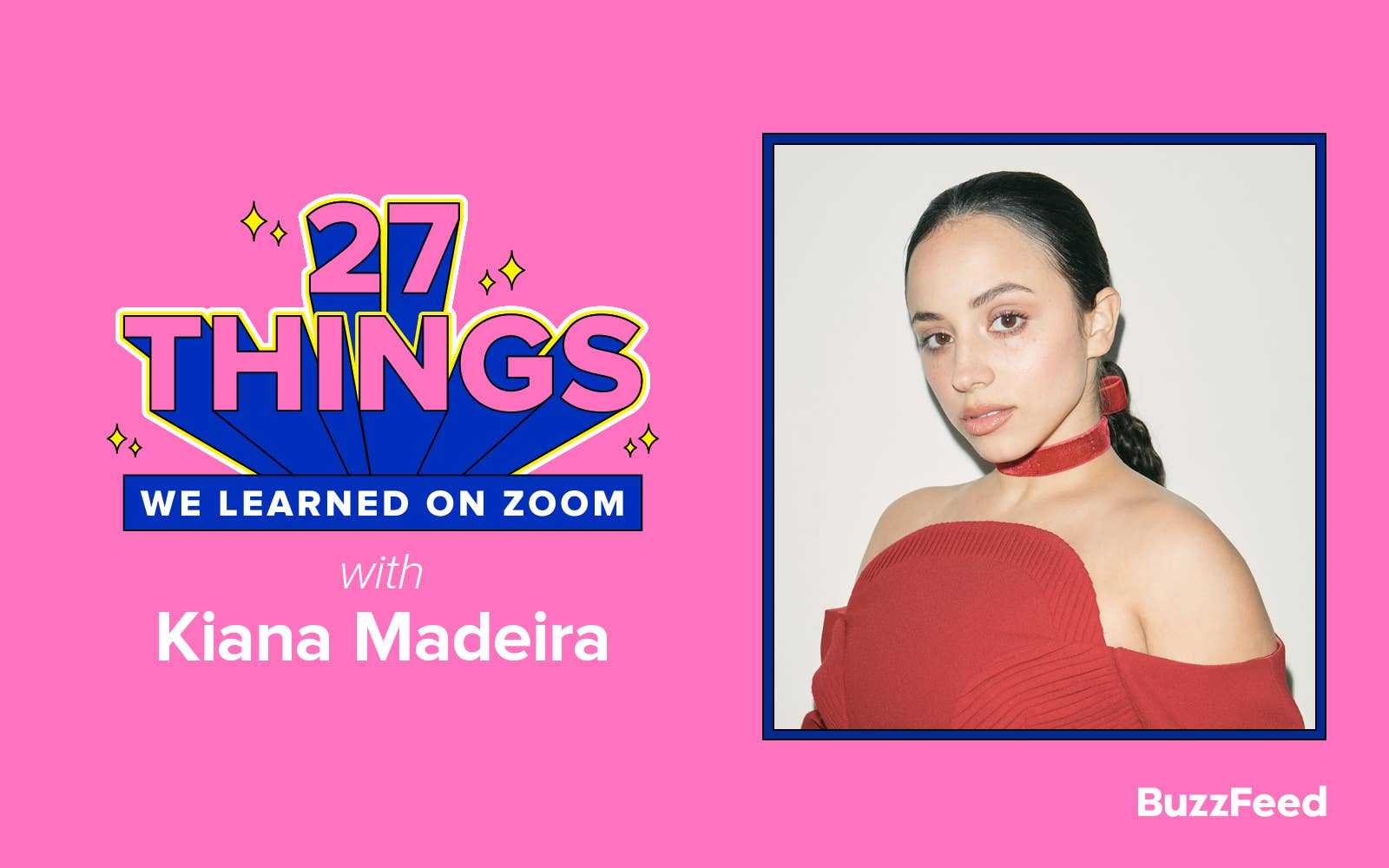 1. What attracted you to the role of Deena in Fear Street?

So many things! I was initially attracted to the role of Deena because when I read her on script, I could see how passionate, driven, and determined she was. She's just a true hero. Deena goes through so much over the course of the three films — it's just so rare! Being a woman is one thing, but being a woman of color in a horror film playing a queer character is another thing — there are just so many things about this project as a whole that are so groundbreaking! So, I was attracted to Fear Street for all of those reasons, but mostly because I related to Deena in the sense that she is willing to do anything and everything to protect the people that she loves.
2. I love that because it brings me into my next question: In what ways do you most relate to your character and in what ways do you differ?
I definitely relate to Deena in the way that she cares very, very deeply about the people in her life. She's willing to sacrifice her safety in herself. I'm the middle child in my family and I sometimes feel like a mother hen. I just always want to make sure everyone's good. I look out for my younger sister, my older brother, my mom, and my dad — I feel like I'm really hands-on when it comes to taking care of them, and making sure that they're good.
I think that we differ because Deena is super confrontational where I am not [laughs]. I really do not like confrontation. I will kind of do anything to avoid it. I'm more of a peacemaker, whereas Deena is not afraid to, like, shake things up. There's that scene in Fear Street: 1994 where Deena sees the the skull mask killer in the backyard and she just grabs a knife and goes outside to get him. I'm like, "Okay, yeah, no."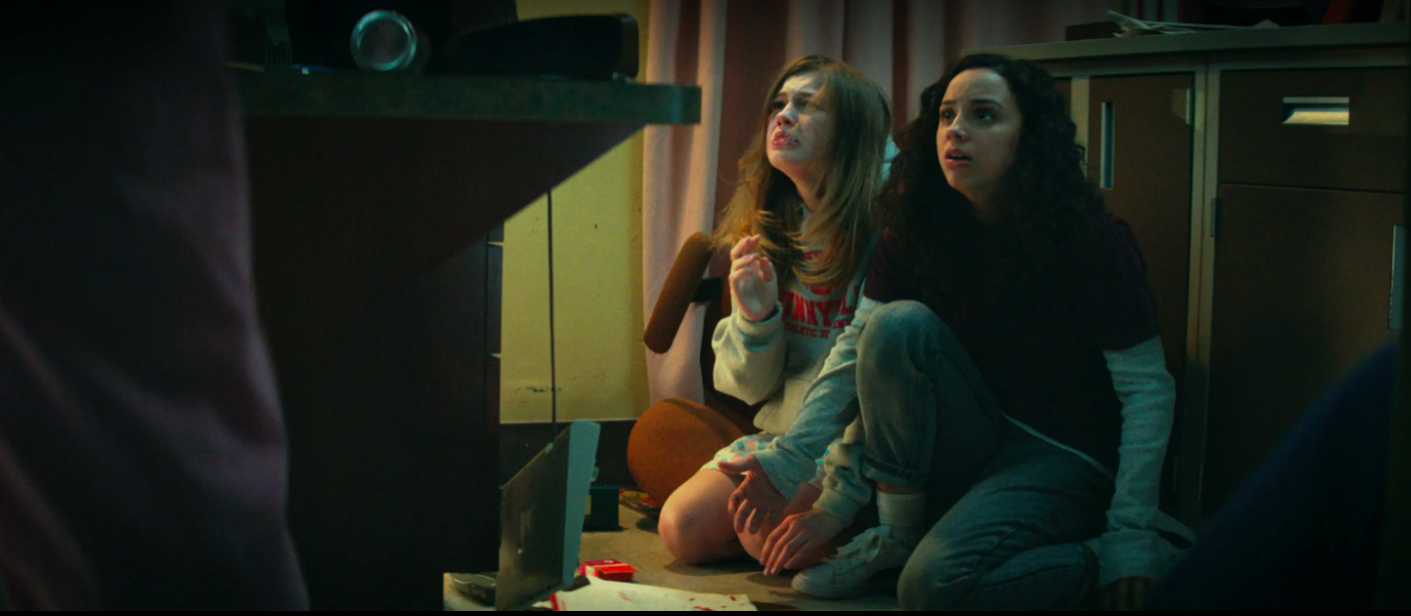 3. Can you describe what the audition process was like for you?

My first initial audition for Deena was a self-tape. I was actually in Portland, Oregon at the time, shooting Season 1 of Trinkets. It was in late 2018 when I first auditioned for Deena and then that self-tape led to a callback, which led to a meeting over Zoom with our director, Leigh Janiak. Then the final audition was a chemistry read in New York City, I think in March or February of 2019. It was with the actors who would be auditioning to play the role of Sam and Deena. So, a six-hour chemistry read with three actors reading for Deena and three actors reading for Sam. We were just mixing and matching the whole time, working with Leigh, and seeing what the best match would be. That was the final stage.

4. Your character is forced to work alongside your ex, Sam, played by Olivia Welch, despite the characters going through a pretty bad breakup. The raw emotions really resonated on screen. Did you and Olivia do anything off screen, besides the chemistry test, to ensure those feelings shined on film?
Thank you, that's amazing to hear! Working with Olivia was honestly so great, because we were so communicative with each other, and Leigh, from the very beginning. So after we found out that we were both going to be playing the roles and we got to Atlanta to film, we met with each other and talked about comfortability. Then when it came to filming scenes together, we were always checking in with each other, like, "Is there anything that you need?" and vice versa. "Are you comfortable with this? Are you comfortable with that?" I feel like our open communication really provided us a safe space to just dive in completely and, like you said, bring those raw emotions.

5. What was your favorite behind-the-scenes moment with the cast?
When I think about the cast, I just get so happy because they're all so fun. Like, we're still like a family. Honestly, that doesn't happen in every project you work with. But my favorite off-screen memory would have to be when we first got to Atlanta to film, Benji (Benjamin Flores Jr.), Olivia, Fred Hechinger, and I went to a KISS concert. That was really fun! I think it was like maybe a week into filming and we went to the KISS concert. It was so random, but also really cool. KISS is nostalgic and so are these movies, so it kind of felt like we were time traveling off-set as well. It was such a good icebreaker and environment to get to know each other.

6. Which scene were you most proud to film?
I was most proud of a scene in the third movie, Fear Street: 1666. I play a different character in 1666. Everything that that character goes through, I was really proud to tell that story. At the end of 1666, there was a scene that I just felt proud to show because it's heartbreaking, truthful, and really reflects the world that we live in. I was also really proud of the physicality and emotions that were required to do that scene.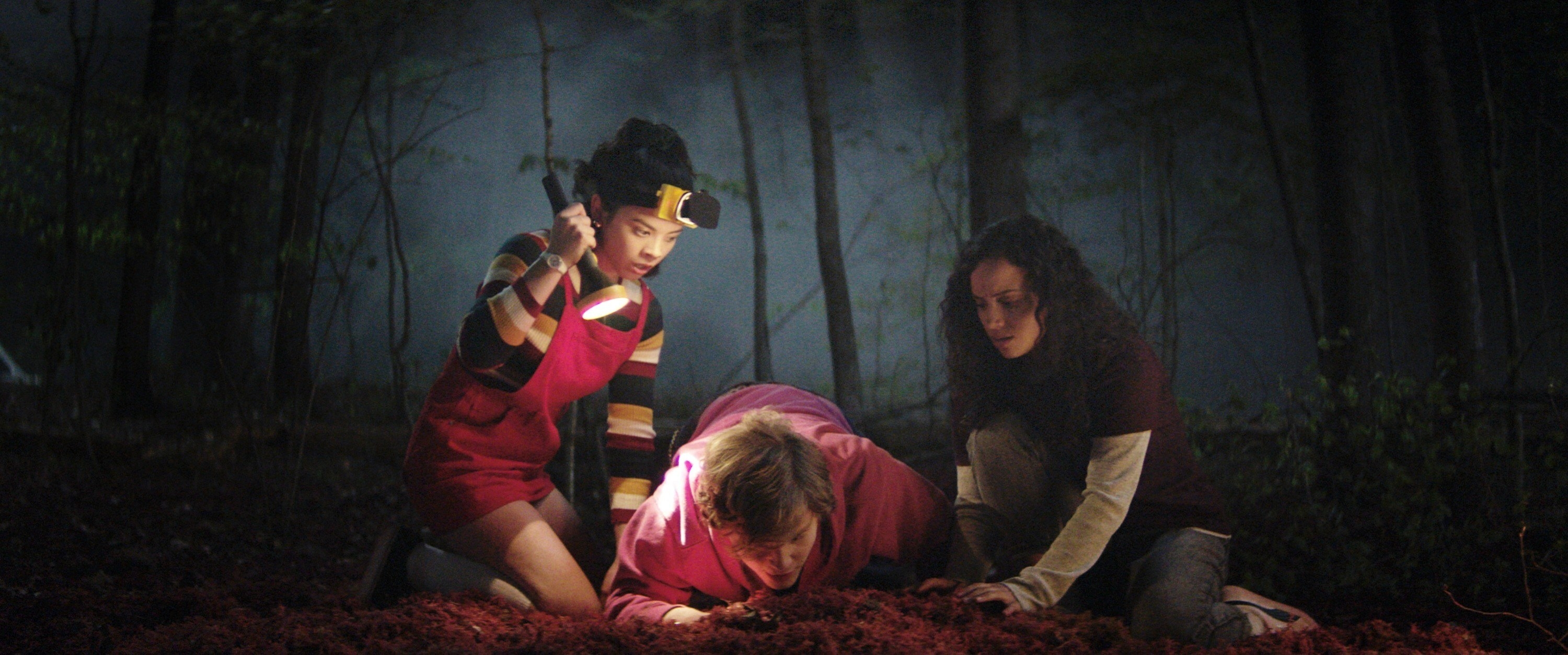 7. I want to touch on the energy it took to take that on. You play two separate characters in the trilogy. Was it ever challenging to switch from one personality to another?
I feel like the scripts were so wonderfully written in the sense that my character in 1666 and my character in 1994 mirrored each other in a really nice way. They're both so strong, empowered, determined, and passionate. That helped me a lot in terms of performance.
I would say the challenging part in the beginning was definitely the dialects that I had to learn, because the character I play in 1666 speaks differently than Deena. For 1666, we worked with our dialect coach named Charlotte Fleck in the very beginning of filming the first movie, so that when it came time to filming the third, it felt more natural. And then I would say finding those subtleties that make them different. Although they're both strong, my character in 1666 is a little more more vulnerable, in the sense that everything was happening to her for the first time, whereas Deena expected things to happen to her.
BuzzFeed: Were you able to keep anything from set?
I kept the drumsticks that Deena plays with in the films. Other than that, I usually keep the chair-backs with our names on them...the ones from our cast chairs. I collect those.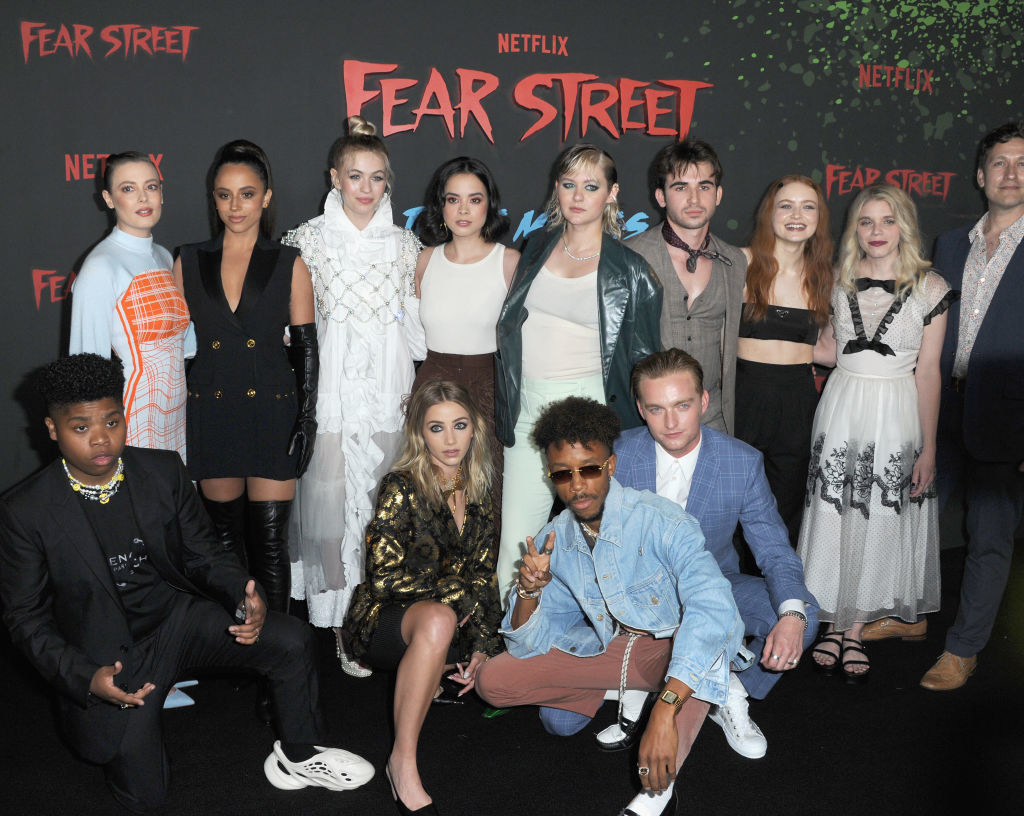 8. That's so cool! The trilogy also pays homage to classic horror films. Are there any Easter eggs that you can share with fans?
There's so many Easter eggs in 1994. There's a little one that I don't know if other people noticed, but in the original Scream movie, there's a scene where a student's running down the hall screaming after one of their fellow students was killed. And in Fear Street 1994 there's that scene where Deena, Kate, and Simon come out of the girls' bathroom, and then a student comes down the hall screaming. It kind of has that same shock factor. Then, when I watched Scream over again, I was like, "Oh, that was in 1994!" There's so many little things like that in the film. There's also more Easter eggs related to Scream; Scream was so self-aware of it being a horror film, and Fear Street is kind of the same way, like with how we have lines in the film where we reference other horror films like Jaws and Poltergeist.

9. What's your favorite horror movie trope, and which one are you glad the trilogy avoided?
I love that there's always the crazy, funny, goofy character. I appreciate the comedic relief they bring in horror films. That's something I really enjoy. There are also so many ways that these three movies take tropes from horror films and kind of just eliminate them completely. My favorite would be that the Black characters don't die first [laughs]. It's so refreshing to see and I don't even know why these things exist in this genre or in the industry in general.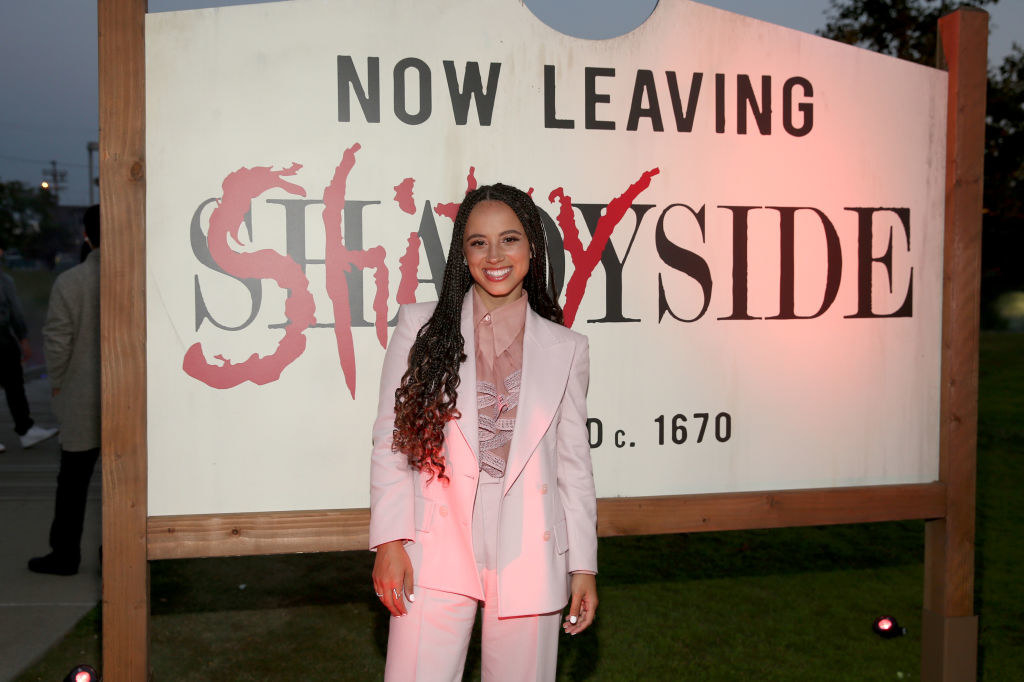 10. What are some of your all-time favorite scary movies?
My favorite horror movie is Get Out. I love what Jordan Peele did with it and how he was able to pack social commentary in there. It was just so different. That was the start of a new era — now more horror films include important social messages.

I also get really scared from exorcism movies or anything to do with dreams, like Insidious or Nightmare on Elm Street with Freddy Krueger. Things like that feel like they could happen to me, because everyone goes to sleep, so when it comes to films like that, I'm like, "No, no, no, no, no, no, no, no [laughs]."

11. Fear Street is actually based on the popular R.L. Stine books of the same name. Have you read any good books lately?
I love reading fiction! I'm actually reading a book right now called Hurricane Summer by Asha Bromfield. She's an actor from Toronto, Canada just like me, and she's on Riverdale, Locke & Key, and a bunch of other amazing projects. I'm loving it so far, so I would suggest people read that book, for sure. And then my other favorite book I just recently read is called The Ten Thousand Doors of January by Alix E. Harrow. It was incredible. I highly recommend that one as well.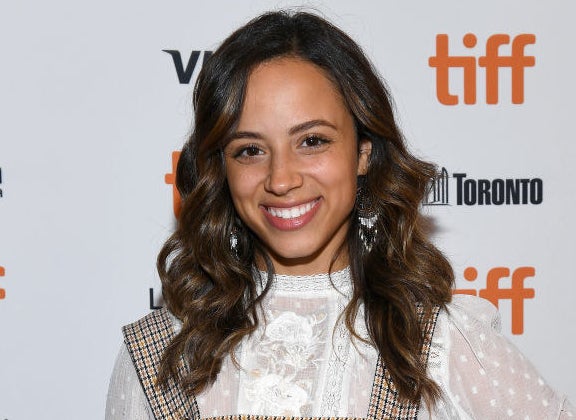 12. Which shows are you currently binge-watching?
I just finished Behind Her Eyes on Netflix. I didn't know where it was going [laughs]. I liked that it was only six or seven episodes. I don't do well with shows with like six seasons. But the twist at the end was great! I didn't expect it at all.
13. What's one role fans would be surprised you auditioned for but didn't get?
I auditioned to play Toni Topaz in Riverdale. I just remember I auditioned for that one thinking it would be an amazing role. I was really excited to get it, but I obviously didn't. My good friend Vanessa Morgan booked the role. I love Vanessa and I'm so happy that she got it.

14. When were you most starstruck?
I saw Woody Harrelson at this vegan restaurant called Fresh in Toronto. I love Woody Harrelson so much! I feel like he's probably the star that I've seen in person where I was like, "Wow, this is surreal." But I didn't really feel that starstruck — well, I didn't say anything to him, so maybe I was shocked and a little scared [laughs]. So yeah, that was a big moment for me.

15. If you had to pick a theme song for your life, which song would you choose?
I'd pick the theme song to Welcome Back, Kotter. Every time I come home from filming or from being away for a long time, my dad plays it so loud in our house [laughs]. Plus, we love John Travolta — everyone in my family are huge John Travolta fans.

16. What's on your bucket list?
I really want to learn how to surf.

17. If you could only eat one thing for the rest of your life, what would it be?
French fries!
18. What three things do you value most in a relationship?
Communication, humor, and honesty.
19. What's your favorite curse word?
I definitely do curse [laughs], probably "Fuck."
20. Who was your childhood celebrity crush?
John Travolta!
21. Did you return to or start any new hobbies during the pandemic?
I started playing guitar, which is what I really always wanted to do. And I still play, so I'm grateful for that.

22. What's one thing you had to learn to love about yourself?
Definitely my body. I feel like many people can relate to that.

23. Which line from a movie do you find yourself quoting in real life?
There's this line in Saturday Night Fever where she goes, "What was I supposed to do, man?" And I say that all the time [laughs].

BuzzFeed: Another John Travolta reference? I love that [laughs]!
24. Who's your dream costar and what type of project would you like to star in together?
My dream costar is my fiancé, Lovell Adams-Gray. He's also an actor — he's in Power Book II: Ghost. I would love to do a period piece with him. There's this one story about these two slaves who escaped slavery because the woman was white-passing. She dressed up as the master and they escaped that way. It's based off a true story about Ellen and William Craft. I would love to tell a story like that.

25. When did you first realize you were famous?
This is gonna sound funny, but I just made a TikTok with my sister and it hit a million views. I've never had a million anything [laughs], so I was like, "Oh, I made it!" That was like two days ago.
BuzzFeed: Haha, that's amazing! What was the TikTok about? And what's your name on TikTok?
I'm @kianamadeira on TikTok. My sister and I did that new In the Heights challenge, where they sing, "Vanessa!"
26. If you could give your 15-year-old self a fortune cookie, what would it say?
It would say, "Stay true to yourself and stay close to God."

BuzzFeed: Speaking of God, you have two Bible verses listed in your Instagram bio. Do they hold any special meaning to you?
Luke 14:11 — I believe the one from Luke says, "Those who exalt themselves will be humbled and those who humble themselves will be exalted," and that's just such a good reminder, especially to have on social media. It's so easy to exalt yourself online, because you have a certain amount of followers, or you're verified, or whatever the case may be. I like having that on there as a reminder to myself and anyone else who needs to hear it, that really humbling yourself and living a humble life is the best way to be exalted in the eyes of God.

2 Timothy 1:7 — The other one is it says, "For God has not given me a spirit of fear and timidity, but one of power, love, and self-discipline." I love that verse so much because I feel like myself, as well as so many other people, struggle with anxiety and moments of feeling fearful. This is a Bible verse that just reminds me that that's not the spirit within me. I'm actually full of power, love, and self-discipline. I have control over the things that sometimes feel like they're controlling me. Both verses are just really encouraging.

27. Lastly, describe what a perfect day looks like for you.
A perfect day for me would be waking up to no alarm clock [laughs]...just waking up whenever I want to. Then I would do my meditation for 20 minutes in the morning, read my Bible, and then make a coffee. I would probably sit outside on my balcony and just get some fresh air, drink my coffee, and be off my phone. After my coffee, I would say I would hit the pool — the pool that I don't have [laughs] — but it's my perfect day, so I'd definitely have a pool. I love being in the sun and feeling the hot sun on my skin, so I'd definitely suntan too. Actually, you know what? Even better...I'd do it at a beach. Then after laying out on the beach, I'd eat an açaí bowl or something refreshing. Finally, I'd return home, shower, and go out to dinner with Lovell. We'd end the night watching a movie.

Be sure to catch Kiana in the new Netflix horror trilogy Fear Street. Part One: 1994 and Part Two: 1978 are streaming now, while Part Three: 1666 hits Netflix on Friday, July 16.