Lil Nas X's viral hit "Old Town Road" hit the internet by storm and over the past month, he's seen an immense amount of success due to its popularity, including a record deal with Columbia Records.
The YouTube video alone has over 14 million views, while also generating over 35 million plays on Spotify. He gave listeners a taste of country-trap and ultimately earned himself a spot on various music charts like Billboard Hot 100, Hot Country Songs, Hot R&B/Hip Hop Songs, and number one on Global Apple Music.
The song's impact was so substantial, it sparked a meme craze on social media.
Lil Nas X meshed banjo strums, hard-hitting bass, and catchy lyrics to produce this creative genre-bending single. It climbed all the way to number 19 on Billboard's country music charts, but unfortunately, it didn't get to stay there too long.
According to a recent Rolling Stone article, Billboard removed "Old Town Road" from the Hot Country Songs charts, informing him that his inclusion on the list was a "mistake."
Billboard also released a statement to Rolling Stone, explaining their decision. It seems the song "does not embrace enough elements of today's country music."
Upon further review, it was determined that "Old Town Road" by Lil Nas X does not currently merit inclusion on Billboard's country charts. When determining genres, a few factors are examined, but first and foremost is musical composition. While "Old Town Road" incorporates references to country and cowboy imagery, it does not embrace enough elements of today's country music to chart in its current version.
The statement drew a lot of backlash on Twitter. Fellow artists jumped in to voice their frustration, including Ski Mask the Slump God:
Country Music Award nominee, Meghan Linsey, also thought their decision wasn't justified:
Fans quickly came to Lil Nas X's defense and questioned what "elements" these cross-genre hits had that his didn't:
Some fans referenced a similar thing happening with Beyoncé at the Grammy's with her country bop "Daddy Lessons" and her CMA performance backlash.
While others believed race played a factor in the decision...
...mentioning the historical pattern genres like rock and country have had with excluding and/or removing artists of color.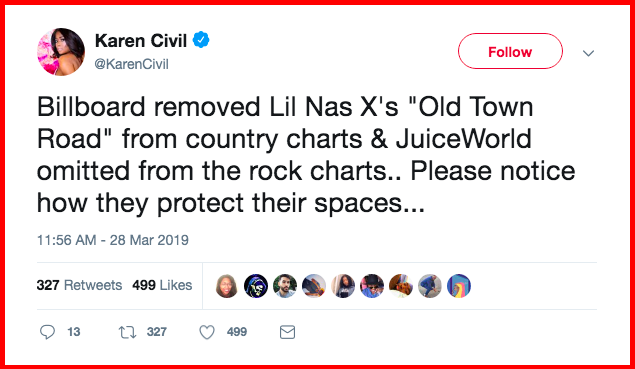 One fan even brought up Post Malone, a white artist who's consistently placed on the Billboard hip hop charts despite stating he wasn't a rapper and speaking negatively about the genre.
Following the backlash, Billboard issued a follow-up statement to Genius, stating race was not a factor.
Decision to take the song off of the country chart had absolutely nothing to do with the race of the artist.
As for Lil Nas X, he has yet to make a full public statement about the ordeal, but he has expressed his disappointment via tweets and captions on social media.
He also spoke out about people referring to the single as a parody.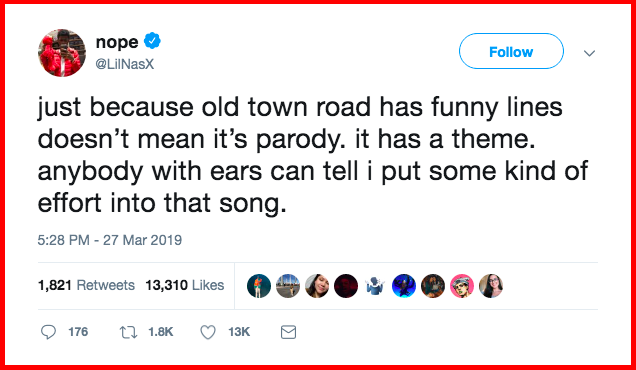 But despite it all, Lil Nas X still found a way to laugh through all the mess.