"Degrassi" Fans And Non-"Degrassi" Fans Are Battling It Out On Twitter Because Of Drake's Music Video
Drake has everyone screaming, "I'm Upset" about Degrassi!
But the real shock came when fans pressed play. The 31-year-old Toronto native gave us a Degrassi: The Next Generation reunion of our dreams, as we watched one castmate after another fill the screen.
I've been in my feelings all morning thinking about how he was able to get the majority of the cast together for a video shoot.
And how his beef with Pusha T quickly became a distant memory.
But while I was soaking up every ounce of nostalgia during my nineteenth watch of the video, fans on Twitter were in their feelings for different reasons.
Unbeknownst to Drake, his video started a war between Degrassi fans and those who've never seen the show.
1.
There are some people who didn't watch Degrassi:
2.
3.
4.
5.
6.
And then there are those who LOVED the show:
7.
9.
11.
12.
13.
So, whether you were obsessed with the show or have no idea who Jimmy Brooks is, I hope Drake's music video still serves you well.
But seriously, if you haven't seen Degrassi: The Next Generation you need to...like, yesterday! Here's a perfect explanation why: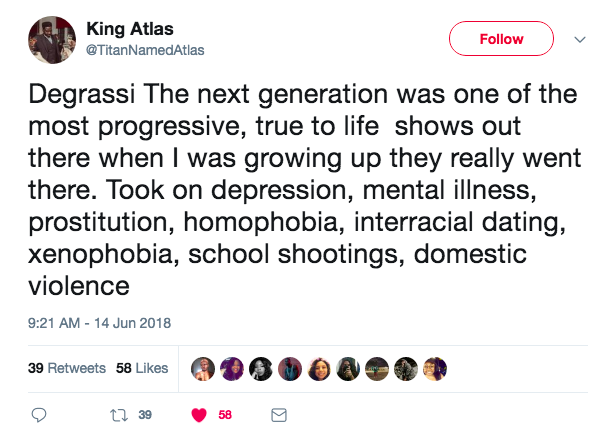 Oh and thanks, Drake! I probably won't be the only one binge-watching the series tonight.