Angela Lewis On The Advice John Singleton Gave Her That Got Her Through A Tough Scene
"Ever since we shot the pilot, we knew it felt special."
If you're on Twitter, then you know Wednesdays belong to FX's Snowfall — a drama series highlighting the government's connection to the crack cocaine epidemic in Los Angeles during the 1980s. It has easily become one of Hollywood's — and my — most talked-about shows, which is just one of the reasons why it was recently renewed for a fifth season ahead of the Season 4 finale.
To celebrate, I chatted with the backbone of the show, Angela Lewis, who plays Aunt Louie. We discussed everything from Jerome's wig to the hardest scene she had to film and everything in between.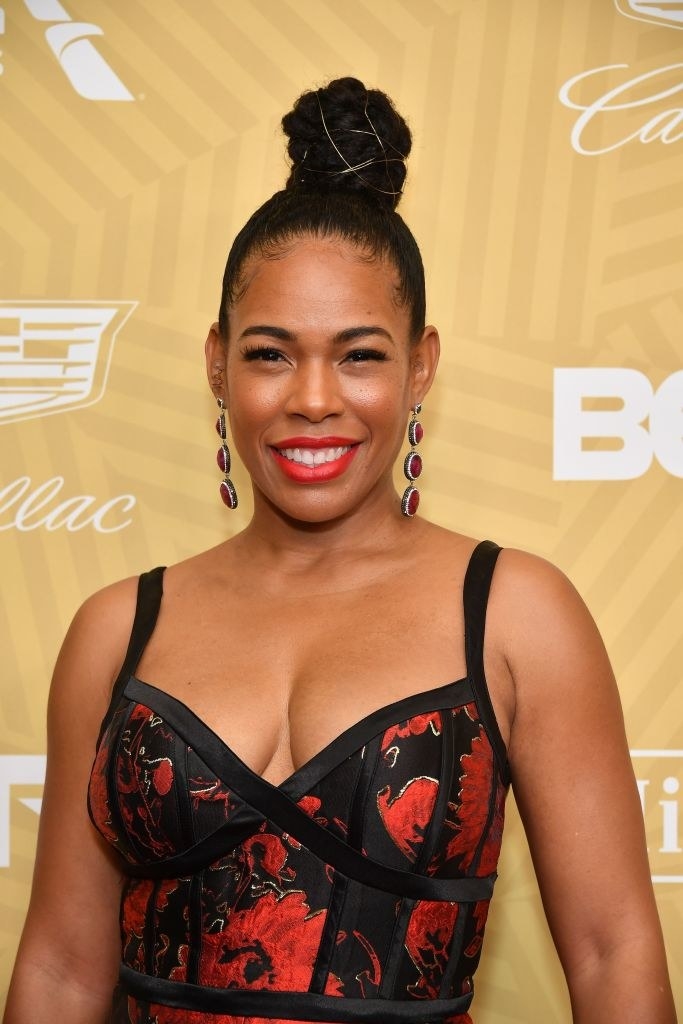 Five reasons Angela Lewis wants you to watch Snowfall this season:
1. If you're like me, and you like to scream at your TV, you should definitely be watching Snowfall. [I would describe it as] Mmmm, explosive, and stressful!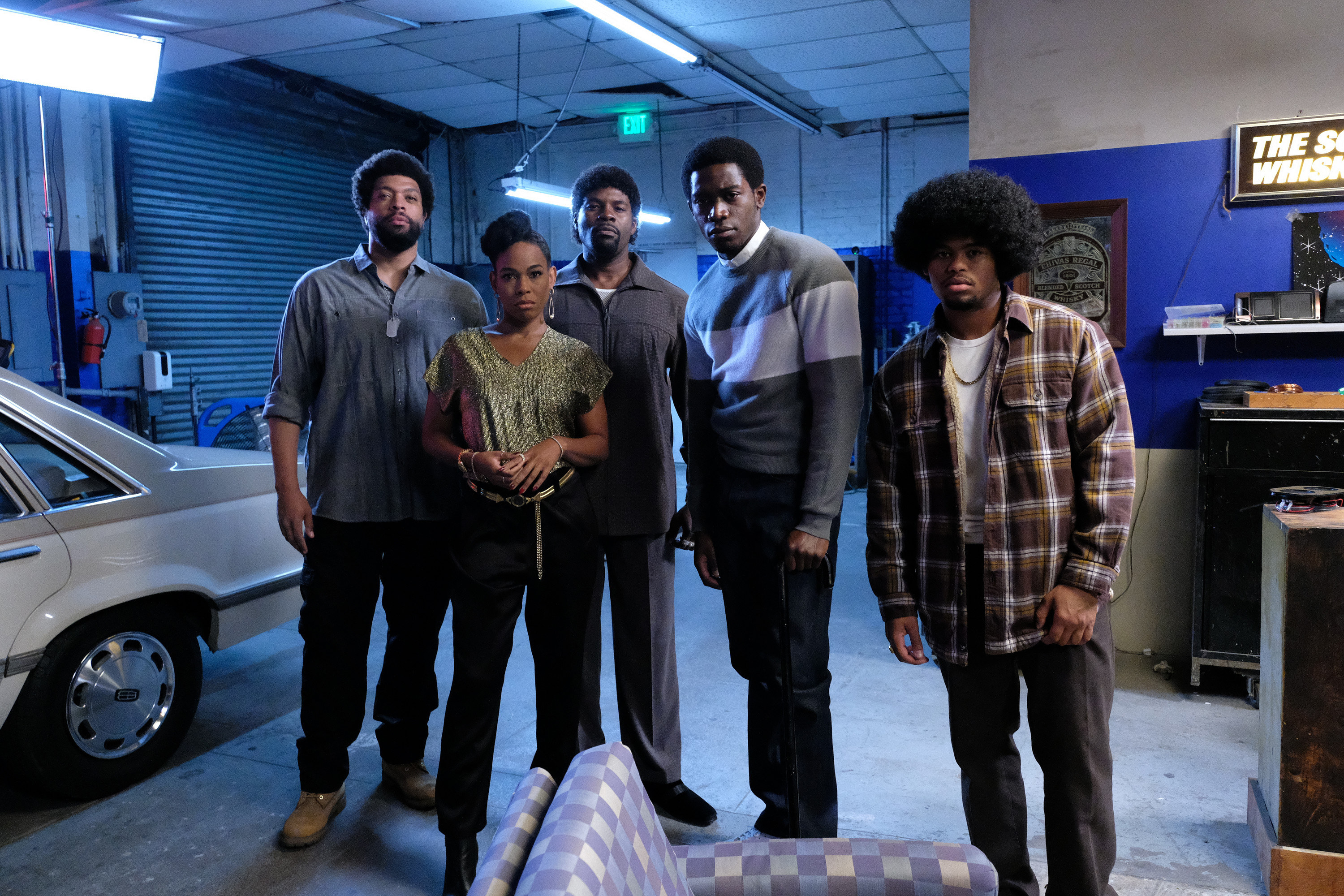 2. We have amazing storytelling! Our writers are simply the best! We really have a good time together. We work hard to bring you the juiciest stories with the highest integrity, throughout every aspect of our storytelling. From costumes to set designs — the show works on all the layers, even the music. You could be sitting there watching the show, and then all of a sudden you're transported to a particular mood or vibe because of the music. That's all because of our music supervisor.
3. We have incredible characters and character development, like Jerome, Leon — who's a real one, and Franklin — he's the best, super hot, and all the ladies love him...the men too.
Fun Fact: Pre-COVID, Angela and the cast would hang out behind-the-scenes all the time.
4. The show has a great lineup of villains, as well as guest stars who always knock it out of the park.
5. Why else? Because it's Snowfall and the show is fire! It'll become your favorite show as soon as you turn on the first episode. I remember watching Season 1 like, "Man, if I wasn't in this show, I would still be watching it." I was really proud of that. I think that goes for all of us. Ever since we shot the pilot, we knew it felt special. Then we watched it and we were all like, "This is good!"
Four things Angela Lewis loves about playing Louie:
1. I love Louie's amazing drive and desire to go after what she wants, and to be the boss.
2. I love Louie's costumes. Her wardrobe is amazing. I have so many favorites, but I probably love her fur coats the most. Oh my God! Every time I put one, I'd think, "Yasss, Louie!"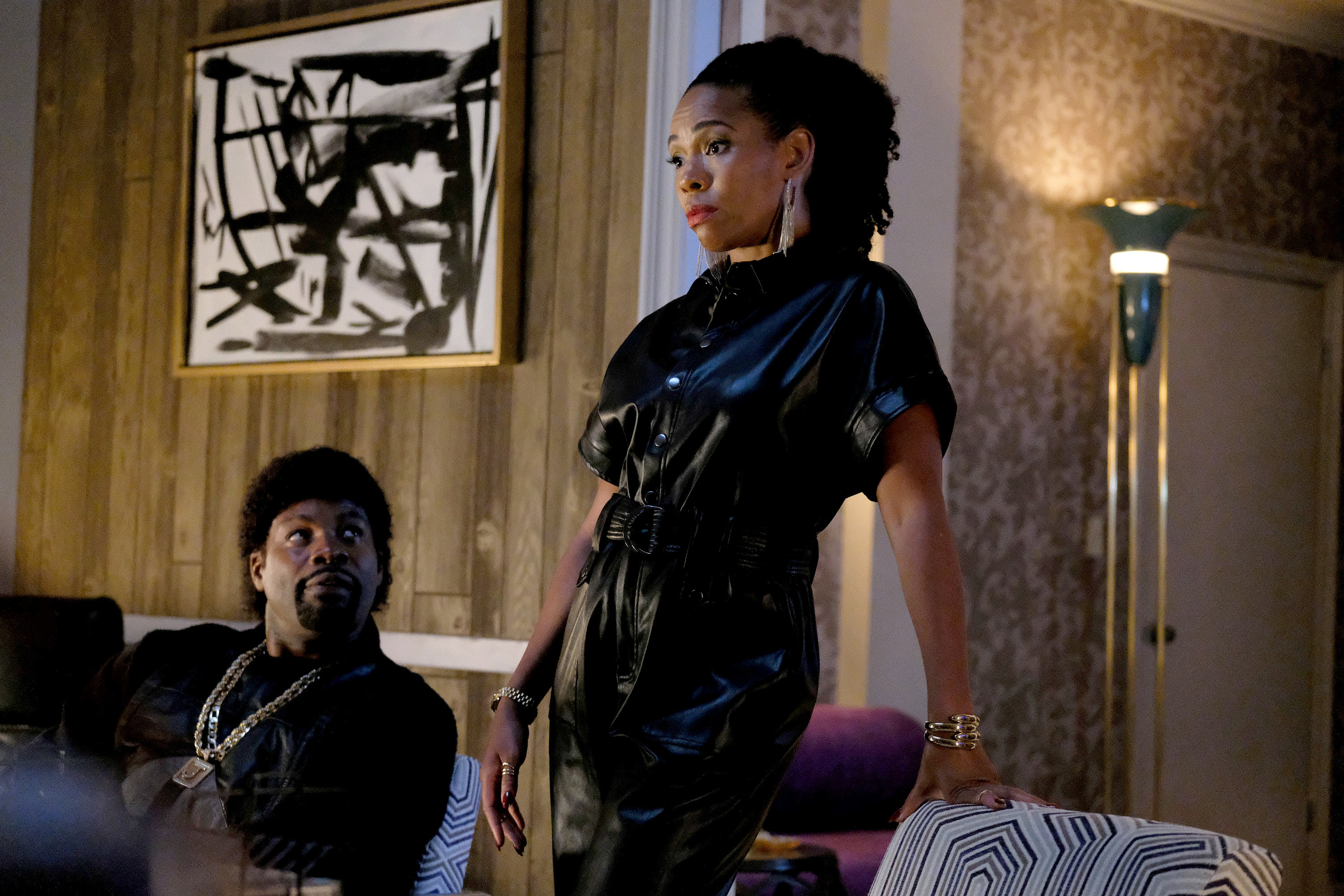 3. I love her relationship with Jerome. I think they have such beautiful and dynamic chemistry. Every moment with him is really fun. We had a chemistry read in the very beginning. It was one of the best auditions I ever had. It was so much fun to do, because it went over the "push and pull" aspect of their relationship — the fight and the love. It felt so natural.
Fun Fact: Jerome's wig is nicknamed Sheila.
4. She's empowering! To watch somebody go from nothing to everything in a matter of two years – that's how long it's been within the world of Snowfall — and do a full 180? I'm just blown away by her.
Three of Angela Lewis's favorite characters on Snowfall: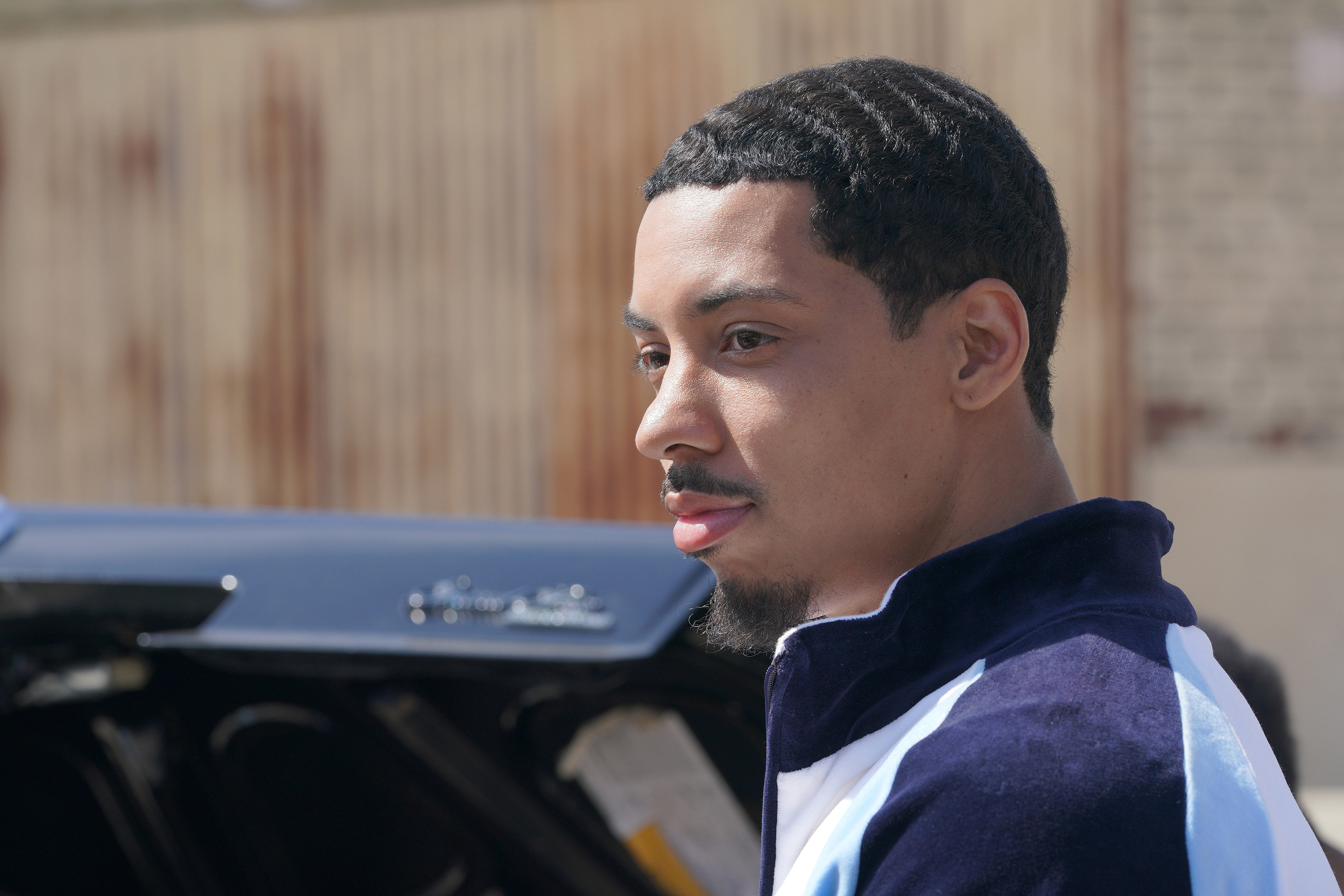 1. I love Manboy! He's so charismatic with every line he delivers and his mannerisms.

2. Like so many of our fans, Leon is one of my favorites too. I said it earlier, but he truly is a real one and there's no denying that.
3. Diego and Danilo, who play the Colombian brothers in the cartel, they are so funny to me. They're amazing.
Two scenes that Angela Lewis will never forget:
Fun Fact: John Singleton told Angela to stand in her power. He would always be like, "Come on. I need that Detroit." But I realized he was really asking me to bring my power.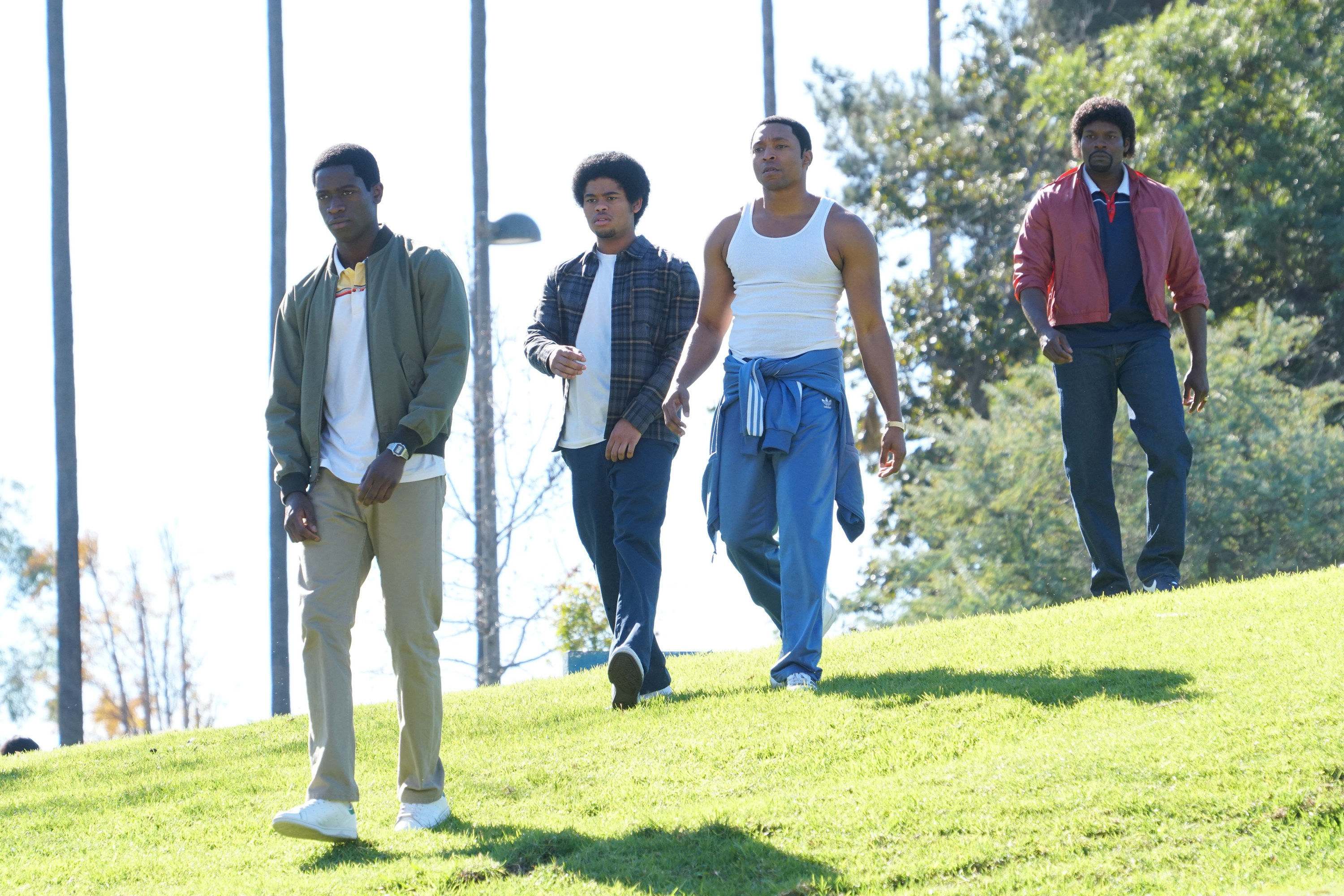 1. There was a fight scene between Louie and Claudia that was really intense. Overall, it was just a very intense day. A lot of care was taken, because not only did I want to be gentle with my castmate, but I also wanted to sell the scene when I clocked her over the head and she hit the bar. It was very dynamic — I'll never forget that day.
2. Season 2, Episode 5, which is actually one of my all-time favorite scenes. When Kevin was really mad at the Mexicans that killed his cousin and apparently castrated him. Then we see him rounding up all the boys to come and get their guns, so they can get revenge — the choreography of that scene was superb! It was extremely structured while also delivering intense emotion. That day was great.
One of the hardest scenes for Angela Lewis to film on Snowfall: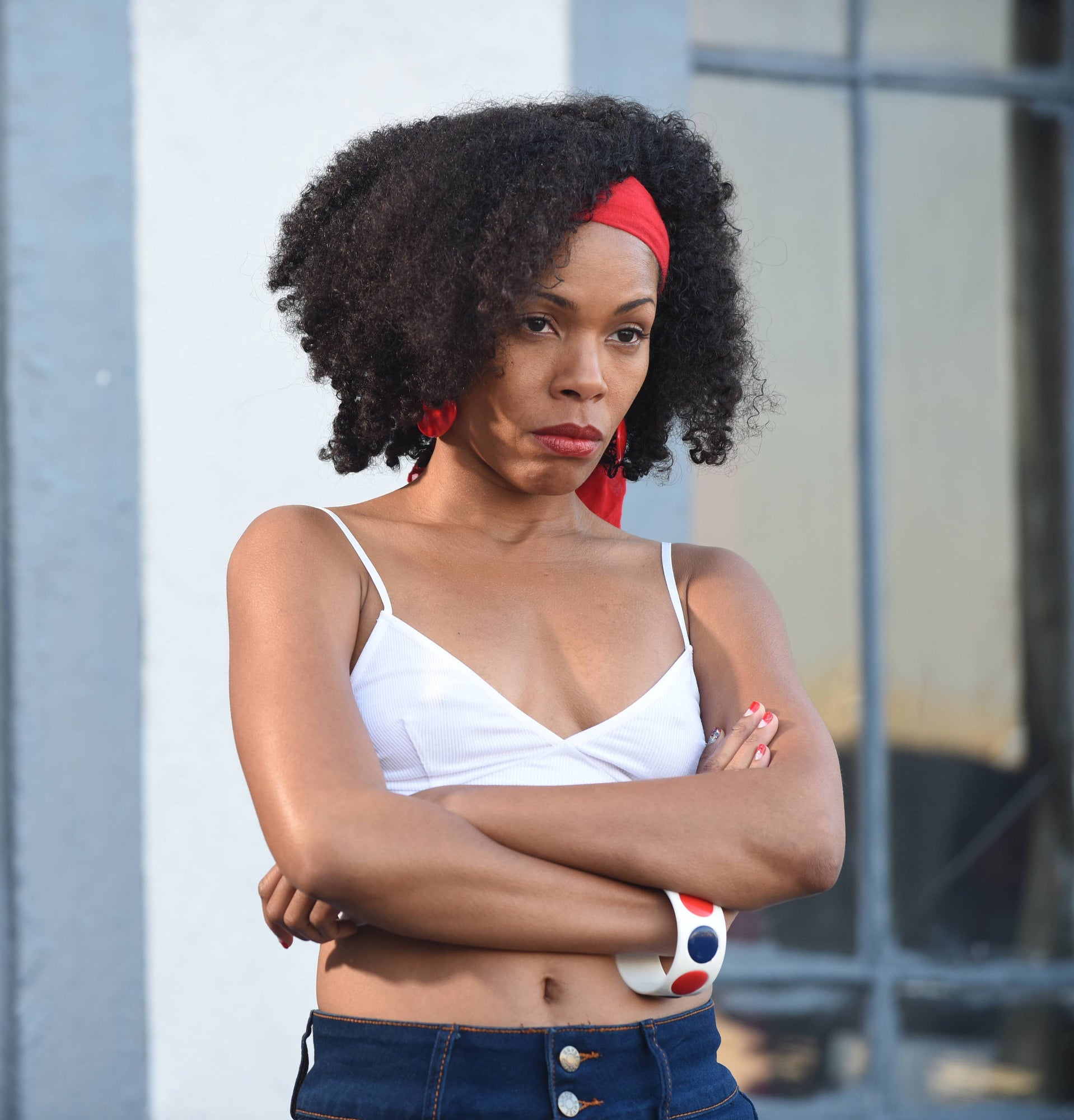 1. The first thing that pops into my mind is actually Louie's introduction scene on the pilot, because I was so scared. I mean, it was my first day as a series regular on a show and I had to beat up a person really bad. I was like, "How am I gonna do this?" I don't know, but I was really scared at the time, because I didn't want to let Louie down, I didn't want to let John [Singleton] down, as well as my castmates and directors. I was very timid at first and it wasn't selling, so I had to tell myself, "Louie wouldn't care. You're caring too much. The love is there when there's no love going on right here." Once I was able to kind of let that go, then it was fine.

I had to channel, like, all my badass cousins, and by that, I mean badass bitches. I got some badass bitches in my family. So I was just like, "Alright, let's go! Let's do it. Let's make some people proud here."
To catch more of Angela as Louie, tune into Snowfall every Wednesday at 10 p.m. on FX or stream it on Hulu the following day!