It's a call centre at Liverpool's Foundation for Art and Creative Technology gallery, where people can "connect" with him for a chat over the phone.
Collaborating with artists Nastja Sade Ronkko and Luke Turner, members of the public can dial 0151 808 0771 from 11am to 6pm every day until Sunday.
Shia LaBeouf is very insistent that you touch his soul and it's kinda weird.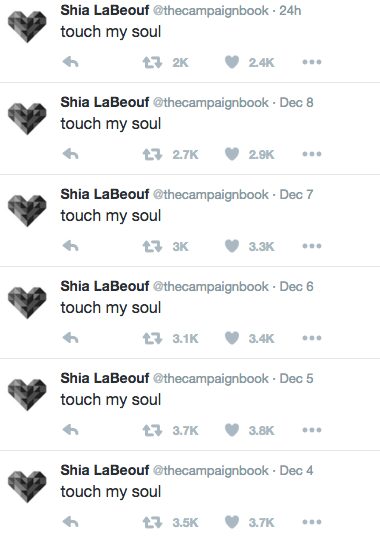 People really wanna touch that sweet Shia soul.
Some are having more luck than others.
You can watch a live stream of the trio and read their musings of the event in an ongoing document on Touchmysoul.net.
People are also invited to visit the gallery to see the star in person. #TOUCHMYSOUL is part of the exhibition Follow. According to the website, Follow "will explore how we act when everyone is watching".
This isn't the first time Shia's soul has been touched. For his last art project #ALLMYMOVIES, LaBeouf watched his entire filmography back to back in a cinema in New York.
Call now to ~touch~ Shia LaBeouf's soul.