The Future of Protests After March For Science
On April 22, thousands of scientists and their ardent allies marched through the streets of Manhattan and several cities around the nation to protest President Donald Trump's various threats to science.
The march came as a direct reaction to the president's troubling statements regarding future plans to loosen environmental regulations and anticipated cuts to non-military spending—a serious setback for government-funded conservation groups like the Environmental Protection Agency.
"Rigorous science is critical to my administration's efforts to achieve the twin goals of economic growth and environmental protection," Trump said in an official statement released that Saturday. "As we observe Earth Day, I hope that our nation can come together to give thanks for the land we all love and call home."
Despite these proclaimed sentiments, a bubbling tension between Trump and scientific supporters was palpable as nation-wide protests raged on.
In Uptown Manhattan, Sina Zekavat, 27, was proudly holding up a sign that read, "Trust the Facts, Protect the Earth" in varying, vibrant colors. Zekavat, a photographer and longstanding environmental activist, felt frustrated with Trump's attitude towards environmental protection and the government's dwindling support of scientific research.
"Trump and his administration pose a great threat to the environment and the future of scientific progress," said Zekavat. "Something must be done."
Like many protesters at the march, this is not the first rally for change that Zekavat has attended since Trump's inauguration. In fact, March for Science marks her third this month.
Since Trump's ascent into office this January, countless protests have sparked around the globe in retaliation to some of his disconcerting policies and statements.
Although this event was packed, experts warn of the possibility of a burnout, or the slowing down of combative efforts against Trump's administration.
Ron Stagg, a professor of political protest movements throughout history at Ryerson University, observed March for Science from afar—silently and studiously.
According to Stagg, this could be the beginning of the end for anti-Trump rallies, because protests require too much energy to endure.
"There will need to be constant provocation from the White House to keep protests going," warned Stagg. "Were nothing new, or repetitious, to come up, the protests will gradually fade."
Stagg is also dubious of the success rates of protests.
"Generally speaking, protests rarely succeed unless there is overwhelming support," said Stagg. "As long as there is a significant proportion of the population supporting the status quo, protests can be dismissed as minority opinion, or, even worse, the actions of troublemakers."
Yet, for now, at least, the protest fever is still infectious as thousands stride together, dressed in green, to ensure the protection of the Earth.
"We will yell until we are heard," said Zekavat. "These causes are too important to stay silent over."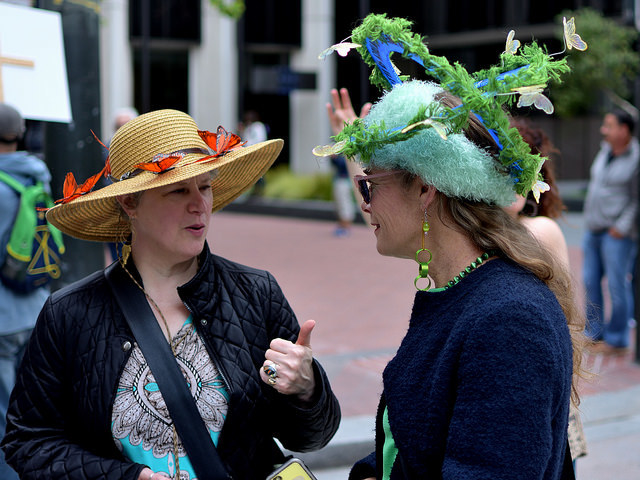 This post was created by a member of BuzzFeed Community, where anyone can post awesome lists and creations.
Learn more
or
post your buzz!