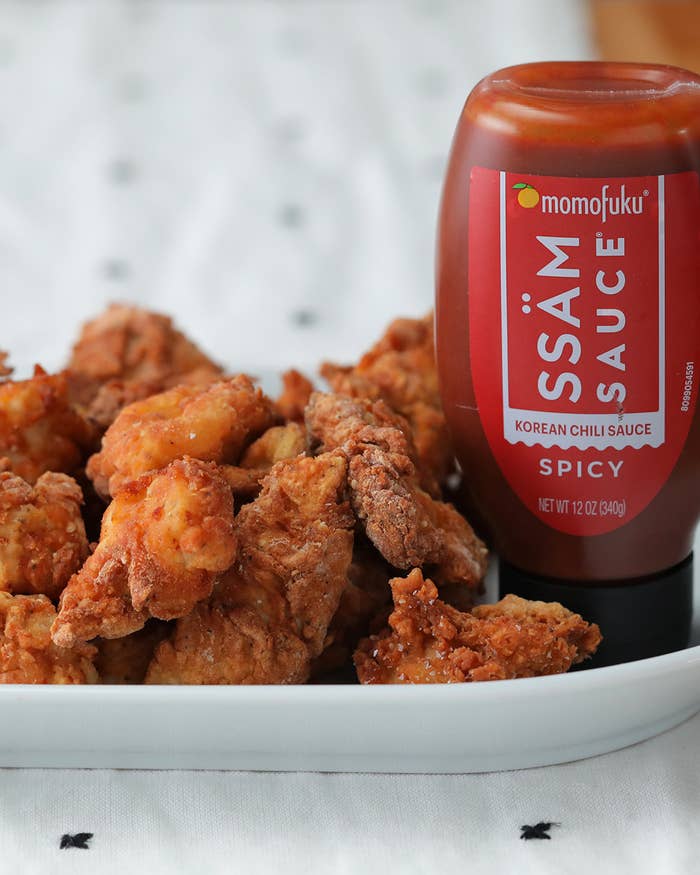 Sweet & Spicy Chicken Poppers
Servings: 8
INGREDIENTS:
1 pound chicken (mixture of boneless skinless thighs and breasts)
8 eggs
6 tablespoons Momofuku Spicy Ssäm Sauce, plus more for dipping
½ cup brown sugar
2 cups flour
1 tablespoon salt
1½ teaspoons pepper
2 teaspoons garlic powder
2 teaspoons onion powder
Vegetable oil, for frying
PREPARATION:
1. Cut chicken into bite-size pieces.
2. In a large bowl, whisk together the eggs, Spicy Ssäm Sauce, and brown sugar, until
smooth.
3. In another bowl, whisk together the flour, salt, pepper, garlic powder, and onion powder.
4. Dip the chicken pieces in the egg mixture, then coat with the flour mixture. Dip the
chicken in the egg mixture a second time and coat with the flour again.
5. Heat vegetable oil in a pot to 350ºF. Fry the chicken for approximately 3 minutes, until
browned and crispy. Drain on paper towels. Serve with Spicy Ssäm Sauce for dipping.