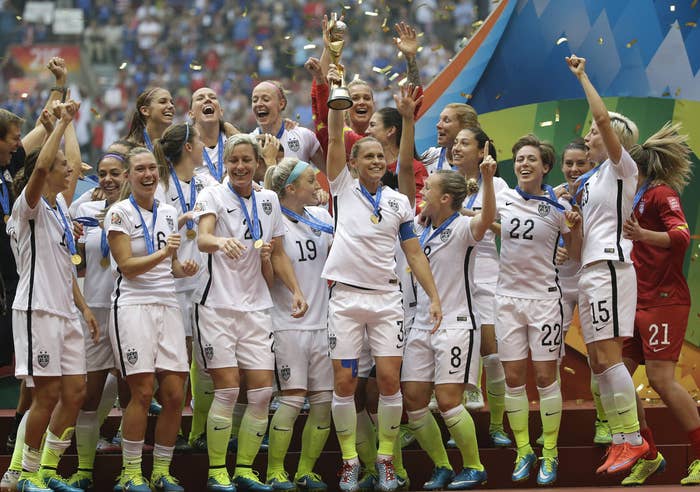 U.S. women's soccer players aren't alone in facing challenges. Around the world, women's soccer players are routinely forced to overcome huge obstacles just to play the game.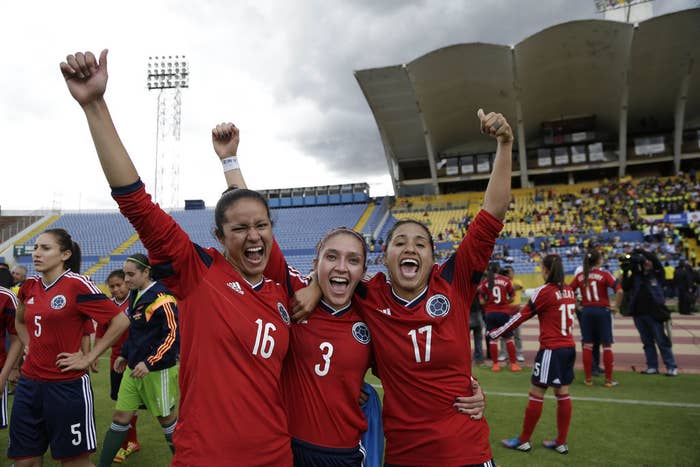 Take the up-and-coming Colombian women's team, which beat France 2-0 in the World Cup last year. They hadn't been paid a cent in four months when they played the USWNT last week.
Some Colombian players even said the nation's federation had withheld their the World Cup bonuses.
On Saturday's game against the U.S., Colombia's coach benched some of the team's best players for speaking out about not being paid. He told an ESPN commentator they were being "punished" and that they could return "when they'd learned their lesson."
Colombia hadn't been able to play since July, since the nation employs just one coach for all four of its women's teams.
Trinidad & Tobago wouldn't even cover the cost of meals for its women's team at the World Cup Qualifying tournament in 2014.
And their coach had to beg publicly for food, equipment, and transportation because they'd been sent to the tournament with just $500. Needless to say, the T&T women's players aren't paid.
T&T got help from an unlikely source: The Haitian women's team, which gave T&T every penny of the $1,300 it had been raising through T-shirt and bake sales to keep itself afloat.
Haiti's women's team was in danger of folding altogether until the Clinton Foundation stepped in to fund it. Though they train six months a year, the Haitian women weren't even paid the $200 stipend they were supposed to receive in 2014.
The Australian women's team, the Matildas, became national heroes when they beat Brazil in the 2015 World Cup. They later went on strike because they were only paid part-time wages that were a fraction of what the men received.
One 25-year-old national team player said she couldn't even afford to move into her own apartment.
Then there's Spain, whose coach publicly referred to his players as "chavalitas," or "little girls."
Players said the coach called them "fat," threatened them, and retaliated against them for speaking against sexism in Spanish culture.
The players repeatedly called for him to be fired, but it wasn't until last summer that he stepped down voluntarily — after 27 years as coach.
Many experts blame the struggles of women's teams worldwide on FIFA, the world governing body, which is supposed to enforce equality, but has often been seen as indifferent at best.
Sepp Blatter, FIFA's former president, has often bragged about his support of women's soccer, but didn't know who U.S. superstar Alex Morgan was at a FIFA gala, even though she was receiving an award that night for being one of the sport's best players.
He also mistook U.S. player Abby Wambach's wife for Marta, the Brazilian five-time Player of the Year. Oh yeah, and he also suggested women wear "tighter shorts" to increase the sport's popularity.