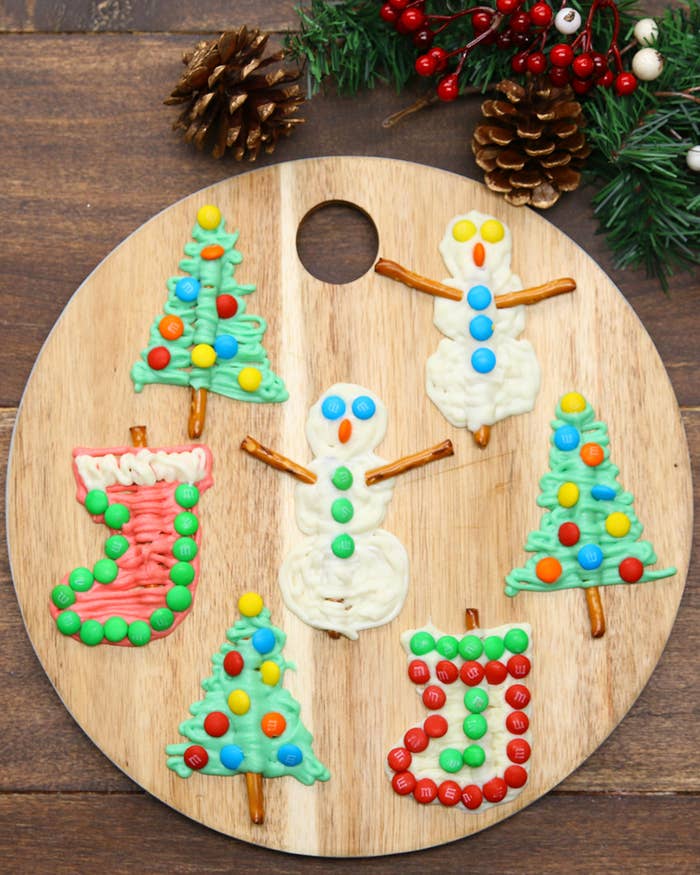 INGREDIENTS
18 ounces white chocolate melting chips, divided
Green food coloring
Red food coloring
1 bag M&M's® Mini's Milk Chocolate and Semi-Sweet Dark Chocolate Baking Bits
1 cup pretzel sticks
PREPARATION
1. Separate white chocolate into three 6-ounce portions in microwaveable bowls. Melt each in a microwave or over a double boiler. Dye one bowl green, one red, and leave the third white. 

2. Spoon the green chocolate into a resealable plastic bag, and snip the corner to create a piping spout. Repeat for red and white.

3. Place a pretzel stick on a sheet of wax paper. Pipe chocolate in desired shape, using the pretzel stick as a guide. Use green for trees, red for stockings, and white for snowmen, or create your own designs!

4. Use M&M's® Mini's Milk Chocolate and Semi-Sweet Dark Chocolate Baking Bits to decorate your designs and add extra detail.

5. Place in refrigerator for at least 30 minutes to set.

6. Enjoy!