Reindeer Food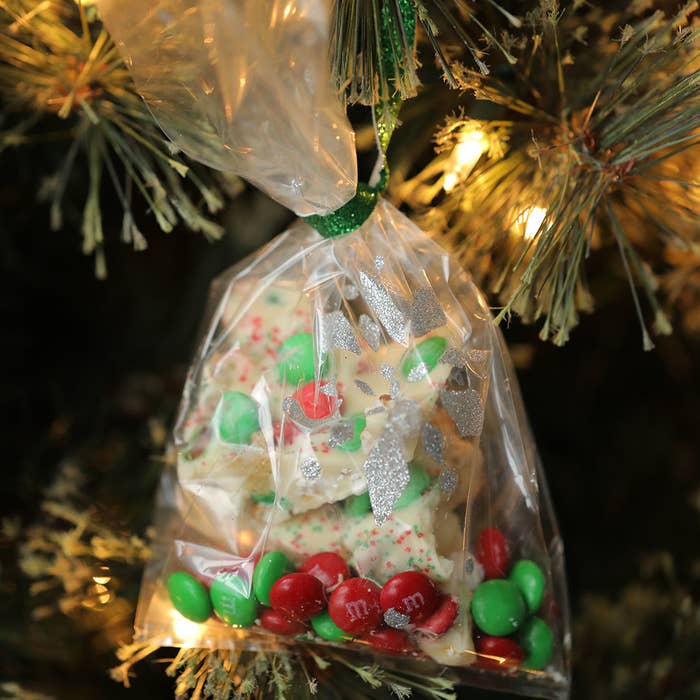 INGREDIENTS
Servings 30
20 oz white chocolate (5 bars)
1½ tablespoons coconut oil
1 cup marshmallows
1 tablespoon butter
2 cups square corn cereal
1 cup pretzels pieces
2 cups popcorn (salted and buttered)
¾ cup macadamia nuts, chopped or whole
1 cup broken christmas cookies
2 cups M&M'S Milk Chocolate Candies for the holidays
Red and Green sugar sprinkles
PREPARATION
1. Microwave marshmallows and butter in a small bowl for 45 seconds and whisk together until smooth and creamy. 

2. Pour marshmallow mix over Chex cereal and stir to cover the cereal. Set aside to cool, then break into small pieces. 

3. Microwave the white chocolate and the coconut oil until just before it is totally melted, and stir until smooth and finished melting. Careful not to overcook!

4. On a parchment-covered baking sheet or dish, pour a fourth of the melted white chocolate and spread into a thin rectangle on the paper.

5. With a handful at a time, evenly sprinkle each topping over the chocolate rectangle. Drizzle the remaining white chocolate over the toppings to mostly cover them.

6. Top with M&M'S Milk Chocolate Candies for the holidays and red and green sugar sprinkles. 

7. Refrigerate for an hour.

8. Enjoy!