M&M'S® Strawberry Sugar Cookie Bars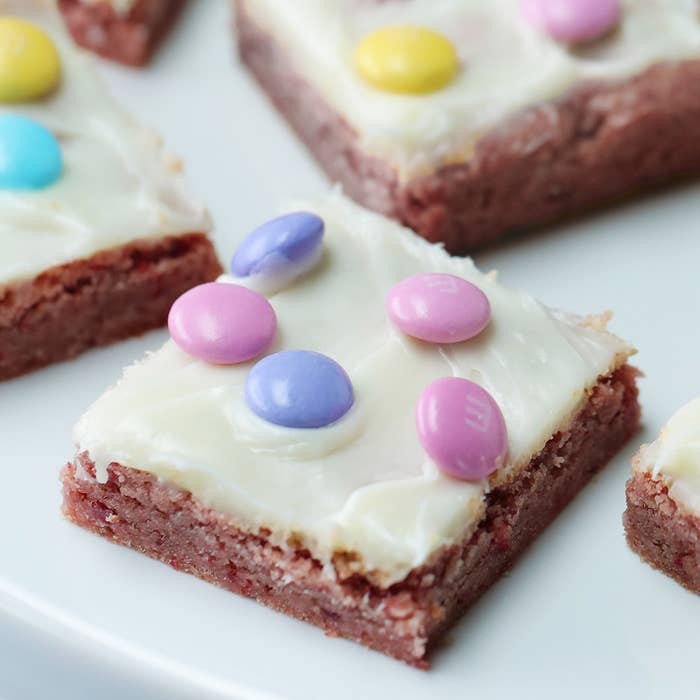 INGREDIENTS
Servings: 2 dozen cookies
Cookie Dough
1 cup unsalted butter, room temperature
2 cups sugar
2 teaspoons vanilla extract
2 eggs
½ teaspoon cream of tartar
½ teaspoon baking soda
3 cups flour
2 cups freeze-dried strawberries
Frosting
4 ounces cream cheese, room temperature
2 tablespoons unsalted butter, room temperature
1 cup powdered sugar
M&M'S® Brand Milk Chocolate Candies in pastel colors
PREPARATION
1. Preheat oven to 350℉/180℃.

2. Cream together the butter and sugar in a mixing bowl with a hand mixer. Add the vanilla and the eggs, one at a time, while continuing to blend.

3. In a food processor or blender, grind the freeze-dried strawberries into a fine powder. Set aside in a small bowl.

4. Add the cream of tartar, baking soda, and strawberry powder. Slowly add the flour, one cup at a time, while blending. Do not overmix; blend just until the flour is incorporated. Cover and refrigerate the dough until chilled, about an hour.

5. Line two 8x8 baking pans with parchment paper. Split the dough and spread evenly across the pans.

6. Bake 20-25 minutes until lightly browned around the edges. While cookies are cooling, make the frosting.

7. Blend together the cream cheese and butter until smooth. Slowly add the powdered sugar, a little at a time, and blend until smooth. 

8. When the cookies are cooled, frost and decorate with M&M'S® Brand Milk Chocolate Candies in pastel colors.

9. Enjoy!