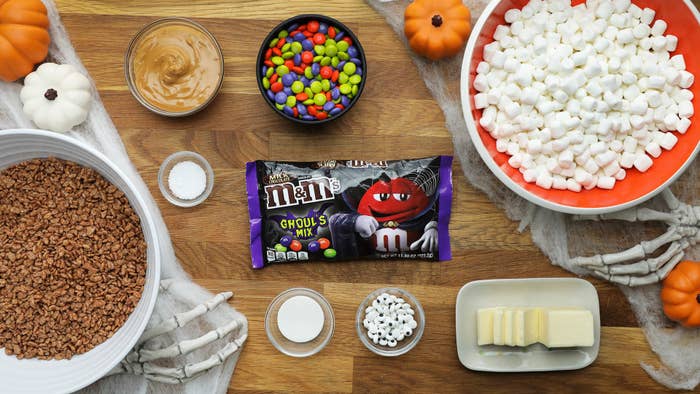 Crunchy Mummy Balls
Servings: 32
Ingredients:
Mummy Balls
7 cups chocolate crispy rice cereal 2 cups M&M's Ghoul's Mix
1⁄3 cup butter
7 cups mini marshmallows
1⁄2 cup peanut butter
1 teaspoon kosher salt
Decorating
White gel decorating icing M&M's Ghoul's Mix
Preparation:
Mummy balls: In a large bowl, mix together chocolate crispy rice cereal and M&M's

Ghoul's Mix. Set aside.

Over low heat, melt the butter in a pot. Add in mini marshmallows, peanut butter, and

kosher salt. Melt everything together while stirring frequently until the mixture becomes

smooth and homogeneous.

Pour marshmallow mixture over cereal and stir quickly to combine. Once mixture cools

enough to touch, shape into golf-size balls with oiled hands.

Decorating: Use white gel icing to decorate balls with "mummy wraps." Use M&M's

Ghoul's Mix as the mummy's eyes. Serve!