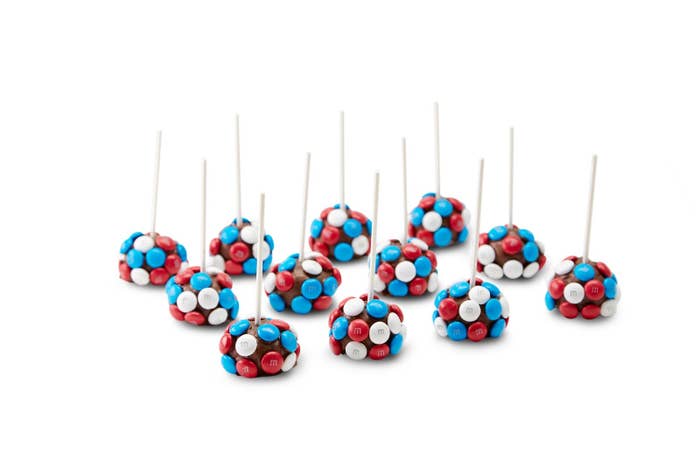 Servings: Approximately 24 pops
INGREDIENTS
4 cups crispy rice cereal
8 ounces marshmallows
3 teaspoons butter
½ cup chocolate chips
½ cup M&M'S® Red, White & Blue Milk Chocolate Candy
4 inch lollipop sticks
PREPARATION
Add the butter to a large pan over medium heat and melt.

Add marshmallows and stir until melted.

Add the crispy rice cereal and toss until fully coated in marshmallow mixture.

Pour mixture into a lined 8x8 inch cake pan, press into pan one even layer. Cool completely before cutting.

Cut rice treats into 1 inch cubes. Use your hands to form a small ball out of each cube.

Place chocolate chips in a microwave safe bowl and microwave in 30 second increments until chocolate has melted, about 2 minutes total.

Stir mixture until fully combined.

Take the lollipop sticks and dip one end about ½ inch into the melted chocolate. This will help anchor the rice treats to the stick.

Insert the lollipop stick into each piece of rice treat.

Dip skewered treat in melted chocolate, then dip in M&M'S® to decorate. Allow the chocolate to set.

Enjoy!

Nutrition Per Serving:
98 Calories
Total Fat: 2.6g
Cholesterol: 3mg
Sodium: 58mg
Total Carbohydrates: 17.9g
Total Sugars: 10.5g
Protein: 0.8g