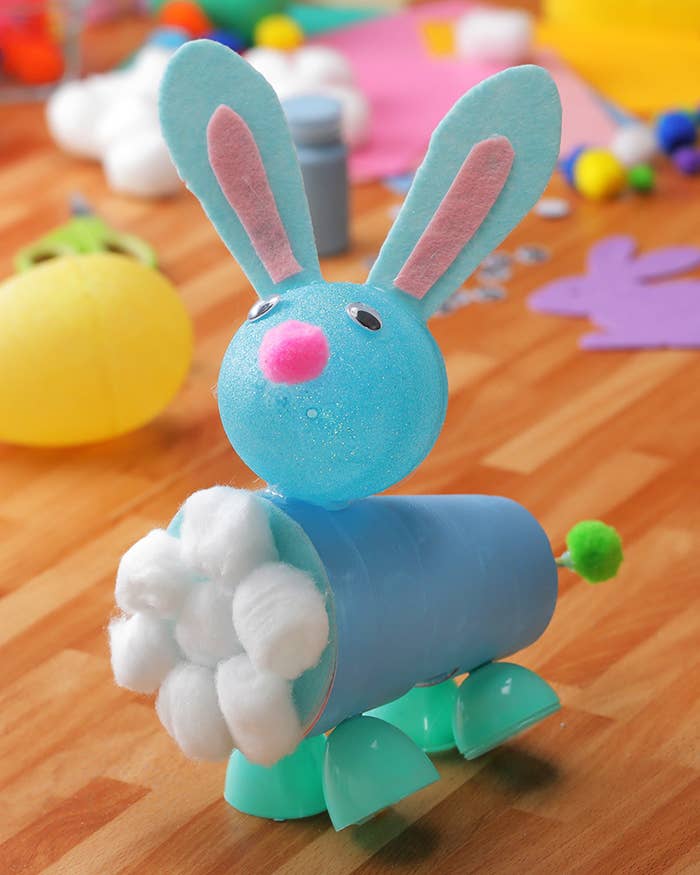 MATERIALS:
2 styrofoam cups
1 dowel rod
Marker
2 small plastic Easter eggs
1 large plastic Easter egg
Wooden craft sticks
Non-toxic hot glue
Googly eyes
Rubberbands
Box cutter
Scissors
Cardboard
M&M'S Easter Milk Chocolate Eggs

Decorations
Variety of non-toxic acrylic paints
Cardstock
Cotton balls
Yarn
Googly Eyes
Glitter
Felt
PREPARATION:
PREP
Trace the lid of a plain styrofoam cup onto cardboard. Cut out the resulting circle and set aside.

Use scissors to puncture a hole in the center of two styrofoam cups.
OUTER CUP
Draw four straight lines from the top of the cup to the bottom, equidistant from one another.

Between two of the lines down the length of the cup, cut out a square big enough for the M&M'S to fall out.
INNER CUP
Place the second cup inside the outer cup. Trace the cutout from the outer cup onto the second cup. Pull out the second cup until the tracing is fully covered, then trace a line around the perimeter of the cup.

Cut the resulting line drawn underneath the top of the cup, as well as the tracing.
ASSEMBLY

Use scissors to puncture two water-bottle caps. Wrap a rubber band around the tip of a dowel. Feed one bottle cap through the dowel until it rests up against the rubber band. Feed the dowel through the inner cup so that the bottle cap is inside, then secure with hot glue.

Feed the second bottle cap through the other end of the dowel and hot-glue it to the bottom of the inner cup.

Feed the outer cup through the dowel and over the inner cup.

Hot-glue the cardboard circle cutout from the beginning of the craft to the lid of the outer cup.

Hot-glue small plastic Easter eggs around the cup cutouts to serve as the bunny's feet.

Use a variety of plastic Easter eggs, cardstock, wooden craft sticks, yarn, cotton balls, googly eyes, paint, glitter, and so on to decorate your Easter bunny.

Pull the tail of the bunny to get your M&M'S!