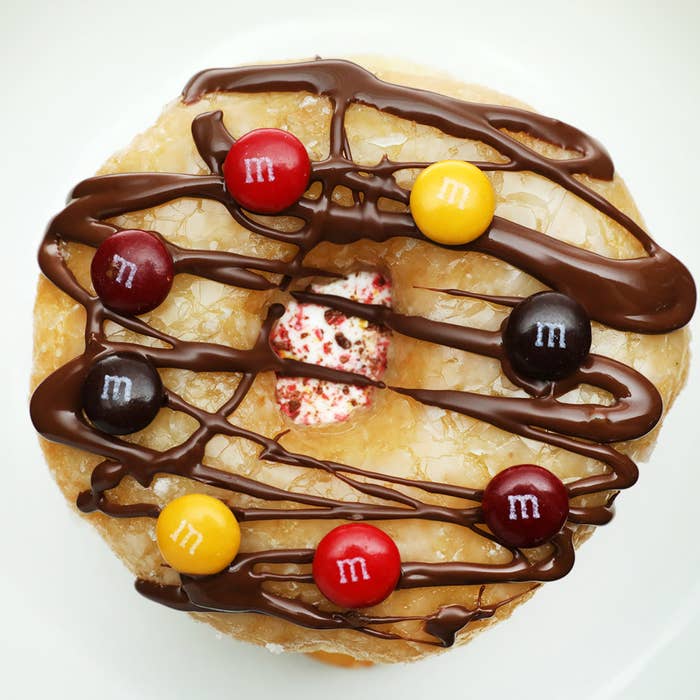 INGREDIENTS
M&M'S Ice Cream
2 cups heavy cream
1 teaspoon vanilla extract
1 (14 oz) can of condensed milk
1 (11.4 oz) package Fall Harvest Milk Chocolate M&M'S
4 raised donuts
Topping
½ cup chocolate chips
1 tablespoon coconut oil
PREPARATION
1. In a large bowl, whisk the heavy cream until stiff peaks form.
2. Fold in vanilla and condensed milk until combined.
3. Divide the bag of M&M'S in half. Keep ½ the bag whole, set aside. Take the other ½ , add to a ziplock bag and crush with a rolling pin until coarsely chopped.
4. Line the bottom of an 8x8 pan with parchment paper. Pour in 1 cup of the ice cream mixture. Sprinkle a layer of the crushed M&M'S. Then cover with another cup of ice cream mixture, and then sprinkle another layer of crushed M&M'S. Repeat layers until the mixture is used up.
5. Place in the freezer for at least 4 hours to harden.
6. When ice cream is frozen and you're ready to assemble, cut the donuts in half.
7. Remove ice cream from the freezer and lift it out of the pan.
8. Using a round cookie cutter, cut the ice cream into circles and place between the halves of each donut.
9. Melt chocolate chips and coconut oil and mix together. Drizzle chocolate over the top of the donut and decorate with M&M'S.
10. Serve immediately or refreeze.