Caramel M&M'S Mini Poke Cupcakes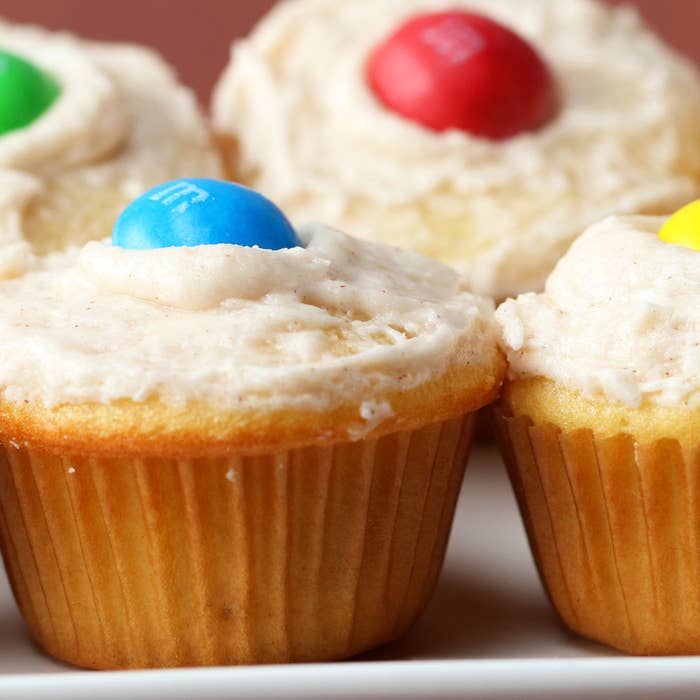 INGREDIENTS:
Servings: 24 mini cakes
Cake
1 box white cake mix
3 eggs
½ cup vegetable oil
1 cup water
Caramel Buttercream
½ cup softened unsalted butter
2 cups powdered sugar
2 tablespoons bottled caramel sauce
2–3 tablespoons milk
¼ teaspoon cinnamon
1 cup M&M'S Caramel Candies
PREPARATION:
1. Preheat oven to 325℉.

2. Fill mini muffin tins with cupcake liners. 

3. Make cake batter according to package instructions. Fill the cupcake liners with cake batter ⅔ of the way full. Bake 12–15 minutes until a toothpick inserted in the center comes out clean. Set aside to cool.

4. To make the buttercream, beat the soft butter until light and fluffy using a hand mixer. Slowly add the powdered sugar and mix until fully incorporated. 

5. Add the milk, one tablespoon at a time and blend until the consistency is creamy and smooth. Add the caramel sauce and blend until fully incorporated. Set aside.

6. Poke a hole in each cooled cupcake with the back of a spoon. Fill the hole with caramel sauce and 1 Caramel M&M. 

7. Frost the cupcakes with buttercream, top with Caramel M&M'S, and enjoy!