March 2016. Tuscaloosa, Alabama. One Week Until Spring Break.
DAY 0.
I have always been an athletic person. I love running and competing in road races. I swam competitively briefly. I thrive with competition, and I like working hard for a win.
Curiously, though, I've never been the best sports fan. I've found it difficult to get into sports when I'm not personally associated with them. I cheered wildly for my sister's U-12 soccer team once upon a time, I dressed from head to toe in Farragut Admiral blue, and of course I love the Tide, but I've never felt a deep connection with any professional sports team nor a need to have one. I'm certainly no match for fans who can recite a team's roster and stats from ten years ago at the drop of a hat.
There is, of course, nothing wrong with my relationship with sports most of the time. But I've noticed that there are some cases in which an extensive, detailed working knowledge of a particular sports team is incredibly helpful. For instance, it allows my friends to be more emotionally invested and intellectually stimulated during school football games. It gets people jobs during interviews. It allows my fellow volunteers at the VA an opportunity to connect on a personal level with the veterans, makes them more relatable. Sports fandom is accessible to all, no matter age, gender, socioeconomic status, or ability level. Perhaps, on some level, my lack of passion for following sports is closing me off to potential opportunities to deepen and personalize my daily interactions.
When my friend Nathan and I made plans to attend a Toronto Maple Leafs game during our spring break trip to Toronto (because what else does one do in Toronto?), he brought up my sports indifference. "It's more fun to go with people who enjoy it," he said, disappointedly. "You won't be invested. You don't really know all the rules; you don't know the team; you don't know the league. It'll still be fun. But I'm going to be way more into it than you are."
I sensed a challenge in his words. "Oh, it's ON," I said, and it was at that moment that I pledged to become an avid Maple Leafs fan before the beginning of spring break. I had 5 days. I've crammed for finals in less than a fifth of that! How hard could learning some rules and some names be?!
DAY 1: 5 DAYS TO GO
On day one of my Maple Leafs fandom, I decided to start by getting involved via social media, something that was accessible and familiar. I followed the Leafs on Facebook, Twitter, and Snapchat, and added them to my list of go-to snap recipients. I hope they enjoyed my biology-lab snaps of my dissected snail.
I watched a few videos, familiarized myself with the name of one player (Zach Hyman), and had my first substantial Maple Leafs discussion with my table-mate in physics. I told him I was a Maple Leafs fan now.
"Maple Leafs? Are they even in the NHL?" He looked skeptical.
"Um, yes?" I, the soon-to-be superfan, was incredulous. "I think so," I added, just in case. I Googled it under the table just to be sure. Yes, they are in the NHL. The fact that I knew a sports fact that someone else didn't was enough to make me feel giddy.
"He didn't even think they were in the NHL," I told Nathan later, adding quickly, "but I knew they were. Granted, he is from California. Not a lot of ice there, ha, ha."
"There are three NHL teams in the state of California," said Nathan. Who knew? Make that another NHL fact learned.
DAY 2: 4 DAYS TO GO
Before my 8 AM class on Day 2 I went to the library for 45 minutes of Maple Leafs studying.
First on the agenda was to see a recap of the game the night before. Since I had liked their page on Facebook, Facebook reminded me of the game the previous evening (pretty cool; kinda creepy) but I, of course, did not have a chance to tune in. So I went for the recap. Zach Hyman (!!! my player) had scored his first NHL goal in the matchup against the Buffalo Sabres, but unfortunately it was not enough to fend them off. The Maple Leafs had continued their losing streak. I shed a single tear.
I sat for a moment, unsure of what to do next. To Google!
I searched "How to become a Maple Leafs fan" and the first result was a set of jokes for Maple Leafs fans. I scrolled through. I guess the most important trait of a hopeful Maple Leafs fan is a good sense of humor.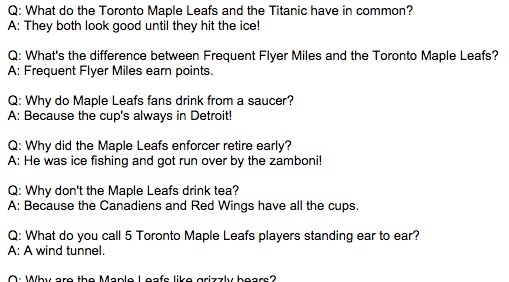 The next result was just about the NHL in general. Titled "How to Become a Better NHL Fan," the article looked promising. I read it. The takeaways: I need to give every puck I catch to a child sitting near me (Nathan: "No one catches pucks"), stand for the entire game (Nathan: "Everyone else will hate you") and buy beers for people in my section (Nathan: "Yeah, no"). These seemed to be kind of next-level-fan goals. I moved on.
The next result was about the rules of the game. The basics. Ah, this is what I needed. I learned about "icing" and about the various types of minor and major penalties and how long players have to sit out for each. If a minor penalty draws blood, it becomes twice as long. I thought that was a nice inclusion. I also learned what a power play is. Finally!
I then navigated to the official NHL league standings to confirm that, indeed, the Maple Leafs are ranked last in their division, conference, and the entire league.
On my way to class I texted my sister, Audrey, who has recently (fairly quickly) become a superfan of her college's men's basketball team, the Fordham Rams. I thought she might have some tips. After some brief clarification on my motivations, she advised that I do some research and watch recaps of games. I'm on it.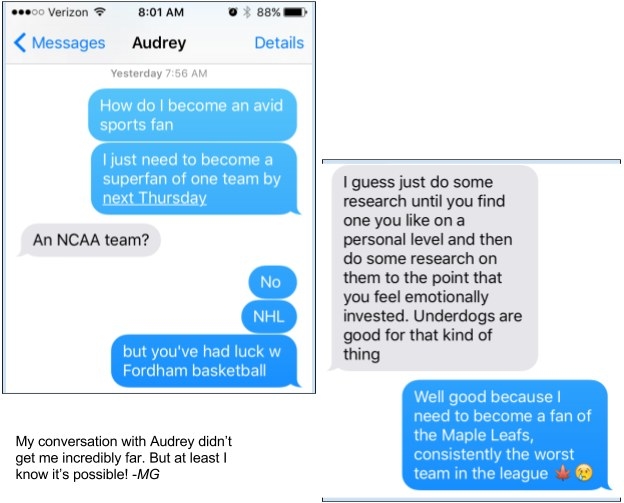 The night of Day 2, despite our busy weeks, Nathan and I went out for a drink and I attempted to have a substantial sports conversation with him.
"The Maple Leafs lost their game yesterday," I led with the facts. Opinions are harder. "They haven't won a game since February 28th!"
"That was like a week ago," Nathan noted. True. But they play like 4 games a week right?
"Anyway. They were doing well, leading in the third period until the Sabres tied it. The loss was sad because Zach Hyman scored his first NHL goal during that game, so it would have been awesome if they had won. They just barely lost by *only 1* in overtime--3 to 4." I felt kind of robotic, but I thought I was doing pretty well! Then I noticed Nathan was laughing.
"Well, you can only ever win by one in overtime," he said. Oh. Yeah. Well, whatever. My recap was still 99% correct. I rolled my eyes and gave my attempt at a sports conversation an 8 out of 10.
DAY 3: 3 DAYS TO GO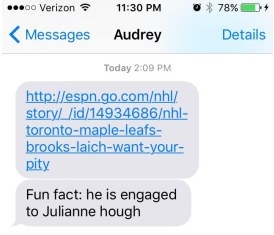 Well, if I ever doubted that Audrey's got my back, I don't anymore! Today, she hit me up with a link to an article about Maple Leafs player Brooks Laich, who used to play for the Capitals (#1 team in the league, currently) but got traded to the Maple Leafs in the past year. Titled "Leafs' Brooks Laich doesn't want your pity," the article touched on some very human aspects of sports: the reality of opportunity cost, the requirement of humility and poise, and balancing the desire to win with good sportsmanship. Laich traded a #1 team for a last-place team, but he doesn't mind, because playing for Toronto has been a lifelong dream. Delightfully classy. Also, as Audrey informed me, he is engaged to Julianne Hough, on whom I have a semi-closeted girl crush. Get it, Brooks. Could this be my new favorite Leaf?
In other news, today I gave in to Facebook's prompts to post about the Leafs. I broadcasted my allegiance during their game against the New York Islanders, where they managed a 4-3 win in a shoot-out (do I sound fluent yet?). The Leafs' first win in a while. I'm not saying I had anything to do with it, but the first time I post on Facebook about them they win. Coincidence? Hmm . . .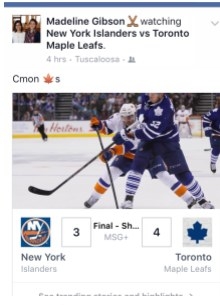 After posting my status on Facebook, I went out to dinner and ran into my friend Matt. The minute I said hi, he said, "I didn't know you were a Leafs fan. I'm a Ducks fan." (Score! My social media branding was already working.) He then informed me of the sad history of the Mighty Ducks franchise. Moment of silence for the Mighty Ducks.
Matt is a person who knows everything about any obscure thing, and luckily for me he also knows everything about such a mainstream thing as the NHL. Basically, he IS the superfan I want to become. We sat in BurgerFi nursing milkshakes and talking hockey. Conveniently, the restaurant had a hockey game on so we spent some time reviewing the rules. I learned the goalie cannot go outside the trapezoid.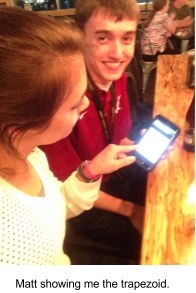 We made plans to meet up at BWW on Day 4 to watch a hockey game and discuss in depth. I began to catch a glimpse of why people enjoy aligning their identities with professional sports teams. It's fun to talk about your team with people when you both know what you're talking about (or, at least, sort of). Later, Matt texted me this: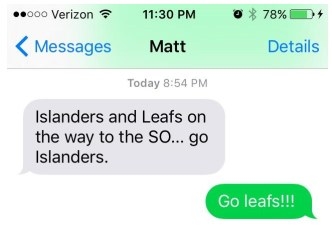 DAY 4: 2 DAYS TO GO
At BWW, over wings, beer, and sports, Matt talked the rules of hockey while I took careful notes. As children, Audrey and I had always adored ice skating, and we'd always used the "hockey circles" as boundaries our ice-dancing games (doesn't everyone remember ice-dancing games in her childhood? No? Oh). With that memory in mind, one of my goals this evening was to learn more about the markings on a standard NHL hockey rink.
"Faceoff circles," Matt corrected quickly when I referred to the circles. He explained that the nine faceoff spots (the dots) on the rink are used for a battle over the drop of the puck at a reset point of the game, kind of like a tip-off in basketball. Easy enough. By the time Matt and I parted ways for the evening, I was feeling more confident than ever that I could be a more-than-adequate hockey game companion.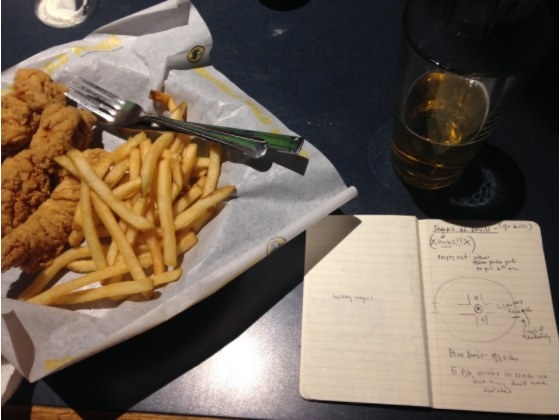 DAY 5: 1 DAY (!) TO GO
On the day before my departure for Toronto, I awoke to a text message from my mom saying that I had received a package at my parents' house in Tennessee.
"Please open it! It's my shirt!!" My excitement could not be properly conveyed even with the flurry of party emojis following my reply. When I began the week, I knew that there was no way that a hopeful Maple Leafs superfan could attend a game in Toronto without sporting the wonderful Leafs logo, so I'd ordered a lovely long-sleeved gray T shirt from Amazon. Not willing to risk its arriving late, I'd requested rush shipping to my Tennessee home (where we'd stop on the first night of the road trip), and it did not disappoint.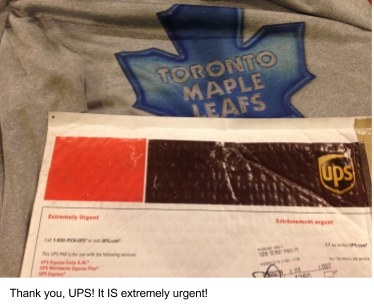 I couldn't help but feel that with the arrival of The Shirt, I was evolving into a full-fledged fan. After days of watching them on TV, I couldn't believe I'd be seeing the Leafs in person in less than a week!
THE TORONTO EXPERIENCE
Toronto on the day of a Leafs game feels nothing like Tuscaloosa on the day of a home football game. Everything seemed calm and quiet, and I reasoned that because the puck drops in Toronto so frequently, it must be old hat (trick). See what I did there with those hockey words?!
Nevertheless, I was feeling a rush of excitement. I was gleeful as I donned The Shirt and my new Canada-flag hat and headed out with Nathan to visit the Hockey Hall of Fame before the game that evening. Swirling with avid hockey fans (many of them field-tripping fourth-graders) and happy to take my 18 Canadian dollars, the Hockey Hall of Fame is no doubt the place for all things hockey. I learned some Maple Leafs history--they were once the St. Pats--and took plenty of photos next to hockey-related things like jerseys and sticks and pucks.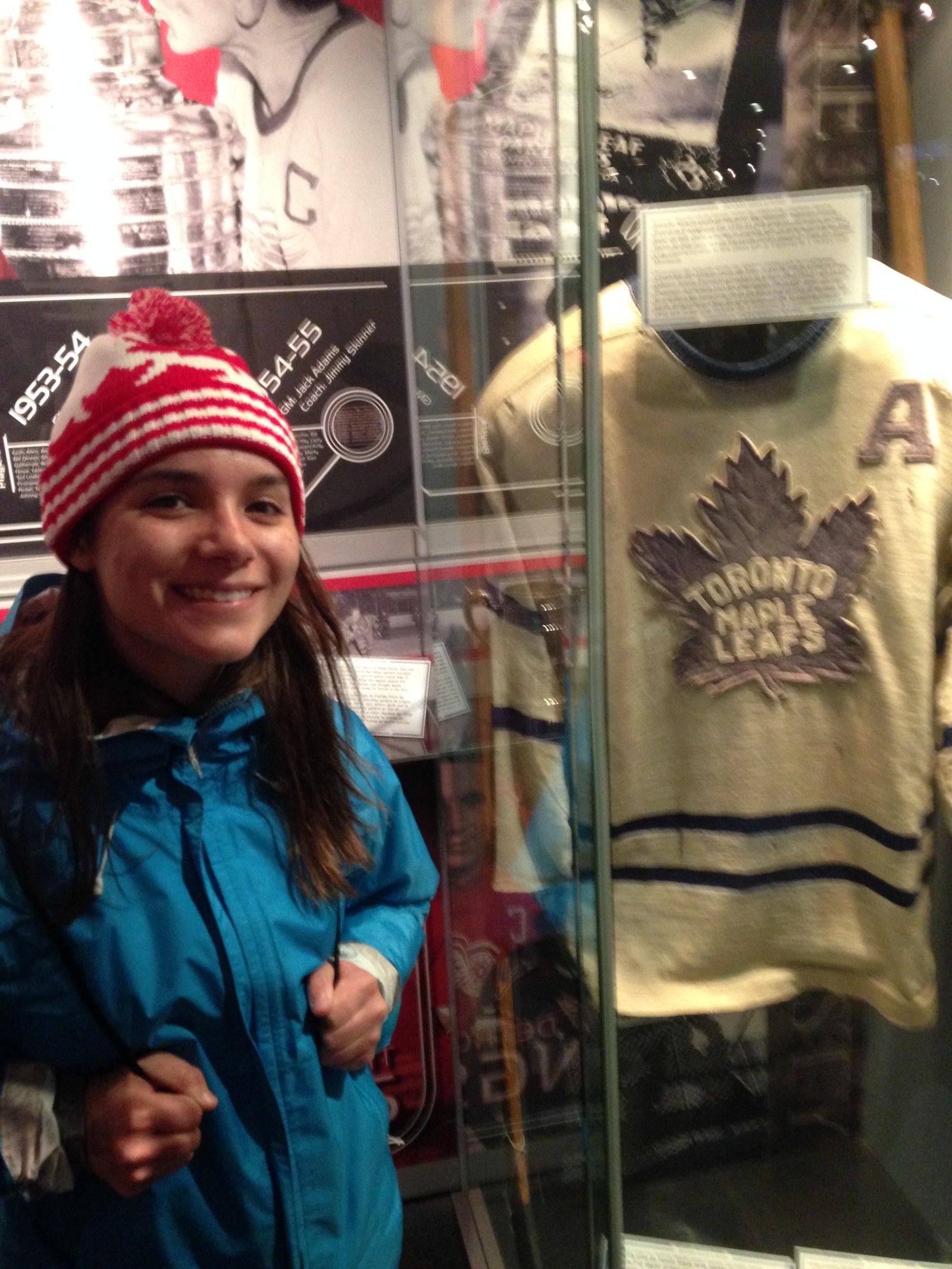 Soon, it was time to head to Air Canada Centre for the main event. Inside, I found the incredible feeling of hype that I was missing that morning.
The players were larger than life; the cheers were fun and frequent; and even from our nosebleed seats I felt connected with my team. Incidentally, it was St. Patrick's Day, and the Leafs' team history added to the fun. The Leafs lost to the Florida Panthers 4-1 that night--I suppose I'm not their lucky charm, after all--but they played well, and I actually understood most of the game.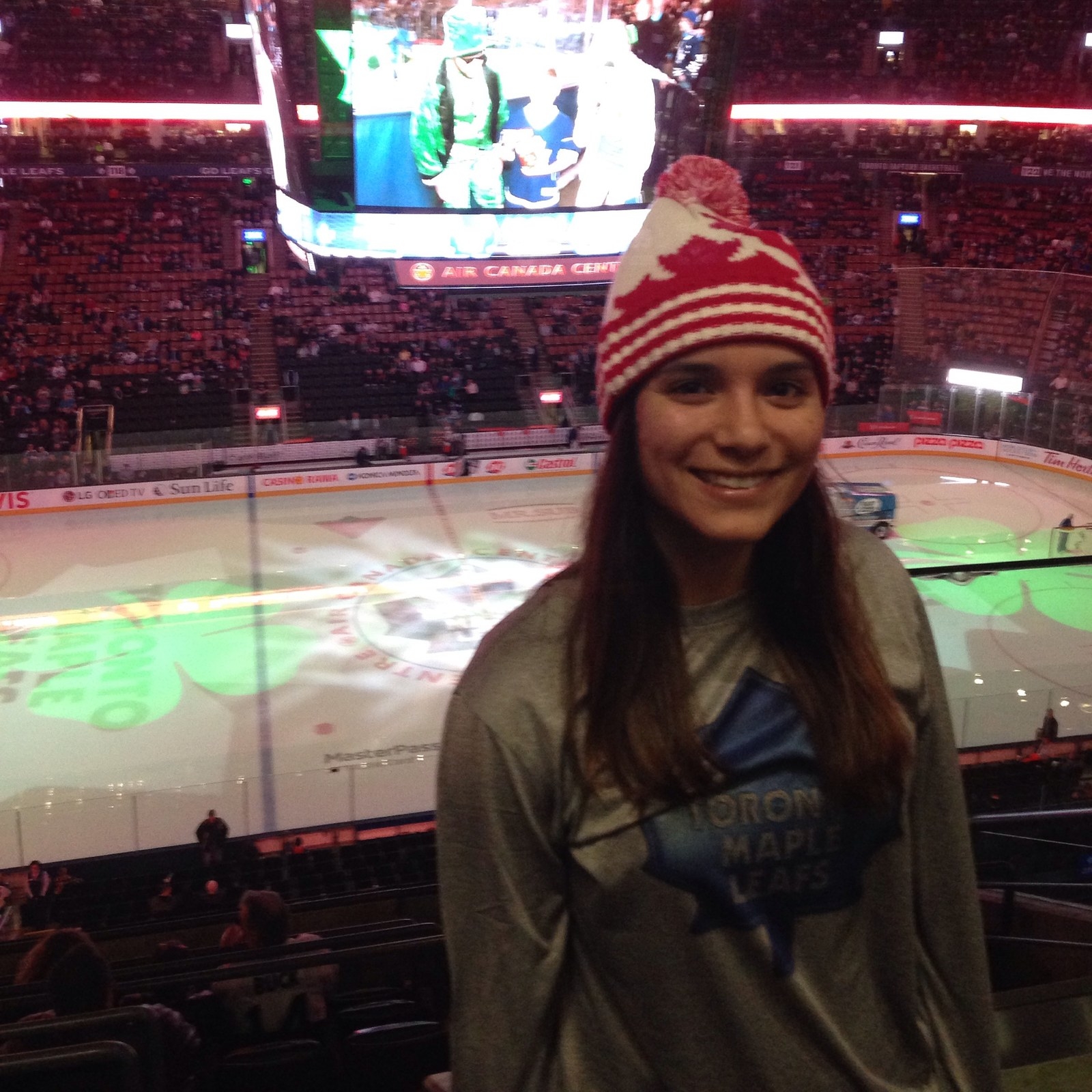 "What do you think?" I asked Nathan as we streamed out with fellow fans after the loss. "Can I cut it as a sports fan?"
"You'll never reach my level of hockey fandom," he replied (no, of course not), "but you're definitely starting out strong."
During my Maple Leafs crash course week, I grew as a person and as a communicator. I became more culturally aware, able to hold conversations about professional sports and stay engaged throughout them. I connected with several of my friends (and my sister) in a way I never had before. And I got a taste of what it takes to be a superfan of a professional team--it's no small feat!
Going forward, I'm not convinced that my Maple Leafs fandom will facilitate deeper interactions with people I meet, after all. One thing is certain, though: there is much joy and self-knowledge to gain from taking time to explore new interests and to learn about new parts of culture. All in all, a winning experience for this rookie fan!
This post was created by a member of BuzzFeed Community, where anyone can post awesome lists and creations.
Learn more
or
post your buzz!
Looks like there are no comments yet.
Be the first to comment!