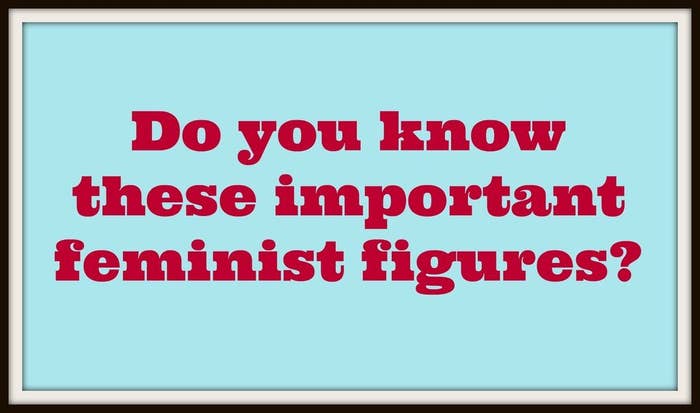 Harriot Eaton Stanton Blatch

Elizabeth Cady Stanton was a major player in the early fight for women's suffrage, and was president of the National Woman Suffrage Association for eight years. She was also an advocate for other women's issues, including property rights and birth control.

Who is this?

Evening Standard / Getty Images

Coco Chanel revolutionized women's fashion by doing away with the constricted styles that had been popular and incorporating more elements of menswear- and thereby more comfort- into her designs.

Anna Howard Shaw was a key member of the early women's suffrage movement, and facilitated the merger of the National Woman Suffrage Association and the American Woman Suffrage Association.

Who is this?

Chip Somodevilla / Getty Images

Gloria Steinem was a major feminist figure in the 1960s and '70s, and co-founded Ms. magazine and the Women's Media Center. You might recognize her from this photograph with Dorothy Pitman-Hughes.

bell hooks is the author of Ain't I a Woman?: Black Women and Feminism and advocates for a more inclusive and intersectional approach to feminism. She defines feminism as "a movement to end sexism, sexist exploitation and oppression."

Who is this?

TIZIANA FABI / Getty Images

Shirin Ebadi is an Iranian lawyer who won a Nobel Peace Prize for her human rights activism, a significant portion of which was concerned with women's rights. It is believed that the Iranian government confiscated her Nobel Prize.

Heinrich Cornelius Aggripa

Charles Fourier coined the term "feminism"/"feminist."

Eva Peron was the wife of Argentinian president Juan Peron, and was a major advocate for women's suffrage as well as the leader of the Female Peronist Party, a major female political party.

Mary Wollstonecraft authored the 1792 book A Vindication of the Rights for Women in which she argued that women were not naturally inferior to men, and only appear that way due to a lack of proper education.

Marilyn French was a scholar who argued that the oppression of women was inherent to male-centric cultures. She wrote about the effects of patriarchy in Beyond Power: On Women, Men, and Morals. She also wrote a novel that portrays women amid the feminist movement of the mid 20th century, The Women's Room.

Who is this?

Christopher Furlong / Getty Images

Malala Yousafzai, the youngest ever winner of the Nobel Prize, is a Pakistani activist who advocates for female education; her activism has gained worldwide renown, especially after the Taliban attempted to assassinate her in 2012.

Emmeline Pankhurst was instrumental in gaining British women the right to vote. She was known- and criticized for- her extreme tactics of demonstration, which included hunger strikes and, at times, violence.

Who is this?

Hulton Archive / Getty Images

Simone de Beauvoir wrote The Second Sex, which analyzed female oppression. The text is considered by many to be a catalyst for the second wave feminist movement. Her work has strongly influenced feminist theory.

Who is this?

Getty Images

Betty Friedan wrote The Feminine Mystique, another text that is considered as a starting point for second wave feminism. She also co-founded the National Organization for Women, and served as its president for four years.

Susan B. Anthony was an activist who participated in the anti-slavery movement before becoming a leading figure in the movement for women's suffrage. She co-founded the National Woman Suffrage Association and co-authored History of Woman Suffrage.
This post was created by a member of BuzzFeed Community, where anyone can post awesome lists and creations.
Learn more
or
post your buzz!