In case you somehow haven't seen the 72 BuzzFeed stories about it, Taylor Swift broke her "political silence" by endorsing two Democratic candidates on Instagram.
She went from 0 to 100 real quick, liking a ton of political posts on Tumblr including this one where she is kicking a Republican.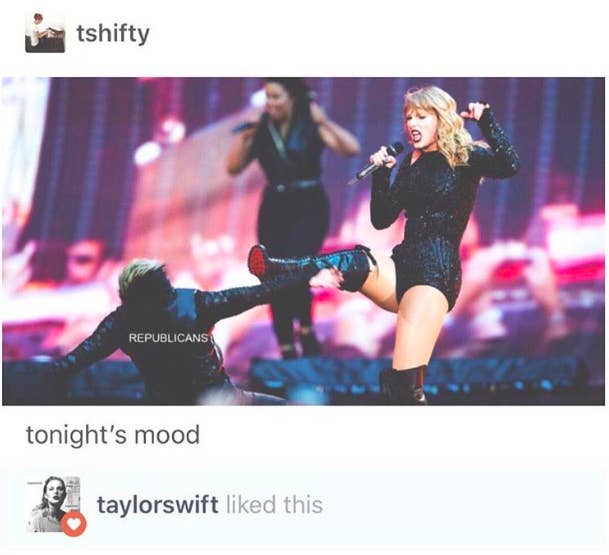 The queen of calculation (not being shady, I think it's smart), is now seeing a large group of gay men and women slowly coming forward as fans.
Historically, it wasn't cute being an "out" Taylor Swift fan. You had to make your Spotify scrobbling private, pretend "Blank Space" was anything but the best pop song of the past 10 years, and in general, nod in agreement when someone was like "Taylor Swift voted for Trump. Bye." It was very much a "hush-hush" operation.
But that all changed when Taylor came out as not a Republican.
Taylor Swift fans are finally able to listen guilt free.
There is no shame.
No feelings of betrayal.
No slander.
It's a new world.
A world where it's (kind of) socially acceptable to listen to Taylor Swift.
Liking Taylor Swift is now like a planet fitness, a judgment free zone (minus the free pizza and candy).
As Celine Dion once said, "A new day has come."
Love wins, whatever that means.
I'll leave you with this poem:
Roses are red, some Dutch people are named Sven, it's finally okay to listen to Taylor Swift again.
Need help registering and getting ready to VOTE? Sign up at TurboVote and get access to a 50% off Lyft promo code for your ride to the polls here!