21 Things That Are Apparently Supposed To Keep Kids And Teachers Safe In School
Not sure how to feel about this.
by
,
Across the United States, schools are trying to figure out how best to reopen and how best to ensure the safety of their students and teachers.
Teachers in particular are scrambling to get their classrooms ready, since it seems as if every day they have to adapt or shift what they have planned for the upcoming year to meet district requirements.
This is what some districts (and every district is different) have provided to keep their teachers safe:
1.
A "year's supply" of PPE:
2.
A mask with a hole for your nose:
Seriously.
3.
A bottle of mystery cleaner and bring-your-own masks:
4.
A face shield, some wipes, and a bottle of sanitizer:
5.
Sixteen large gloves:
7.
Whatever this thing is:
8.
A piece of cardboard:
9.
A 10-ounce bottle of hand sanitizer:
10.
A small piece of plastic:
11.
One jug of hand sanitizer, one mask, one face shield, and one pack of alcohol wipes: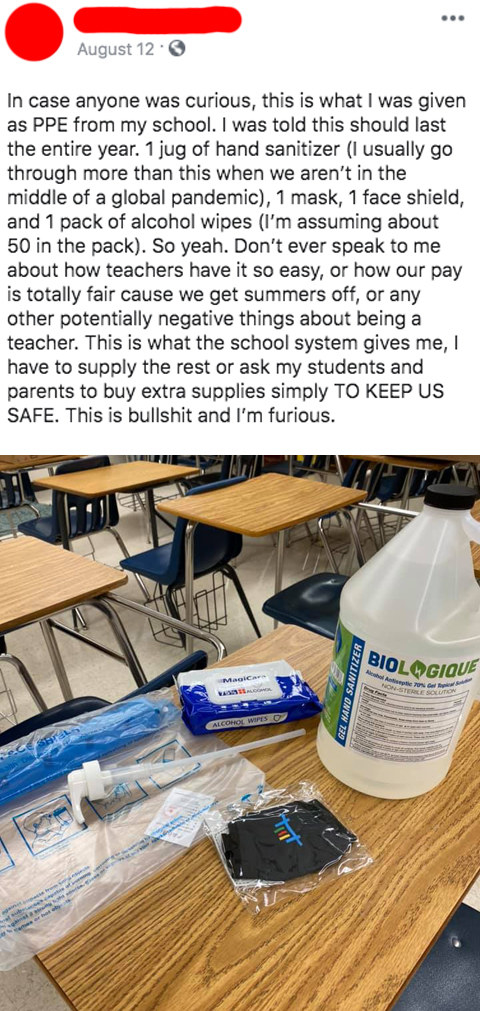 12.
A single pack of tissues, a small bottle of hand sanitizer, one mask, and a notebook with a pen:
13.
A small pack of alcohol wipes:
14.
A single spray bottle and a reminder to wash your hands:
15.
A thermometer and a bottle of hand sanitizer:
16.
A surgical mask and some hand sanitizer:
17.
A big roll of paper towels:
18.
Two disposable masks, two reusable masks, and one face shield:
19.
One bottle of hand sanitizer, a small pack of wipes, and a face shield:
20.
A leaking bottle of hand sanitizer: