16 Pictures That Show How Terribly "Social Distancing" Is Working In Florida Since The Spring Break Drama A Few Weeks Ago
STOP. GOING. TO. THE. BEACH.
As we all know by now, Florida has had a rough time following social distancing orders.
Now, the governor of Florida has set up roadside checkpoints along the Florida border to discourage people from out of state "hot spots" like New York from entering the state.
"If you're coming from one of the epicenters, we probably think you should obey the directions of your state and local officials. And if they are telling you to shelter in place do that but don't come here."
The governor might want to take a look at his own citizens instead of people from outside the state because...
1.
People are still going to beaches.
2.
This past weekend, people were "streaming" into Ponce Inlet because there is still no statewide order to shut the beaches down.
3.
The beach was crowded!
4.
This picture was also taken this past weekend. It shows Jacksonville Beach where Duval County meets St John's County. Duval County has banned people from going on the beach while St. John's County hasn't.
5.
Some counties aren't even enforcing their own beach restrictions.
6.
A megachurch in Tampa held a service this weekend.
8.
The Villages, a senior citizen community, is popping.
9.
Here's a group of older people eating outside:
10.
People are golfing.
11.
People are going for group walks.
12.
Boat parties are happening.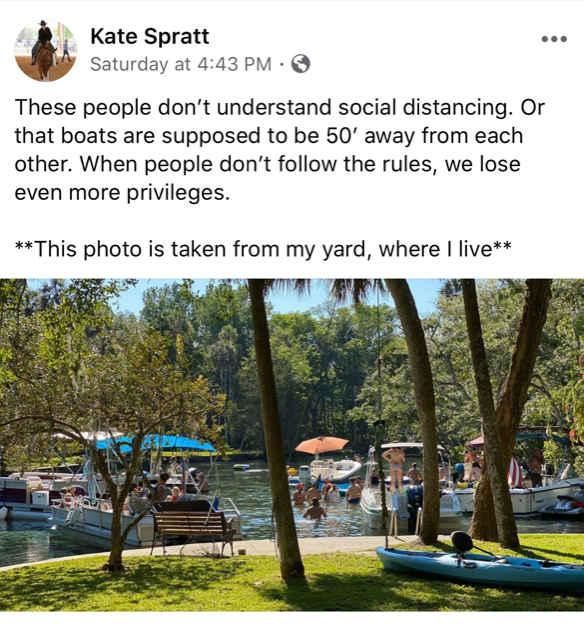 13.
Stores aren't following rules.
14.
It's not good.
15.
Basically, this whole social distancing thing isn't working.
16.
And one last time: STOP GOING TO THE BEACH.