FIRST OF ALL, this is for the Rexhars, the bad bitches, and the REAL BEBE REXHA FANS ONLY*.
*JK, this is for everyone and will make you all laugh.
ANYWAY, here's some context about Bebe Rexha for those who have never heard of this name before: Bebe Rexha is that person who sings that Florida Georgia Line song "Meant To Be." She has many bops, like "I've Got You," and no offense, but I think she is an underrated pop girl.
But we're not here to talk about her discography, we're here to talk about a lil' tweet that has since been deleted.
Some person on Twitter asked this question:

Then, Bebe replied with this:
For emphasis:
Wait, what? Let's think about it...
1940 Paris was occupied by the Nazis.
Basically...
Luckily, Miss Bebe responded with this: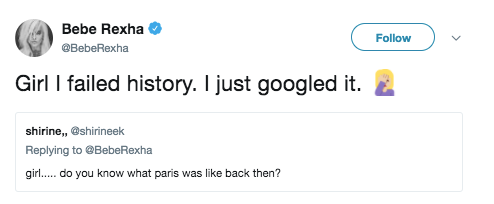 In conclusion: