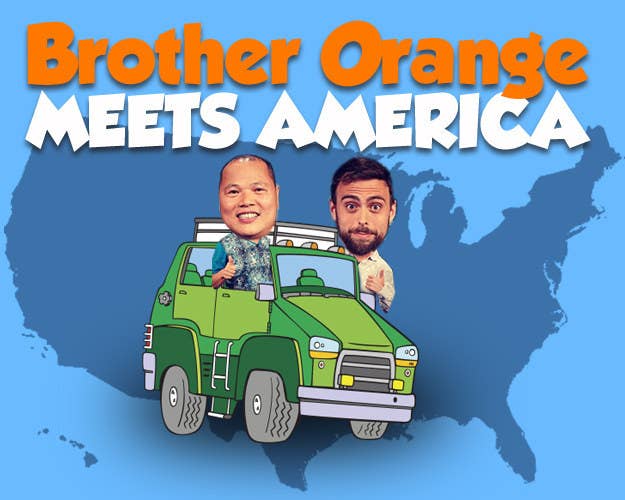 The hardest thing for me to wrap my head around with this whole saga (I'm calling it a saga now) is that it all happened because I lost my cell phone at a bar. The fact that a lost phone in a bar literally changed my life is actually insane. A LOST CELL PHONE made me famous in China, gave me a trip to China where I was treated like a straight-up deity, and most importantly (and strangely) started a friendship with a middle-aged Chinese man named Brother Orange. My best friend for the past two months is a man named Brother Orange.
Thank you, Steve Jobs!
My last moment in China was like an ending to one of those movies where a normal person gets caught up in some *insane experience* and spends the whole movie killing a pack of aliens or something. They stop at a gas station and they're buying a soda and a Slim Jim when the cashier says, "Hello, young man! How's it going today?" The normal person who literally just killed 100 aliens and saved all of humankind says something like, "Oh, it's been good day." They look to the camera and wink. The scene fades out. "I Don't Want to Miss a Thing" plays. *Credits roll*
That's basically what happened to me when I left China...the first time.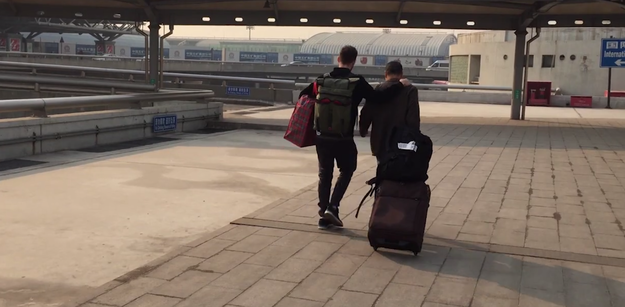 I was waiting in line to get on the plane back to America. I had just gone through the most incredible crazy experience ever with Brother Orange. I can't stop saying the word "crazy" because that's the only word that describes this story. It's just crazy.
Brother Orange and I had just said goodbye. I sat in the airport questioning my existence and the fact that I HAD JUST CRIED IN AN AIRPORT over a man I had known for only 10 days and could speak only like five actual words with. Who am I even?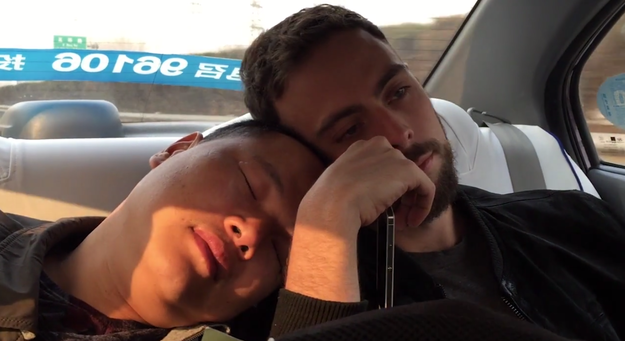 There's a man in front of me in the boarding line. He gives me a look. I know this look. I know what's going to happen. It's happened to me a lot over the past week and goes something like this.
1. The person looks at you for a longer-than-normal amount of time. They're trying to place you.
2. Their eyes widen. Something clicks for them. Here it comes.
3. "Are you Matt from Brother Orange?!"
4. "Yup."
5. "Can I take a selfie?!"
6. We selfie.
Baii!
It's all routine now. I board the plane. I take my seat. There's this kid next to me who is basically a chatty, puffy teen. He may not have actually been puffy, but whatever, I think all teens are puffy.
He asks me why I was in China. The man who noticed me from the boarding line is next to him and looks up. We make eye contact and smile at each other.
I say: "It's a long story." I let out a literal movie laugh.
Britney Spears (obviously) plays. *Invisible credits show*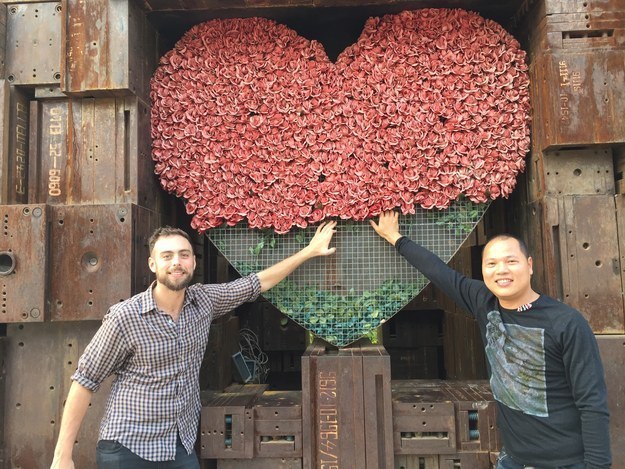 But let's back it up a bit for those of you who are new here.
As the story stands right now, I'm *pretty good* at telling it. I can do it in about three to five minutes.
1. In January-ish 2014 I lost my cell phone at my fave bar in the East Village. I wasn't *that* drunk and someone swiped it off the table. I remember everything that night, I swear! I had only like three (or four) glasses of wine! It was definitely stolen.
2. A year later, pictures of a man and an orange tree started showing up on my phone. It was (obviously) terrifying, but I accepted it because it was a good conversation point with people. Everyone always got a rise out of it. Also 40 pictures of a Chinese man taking selfies with an orange tree is hilarious.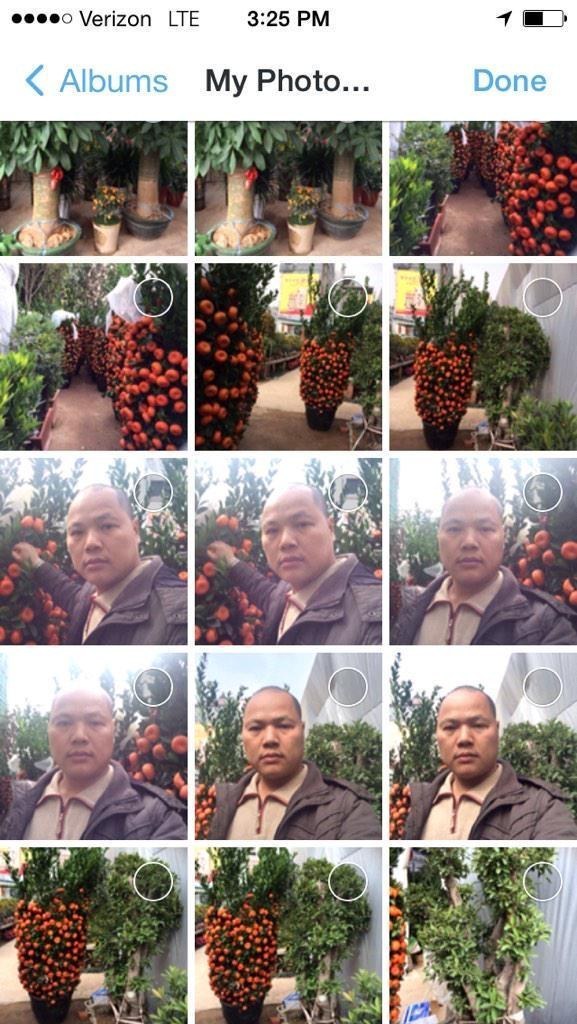 3. I let this man's pictures show up on my phone for a month until a friend of mine scares the shit out of me and tells me that most stolen iPhones end up in China. I go to the Apple Store the next day and there we go: My old, forgotten cell phone is online. My iCloud must have still been connected to his. I shut the phone off. Mystery solved. I am Scooby-Doo.
4. I write a story for BuzzFeed. It blows up in China. I became the No. 1 topic on Chinese social media overnight. I am now a meme. I have fans. This is 2015.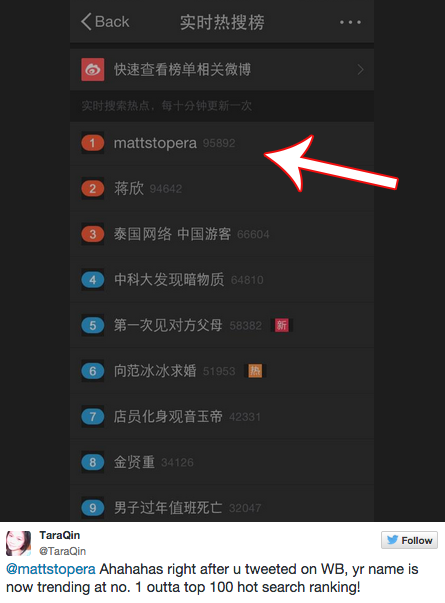 5. Chinese internet users find the man. They name him Brother Orange. They deem us couple of the year. We are meant to be. It is very weird.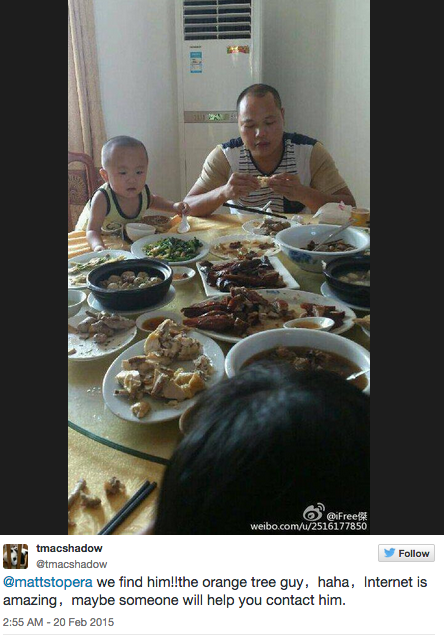 6. Next logical thing happens: I join Chinese Twitter. We interact every day. Brother Orange invites me to China. We set a date to meet. March 18. I am going to China. The countdown begins!
Reminder: This happened because I lost my cell phone at a bar.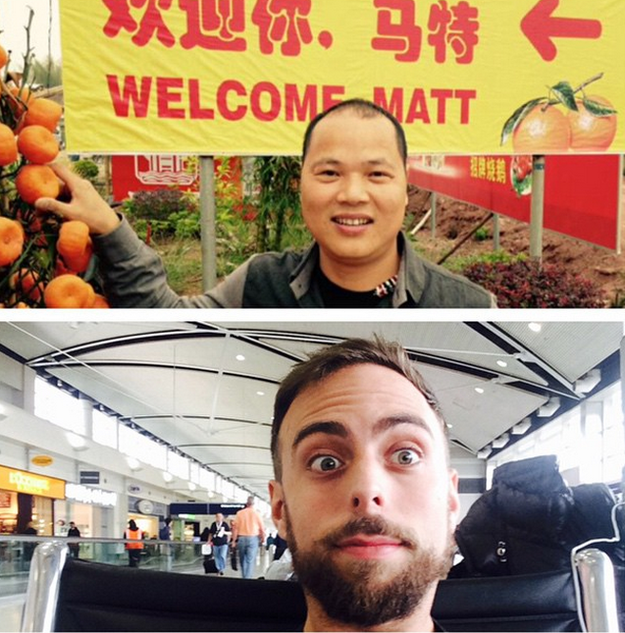 So I go to China.
After 20-plus hours of travel, I go down the escalator and am greeted by a legit swarm of cameras: TMZ style. I call this my "Kim Kardashian at LAX with North West (for the first time)" moment. I can finally relate to my queen (and god), Britney Jean Spears. I get 2007.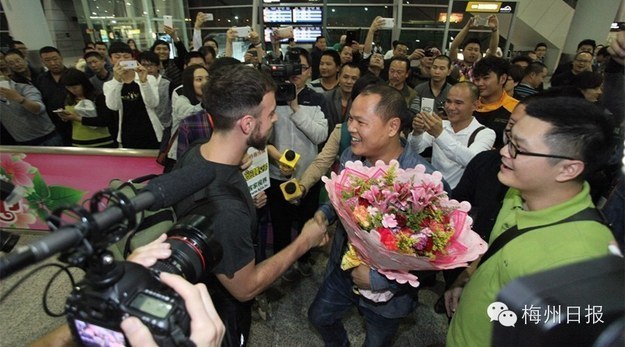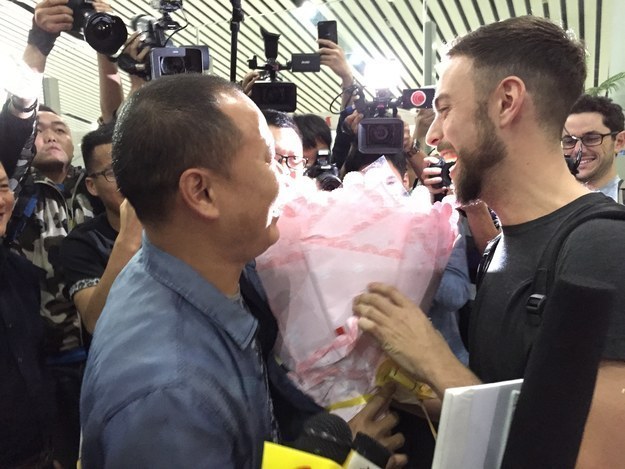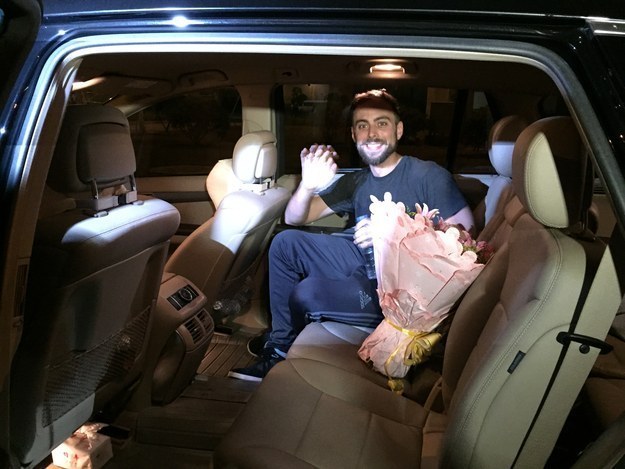 Throughout the next week or so, Bro shows me around his "small town" of 4 million people. It's like the Alabama of China that's in reality bigger than Los Angeles. China is nuts.
We take mud baths together, chip at sculptures, pick tea leaves, and eat a shitload of food. All the while, we're followed by a pack of Chinese paparazzi. It's like part political campaign, part Lady Gaga, and part fucking insanity.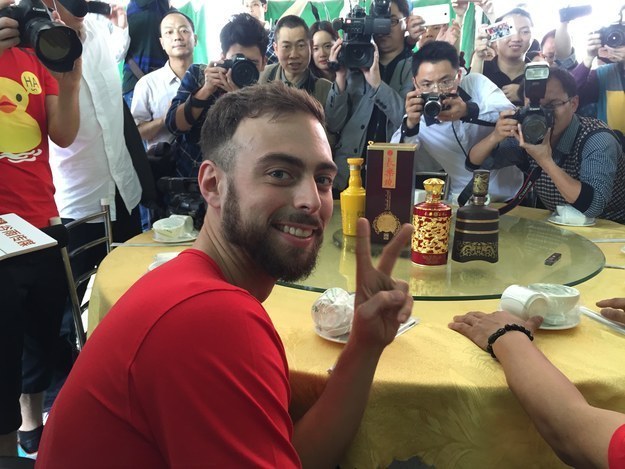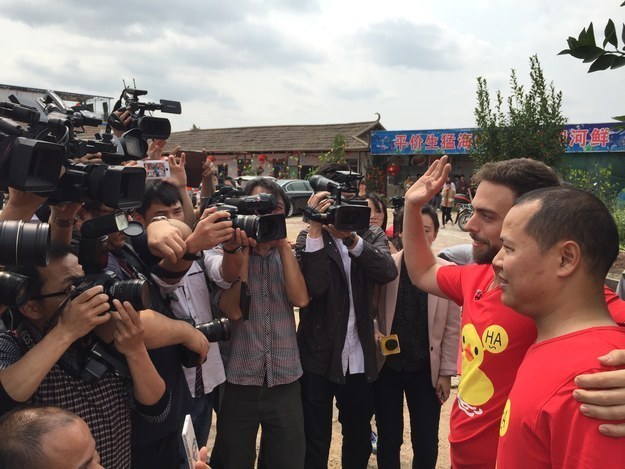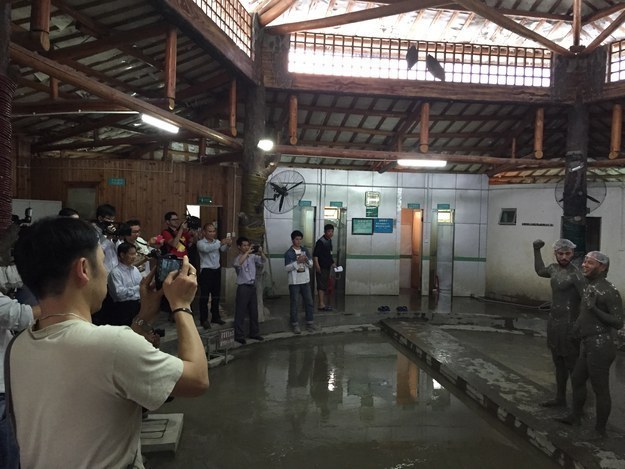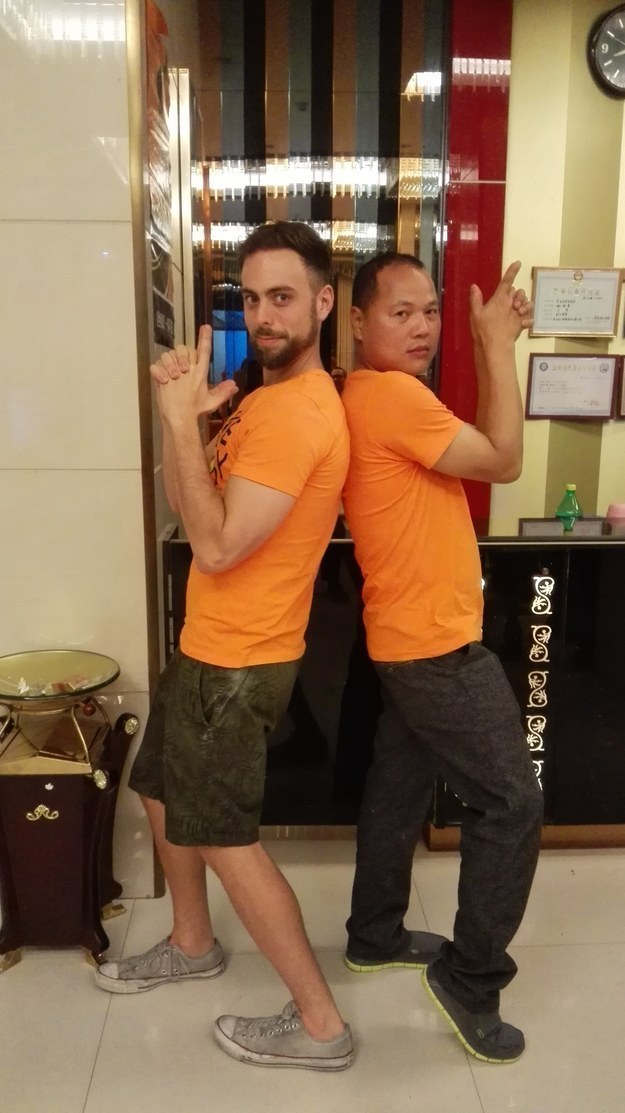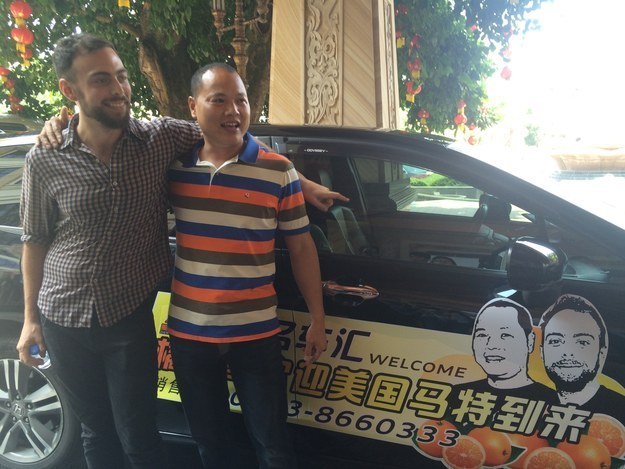 Yes, that is a car with our faces on it. We drove around in a fleet of these.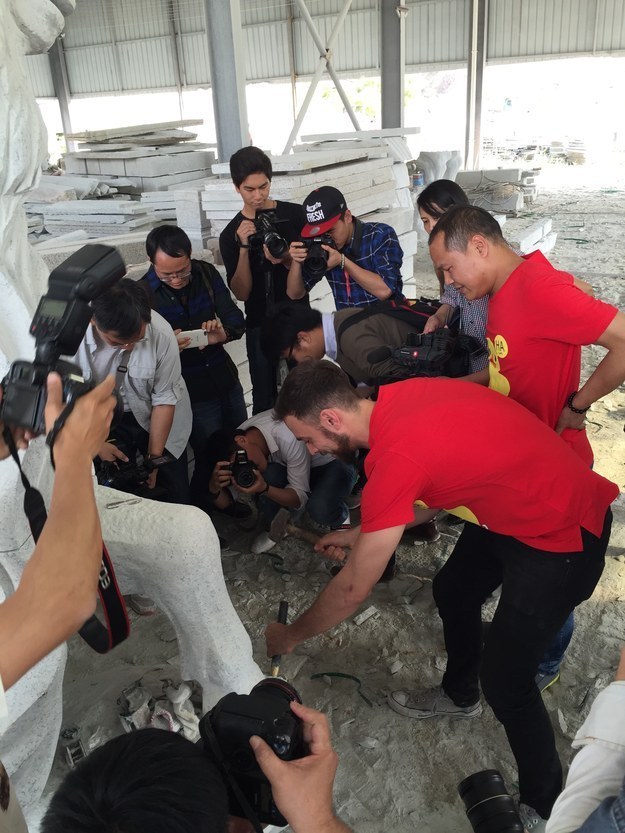 Everywhere we go there are cameras. I give interviews constantly. I accidentally endorse local liquors, cell phone companies, soft drinks, and teas.
There's a press conference with a giant backdrop that says "Bro Orange and Matt Press Conference"! I drop my last name; I go only by Matt now.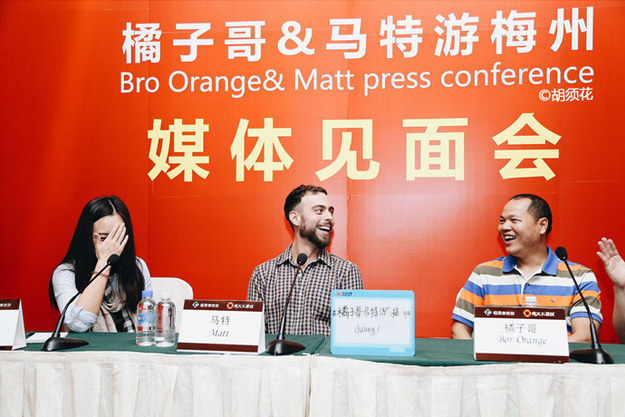 Over the course of my tour of China, Bro and I grow legitimately close. We can't speak a word of each other's languages, but it works. He's much different than the man in the orange tree selfies. I have a new motto: You should never judge a man by his selfies!
The INSANITY of it all brings us together, as most mutual experiences with friends do. He introduces me to his family. He tells me about the past few years of his life and how he moved back to his hometown to take care of his sick parents. We go to his parents' house. It's been abandoned for the past few years since they passed away. It's really heavy. We have a connection that goes beyond language or culture. It's hard to explain.
Bro comes with me on a last-minute trip to Beijing. He bought a ticket two hours before my plane took off. I am blushing it's so romantic. We spend the day in Beijing together. I visit Tiananmen Square and he totally fangirls out. He's happy. I'm happy. I can't believe any of this is happening.
We go to the airport together. We sit in the back of the car with our heads on each other and shed a few tears. We get to the airport and he waves at the gate until I can't see him anymore. I cry in the airport. I am so embarrassing.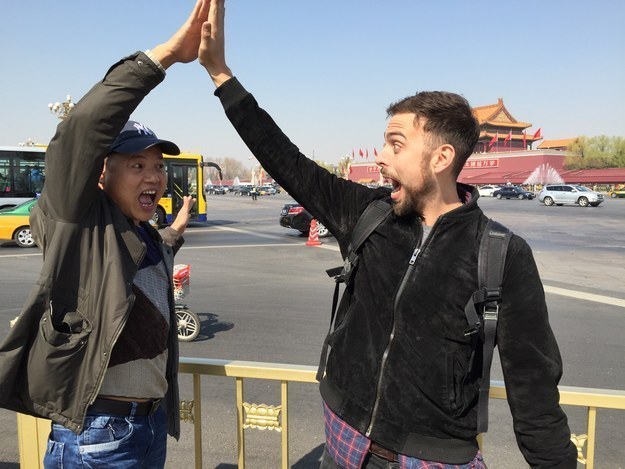 End of story.
Except of course it's not the end of the story because this story is insane and nothing makes sense about it.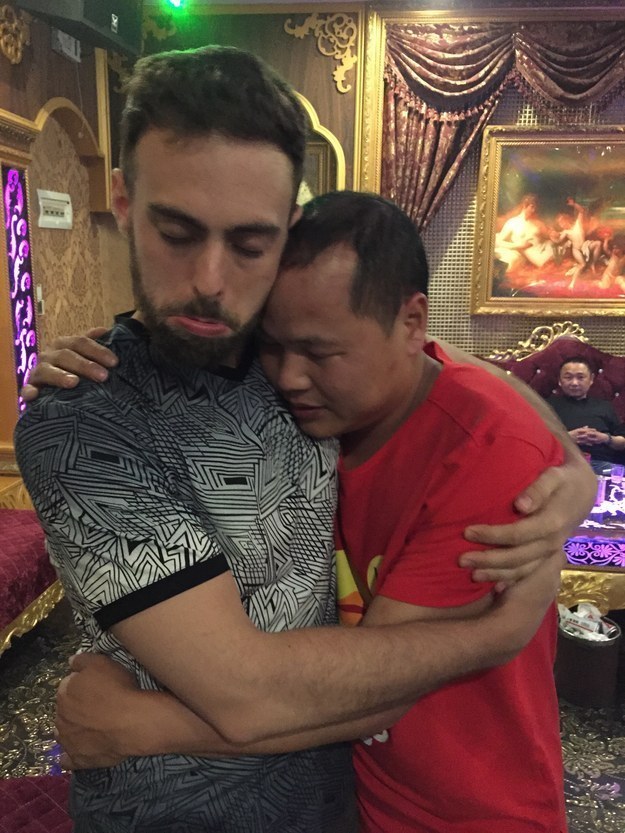 I remember clearly this one moment in China when we were at Weibo (Chinese Twitter) headquarters doing a Q&A. One of my fans (lol) asked me and Brother Orange if we wanted to go on The Ellen Show. Ellen is pretty popular in China. Her show live-streams on some sort of streaming platform, so people know about her.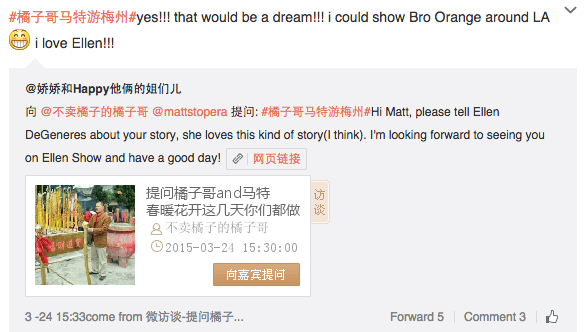 That's when I decided that in order for this story to continue, Bro would have to start the American leg of his trip on Ellen. That's the dream. It doesn't get bigger or more American than Ellen. In a perfect fairy-tale world, we would get invited to go on The Ellen Show and "Bro Orange Takes America" would start there. We would be like the 2015 version of Paris and Nicole.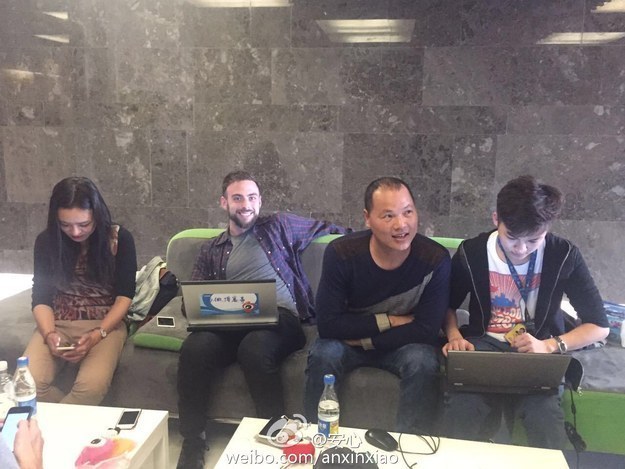 Then, because my life is a literal magical fairy tale, it happened.
I got an email from The Ellen Show while I was out, of course, at the same bar where I lost my phone and this whole story began. That bar is basically a shrine. It's basically the equivalent of my Happy Gilmore "happy place."
I called The Ellen Show back. We go back and forth for a week. Like every. single. thing. that has happened so far, everything is up in the air, nothing is certain. Everything is last-minute.
There's one gigantic hurdle. Turns out, it isn't so easy to travel between the U.S. and China. Thanks to Obama, we can apply for 10-year visas, but for Chinese people, it's harder to get the visa. Bro has to get his visa in one day. ONE DAY. Getting your visa in one day is completely unheard of. This would take a miracle.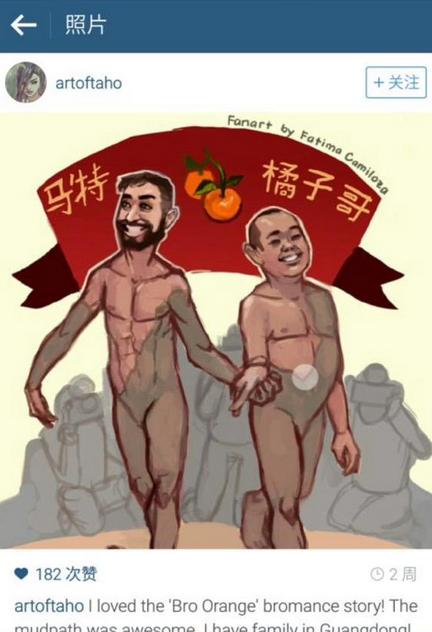 Bro practices for his visa interview for days, travels four hours from his hometown, and...
He gets rejected.
But this is China, and ANYTHING can happen. Rules are different here. He goes back and tries again later that night and the new interviewer recognizes him from our story and approves him!
Everything is falling into place. The next chapter of the story is starting. MY INSANE LIFE CONTINUES!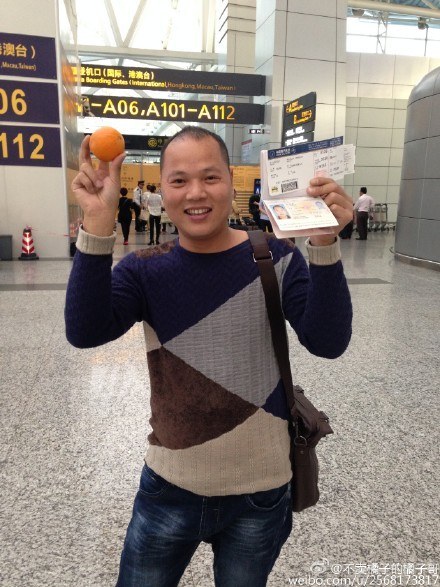 PROBLEM IS, I need to leave for L.A. immediately and I have to come up with an itinerary for Bro. If Bro is coming to the U.S., then I have to do it right. I have to do what he did for me. I have to change his life.
What are places that are important to me? What would I show him? Chipotle? Target? My family and friends? My favorite bar?
And really, think about it: What would you show someone who has zero understanding of American culture? Where would you take them? What would you want them to eat? What would you want them to see? It's a huge task.
I also have to come out to him. There can't be any secrets between us. Bro is going to meet my boyfriend and I can't Anderson Cooper him anymore.
I AM NERVOUS.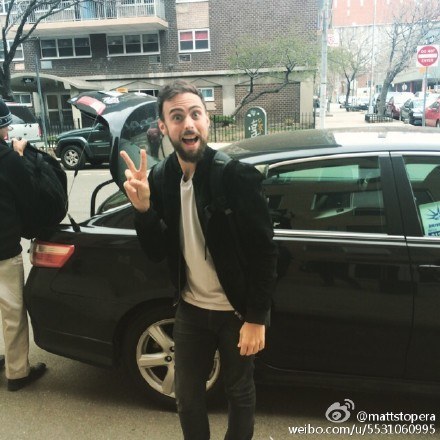 Obviously No. 1 on my list for Bro's American trip is Las Vegas. Why Las Vegas? Well, because to me, Las Vegas is like mecca. It's the headquarters of my church, Planet Hollywood. Planet Hollywood is where my god performs a few times a week: Britney Spears.
I'm also considering an offer I got to visit the Mall of America by the Minnesota Tourism Bureau (random), the Grand Canyon because it's near Vegas, D.C. because Bro loves Obama, and Disneyland because it's Disneyland.
In a day, I came up with this very ambitious itinerary. If I'm going to show Bro America, I'm going to do this.
1. Los Angeles is the first stop because that's where Ellen is. I can make him eat vegan food.
2. Vegas for Godney. He can experience my religion.
3. Albany, New York…lol…because that's where I'm from. I have to do what Bro did for me. He has to meet my family.
4. NYC…because that's where I live.
It's on.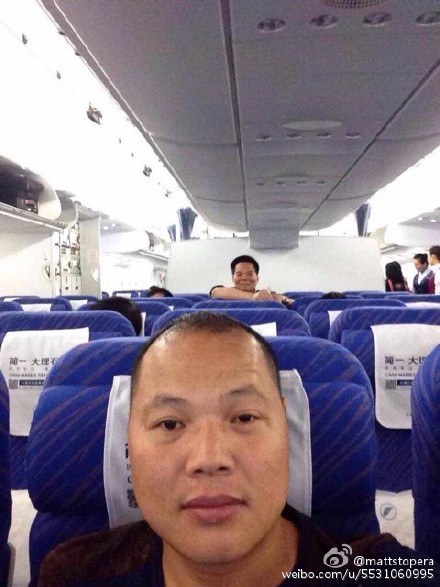 I have one day to pack and plan to be on THE ELLEN SHOW. I am going to be on The Ellen Show. WHAT DO YOU EVEN WEAR ON THE ELLEN SHOW?! I AM MEETING ELLEN DEGENERES. I LOST MY PHONE IN A BAR AND NOW I'M MEETING ELLEN.
I fly to L.A. Bro's flight is 14 hours. He has never left China before. Lord Jesus, just let him arrive in one piece. I am a mom now.
You know that moment when you arrive in a new place for the first time on a plane? You look out the window and you're like, Wow. This is it. I did the same when I landed in China. Wow. This is China. It looks different. It's a total Marco Polo moment.
I was wondering if Bro was going through the same thing. Wow. This is America. This is it.
I hope he likes it.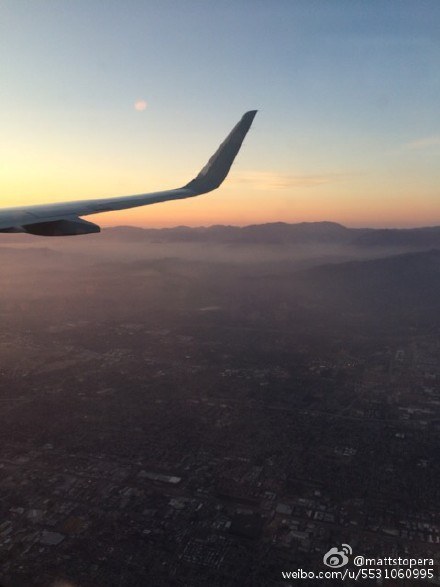 I can best describe meeting Bro this time as that nervous/excited feeling you have going back to college for your sophomore year. You just spent the summer with your home friends but are totally excited to see your college friends. I just spent two weeks away from Bro digesting my insane life and now I am going to see him again. I was straight-up giddy as I did the culturally appropriate thing of listening to "Party in the USA."
Except I already messed up. I forgot flowers. There was no TMZ. I don't even have a car with our faces on it!
I'm waiting for him to come around the corner after customs. It feels like a movie. Everything feels like a movie to me now because everything is not real.
I see Bro. This time, I know we hug. Brothers hug! He taps his chest and says "happy." I do the same. It doesn't seem real. He's in disbelief and also fairly fucked from a 14-hour flight. I can't believe we are seeing each other again. I can't believe he's in the U.S.
The #CitrusSquad is reunited!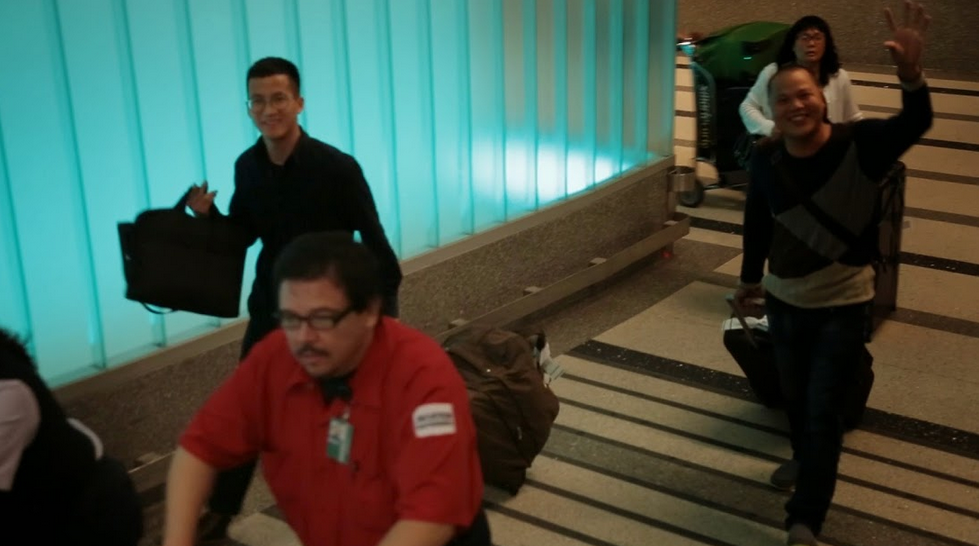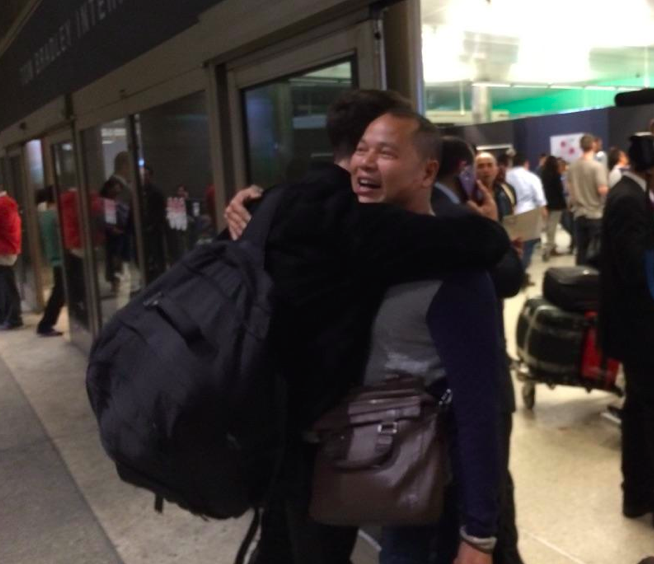 Bro's American adventure begins as all adventures in L.A. should: at In-N-Out.
Bro is giddy. I am giddy. He keeps on apologizing for causing us trouble. He needs to stop. He does this all the time. I won't tolerate it anymore! Bro is in America.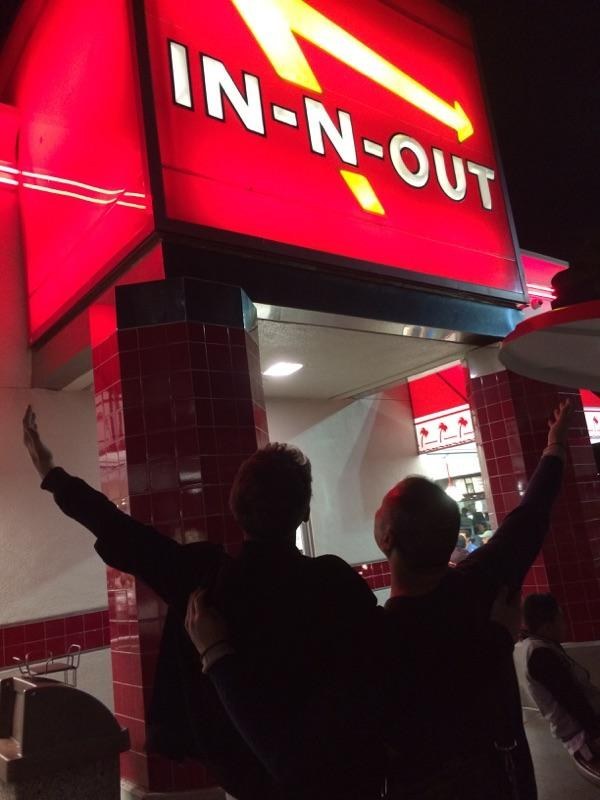 We get to In-N-Out and I'm faced with the menu and the realization of my first Bro-trip problem. I have to order every single meal for him. He has no idea what anything says. He is me in China. We just reversed roles. I now know what it's like to feed a family of five.
I order waaaay too much food. I try to order secret menu items but I'm too dumb to know what they are. Cheese fries and cheeseburgers it is!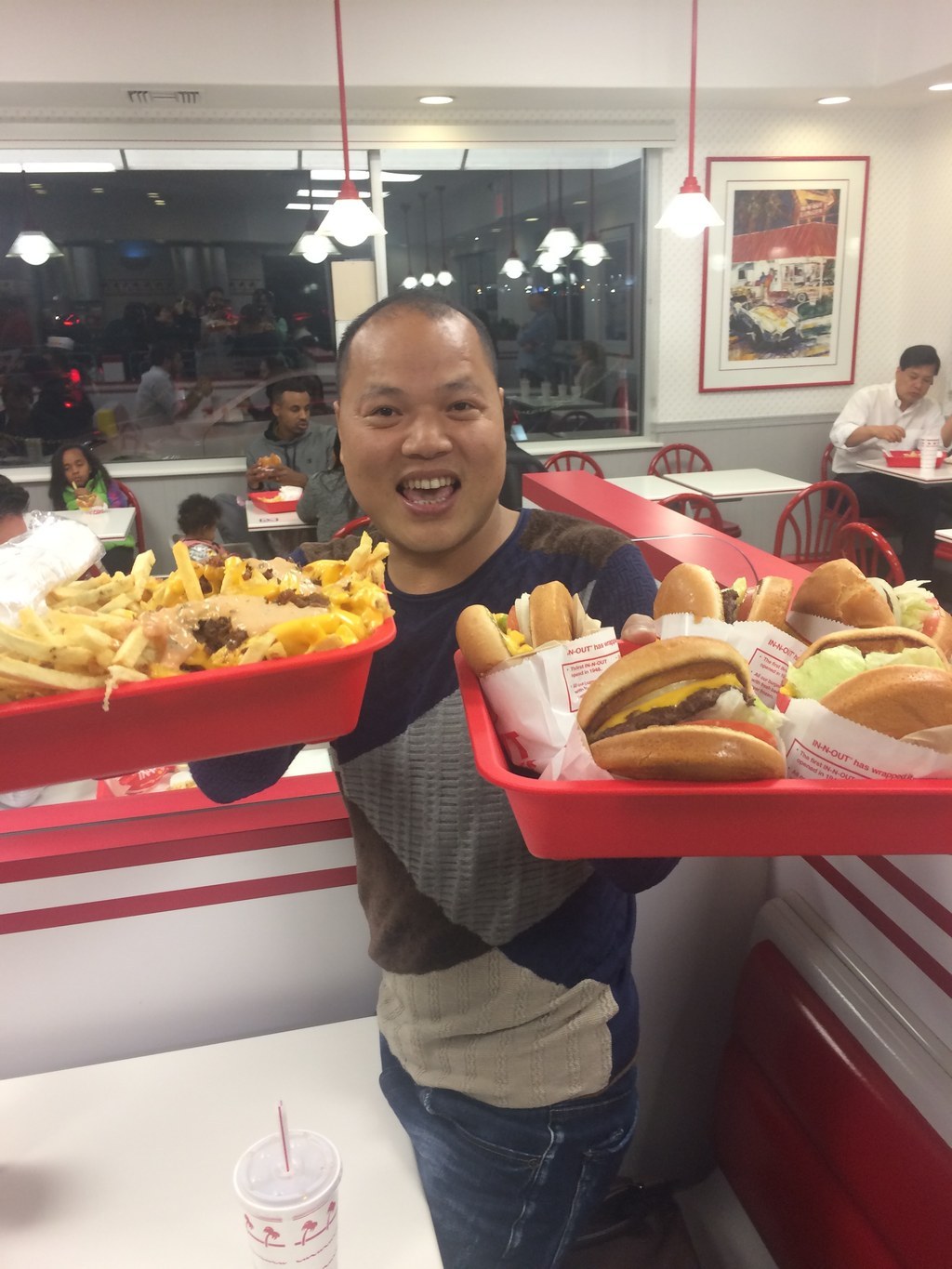 SCARY THING IS Bro has never had cheese before. He is a 38-year-old man who has never eaten cheese. I am shocked and nervous. This can't be good. We also get sodas. Bro has never used a soda fountain before, so he pours every flavor into a cup, takes a big swig, and says he loves it. He is my kind of man! This is fun!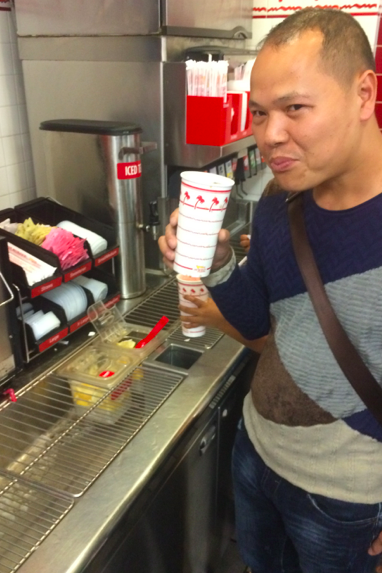 In-N-Out gets a good review from Bro. He's happy to have an "authentic American burger." He thinks Americans just eat burgers and steak. I'm not doing anything for our stereotype. Oops.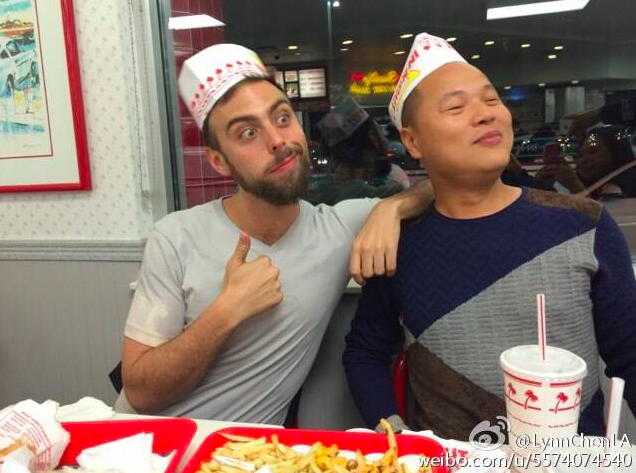 I am worried about the cheese and bread and sugar and horrible American foods he's going to be eating. How is this going to work…bodily? We drive off. I put on Britney Spears and explain that we're going to see her in Las Vegas in a few days. Bro asks if Las Vegas is a store. It kind of is, so I don't really disagree. We go to sleep. We have a very L.A. day tomorrow.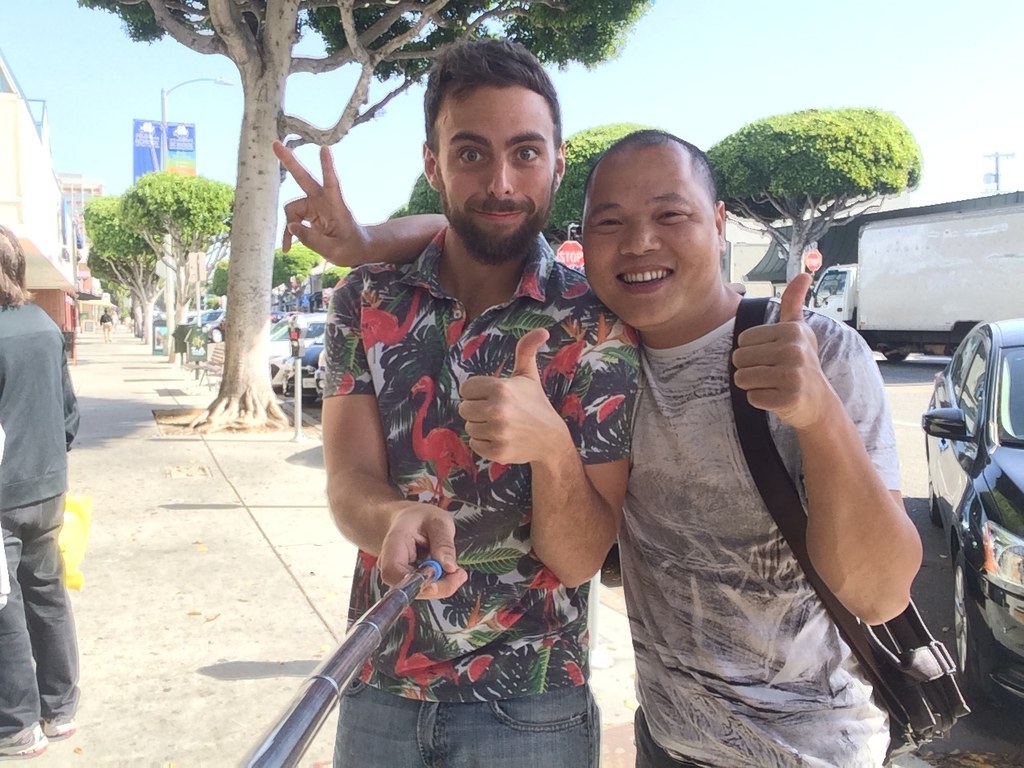 Our first full day in L.A. begins with another menu challenge for me: breakfast. By now, I know what things Bro likes to eat. I really do know this man. I know he likes cilantro and eggs. I order huevos rancheros.
Bro tries avocado for the first time. He also eats a blueberry for the first time. I respect how adventurous he is. He trusts me and is very grateful. His review of avocado: "Tastes like nothing." Blueberries are good. My life has now become one big BuzzFeed taste-test video.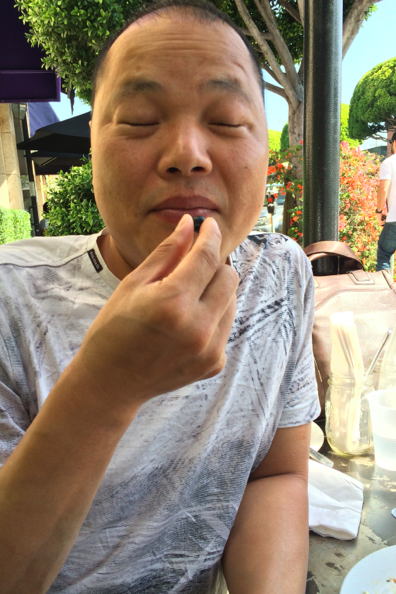 Breakfast finishes and we leave drinking our iced coffees together. Bro wants everything the way I want it. If I drink iced coffee, he drinks iced coffee. He wants his coffee like I do. It's endearing and cute. That's what BFFs do.
On this leg of the trip I'm learning more about Chinese culture than even when I was in China. One thing I thought was interesting about Bro is that he doesn't like cold food or drinks. It's not good for your health, he says. Bro has most meals with a glass of hot water. Whenever I asked for water in a restaurant in China they brought me hot water. He gets frustrated at the hotel because all he wants is hot water. He doesn't understand why Americans drink cold water! I'm learning so much.
After breakfast, we do a tour de BuzzFeed. We stop at the BuzzFeed video offices, where Bro is treated like a king. This is great because Bro really respects business. I know it sounds weird, but he's really into CEOs and companies lol. He loves it. He makes a BuzzFeed taste-test video. He eats string cheese for the first time. He hates it. We pretend to be good Christians on a random movie set.
We have so much fun together.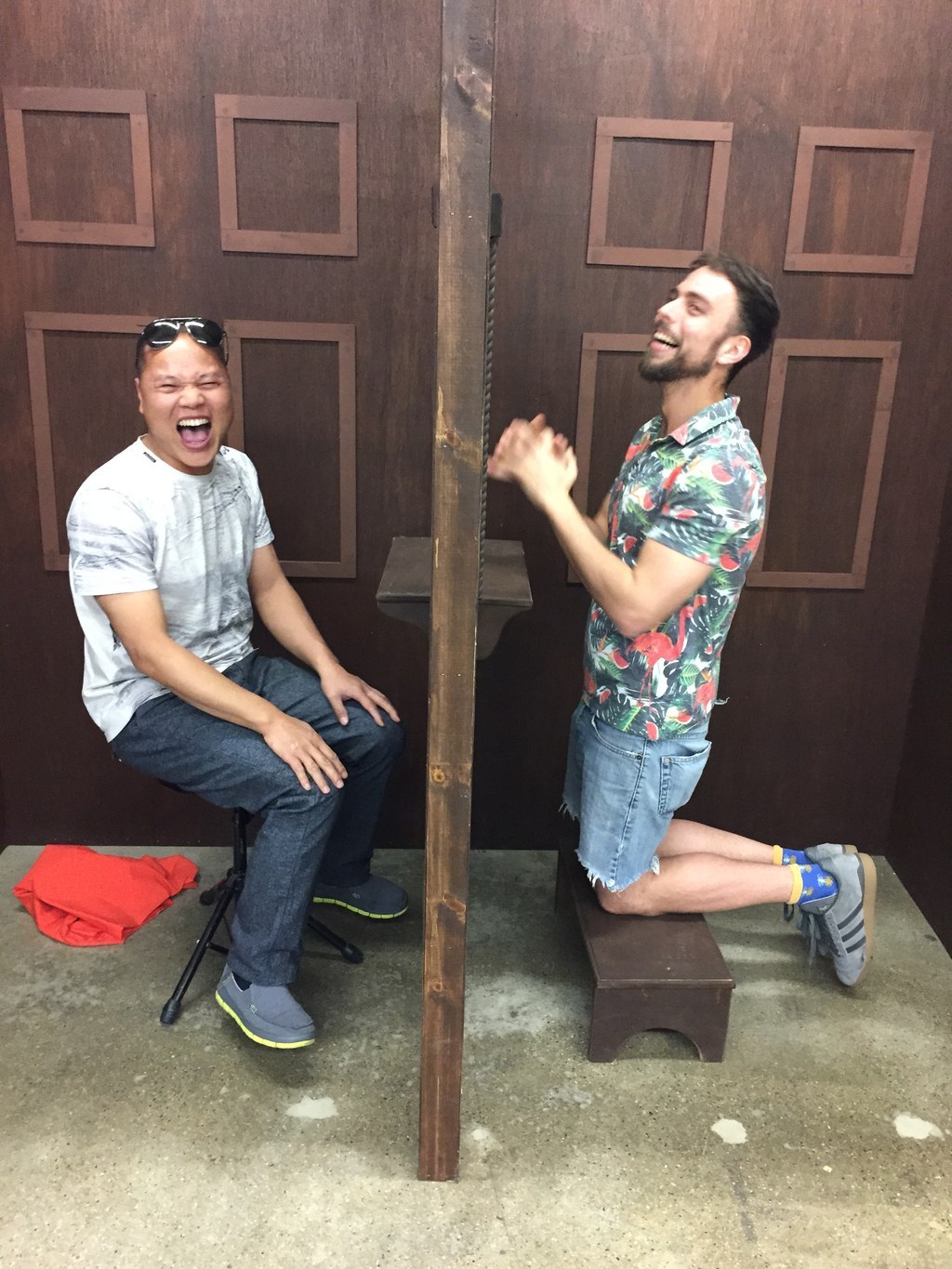 We go to the BuzzFeed editorial office, where Bro experiences something I'm so happy he was able to see: a high-speed car chase. This is so L.A. and so American. Mission accomplished.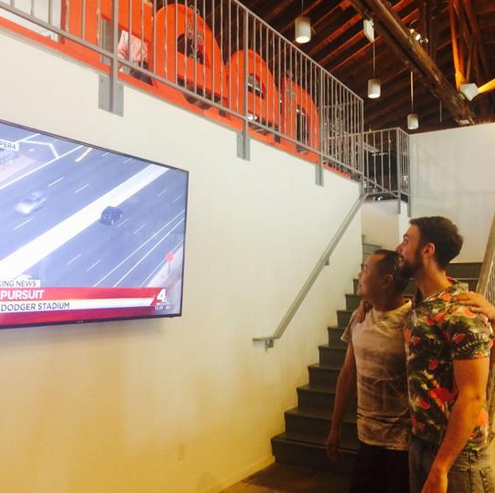 After all the BuzzFeeds, we head to Venice Beach. Let me tell you one thing, if you're with someone who doesn't speak any English, don't take them to the Venice Beach boardwalk. It is waaay too intense. I learn my lesson when one of those "do you like rap music?" people hands Bro a CD. He takes it and I tell him to give it back. Then I get in a fight with the CD guy, explaining that he doesn't speak any English. I have to leave the boardwalk immediately. I tell Bro his first American lesson: Never take anything from anybody. Nothing in America is free.
We get juices because L.A. and head to our next logical destination, Target.
It's funny because I want Bro to go to and experience really mundane, basic places. Like I said earlier, it was tricky thinking about all the places I wanted to show Bro. I wanted to show him Target because I think everyone should experience Target. It's iconic.
We go to Target and I lose Bro in 10 minutes. I admire Bro's sense of adventure. He's always running off and I'll find him somewhere else. Of course this happens in Target. I find Bro 10 minutes later looking at towels and belts. It doesn't get more Target than that.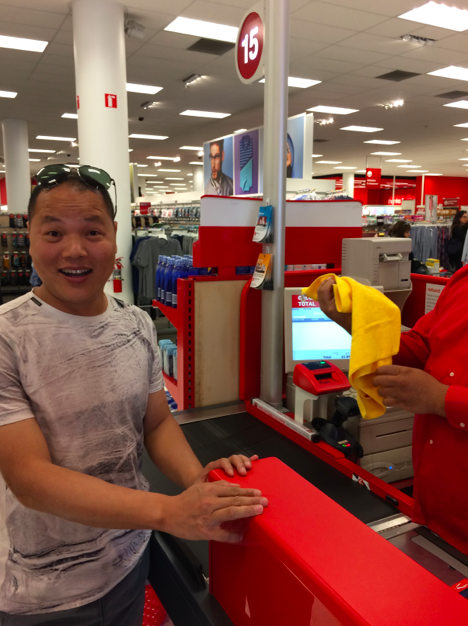 Dinner that night was hilarious. It was vegan night. If we were going to do L.A., then we're going to REALLY do L.A. It was hard to explain to Bro what vegan food was. No eggs, no dairy, no meat. He. couldn't. understand. But he's open to it. We order tons of fake meat and lasagna and a bunch of random stuff. There are literally pictures of farm animals on the walls. It doesn't get more vegan than this.
Bro tries kale for the first time. His verdict: "not impressed."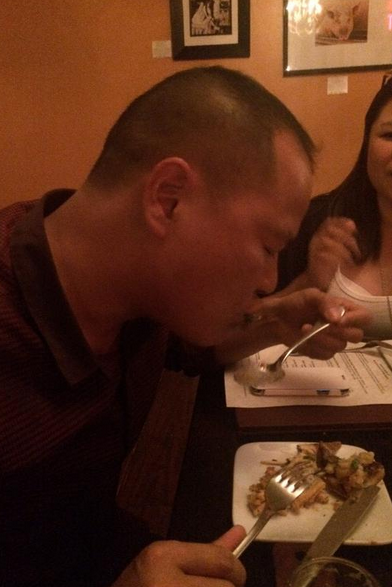 After a round of craft beers and some sort of cacao smoothie thing, I think I've tired Bro out. I realize that I am a monster. I want him to see so much and there isn't enough time.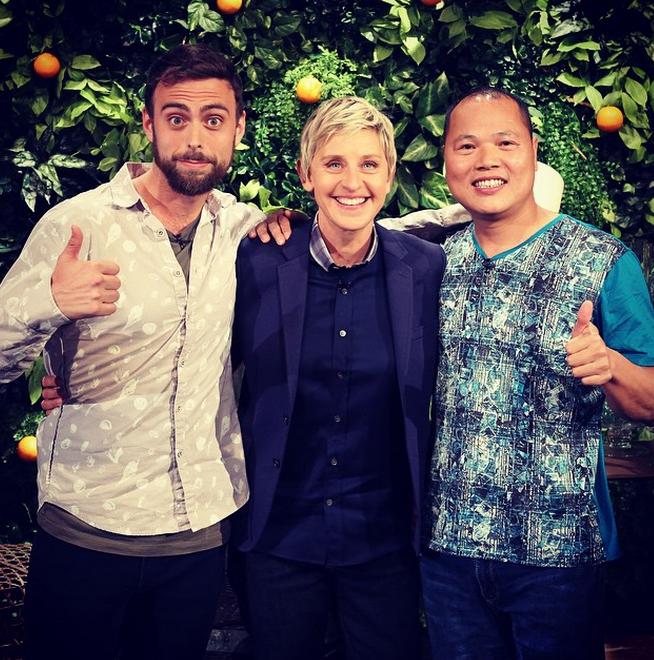 Ellen day.
Explaining who Ellen is to Bro is pretty funny. Bro is country as fuck. He barely knows any Chinese popular culture, let alone American culture. Still, he's nervous. I can see it in his eyes and mannerisms. Usually, Bro is the chillest guy you will ever meet. Today, he's scared. I feel bad.
We eat breakfast, have a little break, and then it's Ellen time. We get picked up by a big black SUV. Bro and I have inside jokes now. We have one about black SUVs. Whenever he sees one he goes, "Obama! Obama! Obama!" Bro loves Obama. We talk about politics a little bit. He loves Obama and thinks Hillary would make a good president. How progressive.
We get in our "Obama" SUV and head to Ellen. It's happening! The dream is coming true. We sit in the backseats hyping each other up. We're good at doing this. When we were in China we hyped each other up before making appearances. You don't need language to hype someone up. Neck massages and high fives are universal.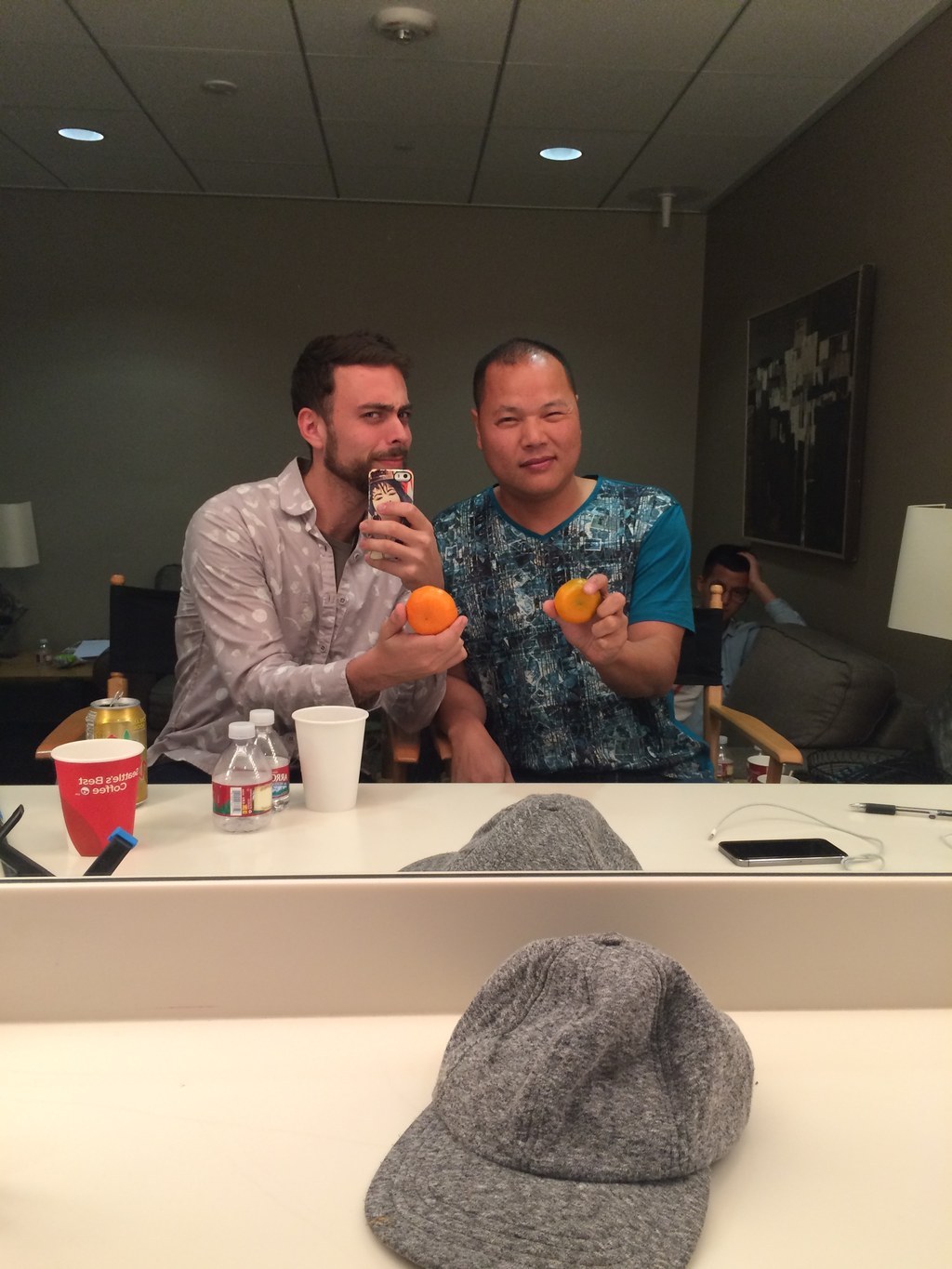 Ellen is dope. We chill in the dressing room for a while. I make Bro try all the American snacks. He likes popcorn. Bro is rehearsing his questions; he's always so nervous about it. I tell him to just be himself. Everyone fell in love with him! Don't worry about it, Bro!
We get our makeup done. We drink some coffee and get mic'ed. It's on.
Five minutes before our call time we get brought down. It's actually happening. We are about to meet Ellen. Bro and I wait backstage jumping up and down and dancing. There's a selfie machine thing right before you go on. We take like 50 selfies because that's so us. That's what we do.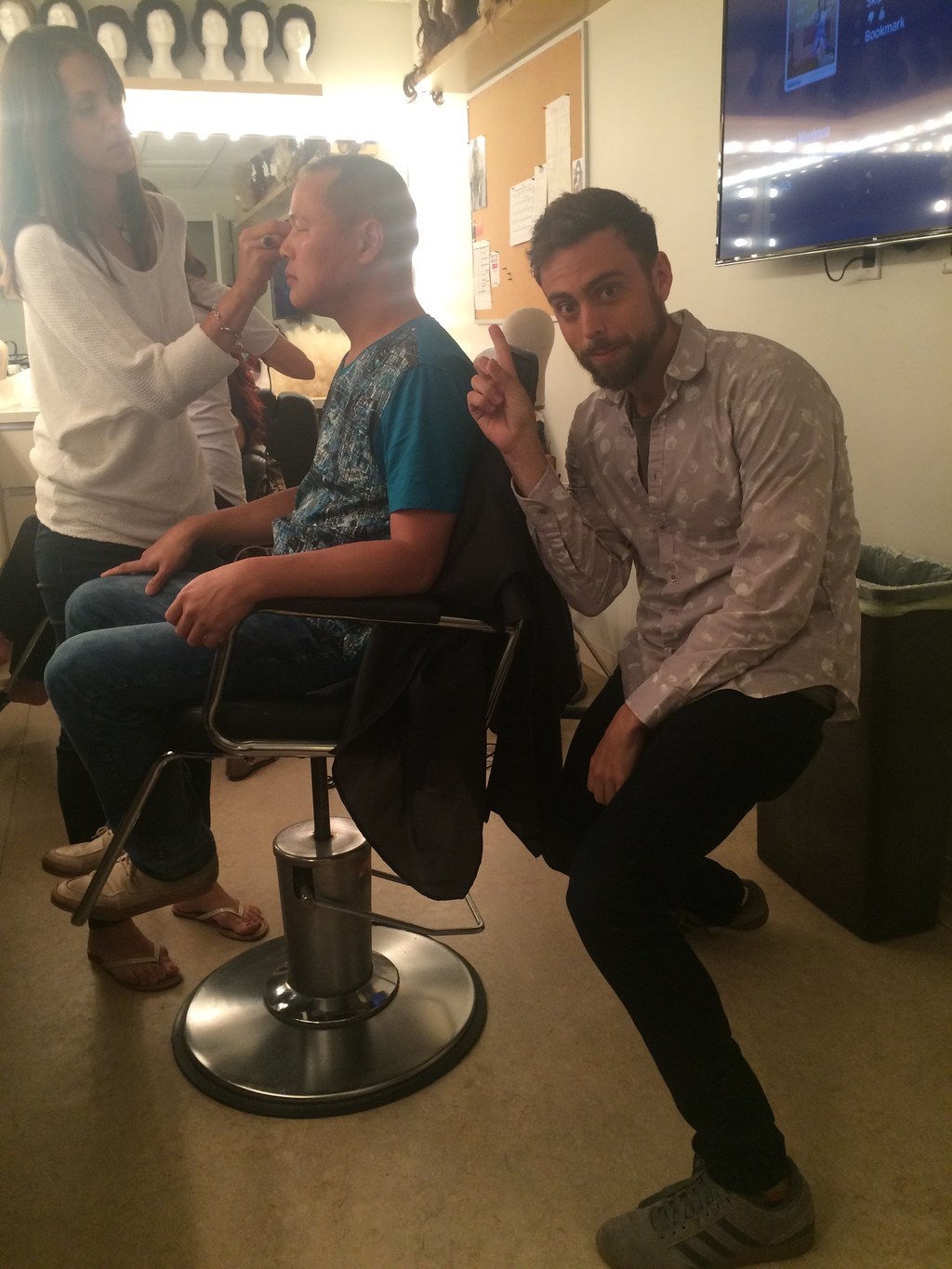 Five-four-three-two-one… The doors open. "Call Me Maybe" is playing, and we get our first glimpse of Ellen. What the fuck?! There she is just standing there doing a signature Ellen "touchdown" pointing pose thing. I can't believe it. I grab Bro's shoulder. We're in this together. You jump, I jump.
There's this crazy moment when you're on The Ellen Show when you sit down on the iconic white couches and stare into Ellen's icy blue eyes and think, Shit. It's indescribable. Then you talk to Ellen and all the while there's a voice in the back of your head saying, I am talking to Ellen right now. I am talking to Ellen right now, over and over and over.
We're on the stage for about six minutes but it feels like 20 seconds. Bro nails it. He gets all the laugh lines. I am so proud of him.
It's over.
Time to celebrate with my absolute favorite thing: happy-hour margaritas. Bro has never had Mexican food before. I am so excited for his first guacamole experience. It's funny because this whole thing has made me realize, as dumb as it sounds, how universal food is. Bro brought me to China to eat a shitload of food. Then I brought Bro to America to eat a shitload of food. Food is everything.
I think Bro will like guac. I know he loves cilantro, so I'm pretty confident about that. I want him to have it all!
First things first: margaritas. If Bro is going to stay in my inner circle then he must love margs. Margs are not a drink, they're a lifestyle. Luckily, Bro LOVES them. Like, he guzzles three in a row and says he needs to write down the recipe to bring back to China. He thinks they'd be big in China.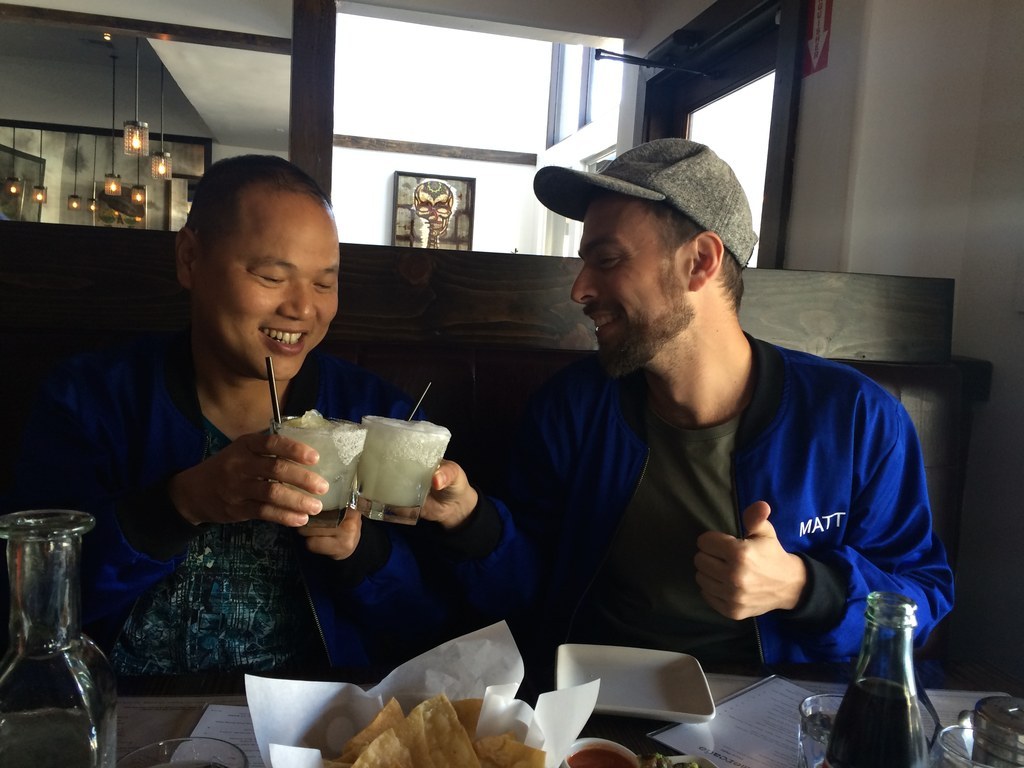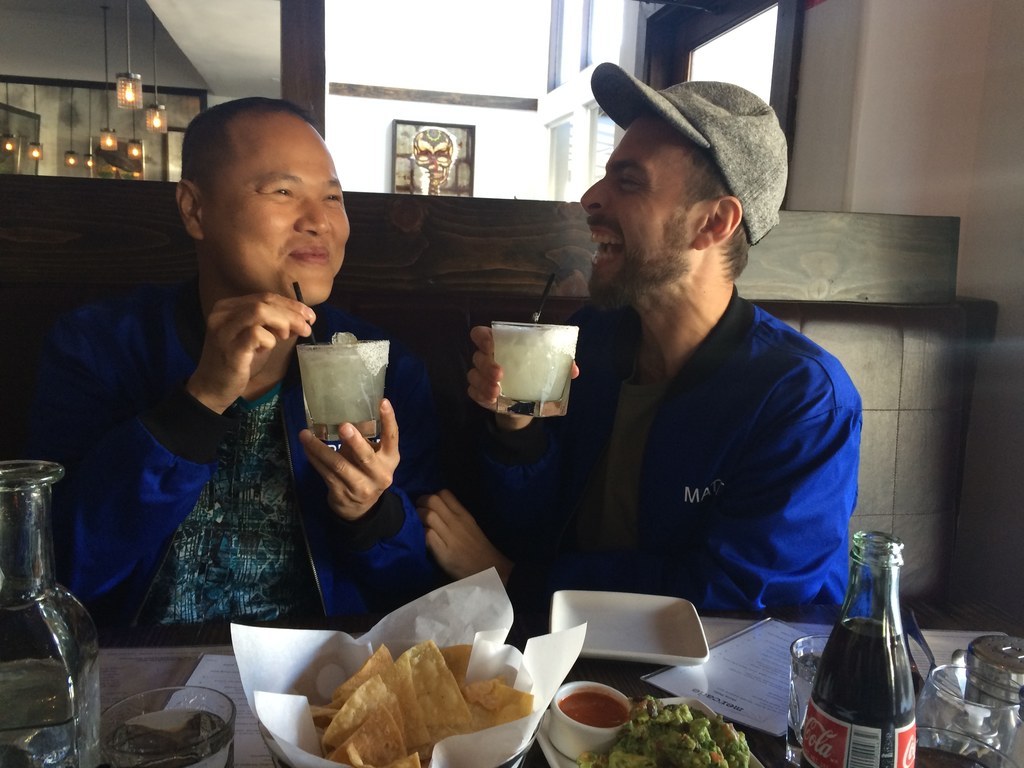 Needless to say, he's drunk. He downs some pork tacos and guacamole. Mexican food is a success! It could be the drunk munchies, but he is STUFFED.
It's only 7 but we're both drunk and full and JUST APPEARED ON THE ELLEN SHOW.
GOOD NIGHT.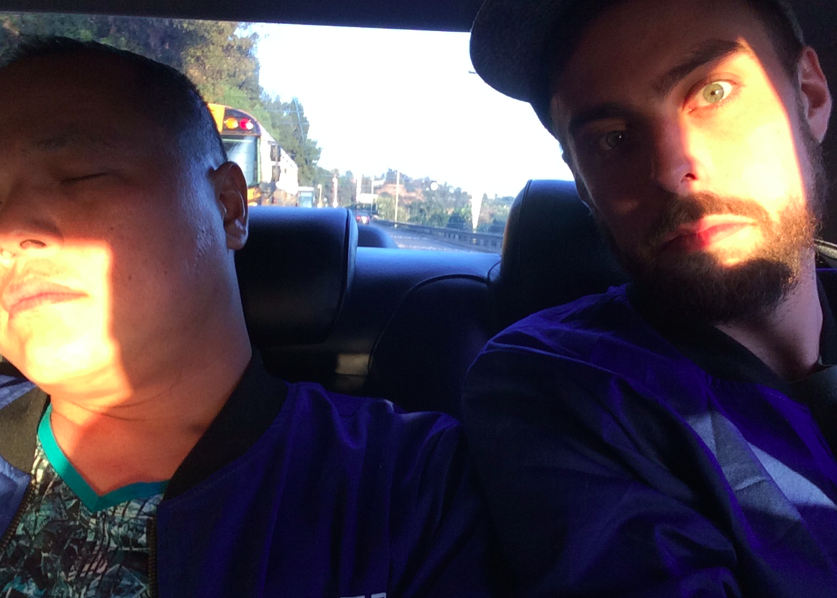 Bye-bye, L.A. Bro is sick of it. I think it is too similar to where he's from. It is warm and sunny minus the pollution, or "fog," as he calls it, in his hometown. He also doesn't understand why there weren't any big buildings. Where Bro is from it's all huge buildings and new construction. I explain to him that L.A. has earthquakes. Now he thinks all of the U.S. has earthquakes. Oops. I realize I have to be careful about my generalizations of America. This is all totally new to him.
Next stop: Vegas.
Planet Hollywood reached out to me offering two tickets to see Britney Spears in Vegas if Bro ended up in America. I, of course, had to take them up on this offer. That's like if the pope asks you to visit the Vatican. OBVIOUSLY I AM THERE.

Most pop stars have nicknames in China. Katy Perry is "queen of the fruits," Taylor Swift is "little sister," and Britney Spears is "little sweetie." Bro, being as country as he is, doesn't particularly know Britney Spears. He'd never listened to her music because he had no idea what she was saying. Valid.
Also, in case you haven't figured it out, I'm a batshit-crazy Britney Spears fan. I used to write essays about her in high school, my room was meticulously covered with Britney Spears posters, and I lived on eBay, where I accumulated seven life-size stand-ups. I was mad good at eBay. When I was 14 years old, MTV came to my house to film me for a special. I am a crazy person.
So, it was INCREDIBLY important for me to introduce Britney to Bro. In the way that he took me to visit temples in his hometown, I was taking him to my temple. I had to take him to Planet Hollywood.
Then another miracle happens. By the power of the Holy Spearit, we get an email from Planet Hollywood saying we will be meeting Britney Spears that night. HOLY SHIT. I am dead.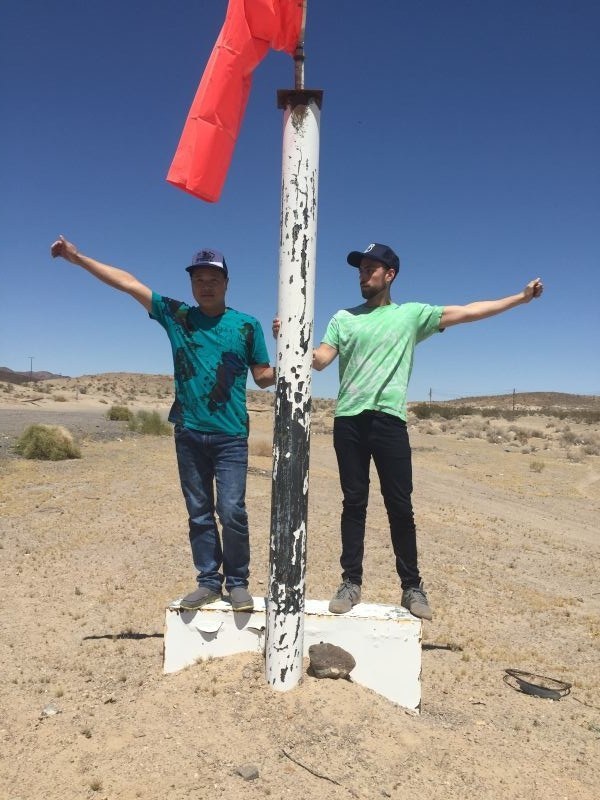 The only appropriate way to take Bro to Vegas is to road-trip. It's super American and Bro had never seen the desert before. I want him to see it all.
We get to Vegas and are given VIP treatment by Planet Hollywood. I tell Bro that this is the good life. WE ARE GOING TO MEET BRITNEY SPEARS.
Related note: This is all happening because of a lost cell phone.
As VIPs, we get to go backstage first. I am so excited to share this moment with Bro. To be completely honest, and I know you probably don't believe me, but there is no one I would rather share it with. I want Bro to be there with me! This is important to me.
Bro thrives off my energy. We meet Felicia, who is basically an apostle to the Britney community (she's been her assistant since basically the beginning). He is so excited. He's happy when I'm happy.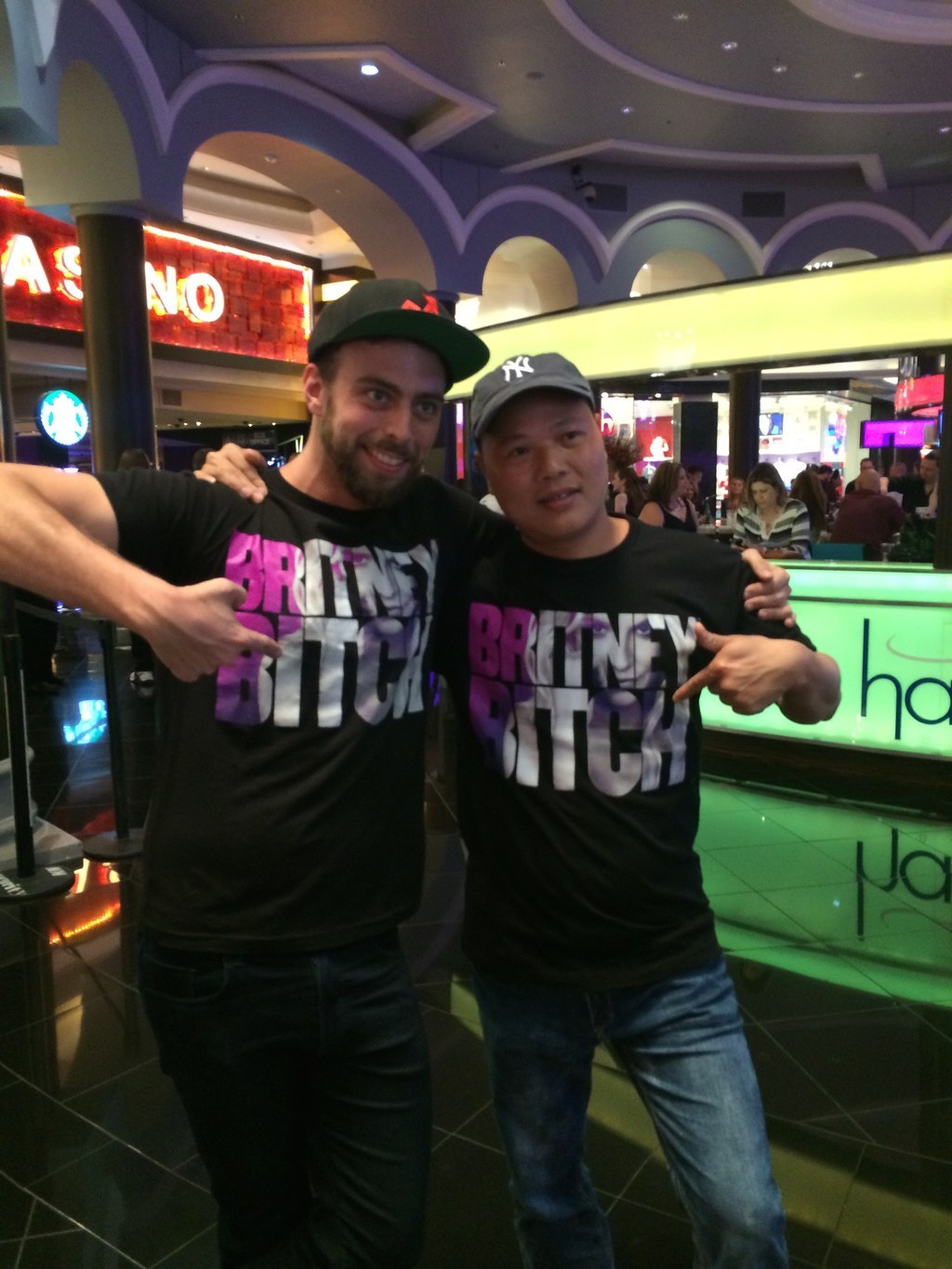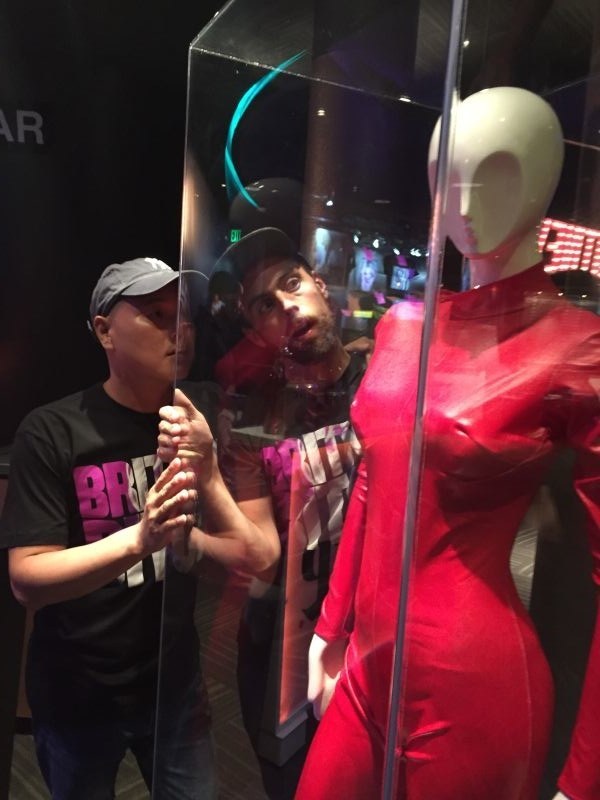 I get to the front of the meet-and-greet line. Britney's team asks to speak to me. They want me to go on stage that night. I am deceased and officially a legit ghost. I ask if Bro can come with me. They say no. I am like, "Bye, Bro!" He gets it.
We meet Britney. I tell her that her Chinese fans love her. She is so damn cute and sweet. She's also stunning. I love her even more. I love that Bro is with me. We get our picture. I. Love. Us.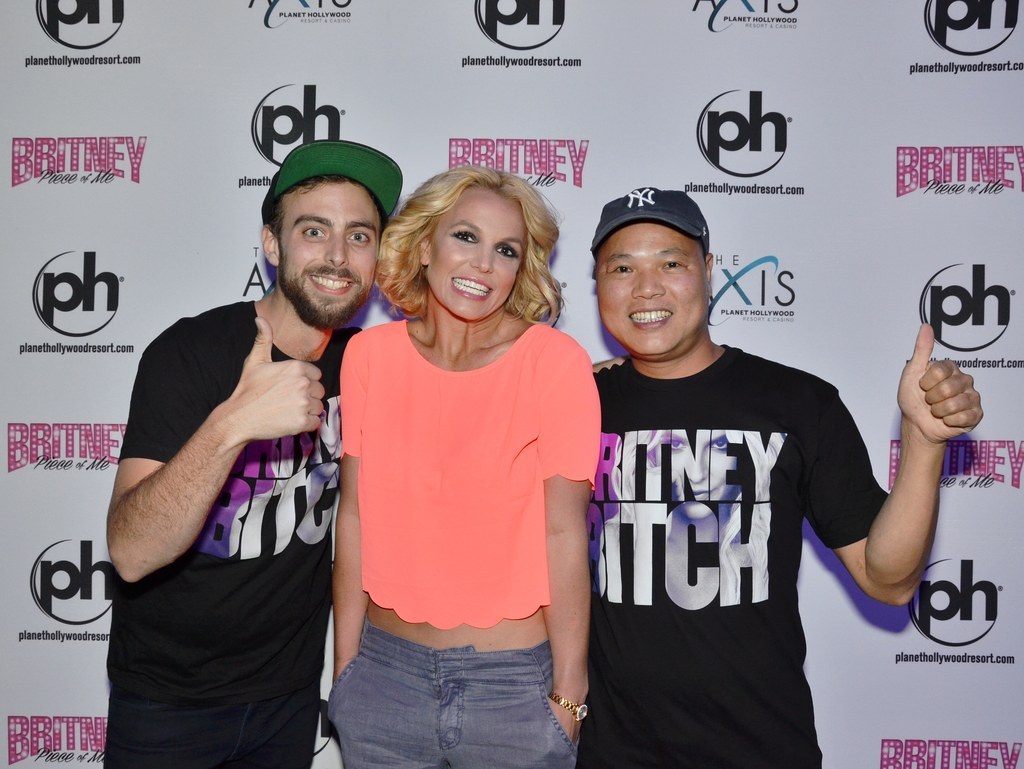 The show is phenomenal. Bro has never been to a real concert before, so he is loving it. He has no idea what she is saying, but this is like our friendship. We just enjoy each other's company. We each like what the other likes. We are a team.
I go on stage. I die for the third time on this trip. Bro loses his mind.
The concert ends and we are both so exhausted. A literal dream come true. THANK YOU, BRO.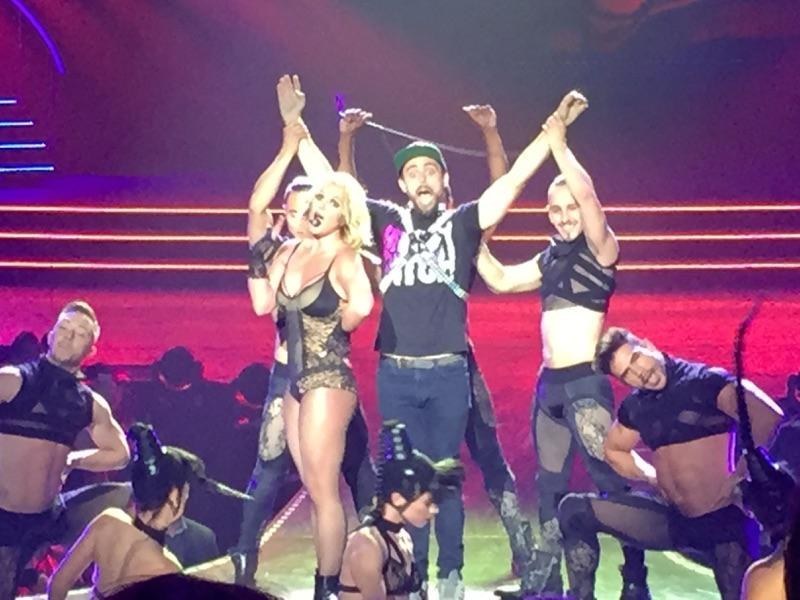 I go to bed. Bro stays up gambling until 2 in the morning because he is a fearless boss.
Britney tweets at us. It's over. I am actually Casper.

Bye, Vegas!
Next stop —> Albany, New York.
Well, not exactly Albany. Like Bro, I have to say that I'm from a place I'm not really from. I tell people I'm from Albany; if they know Albany then I say Schenectady; and if they know that, then I say my actual town name: Niskayuna. It's exhausting. It's the same for Bro. He's from Guangzhou, then Meizhou, then Wuhua. We are twins.
We spend an entire day traveling to Albany. We don't have a translator that day, which is actually fun for us. We have to get creative with our communication, and there's something nice about just using body language to communicate.
We have a layover in D.C., which is exciting because you can see the Washington Monument from the airport. Bro's flipping. "Obama, Obama!" Another thing I've learned from Bro is the misconceptions our literal nations, China and America, have about each other. Bro told me that he was surprised how nice Americans were, because he thought they were aggressive and just got into wars all the time. I thought the Chinese were closed and mad communist. We both were wrong.
It's funny to watch people watch us in public places together. We're such a bizarre grouping of people. We are the most unexpected friends. Also it's so strange to watch people who can't speak a word with each other communicate. It's hilarious.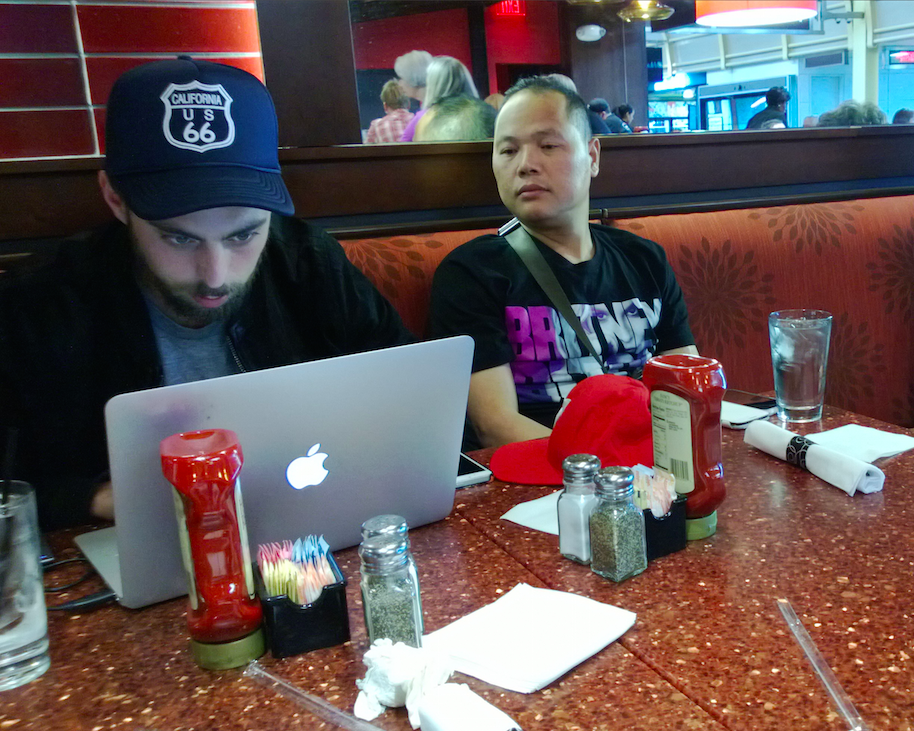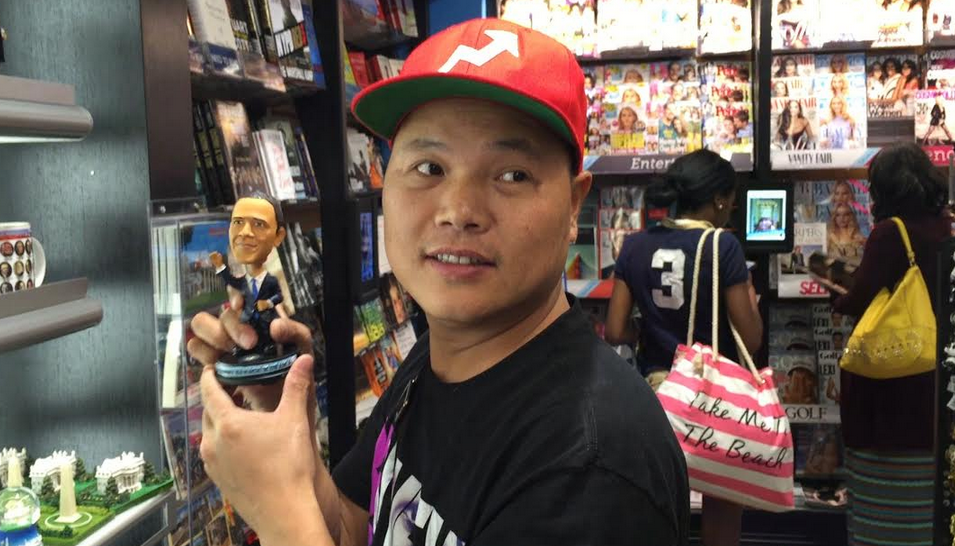 We get into Albany that night and my entire family meets us at the airport with orange balloons. It is awesome. My family is so excited to see him. Bro is honored. I've never seen my dad smile so big ever in my life.
The power of Bro is real.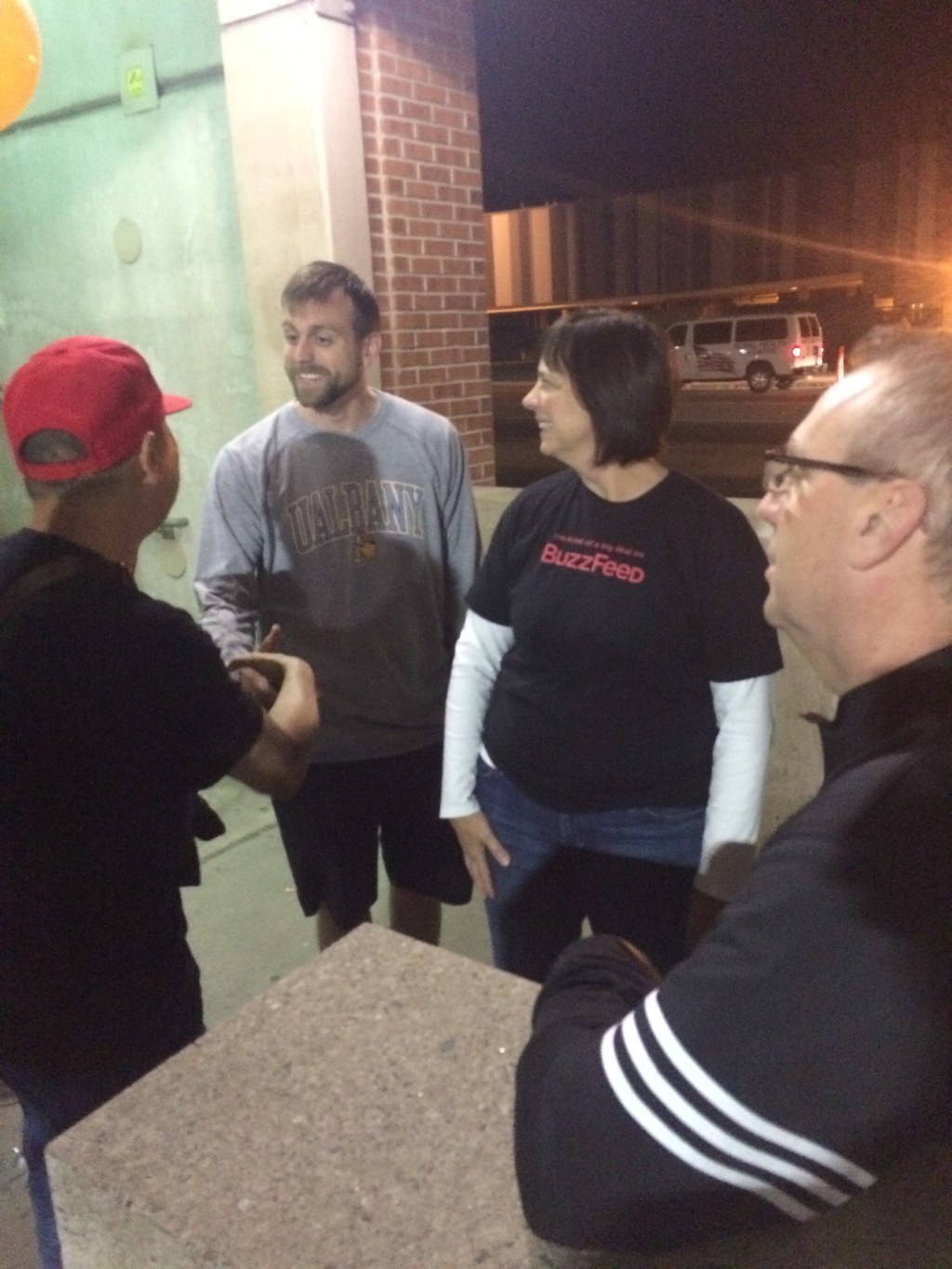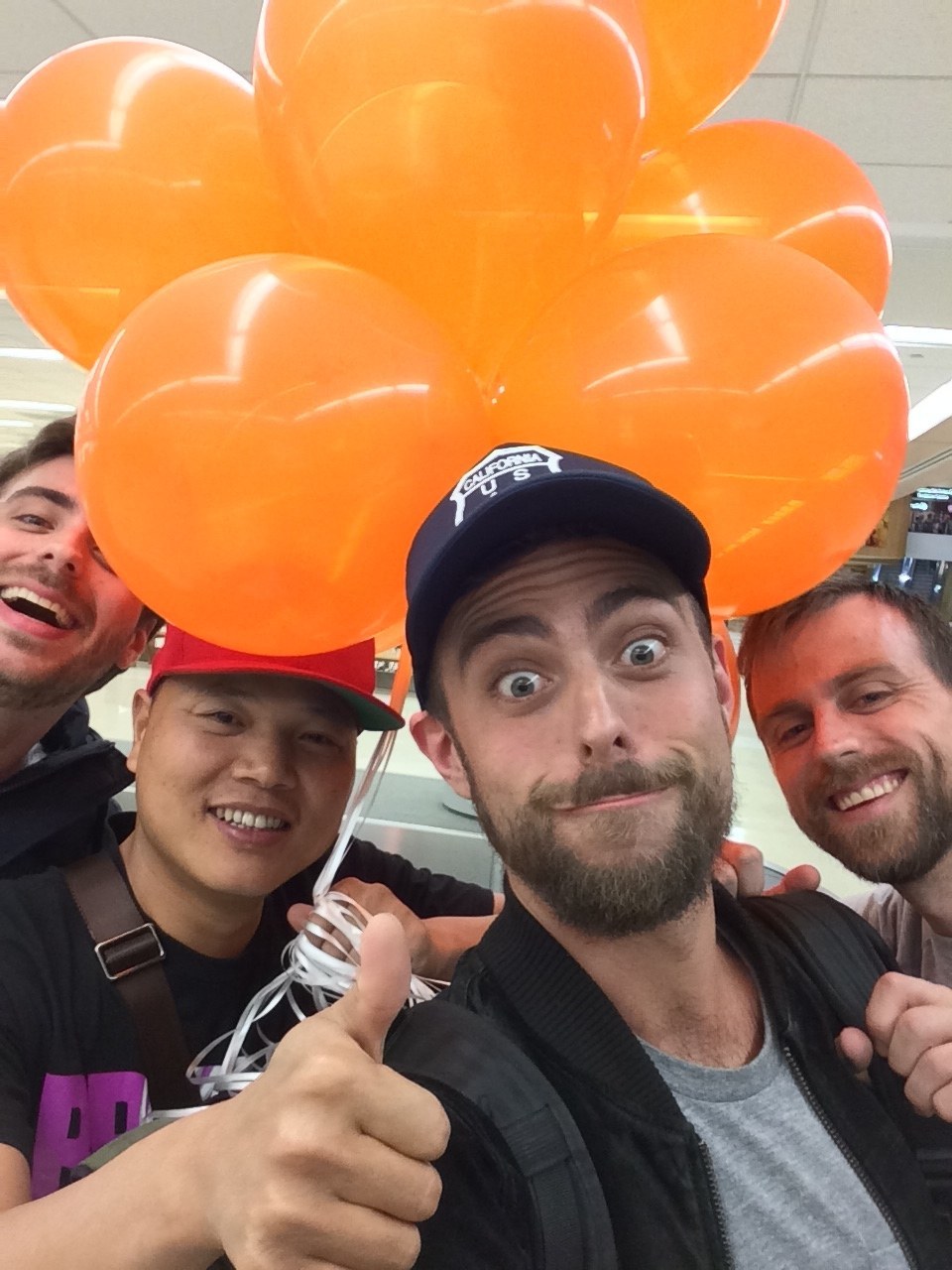 The next day I show Bro my hometown. I'm excited and nervous. I want him to like it! This must have been how he felt when he was showing me around his.
The night before I went to Albany, I put a call out to people from my hometown on Facebook asking where I should take Bro. It's crazy how many people have come out of the woodwork for this Bro Orange thing. I am getting responses from people I hadn't heard from in years.

We set off! First stop, downtown Schenectady for breakfast at this little place called Ambition where my mom wanted to take Bro. He meets my aunt and uncle, and my aunt tries to speak her best Chinese that she found on Google translate to talk to him. It's so fun watching my family talk with Bro. It's so weird that this is happening. I'm loving it.
Bro loves every moment of it too. In Chinese culture it means a lot when you introduce someone to your family. It's really an honor. You don't just introduce anyone to your family. They have to be special. That's why it was so amazing meeting his family in Meizhou. It actually meant something.
Bro fit right in with my family. I was having a conversation with my mom about it and her feelings are exactly mine. She said: "It's so weird, but for some reason Bro just fits in with our family. I don't understand why, but I really feel like he is a member of our family."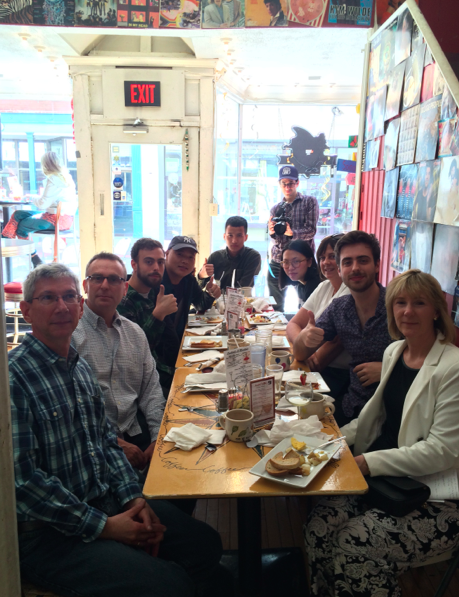 After breakfast, we make a detour to some weird electrical museum. Thomas Edison moved General Electric to Schenectady at the turn of the century and Bro loves this. We are looking at this dinky museum's windows when the owner asks us if we want to go inside. He doesn't get many visitors and is excited that we were even looking. Bro eats it up. As a man who loves inventors and industry, he won't stop taking pictures. It is straight-up inspiring to him.
We take selfies with lightbulbs.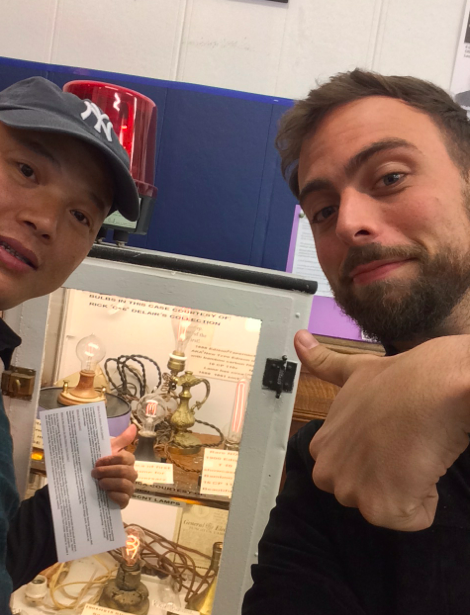 After that we make stops at the Albany capitol, a Stewart's Shop for an ice cream taste test (this was the No. 1 place recommended in my Facebook comments to take him), a trip through his first drive-through ever (a Starbucks obviously — Bro loves mochas), and my high school.
I also make Bro endorse Stewart's because Stewart's is the best place and I'm trying to do some Stewart's promo. We're there for a while because we do an ice cream taste test. His favorite is cookie dough. Solid choice.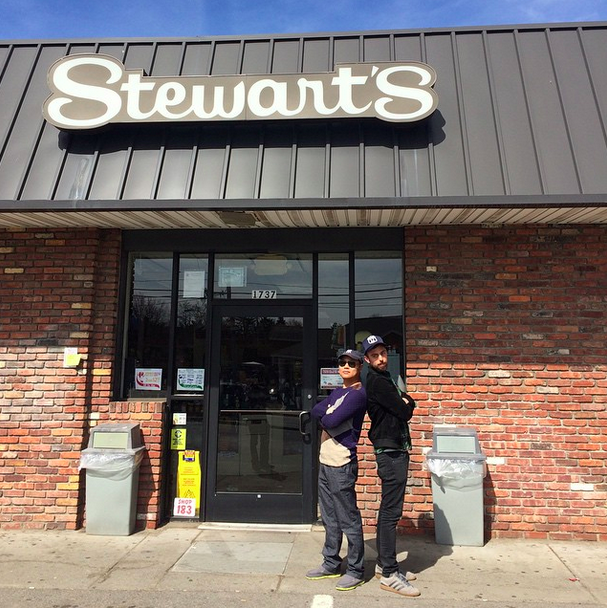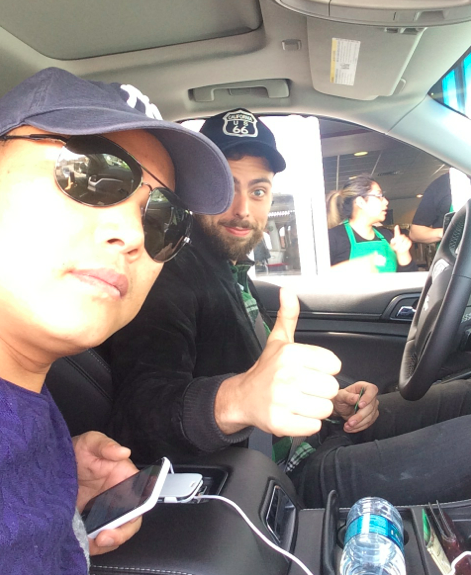 At my high school, he sees his first-ever baseball game. He has never seen anyone play baseball before. He even gets to throw the ball after someone tosses it past first base. It makes his life.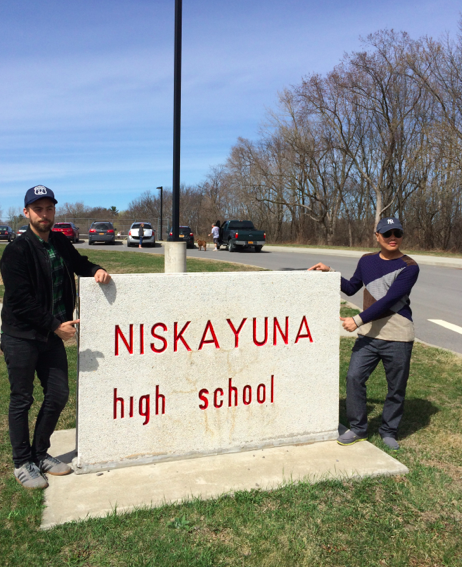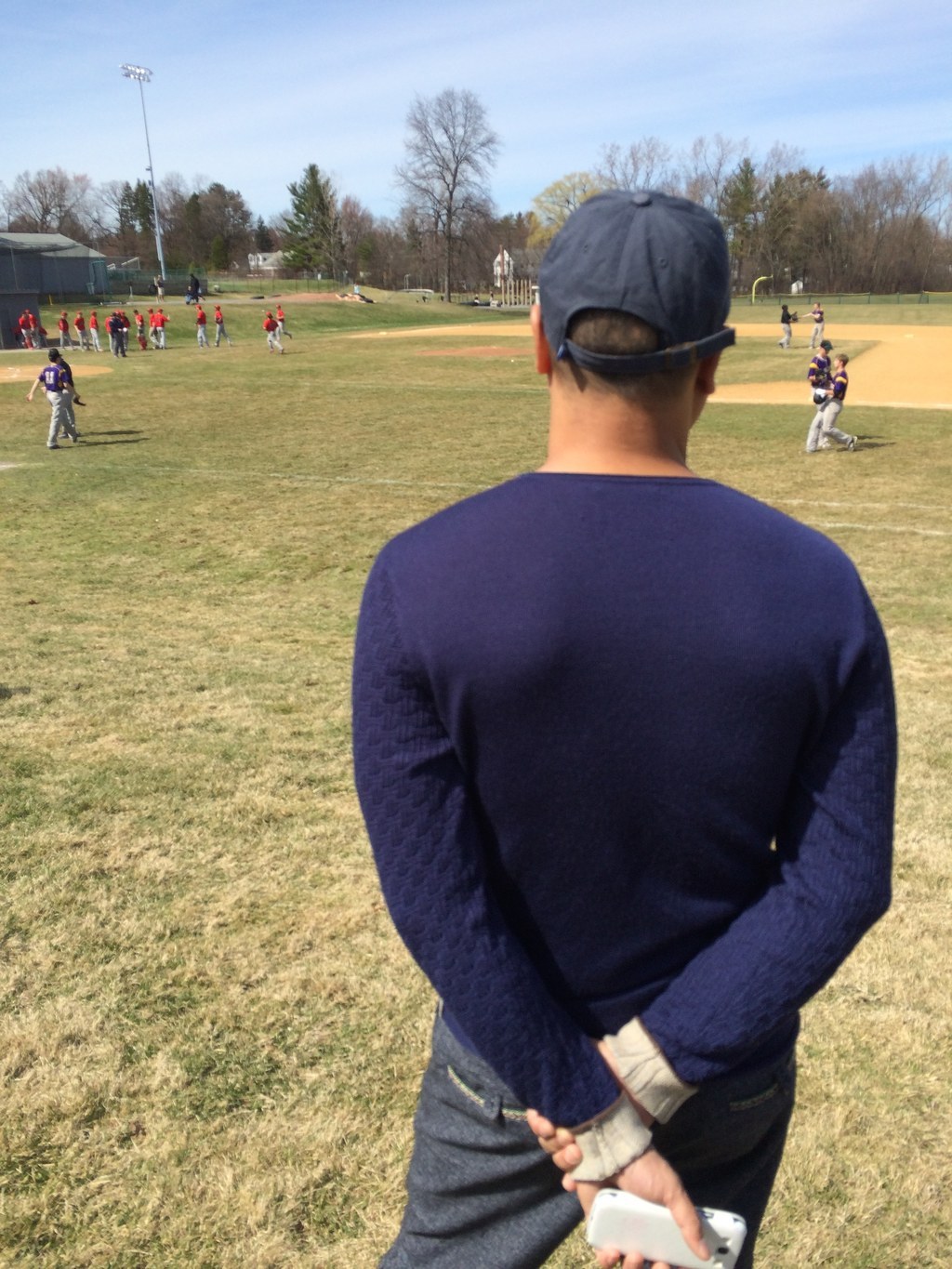 My favorite part of the day is when we pass a church I used to go to. That's when Bro asks if I am a Buddhist.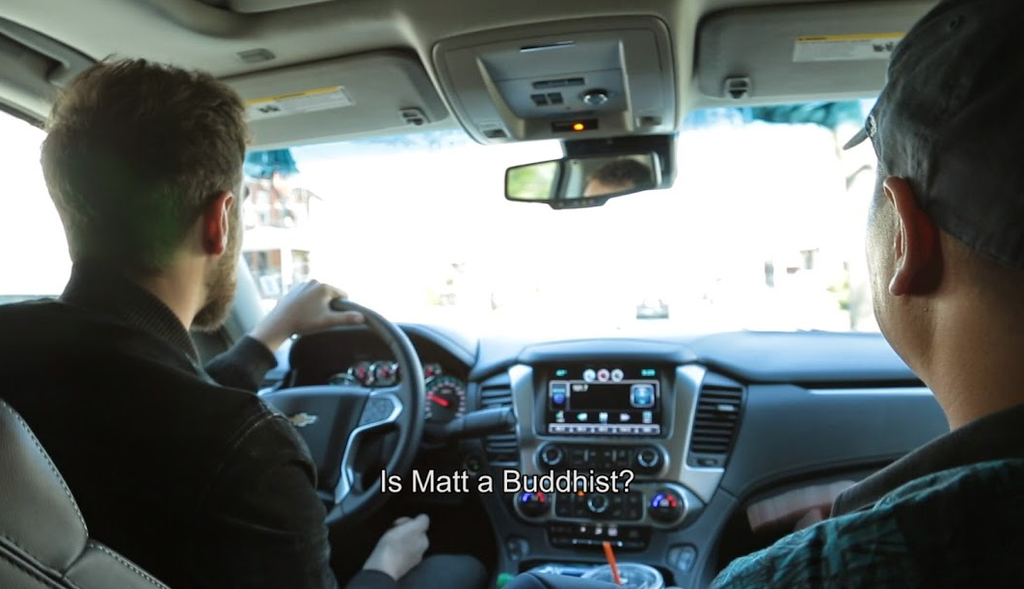 That evening my mom throws a party for Bro.
She got over 50 RSVPs for the party, which just doesn't happen in my family anymore. I didn't even know we knew 50 people. It is all people from my past: godparents, aunts and uncles, cousins, old teachers, kids I used to babysit, and neighbors. There are people there I haven't seen in at leeeeast 10 years. I have my first "I haven't seen you since you were 8 years old and now you're 18" moment. I am old.
My mom puts one of my Britney stand-ups outside of the house (I refuse to get rid of them). This party is destined to be iconic.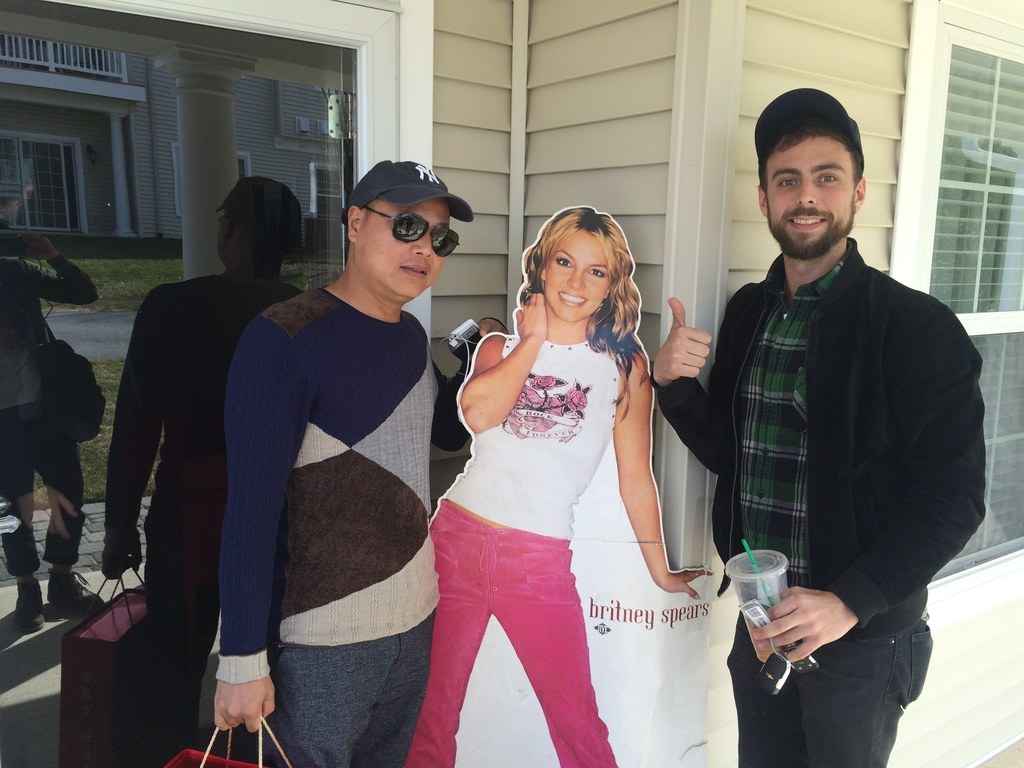 My grandmother shows Bro pictures of me and her. It's really sweet.
She makes all the food we normally have at Christmastime, and my mom buys him my favorite food: a white cake with buttercream frosting. Bro doesn't actually like the cake because he doesn't like sweet things but WHATEVER. He appreciates the gesture!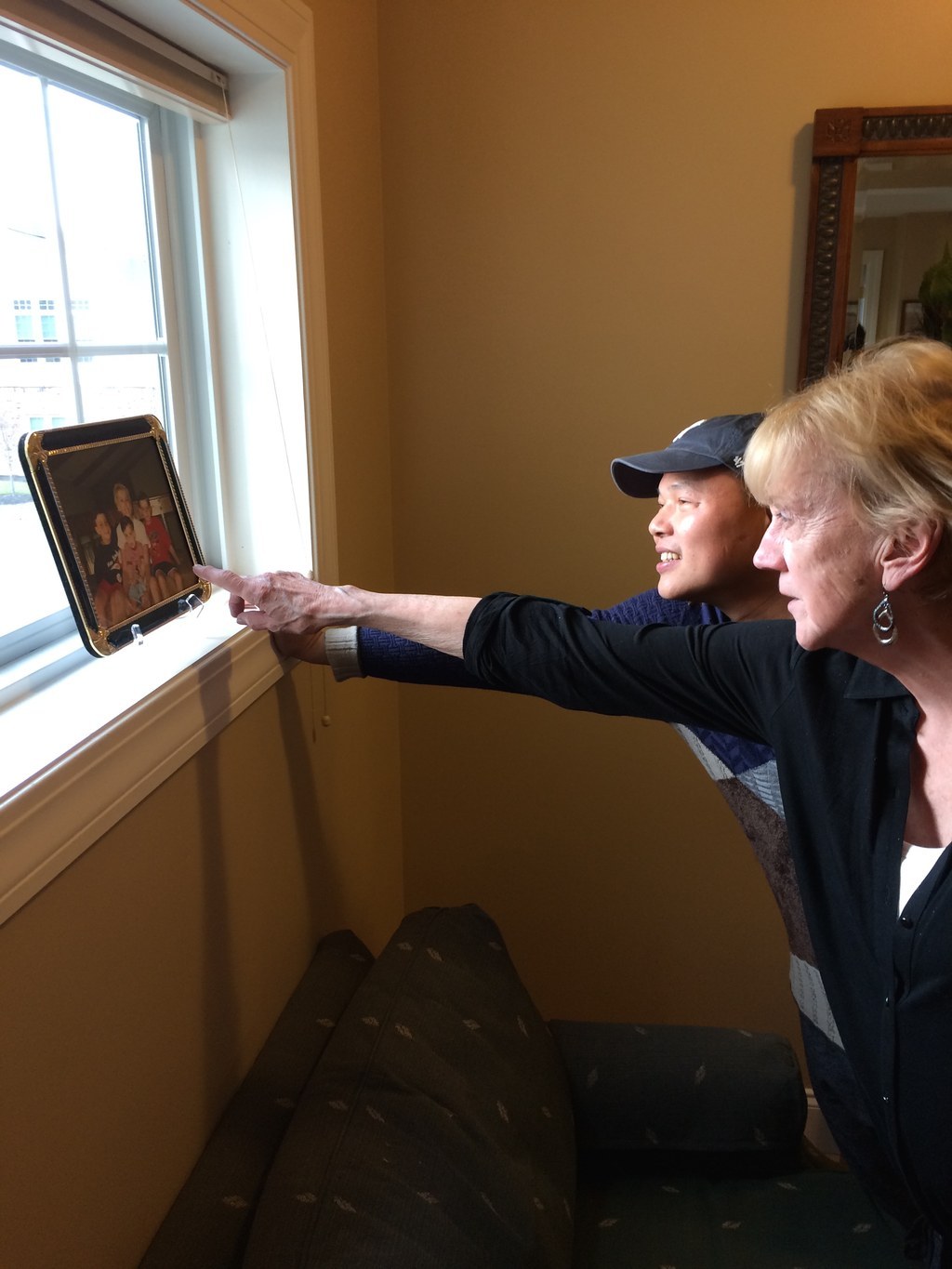 Bro talks with everyone. He is such a social butterfly even though he can't understand what anyone's saying. I truly admire him.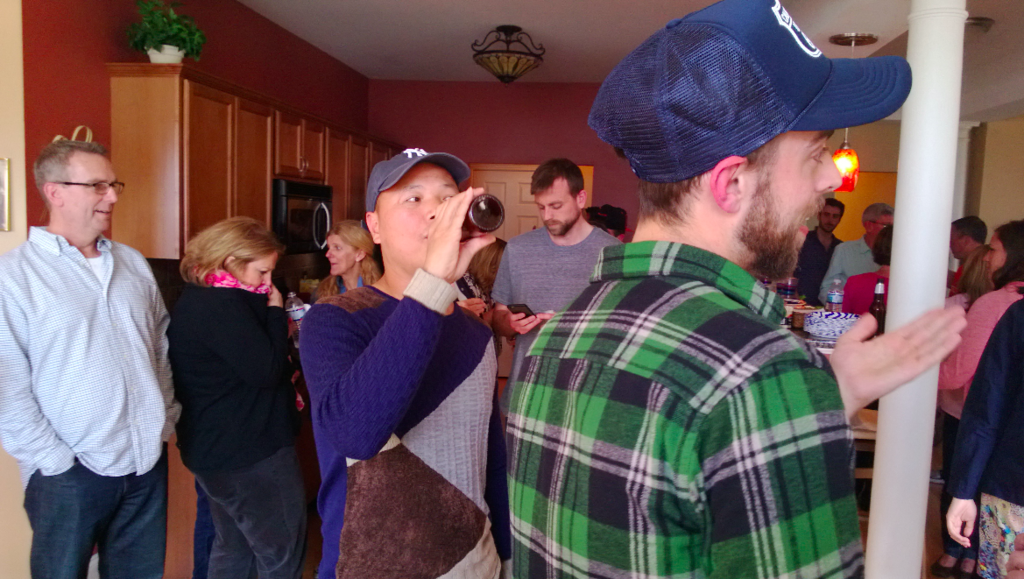 My family used to have parties like this one when I was younger, but we haven't had one like this in a long, long time. It's overwhelming.
I loved introducing Bro to all these people from my past. Sitting here typing this right now I can't even believe this party happened. It was, as horribly cheesy as it sounds, so special. It's hard to put in words how much it meant to me to see all of those people together in a room. It's all thanks to Brother Orange, too. None of this would have happened without him. The power of this story is next-level. The power it has had on my life is insane. All because of a lost cell phone.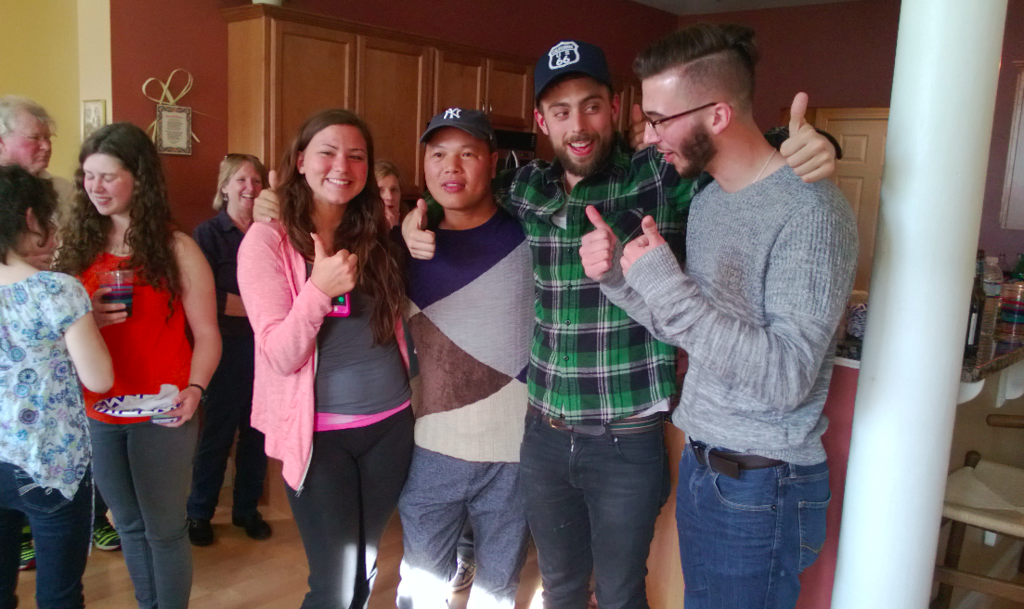 We end the night with some bowling even though I kind of hate bowling. It's a Stopera family tradition and we go every Thanksgiving. Bro has a blast. He has only been bowling one other time. He's...decent.
Bro has met the people that have literally shaped me and made me into who I am today. Now I know what it felt like for him to share his family with me. It feels really fucking good.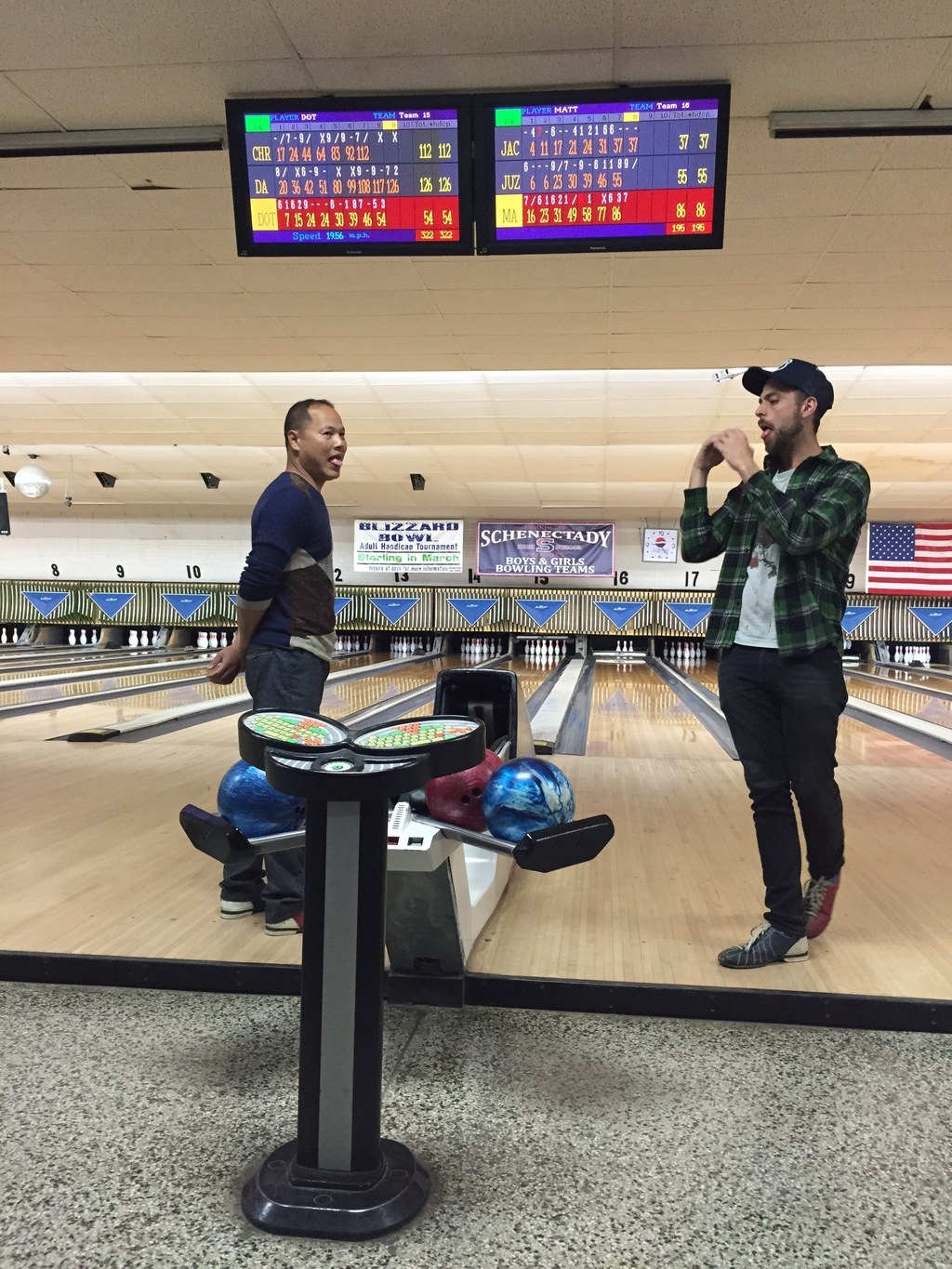 Next stop —> Lake Placid, New York
I want to show Bro one of my favorite places in the world: Lake Placid. We make the two-and-a-half-hour drive up there, my family comes, I get to show Bro the mountains. It's also really cold. Bro says that he's never experienced weather this cold in his life before. It's 45 degrees. I tell him he has no idea.
This is also the third season we've experienced this American trip.
Summer —> L.A.
Spring —> Upstate New York
Winter —> Lake Placid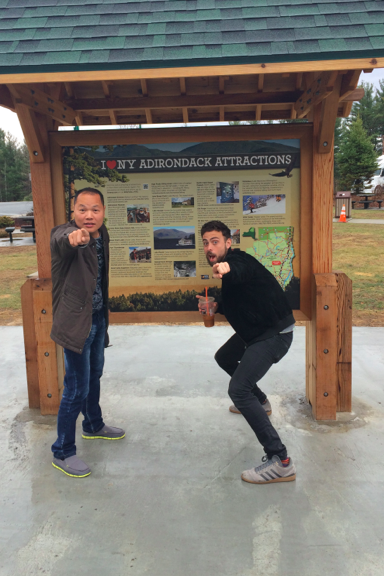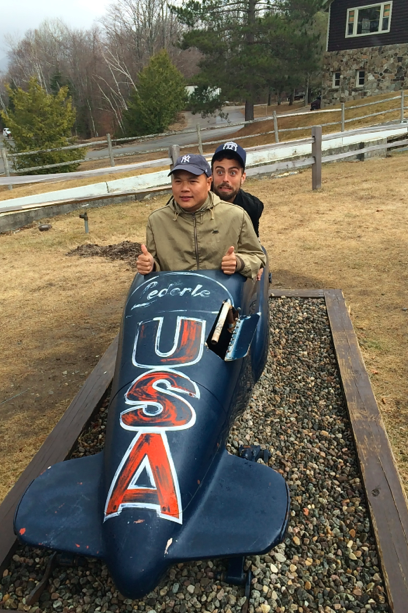 Bro is calling my father "uncle" now. That's a term of endearment. My dad tells him to call him "father." That means everything to Bro. He is (figuratively) deceased.
We leave Lake Placid. He says goodbye to my parents. Bro invites them to visit Meizhou. My parents have literally never left the U.S. ever, so I brush it off. I get a text later from my mom saying that she wants to go China. She's serious. Another Bro-acle (combination of Bro and miracle).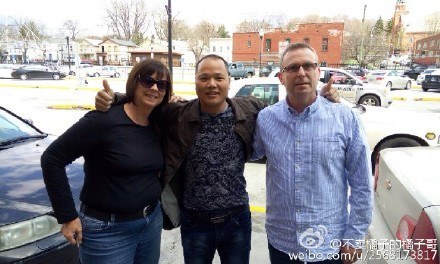 New York City is next. The final leg of the trip.
Before we make it to the train, Bro and my mom have a ~moment~. I leave to drop off the rental car and come back to them looking at baby pictures of me. Bro is taking pictures of all of them. It's really cute. I just missed a tearful interaction where my mom invited Bro into my family. I now have a legitimate new brother, Brother Orange.
WE'VE ALMOST MADE IT!
We're both exhausted.
I want to enter New York the correct way. No gross JFK or LaGuardia. We are going to Amtrak it right into Penn Station.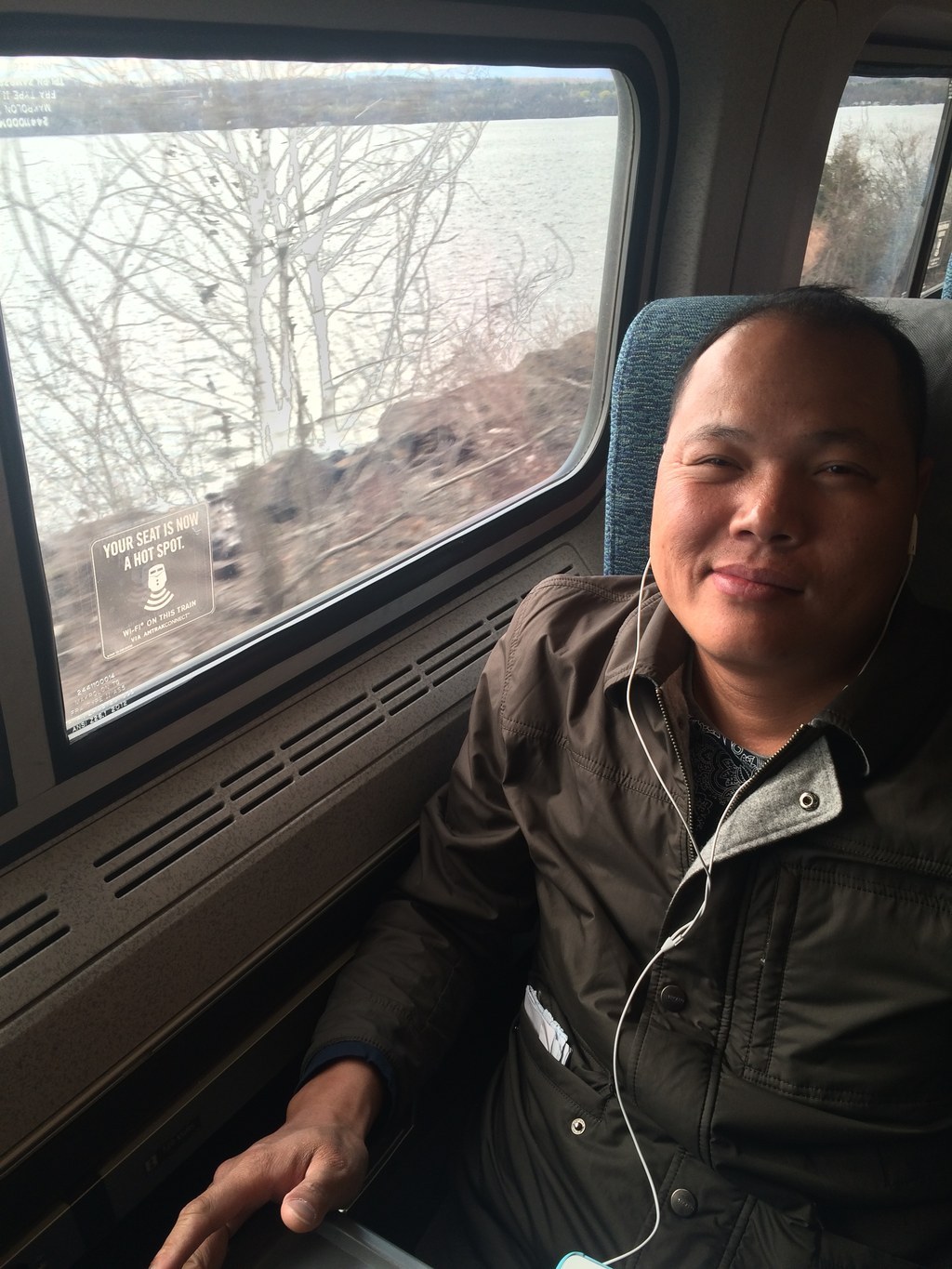 Getting out of Penn Station during rush hour is nightmarish, but Bro battles. We get out of the pits of Penn Station hell and one of the first things Bro says is, "Why are the buildings so close together? Why would anyone want to live here when they could live in a house like in Albany?" The idea of suburbs are a relatively new idea to Chinese people and it's really desirable. He thinks I am crazy for living in New York.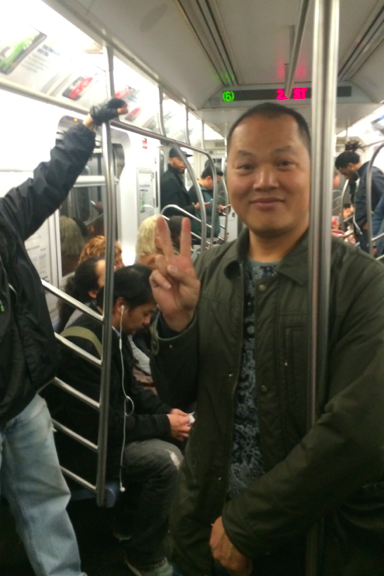 Dinner that night is, of course, pizza. I wouldn't let him eat pizza until New York because I wanted to do pizza right.
While we're walking to the pizzeria in the East Village, Bro gets recognized by three people. Up until that point, we've been noticed a few times. It's no China, but it's still a rush every time. I want Bro to know that his American fans love him too.
We stop by the bar where my cell phone was stolen. This is, like, the birthplace of our friendship. It's practically sacred. We go into the bar and immediately someone recognizes Bro. She demands we do pickleback shots. Another first for him. I worry for him. He does the shot...wrong. He doesn't swallow the whiskey before taking the pickle. He's fucked. Sorry, Bro!

I show him the table where it all began — the table where I lost my phone. We share a moment of silence.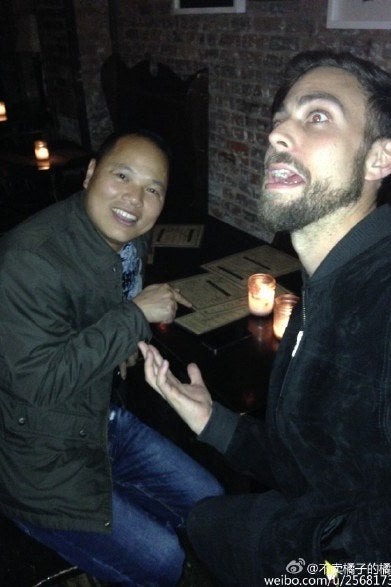 Pizza is…interesting. By now, I know Bro hates cheese. He also doesn't like bread. He's told me he misses rice. He also misses chopsticks. He eats the pizza with a fork and knife…but using them as chopsticks. I show Bro the right way and he digs in. The pizza is "OK."
I'm upset.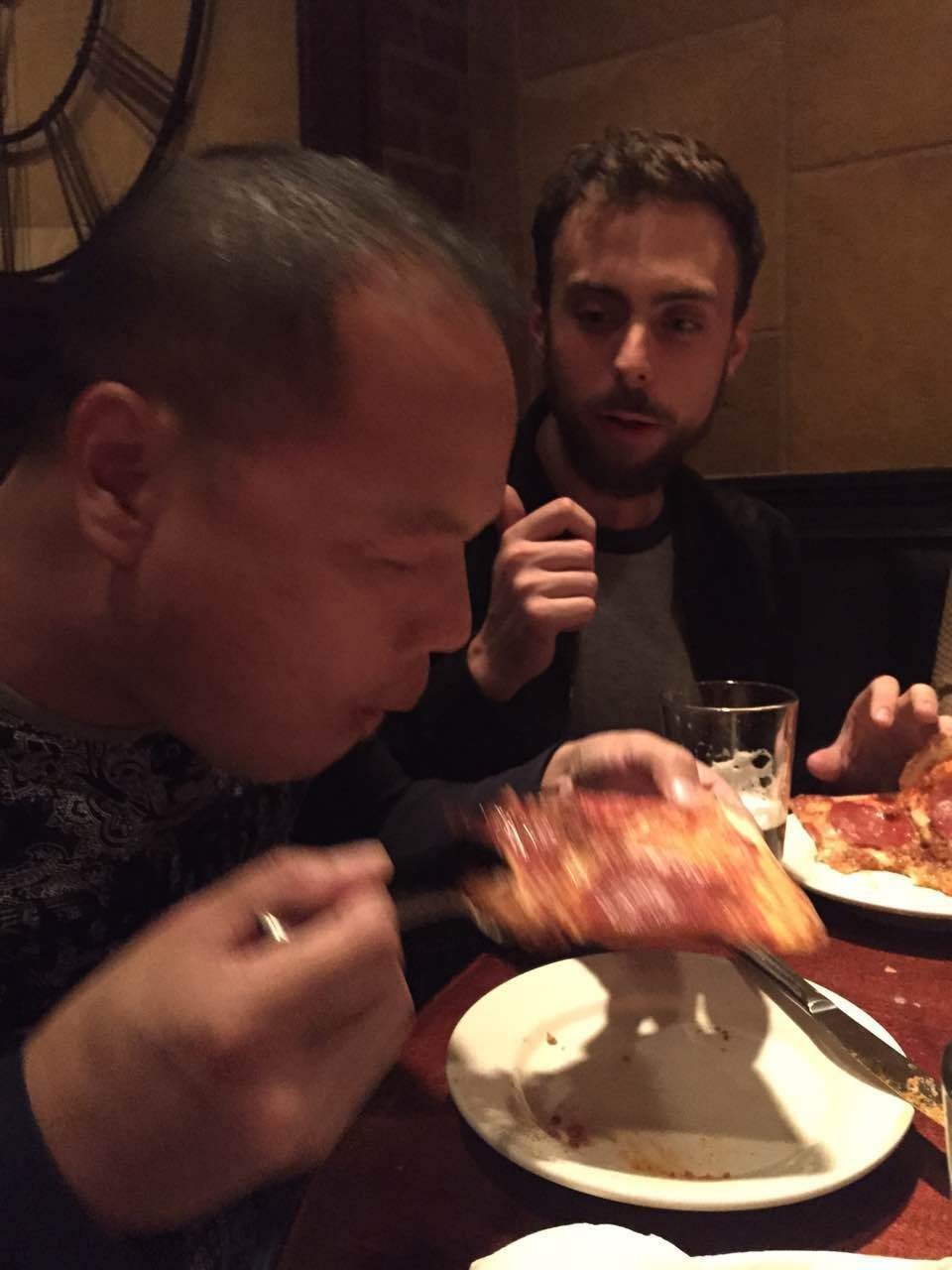 The next day is actually the most significant day for me of this entire trip.
I've been nervous this whole time about sharing this one detail about myself.
I have to do it.
OK, so, I am gay. Like, really gay. But I haven't told Bro yet. It's actually really embarrassing that I haven't told him, but anyone who has ever had to ~come out~ knows how annoying it is. I don't want to fuck this up. I don't want him to think otherwise of me. Even though Bro is a good friend of mine, you still never know how someone is going to act when you tell them the ~news~. Coming-out fear is real and I can't believe I have to do it again. EVERYONE KNOWS I'M GAY. I AM SO GAY. GODNEY IS TESTING ME. I HAVE TO COME OUT TO A LITERAL NATION BECAUSE I LOST MY CELL PHONE IN A BAR.
But I have to do it. It isn't fair to me, him, OR my boyfriend. I really do feel awful about how I've handled this whole thing. It's gross and isn't fair. It's embarrassing. I am Anderson Cooper. EVERYONE KNOWS I'M GAY JUST SAY IT.
I wait until the last minute, the moment right before he meets my boyfriend.
FML.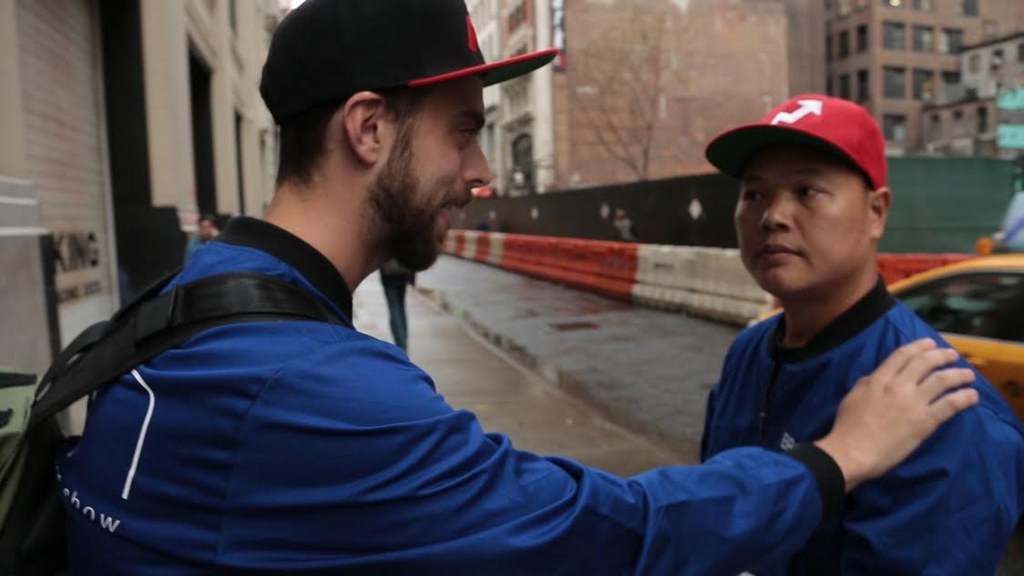 We leave BuzzFeed and I turn to the translator and tell her what I'm about to do. She's like, "Wow. I've never done this before." There aren't many out gay people in China. Uh-oh.
The translator tells him I'm gay. It's so bizarre coming out through a translator because you say the words to Bro and then she says them. It's like coming out twice.
Bro stops and smiles. He laughs a little. He waits and says, "No problem. No problem." I'm so nervous. I tell him I was so worried to tell him and sorry I didn't tell him sooner. I nervous-laugh and he's smiling now. He says, "As long as two people love each other then they should be together."
HE IS SO PROGRESSIVE. He says a bunch more "no problems" and says he's even relieved. Now he doesn't have to stress out over our fans saying we're in love together.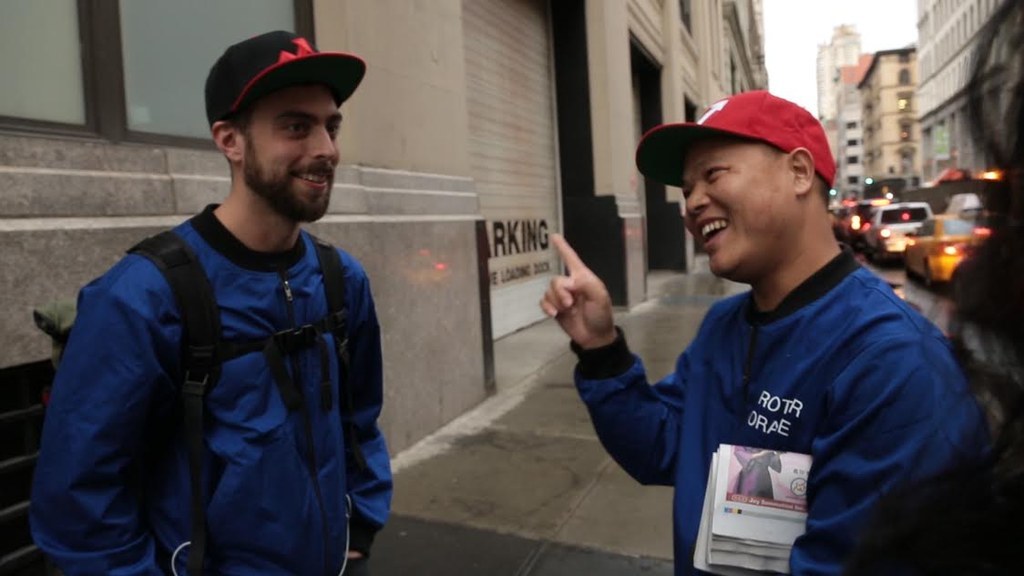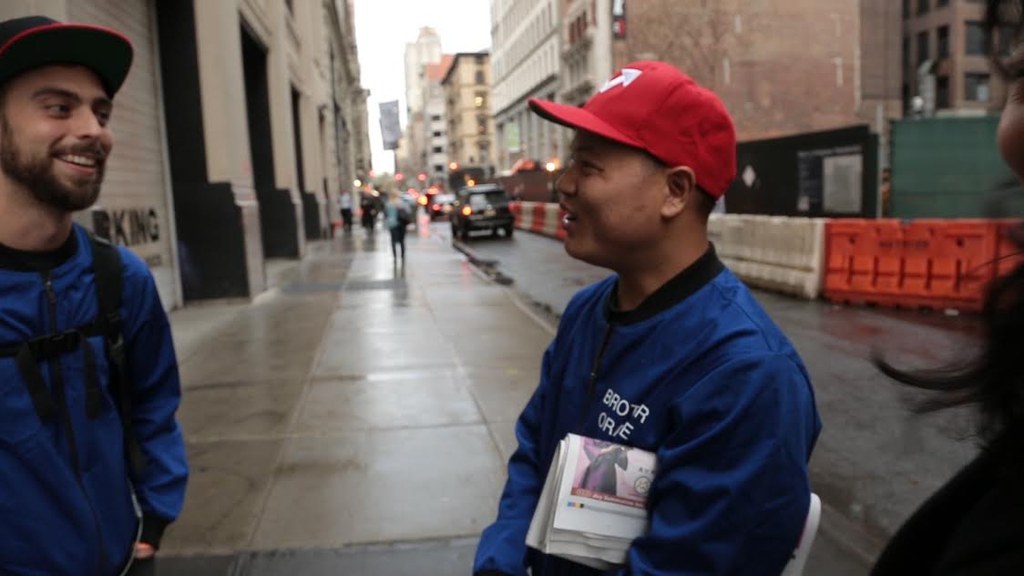 I ask him if he knows any gay people. He says no. I tell him he knows one now — well, two, actually. I tell him that Ellen is gay. He's surprised. This is so funny. It doesn't get much gayer than Ellen.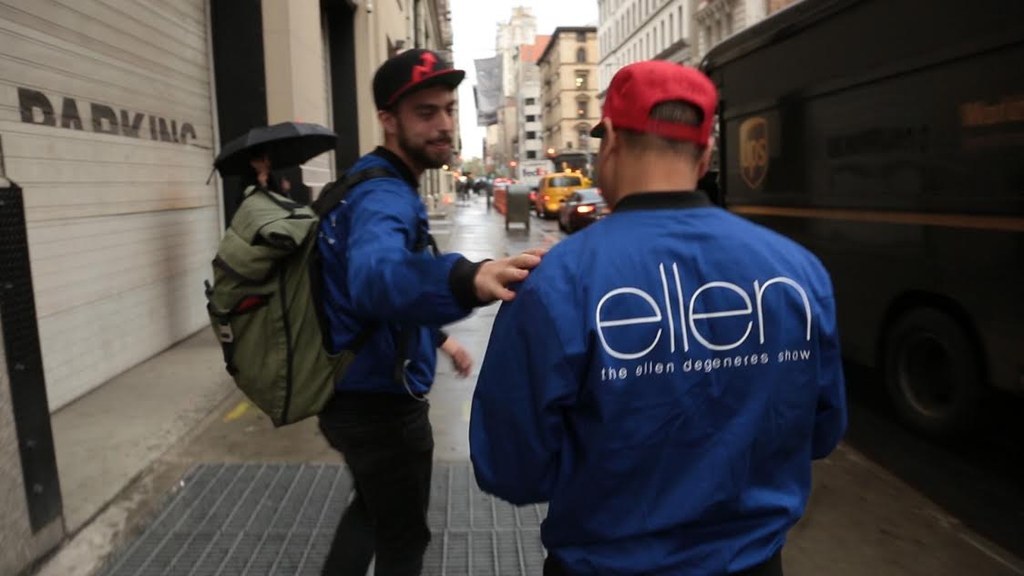 We go to a party held just for him by BuzzFeed. Bro meets my boyfriend and treats him with such amazing respect. It's so sweet and I am so relieved. I'm mad I didn't tell him earlier. It's always better to be out.
Bro, of course, gets wasted on margaritas and we have to send him home early. We try to get him to eat bread but he refuses. I'm worried about the hangover.
I go home that night with a weight lifted off of my shoulders. I can't even begin to tell you how relieved I am. I can't believe I have a friend from China who is this cool. I really do love this man. There are absolutely no secrets between us now.
This is real.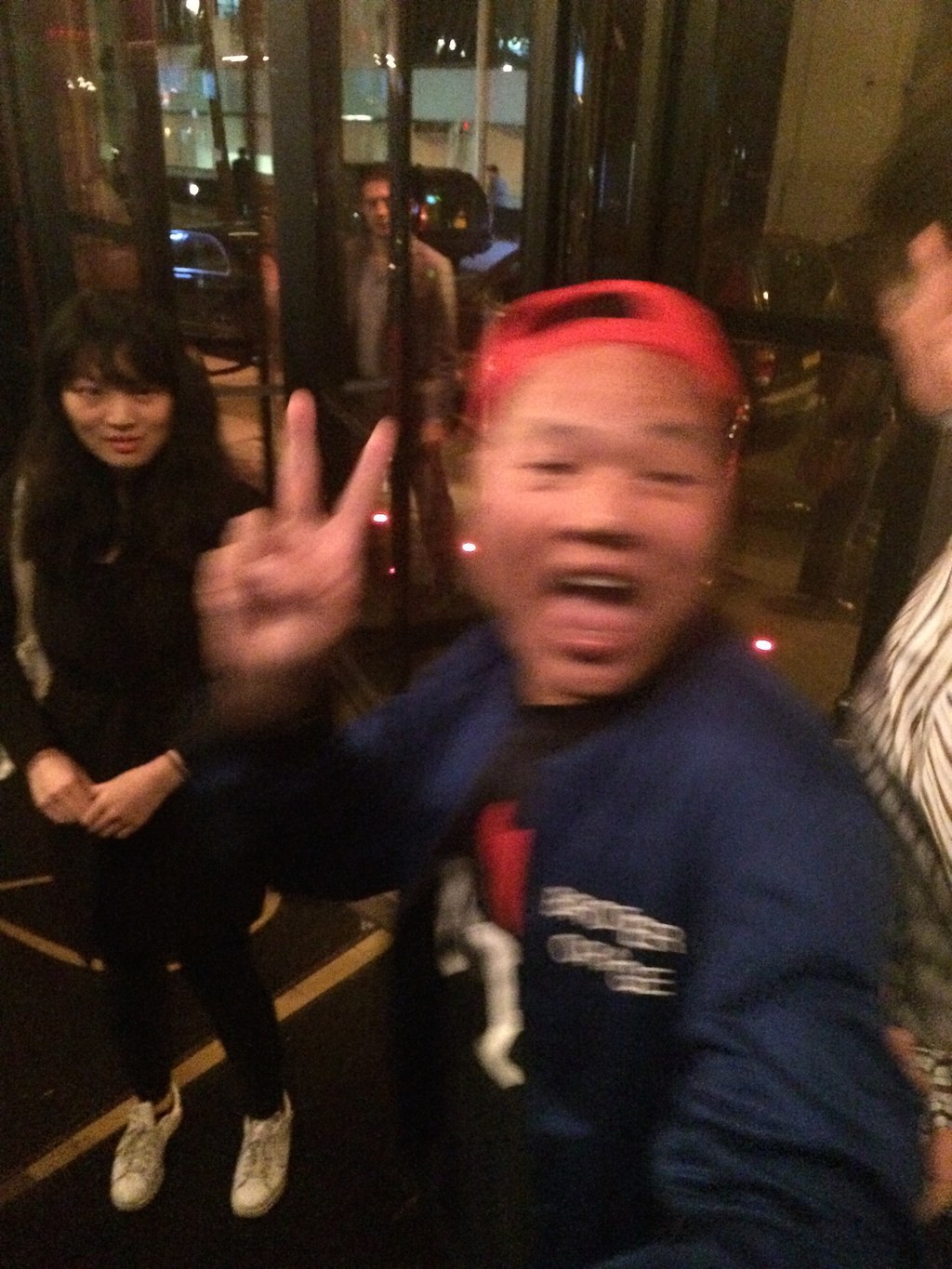 We spend our time in New York doing the big New Yorky things. We go to Central Park, the top of the Empire State Building, and Chinatown.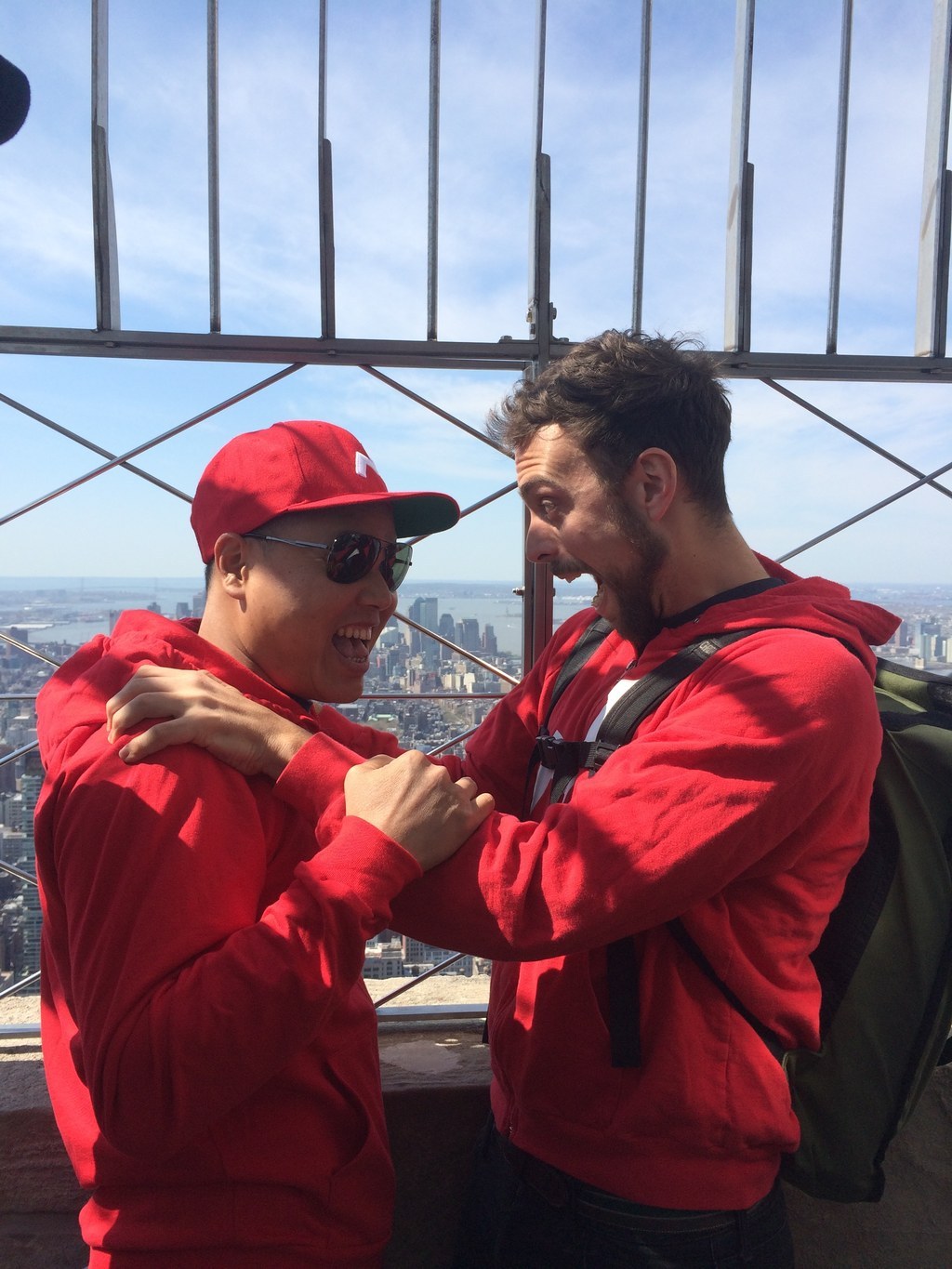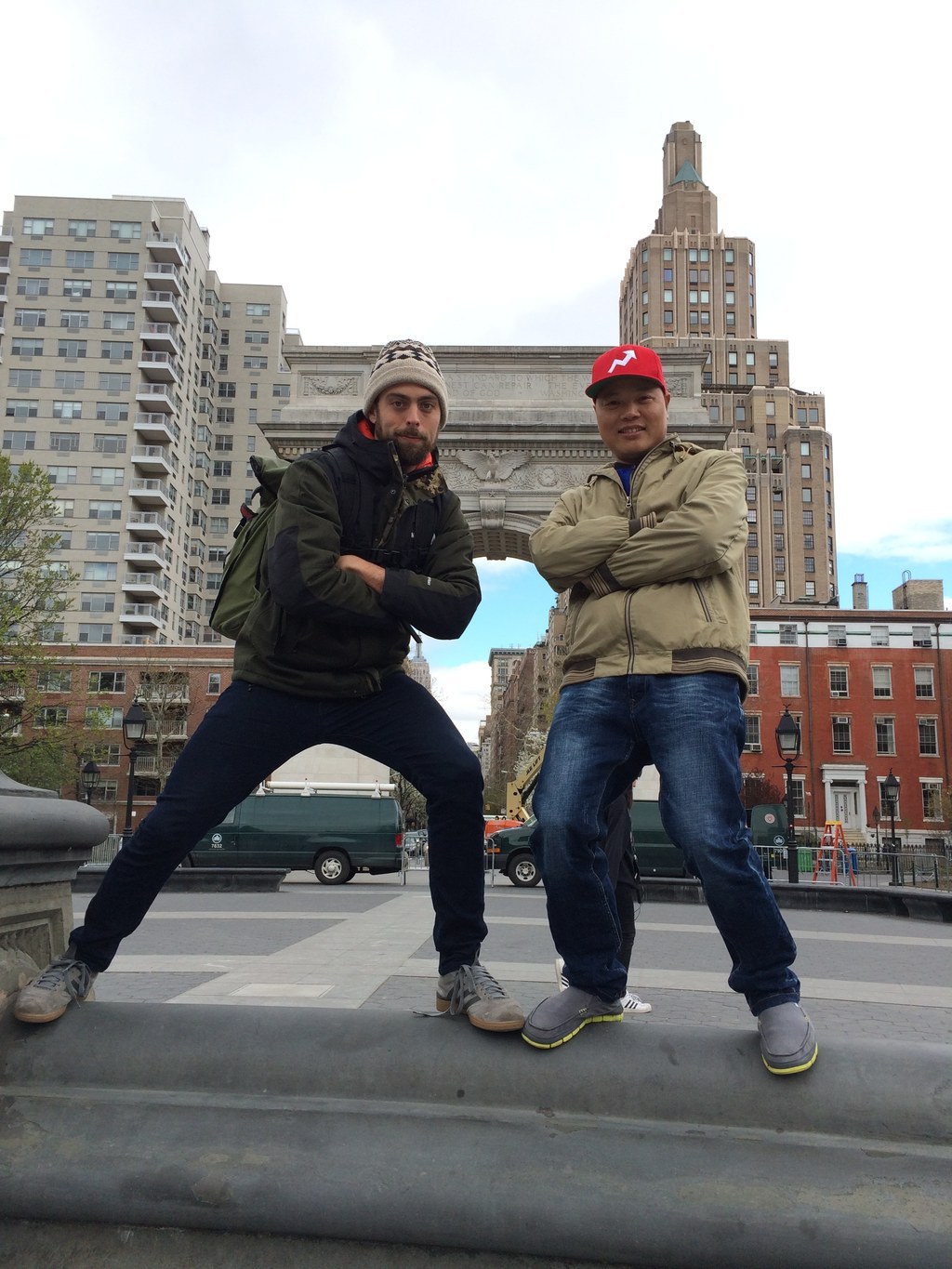 Chinatown is my favorite because he is so bored with it. I learn that Chinatown in Manhattan is where people from southern China settled. The people from Flushing are from northern China. Bro walks around stunned at how many Chinese people there are. We go into a restaurant and Bro feels right at home. He orders food for the table. I am back in China. We stop at a grocery store because he wants to see what it's like. He leaves in one minute because it's exactly the same as it is in China. Basically, I learn Chinatown is pretty damn authentic.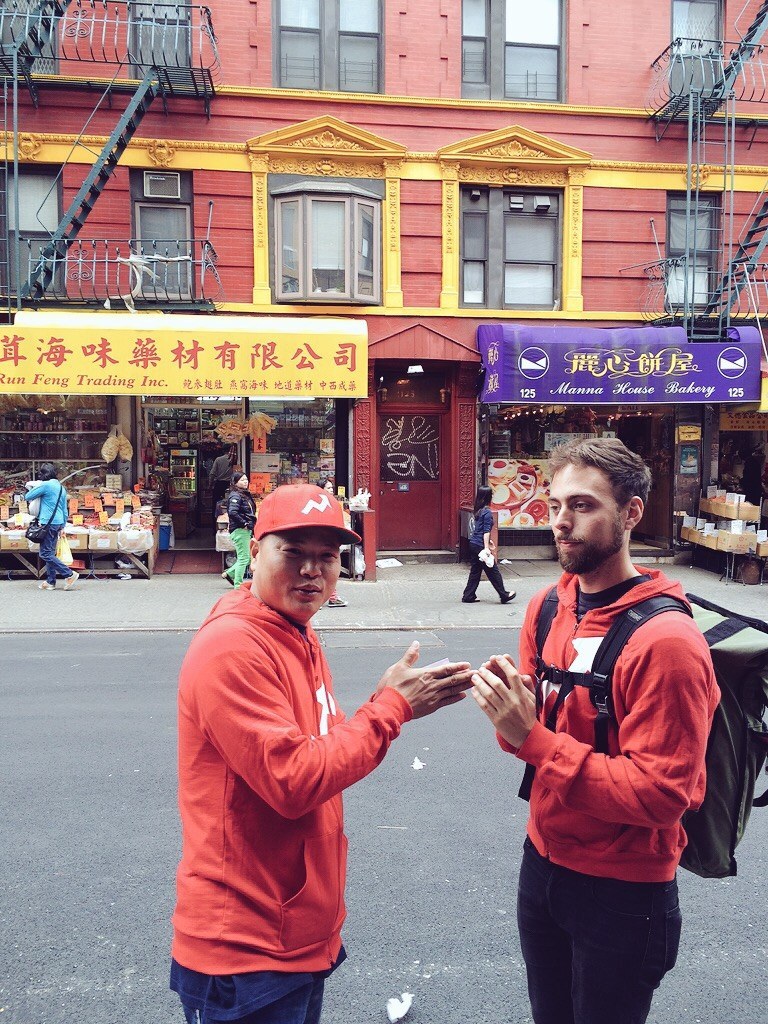 We go to the Met and take pictures eating yogurt on the steps of the Met straight out of Gossip Girl. He's Serena and I'm def Blair. He loves the museum. He takes pictures of every single display. It's exhausting, but he loves history. He has never seen a mummy before!
I love showing him new things.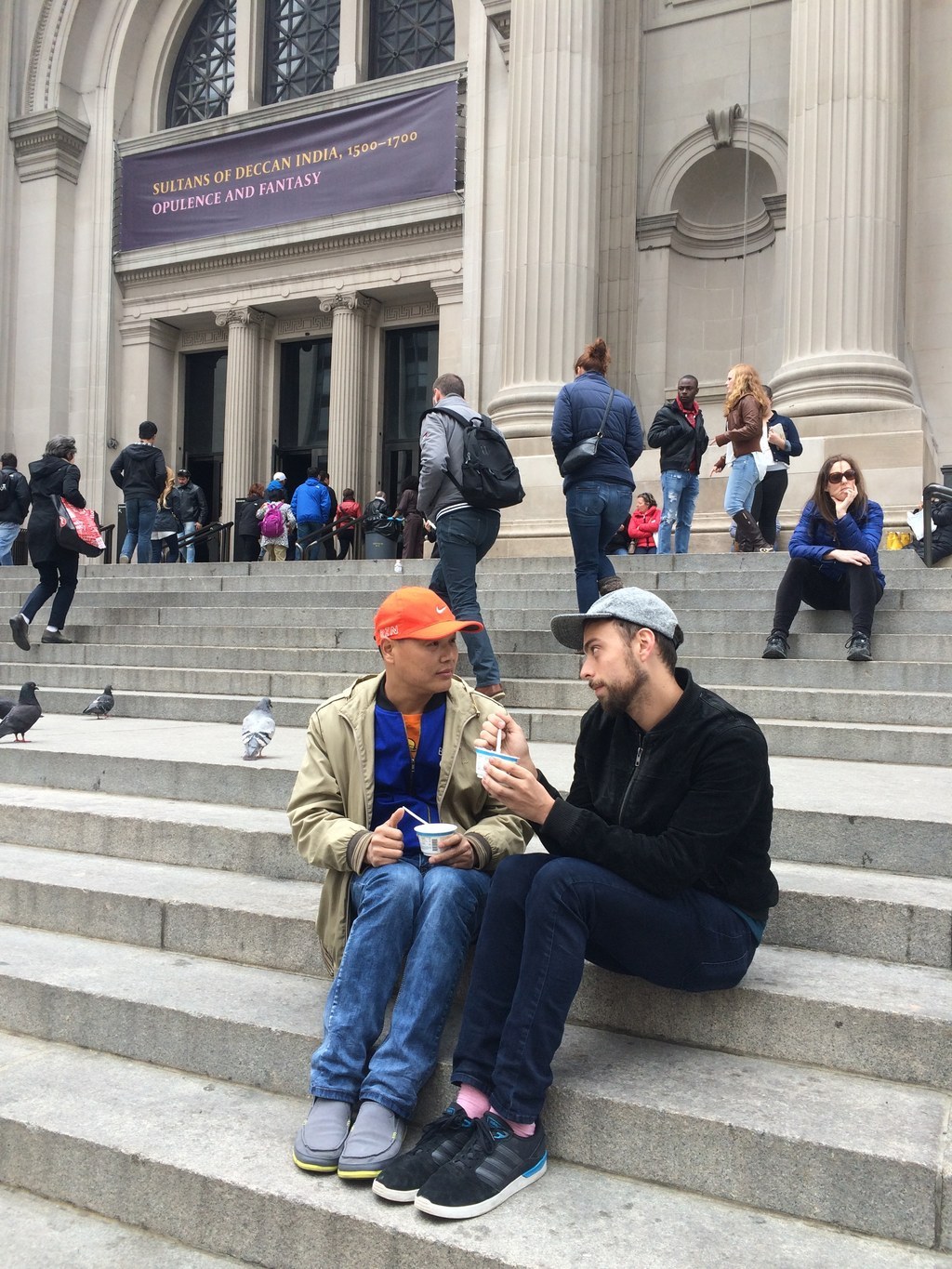 We eat Italian and Indian food. He loves both. He tries Brussels sprouts for the first time and gives them an "eh." I have him try Chipotle and he HATES IT. It is straight-up brutal for him. He breaks my heart and I'm not sure if we can get past this. It's just too many flavors mixed together. I'm sad.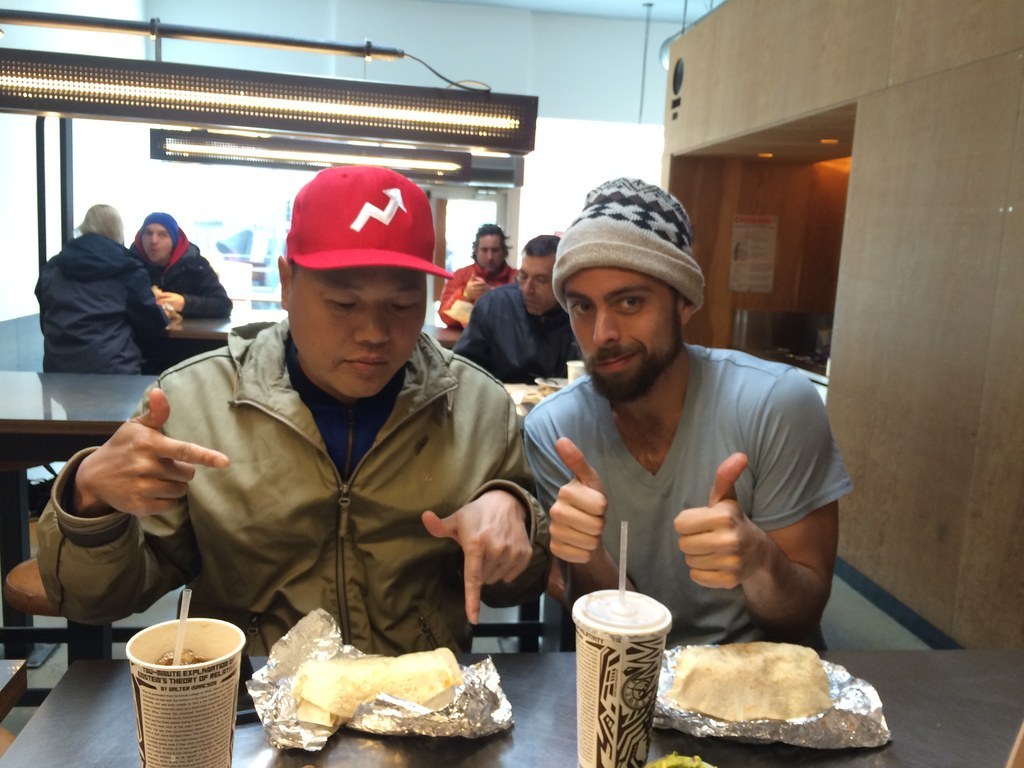 Bro wants to see the 9/11 memorial. I'm not so into doing it because I think it's weird that it's become a tourist attraction. People take somber selfies with selfie sticks there. It's not cool. But it is important for him to pay his respects. We are wearing matching red hoodies that day and he tells us to take them off. In Chinese culture red means happy. He tells his 9/11 story, just like all Americans do, about where he was that day when he heard the news. He remembers seeing it on TV. It's weird to think about.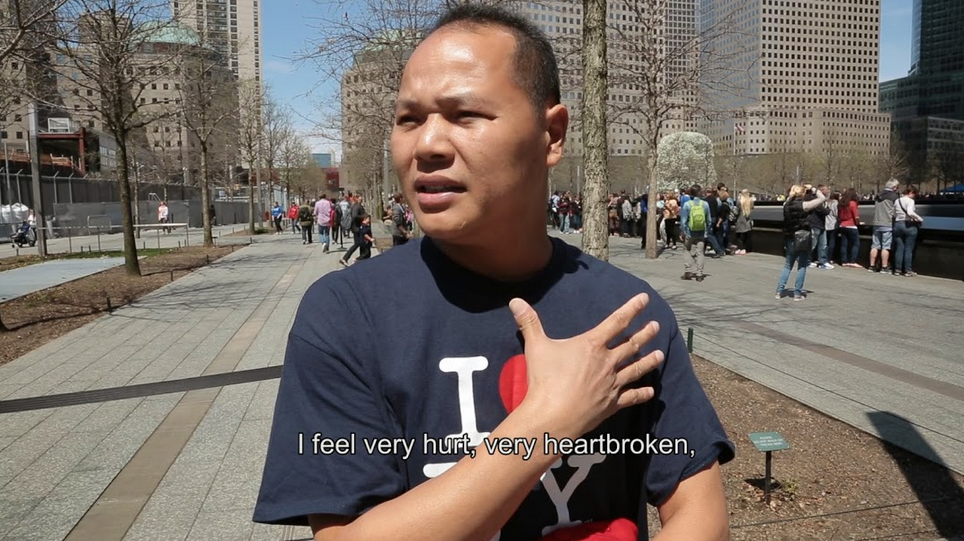 We go to Times Square on our last night. We get on a ~love camera~ billboard thing and we are so adorable. Your faves could never. He gets sick of it in 10 minutes. He's a real New Yorker now.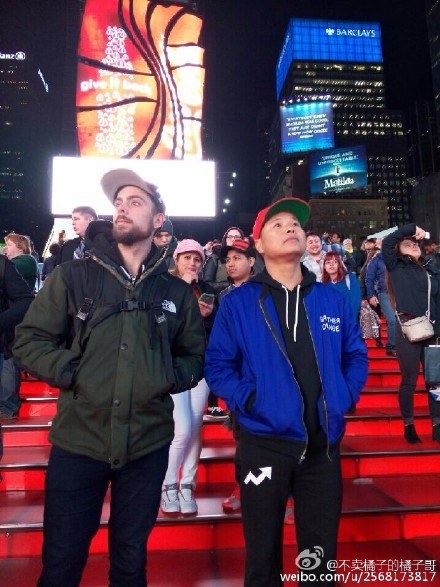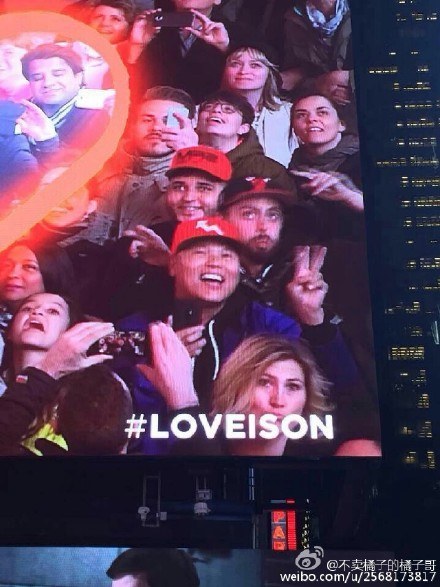 We get brunch the next morning and he meets my best friend, Ilana. She is on a TV show called Broad City and I am not ashamed to brag about it because it is the coolest thing ever. He watches an episode of her show and loves it. It's such a cool moment watching it with Ilana and him. Bro thinks Broad City could be big in China with young people. We laugh.
Ilana and him get along great. She was so nervous to watch her show with him, but the thing about Bro is that everyone who meets him feels like they have known him forever. It's hard to explain. But he immediately puts her at ease. I am so lucky that I went all the way across the world and found the one person who just gets me and everyone I love.
Bro has now met everyone I care about. He has seen everything I love. He knows more about me than most people.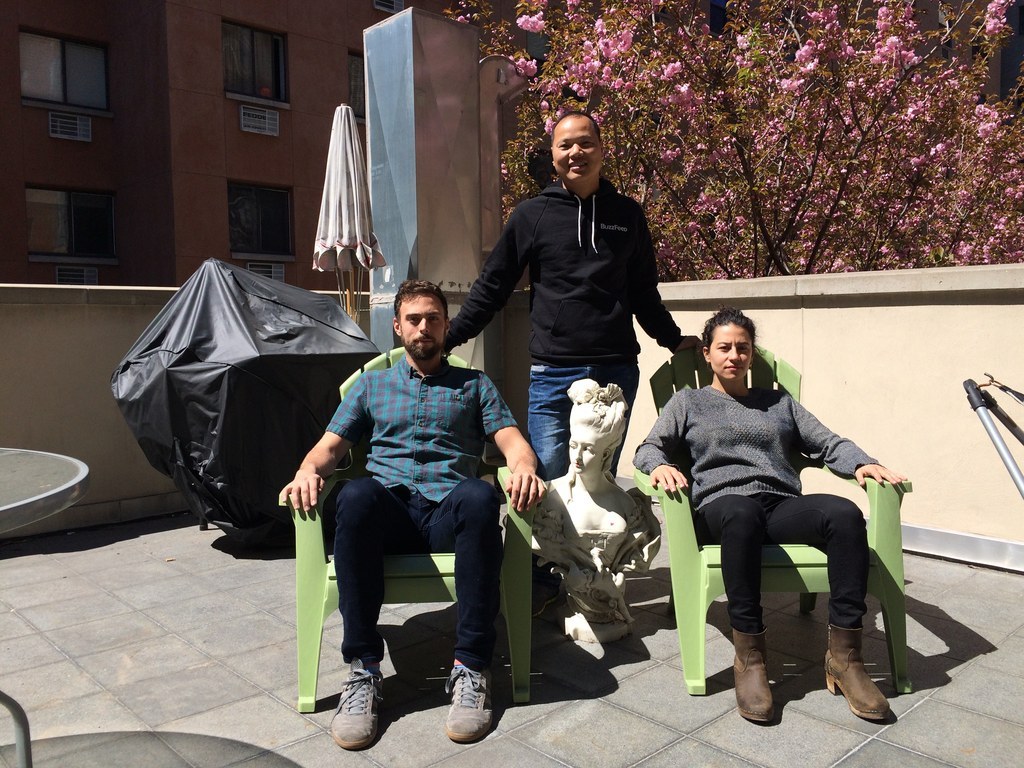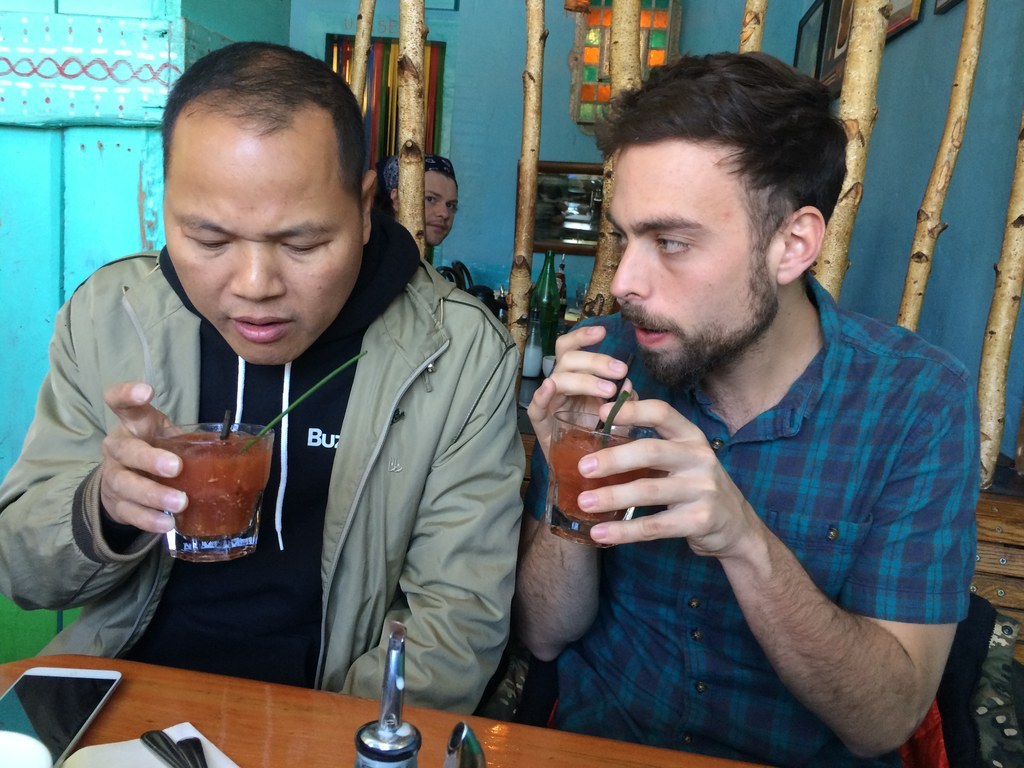 And now it's time for him to head home...
The past 10 days were a straight-up whirlwind. Bro and I have an ease about us now. There are no secrets anymore. I am not keeping anything from him. He has seen it all. We feel comfortable in absolute silence.
We say goodbye after brunch and his first-ever Bloody Mary (he hates it).
"See you in a few days."
Because I had just found out I am going back to China in two days.
THE STORY CONTINUES…because of course it can't be over yet.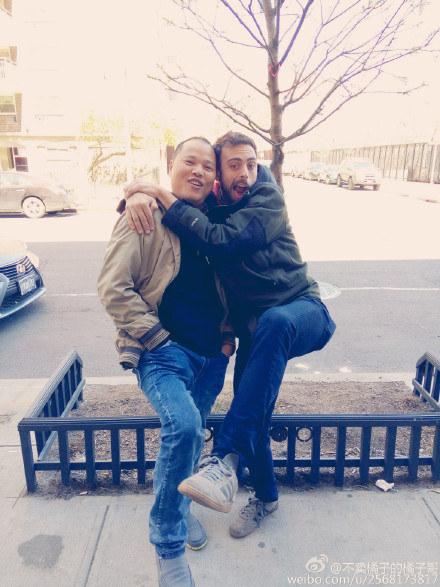 I am going back to China in one day.
While Bro was in China, we heard word that the second-biggest TV show in China wanted us on their show. It's called Day Day Up and it's on the biggest TV network in China, Hunan TV. The station is based in the middle of China in a city called Changsha. I would equate Changsha to the Atlanta of China. CNN is randomly in Atlanta and this huge television station is in this pretty random city.
I have to go on this show. Every American's dream is to be on a Chinese talk show, right?
It takes a good 22 hours to get to Changsha. This is next-level travel.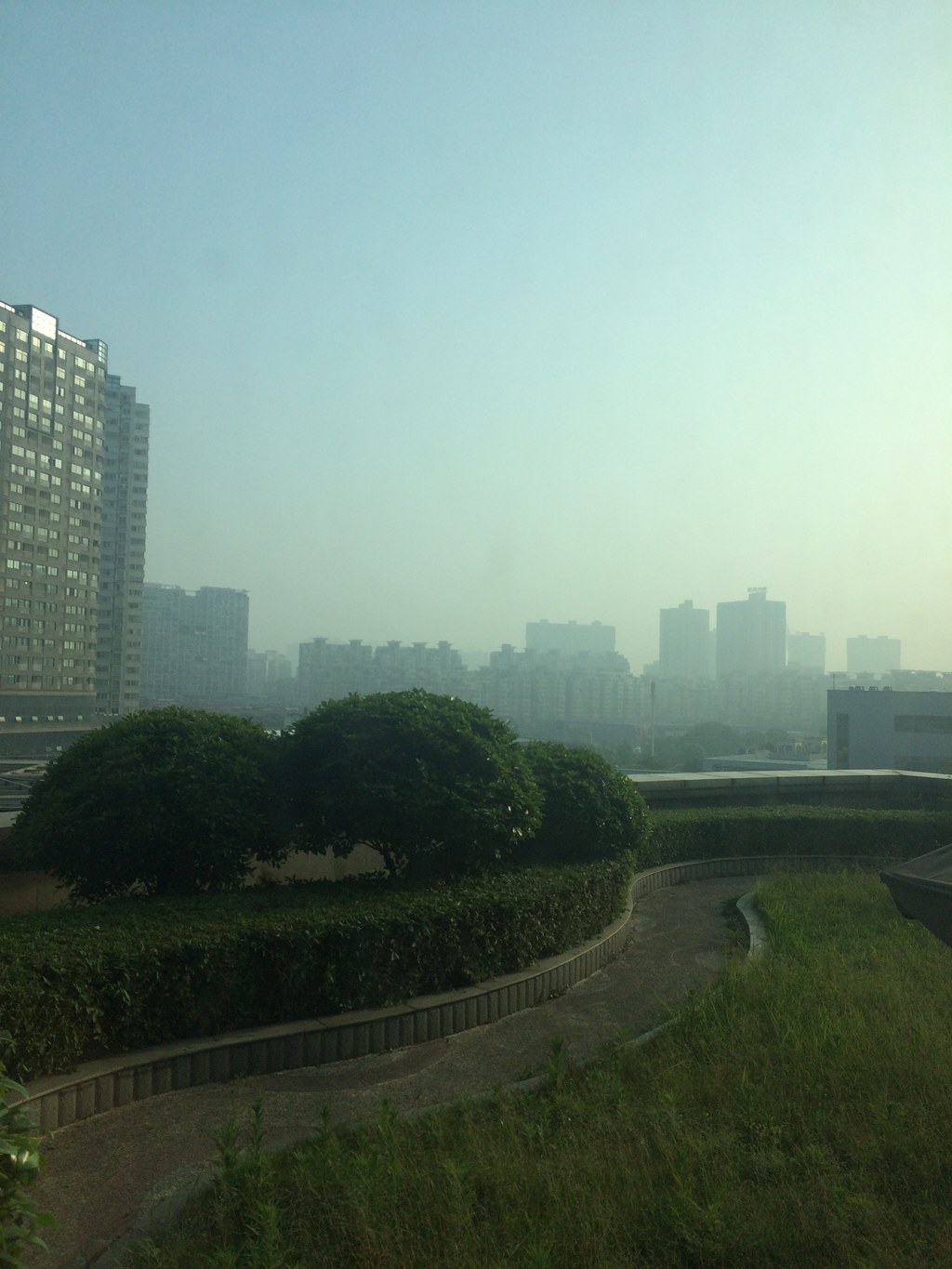 The show has five hosts, all dudes, who just stand on stage talking for like 90 minutes. There are speech bubbles that pop out of people and sound effects. I'm so stoked.
Bro is really nervous. He's also really hard on himself. He was really upset with his performance on Ellen even though he totally killed it. He is practicing his answers constantly. We make up our own handshake and rehearse a karaoke number to a Chinese song that has now become our song. The song is called "I Like You." It's cute as hell.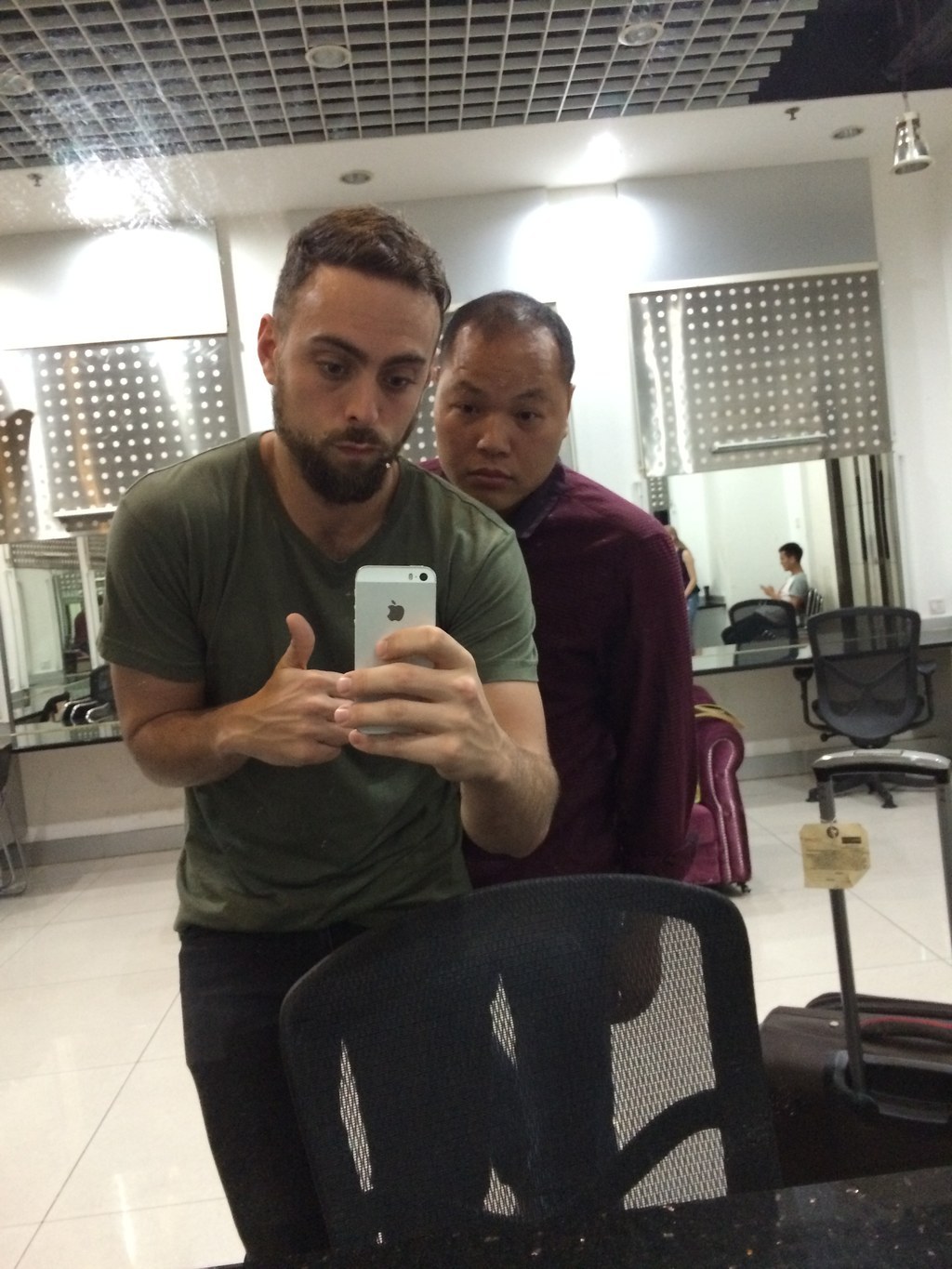 We get our makeup done and I tell them I want to look like a K-pop star. They make my skin gray. This rules.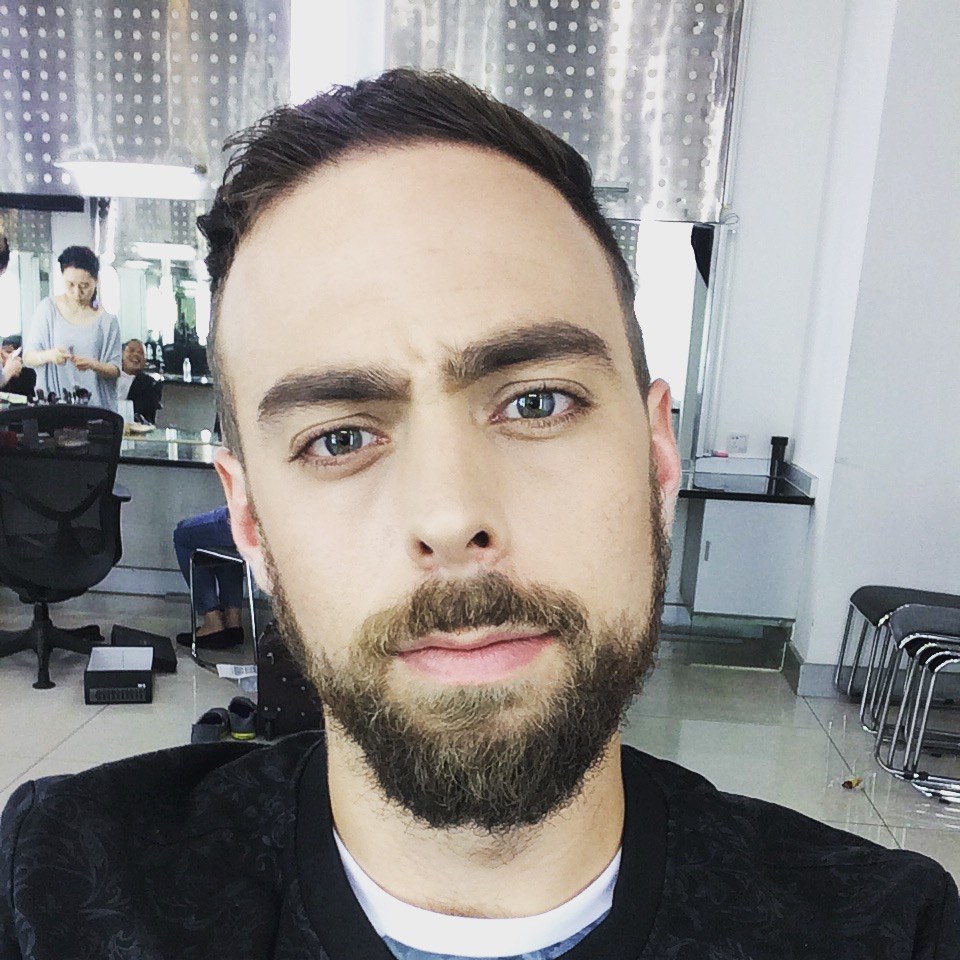 During the day we film an elaborate promo where Bro and I pretend to text each other in a living room. I'm supposed to be in America and my living room has giant posters of Alexander Hamilton. Fake texting is hilarious. I can't believe the production value on it all.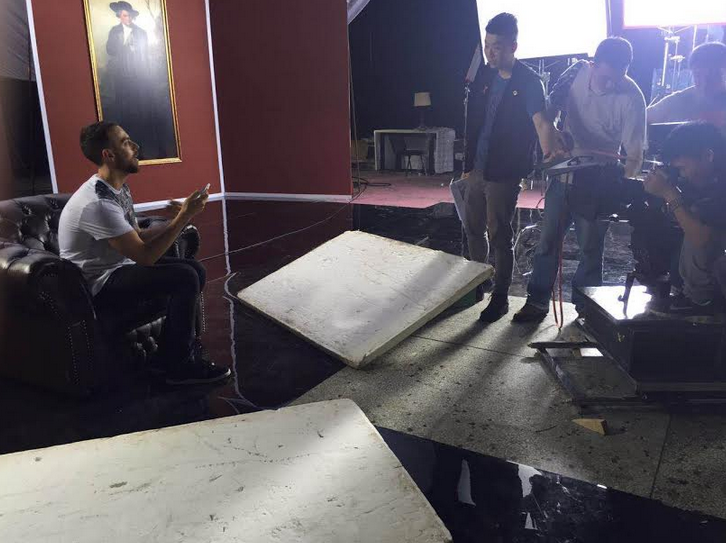 We go on around 9. Bro and I get into hype mode. We've been through this before! I see that look of fear on his face and try to tell him "no problem" and to just be himself.
I know him.
The stage is elaborate and there are bubbles and smoke. This is iconic. The audience is full of children and adults. What is this even?
I love it.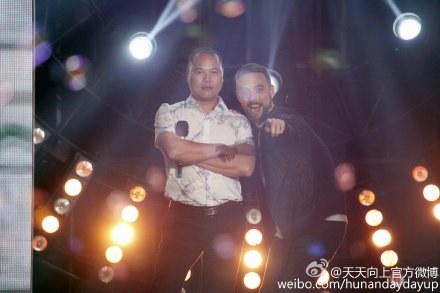 I introduce myself. "HELLO, CHINA!!" And I use a little Chinese slang — "mo-mo-dah," which means "kisses." The audience goes crazy.
I basically have no idea what is happening the entire time I'm on stage. It's exactly how I dreamed it would be. It is literally just eight guys standing around on stage talking and me not having the slightest idea of what is going on. All I know is that Bro is killing it. We do karaoke. I dance around the stage like a ballerina because why the hell not.
My life isn't real anymore.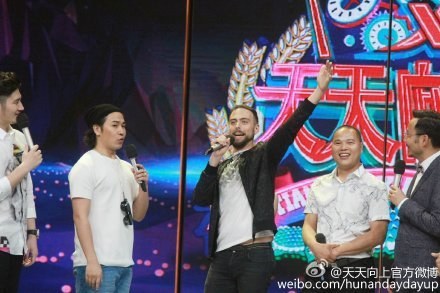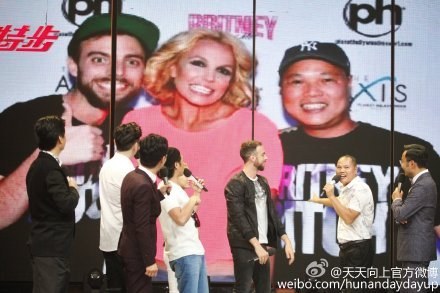 The show taping ends to all of us dancing to "Shake It Off." I love China.
I have one more interview after the show.
A big magazine from China traveled to Changsha to interview me and Bro. The interviewer's first question is, "Are you gay?"
My big "coming out" in China media interview is happening. I can't believe this is happening.
I am Lance Bass.
Until then, I've been pretty quiet about my sexuality. It's embarrassing that I haven't said anything sooner. The interviewer for a big Chinese magazine asks me if it's OK to print it. I say yes. She tells me that young people in China are starting to accept homosexuality more. It's slow, but it's happening. "They don't care about it," she says.
I did it.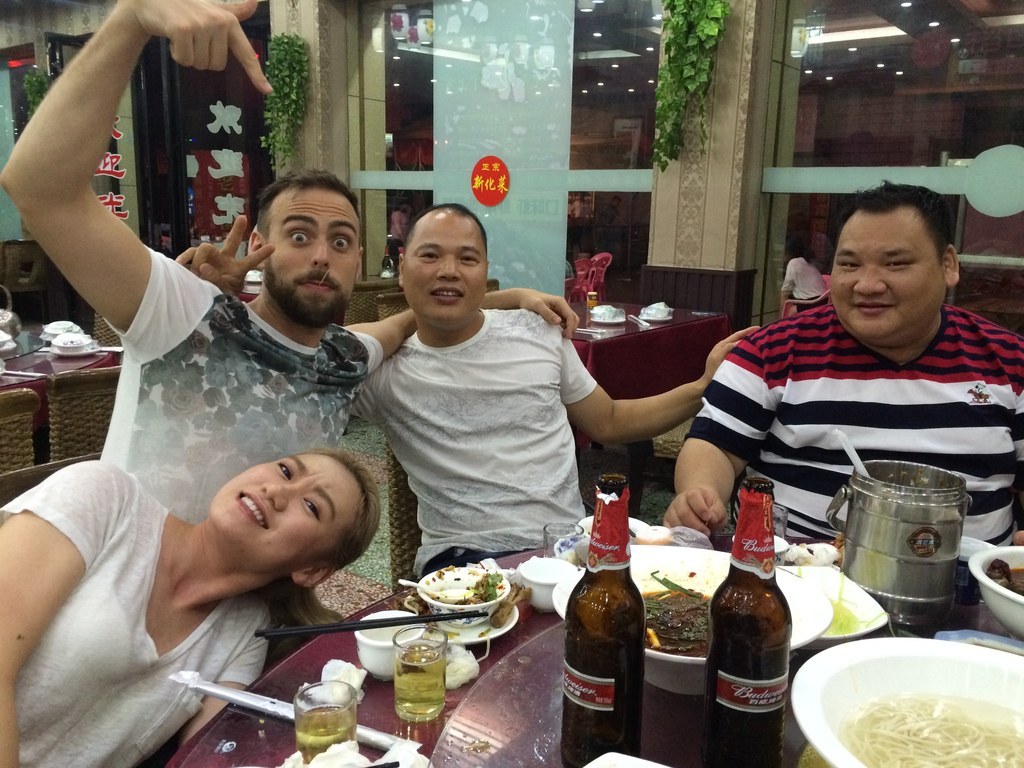 Like we did in L.A., we celebrate our TV apperance with mad beers and tons of Chinese food. We're up until 3 in the morning that night doing what we do best: drinking and eating.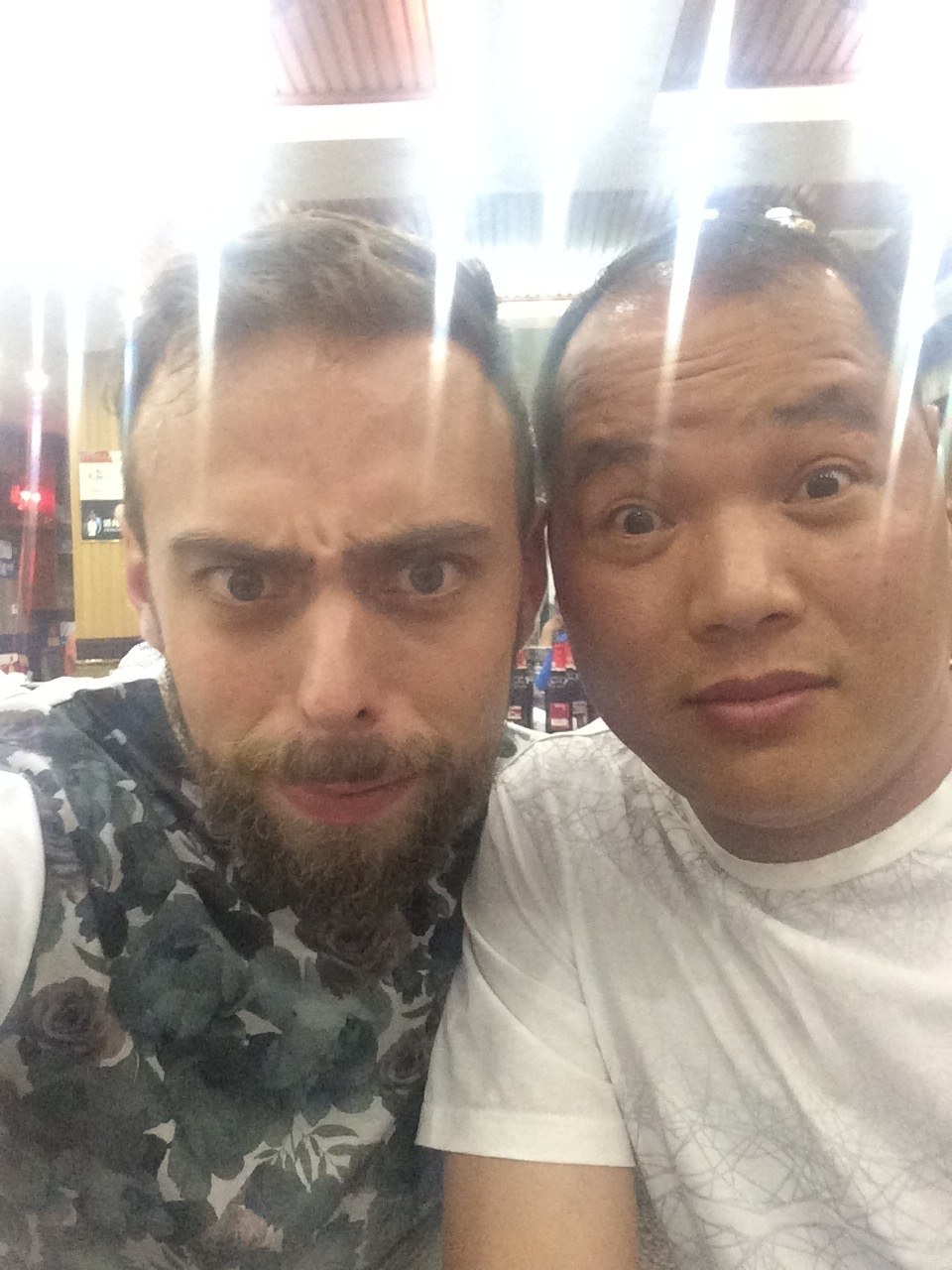 Now this is actually it.
Except maybe not.
I know it can't technically really be over because the story should have been over eight times before. I never should have lost my phone, I never should have gotten Brother Orange's pictures, I never should have become famous on Chinese social media, I never should have gone to China, Brother Orange never should have come to America, and I never should have gone on that TV show. WE SHOULDN'T EVEN BE FRIENDS.
It's all a bunch of crazy insanity I can't wrap my head around.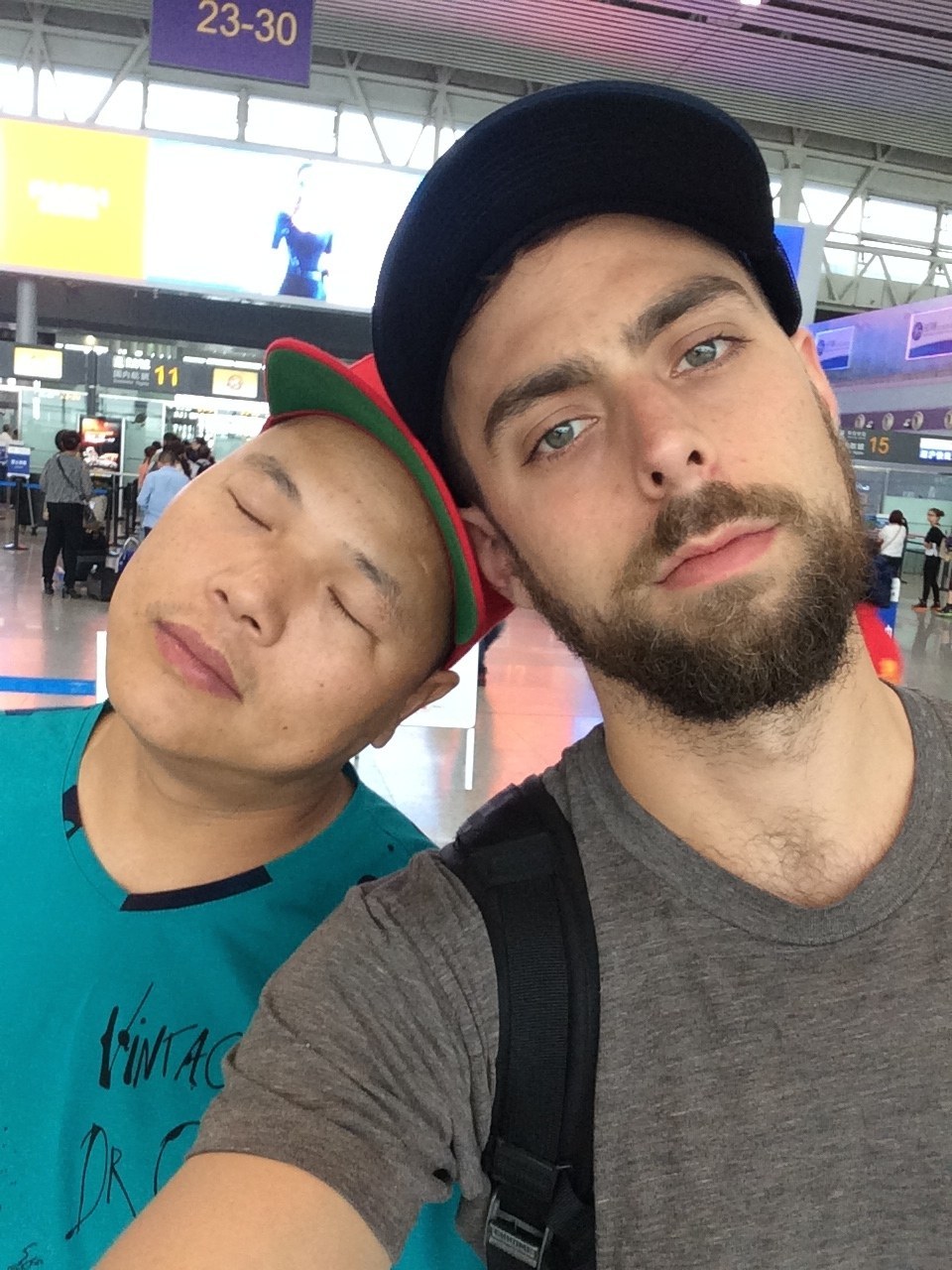 We're in the airport. We're exhausted and a little hungover.
It's only me and Bro, no translator, and I really wouldn't have had it any other way. This is an actual goodbye. We don't know when we will see each other again.
If there's one thing I learned from this all, it's that everything is unpredictable. We were brought together for a reason, and there's no reason why we won't see each other again. It's up to the universe. It's up to fate. Like I've said before, fate is real!
Bro learns one last phrase in the airport that day.
As we say goodbye, we walk away from each other saying over and over:
"Next time."
"Next time."
"Next time."
See you next time, Bro.