After Britney Spears' testimony, clips from interviews and concerts have taken on whole new meaning.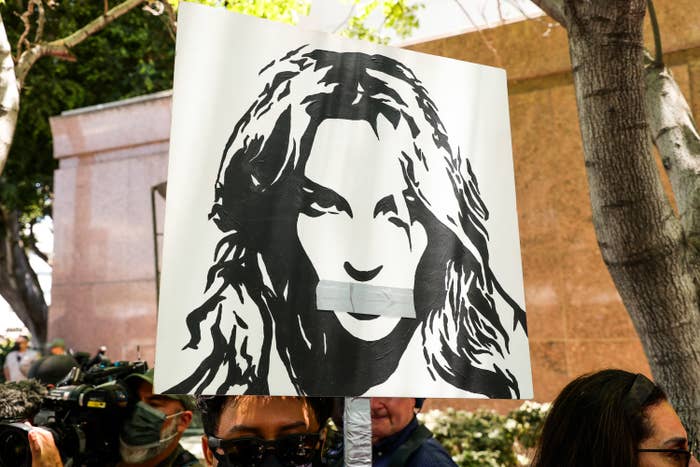 1.
Like these clips from 2018 of Britney teaching the choreography for her Domination residency that was abruptly canceled. In her testimony, Britney said she was basically directing the show and that her management made false allegations that she wasn't participating or taking her medication after she refused to do a dance move.
In her testimony, she said, "It's funny to hear my managers' side of the story. They all said I wasn't participating in rehearsals and I never agreed to take my medication — which my medication is only taken in the mornings, never at rehearsal. They don't even see me. So why are they even claiming that?"
2.
One of the few times Britney talked to the crowd during her Piece of Me residency shows was before she sang "Freak Show."
She went viral in 2015 when she said during a show that men could suck her fucking toe. Fans thought this was about her dating life, but in a resurfaced clip from an interview with Mario Lopez, she says it's because of "men issues, daddy issues."
3.
Another concert moment that means something different now is this clip of Britney saying it feels "illegal" to be standing on stage speaking with a microphone.
4.
One other concert moment that means something different now is when she said, "What do you do when someone tells you you can't do something? You do it!"
5.
Besides these concert moments, certain Instagrams have also taken on new meaning, like this clip of Britney seemingly acknowledging the Framing Britney Spears documentary.
6.
The time Britney alluded to familial drama in one of her Q&A sessions.
7.
This interview her brother, Bryan Spears, did about the conservatorship.
8.
The multiple videos of Britney saying she's "the happiest she's ever been in her life."
9.
This video of her describing her astrological sign Sagittarius as "loving freedom."
10.
All the times we've been like "you're rich, why didn't you just buy that for yourself?"
11.
In a New York Times story that came out the day before her testimony, the Times reported Britney was forced to perform with a 104 degree fever. Fans found this video from her Piece of Me residency where Britney told the crowd she was super sick with a 102 degree fever.
12.
This interview with ET where Britney said her boyfriends are given background checks because of her dad.
13.
And lastly, this video of Britney doing the ALS challenge on her longtime manager Larry Rudolph as payback for "17 years of torture."