In 2015, in what was called — and I'm not kidding you — "Tomatogate," a country radio consultant named Keith Hill compared playing women on country radio to tomatoes in a salad.
"If you want to make ratings in country radio, take females out. The reason is mainstream country radio generates more quarter hours from female listeners at the rate of 70 to 75 percent, and women like male artists. The expectation is we're principally a male format with a smaller female component. I've got about 40 music databases in front of me, and the percentage of females in the one with the most is 19 percent. Trust me, I play great female records, and we've got some right now; they're just not the lettuce in our salad. The lettuce is Luke Bryan and Blake Shelton, Keith Urban, and artists like that. The tomatoes of our salad are the females."
And in 2019, a comprehensive study about women in country music found that only 16% of the top country musicians are women.
So let's get to the current drama.
It all started when Chris Willman, a features editor at Variety, tweeted a joke about hearing back-to-back songs by women on country radio.
A country radio station in Saginaw, Michigan, WKCQ, responded to the tweet saying they "cannot play two females back to back" as if it's some sort of rule.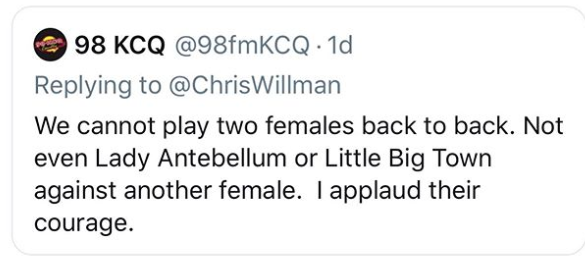 Then, all hell broke lose.
Best-selling country artist (regardless of gender), multiple Grammy Award winner, and gay rights (!) activist, Kacey Musgraves responded.

She made some points.

Kelsea Ballerini, a star who currently has an amazing song called "Homecoming Queen" out, responded too.
That's when a slew of female country musicians responded to her post.

From Lee Ann Womack...

...to Julianne Hough...

...the duo Maddie and Tae...

...Jamie Lynn Spears...
...Lindsay Ell...

...Karen Fairchild from the group Little Big Town...

...and Kacey again:

What was interesting and completely unsurprising was the lack of men supporting Kelsea/other women in the comments. The support basically nonexistent except for Ryan Tedder who doesn't even make country music.

ALL THAT SAID, there's actual change coming from this. Effective immediately, CMT (Country Music Television), is pledging to equally play male and female artists 50/50.
"Time is really up in 2020! All the talk around what can be done to support females in country music needs to transform into action, once and for all. "
So that's at least *something.*
In conclusion, country music by women is always better so they should play it solely based on that fact. And Carrie Underwood deserved Entertainer of the Year*!!!!!